When it comes to cilantro flavoring you will be beyond impressed with the refreshing recipes you can make with this zesty, flavor-packed rice.
The savory, natural aromas of lime juice and cilantro mixed with fragrant Jasmine rice, are the ideal pairing to venture outside the norm. Mahatma® Rice has delicious recipes to keep on hand for easy dishes for lunch ideas or weeknight meals. Whether you choose to use our Cilantro Limón Ready to Heat Jasmine Rice or add cilantro as an extra ingredient, you will not be disappointed. Before we dive into some recipe options, let us refresh your memory on cilantro basics.
What is Cilantro and What Does it Taste Like?
Cilantro is an herb that has been used in cooking for centuries. It has a unique flavor that can be described as citrusy, herbal, and slightly spicy. It is often used in Asian, Latin American, and Mediterranean cuisine to add flavor to dishes like salsa, guacamole, curries, and salads. Cilantro adds a bright flavor to many dishes and its distinctive aroma makes it a favorite among chefs. Whether you are looking for a new way to spice up your meals or just curious about what cilantro tastes like, this herb is worth exploring!
How to Store Cilantro for Maximum Flavor and Freshness
Cilantro is an incredibly versatile herb that adds a unique flavor to any dish. But if you want to enjoy its maximum flavor and freshness, you need to know how to store it properly.
In the Fridge Without Washing
The bundle of unwashed cilantro should simply be wrapped in a fresh piece of paper towel and put in a plastic storage bag. It should last for up to a week following this method.
In a Mason Jar
Place the whole cilantro in a mason jar with a thin layer of cold water after it has been cleaned and dried. After that, store it in the refrigerator with a plastic bag over it. When you wish to remove leaves as needed, this is the best option. The cilantro should last for up to a week.
Store the Whole Cilantro in the Fridge
Spread the washed and dried whole cilantro out onto a layer or two of clean paper towels, making sure not to smoosh down. Gently fold it twice to wrap the cilantro. Add the wrapped cilantro to an airtight container and cover it with a paper towel. Seal tight and place in the fridge. The cilantro should last up to 3 weeks!
The Best Recipes for Cooking with Cilantro
If you're looking for the best recipes for cooking with cilantro, you've come to the right place! Mahatma® Rice has several recipes to choose from that use this versatile herb. From salads to shrimp and chicken dishes, cilantro adds a unique flavor and aroma that will make any dish stand out. Before we take a look at some recipes let's take a look at how to prepare Mahatma® Ready to Heat rice.
How to Cook Mahatma® Ready to Heat Rice
If you decide to use our Cilantro Limón Ready to Heat Jasmine Rice these are the steps you should follow to prepare it:
Traditional Mahatma® Jasmine Rice is pre-cooked, so it will be ready to enjoy after heating for 90 seconds in the microwave. If you prefer, it can also be heated over the stove.
Microwave method: squeeze the unopened pouch to separate the grains. Tear the top off and microwave on HIGH for 90 seconds. Cooking for the family? To heat 2 bags at once, heat for 2 ½ minutes. No need to add water, simply heat and enjoy. Be careful when handling and opening the hot pouch, as it may be too hot.
Stove: gently squeeze the sides of the pouch and pour rice into a skillet. Add 2 Tbsp of water and heat, stirring occasionally until heated through. This will take about two minutes. Serve immediately.
Recipes Using Mahatma® Ready to Heat Rice
Tex Mex
With this dissected take on a long-standing family favorite—the taco—enjoy a kaleidoscope of flavors and textures! Who doesn't love tacos? This straightforward but delicious recipe will appeal to both young and old. Our Lime and Cilantro Rice Taco Bowl is filled with chicken breast, bell pepper, lettuce, pinto beans, guacamole, and more! The great news is that taco bowls make a terrific meal if you have family members who prefer different foods or eat at different times. They are very easy to customize to everyone's personal preference.
This Tasty and Simple Tex Mex Rice Bowl is bursting with flavor and will tantalize your taste buds. The combination of the Mahatma® Ready to Heat Cilantro Lime Rice and the smoky cumin beef creates a filling and delicious meal perfect to prepare for mid-week lunches. Check out some of our other rice bowl options.
If you are wanting to use our other rice varieties and simply want to add cilantro as part of your recipe ingredient list, we also have plenty of options to choose from.
Recipes Including Cilantro
Seafood
This Shrimp with Cilantro Cream Risotto doesn't skip any details. It's made with: Mahatma® Arborio Rice, a heavy cream, chicken broth, simmered onions, garlic, cilantro, and more. This risotto might just become your new favorite weeknight dish once you add some delectable shrimp and fresh parmesan cheese.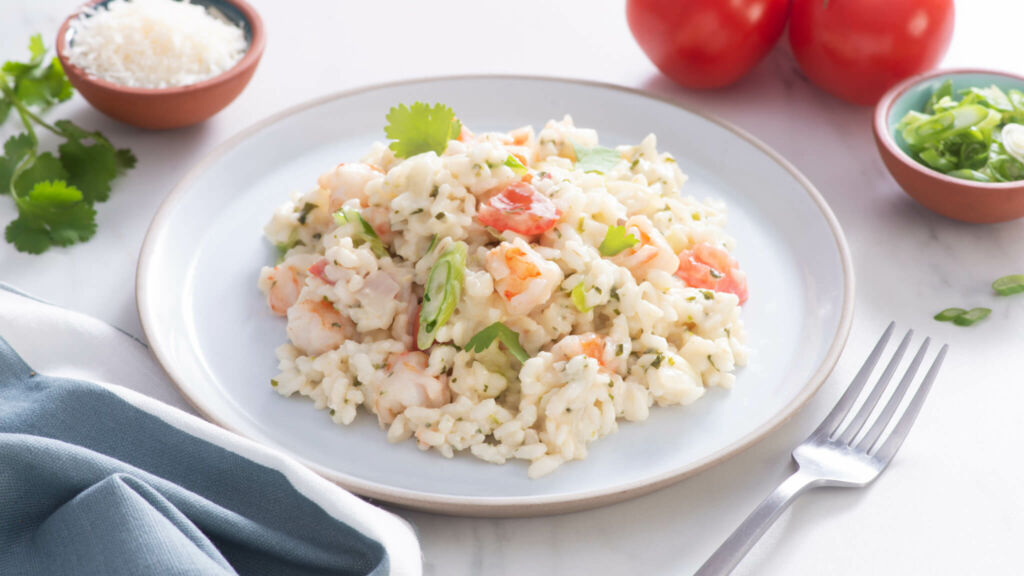 Another shrimp recipe option that includes cilantro is our Sweet and Spicy Chipotle Rice with Shrimp. Made with our Mahatma® Ready to Heat Chipotle Rice, this meal is ready in only ten minutes!
Chicken
Poultry is on the menu tonight and Arroz Verde With Chicken is a must-try recipe. Made with Mahatma® Jasmine Rice, chicken, onions, peppers, salsa, cilantro, and more. This meal is packed full of flavor and will make the weekly menu cut list for sure.
Another yummy chicken menu that includes cilantro is our One-Pot Green Curry Chicken Recipe with Jasmine Rice. From freshly chopped cilantro to fluffy Mahatma® Jasmine Rice, our One-Pot Green Curry Chicken contains a ton of fresh aromatic ingredients but still has a spicy kick that will leave a lasting impression.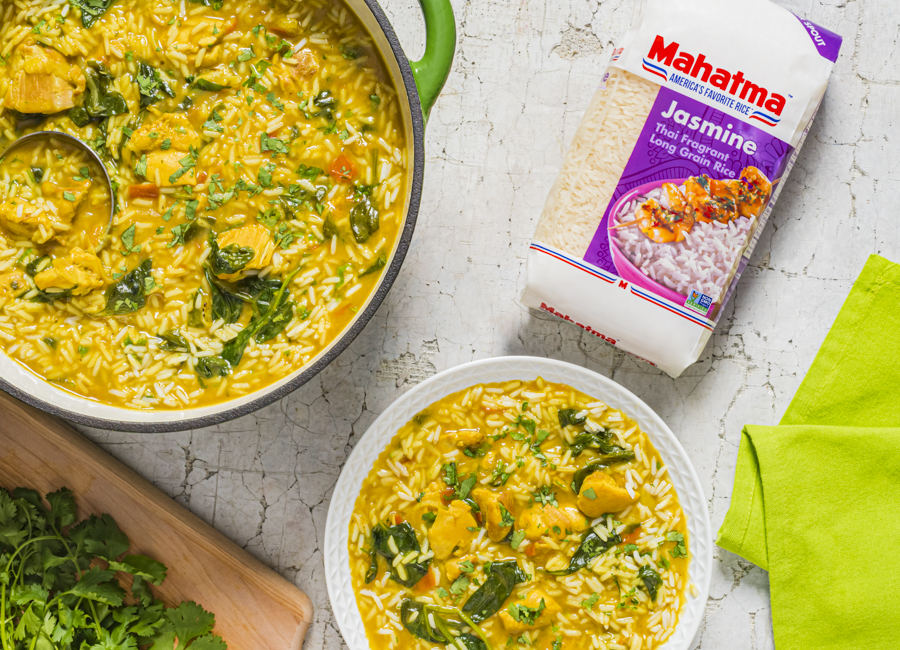 Recipe Tip: Fresh cilantro is often very sandy, so it's best to clean it as soon as you get home from the grocery store. Change the water once or twice and wash again, until no more grit remains. As soon as the cilantro is washed clean, spin it in a salad spinner. Alternatively, drain it in a large sieve and shake off the excess water.
For more delicious recipes check out the Mahatma® Rice website.