Bowls aren't just for soup and cereal anymore! By mixing and matching a few ingredients like proteins, hearty rice grains and veggies you can make a wide variety of rice bowls for any meal of the day. Rice bowls are a wonderful way to create just about any dish to satisfy your craving and preferences for the entire family.
Whether you need a breakfast that will fuel you up for the busy day ahead, a quick and easy lunch to go or a delicious dinner to wrap up the day and bring the family together, you can create a rice bowl to suit all your mealtime needs.
We've made a list of suggestions for any meal of the day!
Breakfast Bowls
They say breakfast is the most important meal of the day, so it's a good time to take in foods that will kick start your body for the day ahead and keep you powering through until lunchtime.
We know that getting in a hearty breakfast can be a tricky thing to do during busy mornings, so breakfast bowls can be a good option because you can do some prep the night before and have a quick breakfast, or even grab it to-go.
Turmeric Breakfast Rice Bowl
This Breakfast Bowl with Turmeric is loaded with energizing ingredients like sweet potatoes, eggs, spinach sliced avocado, and a pinch of superfood turmeric atop a base of a hearty blend of Mahatma® Jasmine Rice, Red Rice, & Wild Rice.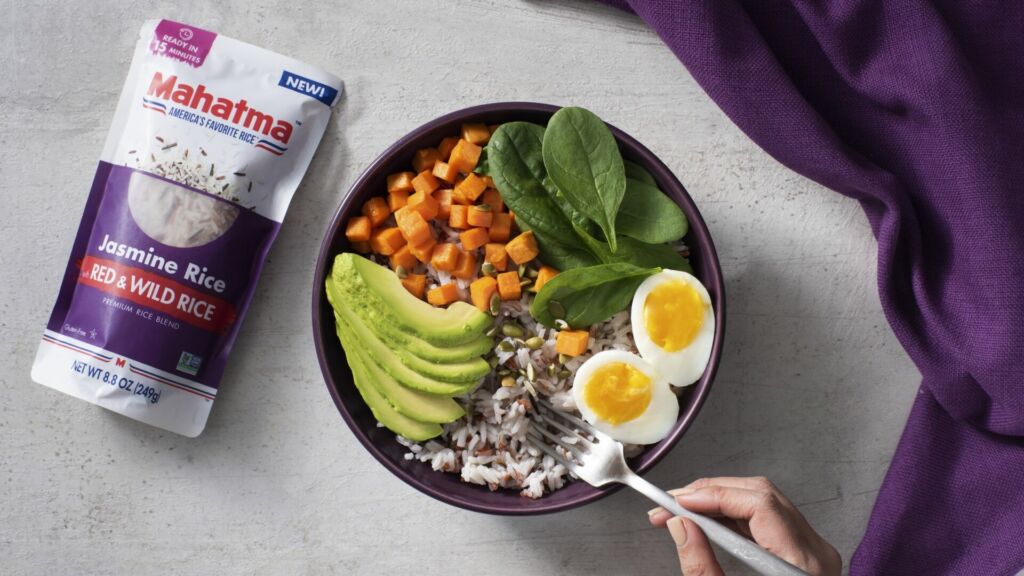 It's the ultimate power bowl that's not only delicious and filling, but you'll be fueled for hours to take on your busy day.
Breakfast Basmati Rice with Bananas
This sweet and tasty Breakfast Basmati Rice with Bananas bowl is a great option for speedy prep in the morning, or as a grab-and-go option for your busiest days.
Simply prepare Basmati Rice from Mahatma® Rice the night before, store in a microwaveable container, and grab it along with a banana on your way out the door in the morning. It's that easy!
Tropical Jasmine Rice with Quinoa Breakfast Bowls
Enjoy a tropical and filling breakfast with these delightfully sweet Tropical Jasmine Rice with Quinoa Breakfast Bowls.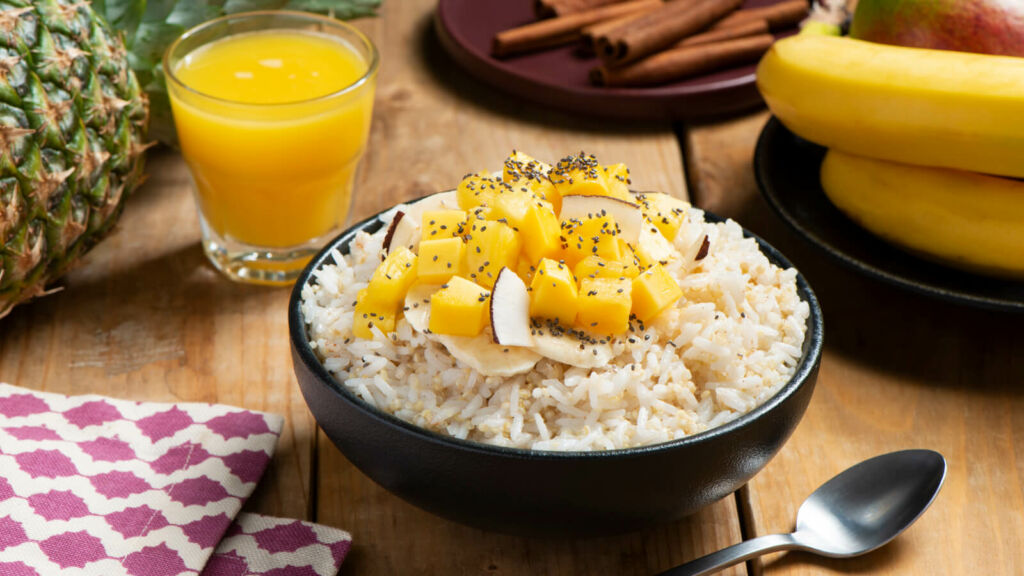 The irresistible taste of mango, pineapple, coconut, and banana mixed with Mahatma® Jasmine Rice with Quinoa blend, honey, and chia seeds will have you feeling like you're on a tropical vacation even on Monday morning.
Lunch Bowls
If you prefer lighter breakfasts and larger lunches, not to worry, we've got great lunch bowl ideas for that time of day, too.
Greek Power Bowl with Jasmine Rice
This Greek-inspired bowl is flavor-packed and loaded with the Mediterranean ingredients you love like black olives, chickpeas, feta, and a delicious homemade avocado tzatziki dressing.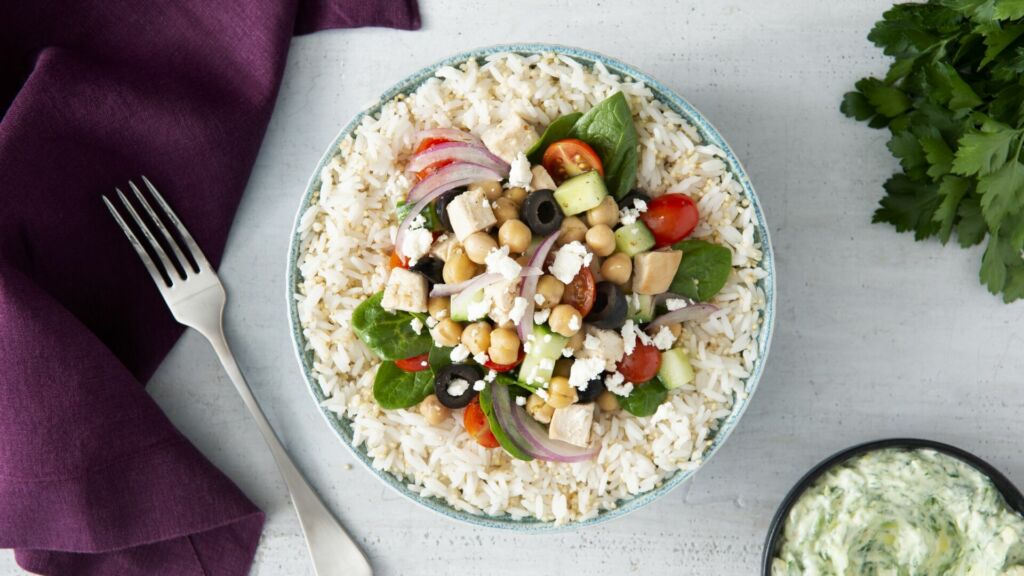 This hearty bowl isn't just tasty and a great way to stave off that midday slump, but it's another great option for preparing the night before and grabbing it on your way out the door in the morning ensuring you'll have a great lunch.
Salmon Poke Bowl with Sticky Rice
Enjoy a delicious and satisfying meal with this Orange Miso Sesame Salmon Poke Bowl with Sticky Rice. Made with salmon, veggies, and Mahatma® Short Grain Rice, you have a balanced meal of protein, greens, and filling grains to keep the hunger pains away for hours. Are you a poke bowl fan? Try our Tuna Poke Bowl recipe too!
Jasmine Rice & Quinoa Taco Bowls
Tacos anyone? Well, not quite, but this tasty bowl is a great way to turn a favorite like tacos into a meal on the go without ending up with soggy tortillas. Nobody wants that.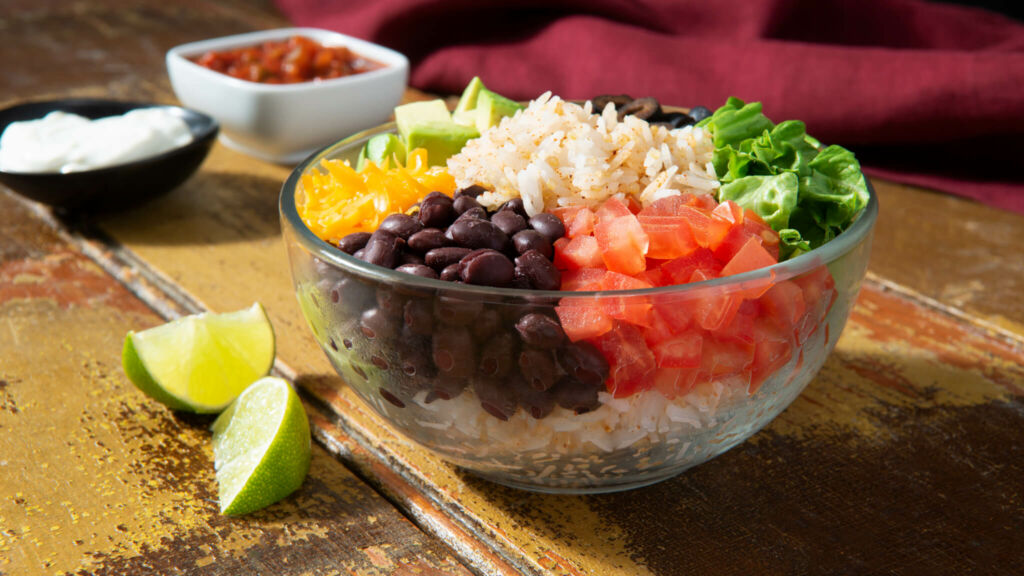 These Jasmine Rice & Quinoa Taco Bowls swap the tortillas for a rice and quinoa blend but still include your favorite taco fillings like black beans, tomato, Cheddar cheese, lettuce, avocado, and all seasoned to perfection with taco seasoning. Yum!
If you are craving tacos the original style try this Tacos Dorados Recipe.
Dinner Bowls
If you thought rice bowls were only a breakfast or lunch option, think again! These tasty and versatile bowls are great for dinner, too! Check out these flavor-packed bowls that you and your family are sure to love.
Grilled Veggie Burrito Rice Bowls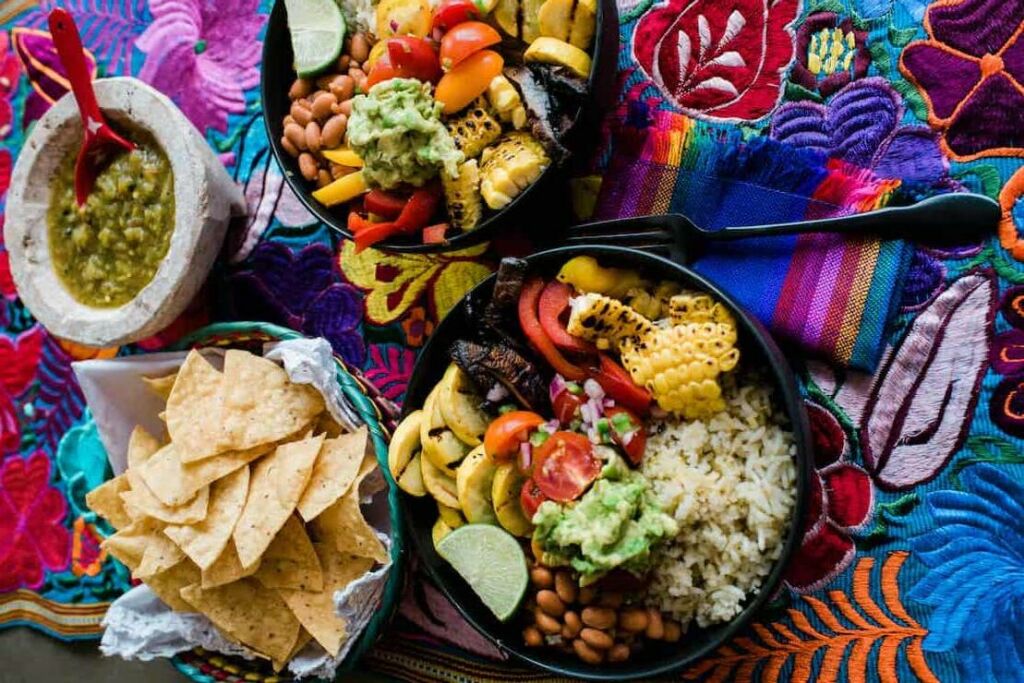 This delicious and grilled veggie-packed bowl is a great vegetarian option. Loaded with grilled corn, squash, mushroom, peppers, roasted green chili, pinto beans, guac, and pice de gallo with fluffy Mahatma® White Rice, these tasty bowls pack a flavor punch.
For those not on a vegetarian diet, this recipe pairs perfectly with grilled steak, chicken, or shrimp for some added protein.
Beef Curry Rice Burger Bowls
If you're a fan of Indian cuisine, these delicious Beef Curry Rice Burger Bowls are sure to please. Made with fragrant Mahatma® Thai Jasmine Rice, a homemade curry sauce, chickpeas, and red peppers, this colorful bowl is as vibrant with its yellow hue as it is delicious.
Steak Fajita Bowl with Chimichurri
In the mood for some Latin flavor for dinner. We have a bowl recipe for that, too. These Steak Fajita Bowls with Chimichurri are simple to make, incredibly tasty, and definitely satisfying.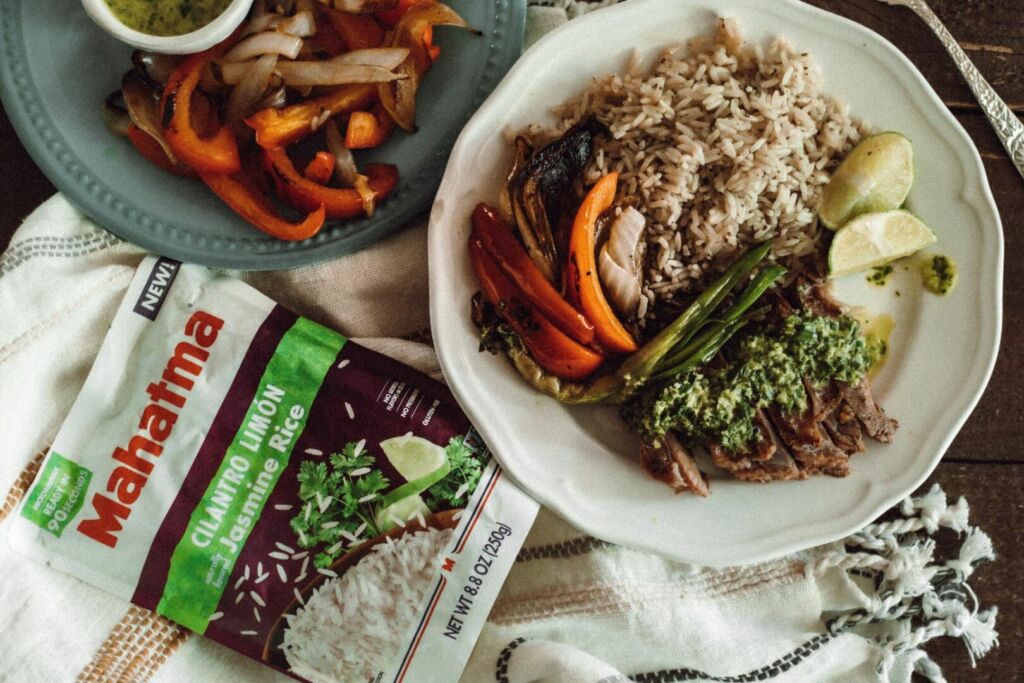 Made with Mahatma® Ready to Heat Cilantro Limón Jasmine Rice and topped with homemade chimichurri, you won't believe how much flavor can come from one bowl.
Whatever your favorite foods are, there is likely a delicious rice bowl to be made out of them so get creative and make a tasty meal in a bowl! For best results, follow all our tips and tricks to cook perfect rice every time and discover interesting thumb rules like the jasmine rice to water ratio.