For some, the smell of a warm casserole being pulled out of the oven is full of nostalgia and memories of your grandmother gathering the family around the table. A staple dish in many households, casseroles are prized for their comfort, simplicity, and versatility. Throwing one dish in the oven to get a perfectly delicious meal that everyone will love, saves time in the kitchen, giving you more time to spend with the ones you love.
This one-pan meal can include a variety of ingredients- from meats and vegetables to pasta and grains, the possibilities are seemingly endless. Not only are casseroles a great way to use up leftovers and make an easy meal, but they can also be customized to fit your tastes and preferences. There is a casserole for everyone to love!
Read ahead to discover delicious casserole recipes, and learn to build your own with the ingredients you have on hand with Mahatma® Rice.
Building The Perfect Casserole
A casserole consists of layering ingredients in a big oven-safe dish and baking everything together simultaneously. The result will be a delicious meal ready to serve many people at once. When building your own casserole, you want to choose ingredients that will create a harmonious blend of flavors and textures.
Here are the elements that you should include in your casserole:
Choose your Base: The base typically consists of a hearty ingredient that will soak up the other flavors like pasta, potatoes, bread, or any of our delicious Mahatma® Rice Products. 
Pick your Protein: Choose your favorite protein like chicken, beef, tofu, or any leftover meats you have in the fridge.
Add the Vegetables: Add a variety of colorful and tasty vegetables to your casserole. Carrots, broccoli, bell peppers, green beans, and mushrooms are all great options. Use whichever vegetables complement your protein, or whatever you have on hand!
Choose a Sauce: because a lot of the ingredients in a casserole are dry, adding a sauce is best to keep the ingredients moist and hold the dish together. Try using a tomato sauce, cream sauce, enchilada sauce, or any other desired dressing that will compliment the other ingredients.
Toss in Herbs and Spices: adding herbs and spices will enhance the ingredients in your dish and make your casserole smell even better when it bakes in the oven. Use dried or fresh herbs like thyme, rosemary, or basil. Add paprika, garlic, chili powder, or other preferred spices to boost the flavor.
Follow these simple steps to complete your meal:
Layer all of the ingredients listed above- Start by spreading the base on the bottom of the dish, then evenly layer on your protein and vegetables, spread the sauce over everything, then repeat until the ingredients are gone.
Bake it all together: Preheat your oven anywhere from 300-400 degrees Fº, and cover your casserole with foil. Once the oven is ready, bake for about an hour or until you see the sauce bubbling. Remove the foil during the last 10 minutes for a golden brown finish, and serve.
Even using the ingredients you already have at home, in just a few simple steps you can have a warm meal that satisfies the whole family.
Classic Casseroles
Packed with delicious flavors and nostalgia, these casseroles will give you a warm and comfortable feeling that you can share with the whole family.
Create new traditions and family recipes with this nostalgic Green Bean Rice Casserole. Made with cream of mushroom soup, green beans, pine nuts, and aromatics, this dish will have your kitchen smelling delicious before it is even done!
Made with Mahatma® Whole Grain Brown Rice, this Brown Rice, Mushroom and Chorizo Stuffing Casserole with Roast Chicken is packed with protein and flavor. Similar to a Thanksgiving stuffing, this recipe has plenty of spices, a hint of heat, and bursts of citrus that is sure to impress your dinner guests.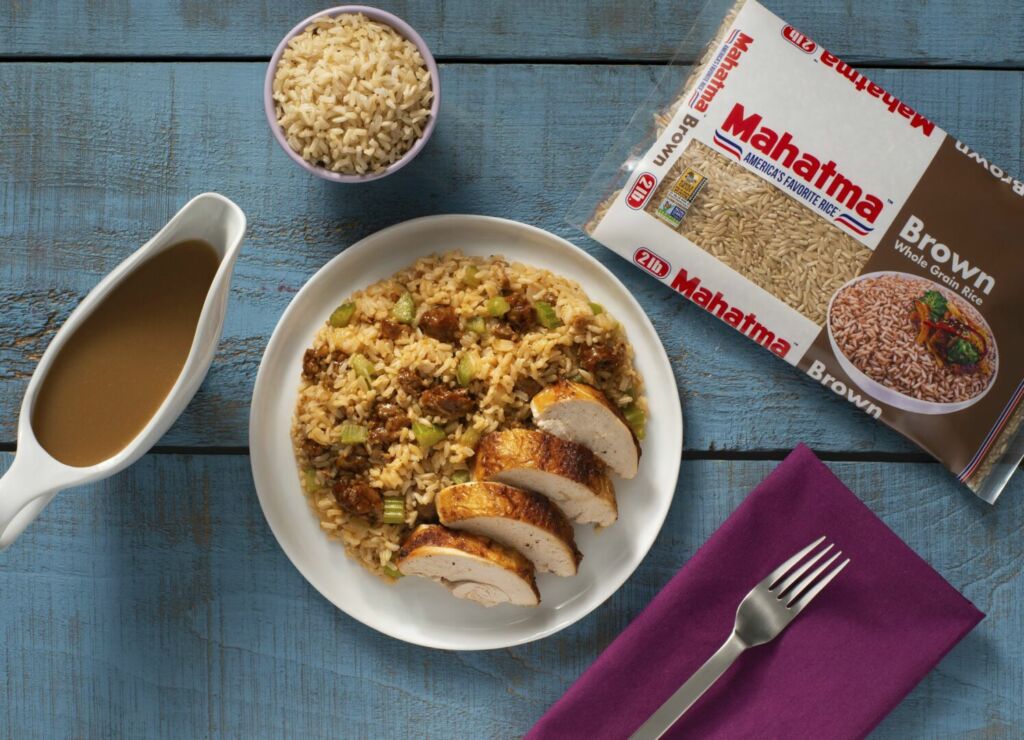 Reheat and Reuse
Along with its lack of cleanup and versatility, the best thing about casseroles is that they are great for reusing leftovers and can easily be reheated. Perfect for busy weeknights or family get-togethers, these recipes can help you save time in the kitchen.
Toss in leftover rice from the Chicken Biryani you made last night, grab the riper vegetables on your counter and build a delicious casserole that will give new life to all of your ingredients. Casseroles are a great inexpensive meal that will save time, money, and hassle.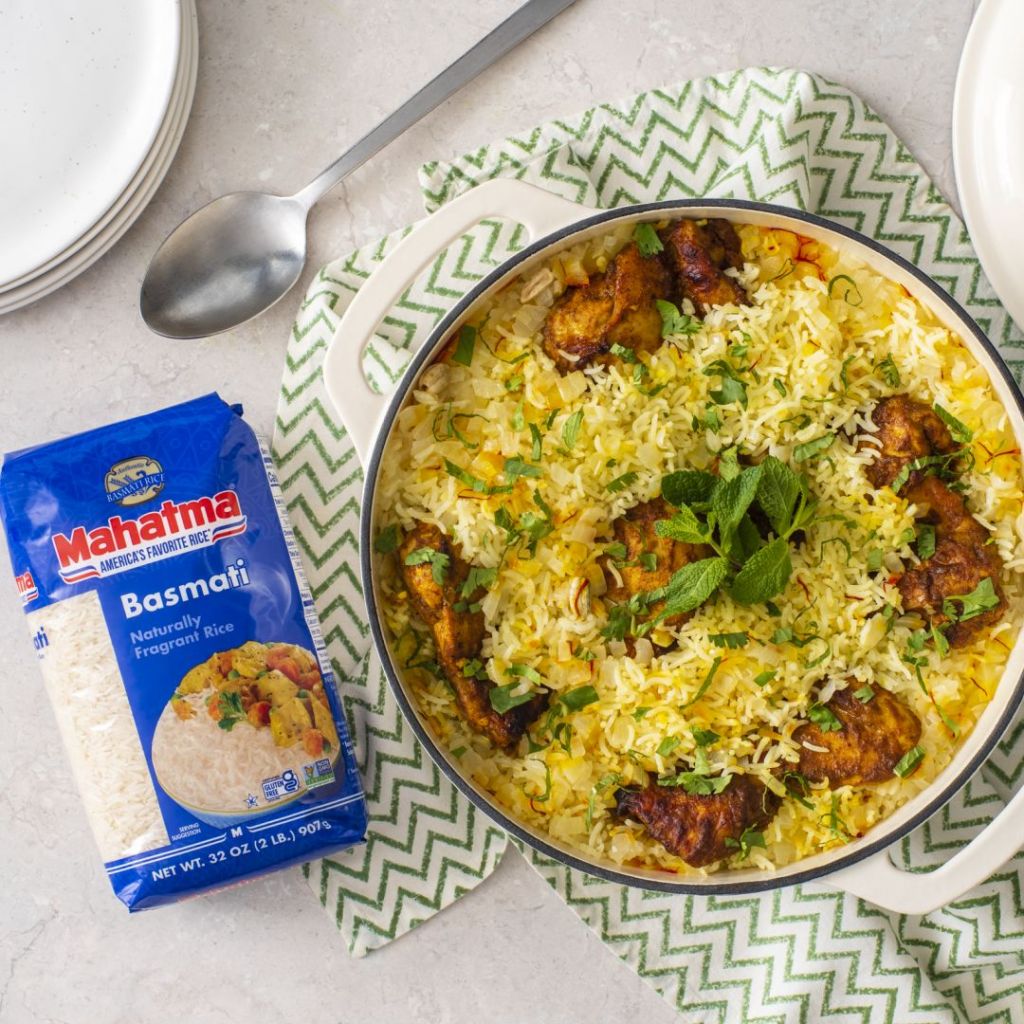 Throw in your leftover Turkey in this Easy Turkey Rice Casserole, for a dinner that will be done in under 30 minutes. Learn more about Repurposing Your Leftovers with Mahatma®, and get inspired to create fresh dishes with older ingredients.
Another benefit of casseroles is that you can make them in advance and cook them later! If you have time to prep in the morning, build your casserole, cover it, and put it in the refrigerator. Simply place it in the oven when you're ready to eat! The best part is that you can leave the dish in the oven for an hour without worry while you finish up your evening tasks.
This White Bean, Rice and Chorizo Casserole is a combination of tender white beans, fluffy rice, spicy chorizo sausage, and a mixture of aromatic herbs and spices, all packed together in one casserole dish! Easy to prep with little cleanup, this dish is a great choice for busy weeknights. Make this dish over the weekend, freeze it, and thaw it when you need it.
Turn up the Heat
With a milder flavor to red chilis, green chilis are a great ingredient to add for some subtle and smoky heat. They are used in a wide range of cuisine, from Mexican to Indian, and are a great addition to stews, salsas, and of course, casseroles! You can find these chilis fresh, canned, or smoked for a unique flavor that will add depth to any meal.
With Tex-Mex flavors, this Southwest Chicken & Rice Casserole packs a kick with jalapeños and green chilis. The spice is balanced out by sour cream and shredded cheese, creating a well-rounded and delicious meal.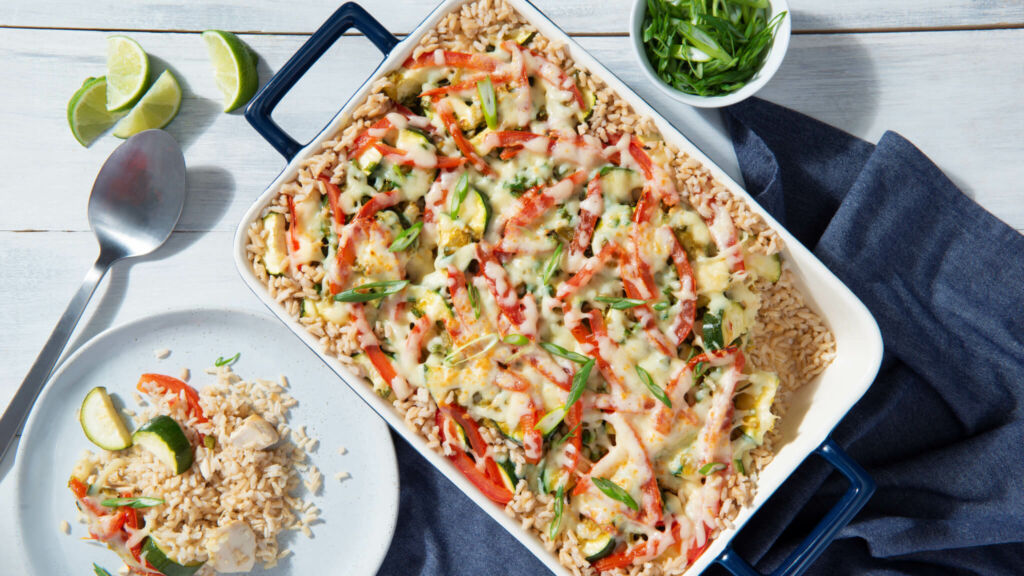 Or check out our Green Chili Mexican Rice Casserole, perfect for a side dish, or pair it with shredded chicken for a main course. Made with green chillis, red pepper flakes, sour cream, shredded cheese, and Mahatma® Jasmine White Rice, you can build this simple casserole in no time.
Whether you're looking for an easy meal to feed the whole family, or bringing a dish to a big gathering, casseroles offer a versatile and convenient meal option that can be customized to your tastes. Save time and money by using up your leftovers for these one-pan meals that require little prep and minimal cleanup!
Create memories and delicious meals with more Mahatma® Rice Recipes that will inspire and save you time in the kitchen!