The mistletoe is hung, the porch is decorated and the "must see" holiday movie list has been made. However, you have wrapping to do and you still have not found Grandma's special star to top the tree. Amidst the mayhem, cooking gives you inner peace. Mahatma® Rice has several recipes to help you relax in your happy place that is the kitchen.
Crispy rice recipes are a fantastic way to jump start into holiday cooking mode.
First, we'll take you through how to make crispy rice!
How to Make Crispy Rice
Crispy rice has the aroma of toasty nuttiness. It is a global phenomenon because it is ¨lick the bottom of the pan¨ good. So how is crispy rice prepared?
Step 1: Select the Mahatma® Rice variety you'd like to brown and rinse it under cold water. Drain it, dry it off,  and toss it in melted butter or olive oil.
Step 2: Add a tablespoon of vegetable oil to a pot or deep pan (with an airtight lid!) over medium heat. Add the rice and spread it out to cover the entire bottom of the pot. Poke a few holes in the top of the rice so steam can escape.
Step 3: Cook the rice until it begins to steam all over. Reduce the heat to low and cover the pot with the lid until the bottom of the rice forms a golden crust; note that the wait time will vary depending on how much rice you use. Once cooked, remove the rice with a spatula, or place a platter on top of the pan and flip it over to remove it in one piece.
Now that you are an expert on how to prepare crispy rice here are a few recipes for you to try:
Crispy Rice Recipes
For tasty bite-sized snacks, opt for one of these crispy rice recipes – they are perfect appetizers for formal family dinners and casual get-togethers!
Spicy Crab and Avocado Crispy Rice is packed with sticky sushi rice, spicy crab and avocado topping. It is a perfect appetizer option for any holiday party and your guests will be begging for more.
Another fun and delicious way to get your party started is with these Seared Tuna Crispy Rice Canapés. They are bite-sized, handheld snacks that your guests can walk around with while mingling at your party.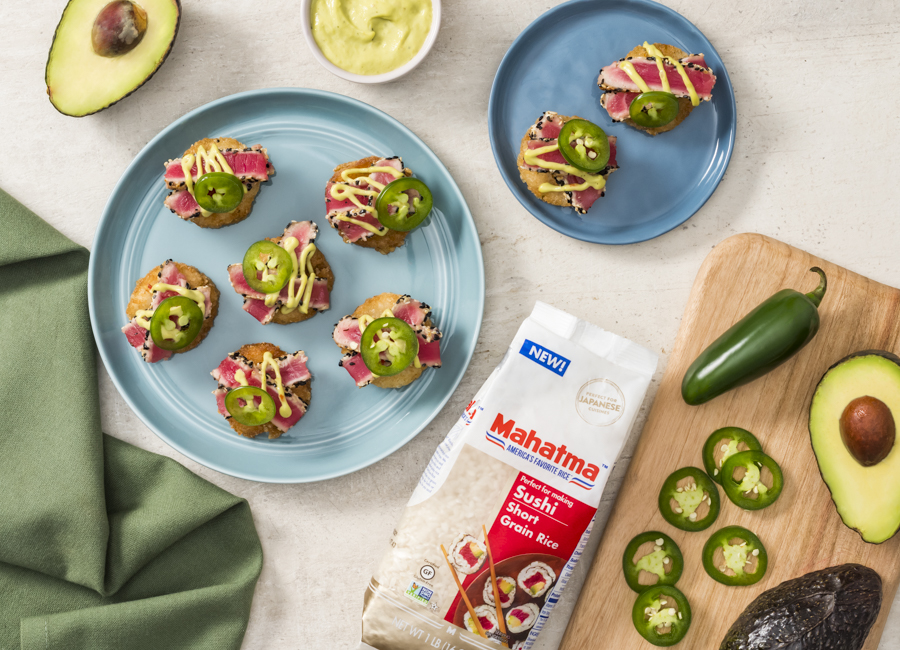 If your guests are not fans of crab or tuna you can always go in with a shrimp dish for the win. Shrimp Ceviche with Crispy Rice is the finest choice.
There you have it, 3 outstanding crispy rice appetizer recipes to get your Holiday Party started on the right foot.
Crispy Rice Balls
You don't always have to use crispy rice to achieve a recipe with a crispy texture. Many rice ball recipes from Mahatma® Rice are made with different types of rice but they are still a fun rice baked snack with a crispy texture. 
If you have some vegetarian friends and family the Crispy Veggie Rice Balls are a marvelous option. These crispy veggie rice balls can serve as a starter or a tempting snack. There are different ways to prepare the recipe either by deep frying them on a medium-high flame, or you can use an air fryer as an alternative to pan frying to reduce oil consumption. A plus side to this recipe is the sky's the limit when deciding what fillings you would like to add. The limitless options for cheeses, veggies, and dipping sauces make this an all time favorite.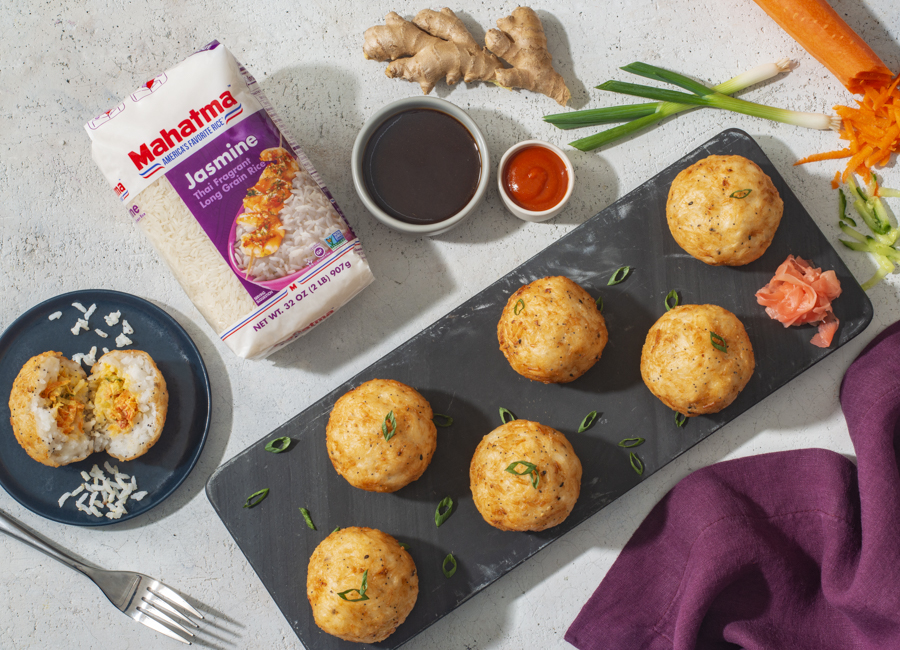 If you would like to explore other rice ball options Mexican Rice and Cheese Balls are a crunchy delight. Onions, taco seasoning and cheese are a few of the yummy ingredients.
Crispy on the outside and savory on the inside, these Air Fryer Arancini with Arroz Rojo rice balls are made with risotto-style arroz rojo using Mahatma® Rice Arborio Rice. These risotto balls can be filled with all sorts of fillings from ragú to mozzarella or even ham and cheese. The best part is that these rice balls are fried in an air fryer so you can enjoy that warm and crispy outer texture without having to deep fry anything.
After your guests have been snacking and eating, listening to Holiday songs and sipping some eggnog they will be ready for dessert. Mahatma® Rice has got you covered.
Dessert Recipes
Looking for some sweet inspiration? There are plenty of ways to serve rice as dessert! If you want to include puffed rice in your desserts, Mahatma® Rice has several options to choose from. All of these selections will be a hit for any holiday party.
Puffed Rice is a timeless classic that will leave you feeling full and nostalgic. This is a one ingredient recipe. Get creative and top with the sweetest options of your choice.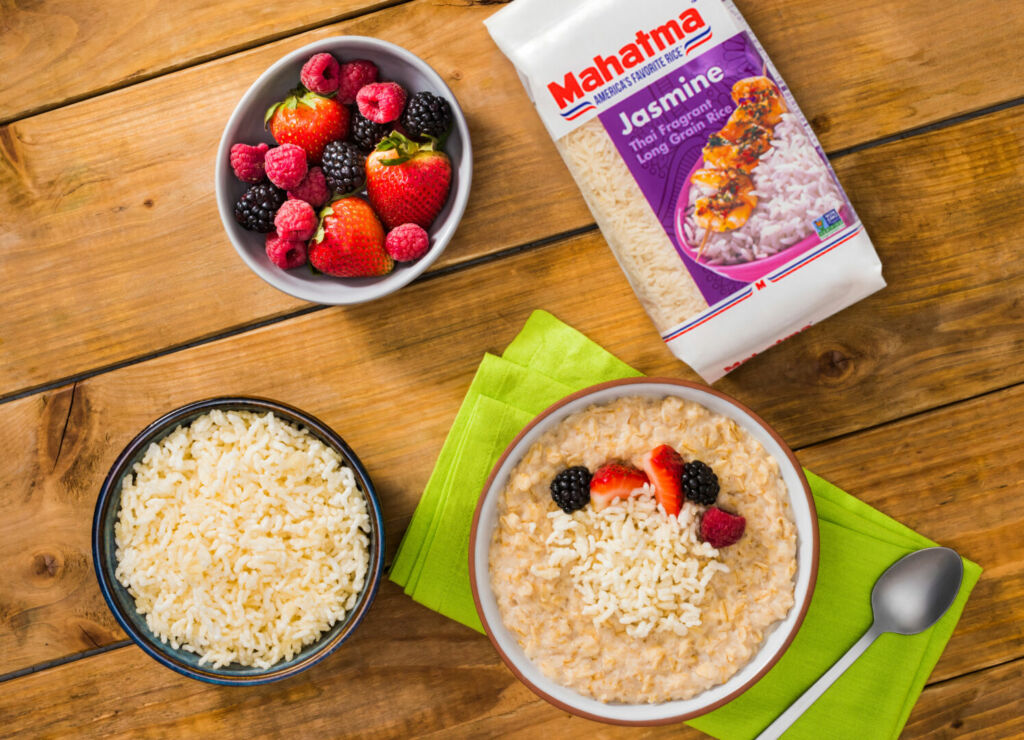 Craving chocolate? Get your rich peanut butter/chocolate fix when you make these Puffed Rice Chocolate Bars. The puffed rice balances out the richness in the bars and delivers a satisfying crunch. Packed with flavor your guests will want seconds.
Another option for your guests is this Churros Puffed Rice Cereal. This fun cinnamon and crunchy twist on churros is a no brainer. If you want to get creative during the holidays you sprinkle on pumpkin spice to keep things festive!
Follow Mahatma® Rice for plenty more interesting ways to use your favorite ingredients in fun ways! .