A truly global ingredient, rice unites us all, no matter where you are. A staple in different ethnic cuisines, the versatility of these grains knows no boundaries, and we guarantee there's a rice recipe for every meal occasion, no matter which gastronomic cuisine you choose to enjoy.
The truth is, more than a signature dish for each country, there are many recipes that have traveled from one country to another, and have been reinvented with the addition of local ingredients or new cooking methods. There are even different recipes for the same rice dish within the same country, for example with Seafood Paella.
You might already be familiar with the classic recipe for Rice Pudding – but there are many other sweet treats you can make with the grains in your pantry! Come with us and travel around the globe to discover something different to try today with your favorite Mahatma® Rice variety.
8 International Sweet Rice Treats
1. Rice Pudding
Starting with a worldwide favorite, rice pudding is, without a doubt, one of the most iconic rice desserts around the globe. The history behind the original recipe remains a debate, as this humble treat has been enjoyed for thousands of years in many regions. Some people say the very first came from India, where it's known as Kheer or from China, one of the countries with an ancient rice culture, while some others say Arroz con Leche (spanish for Rice pudding) originated from Latin America. Many other European countries have a signature recipe for this dessert too, like Portuguese Sweet Rice.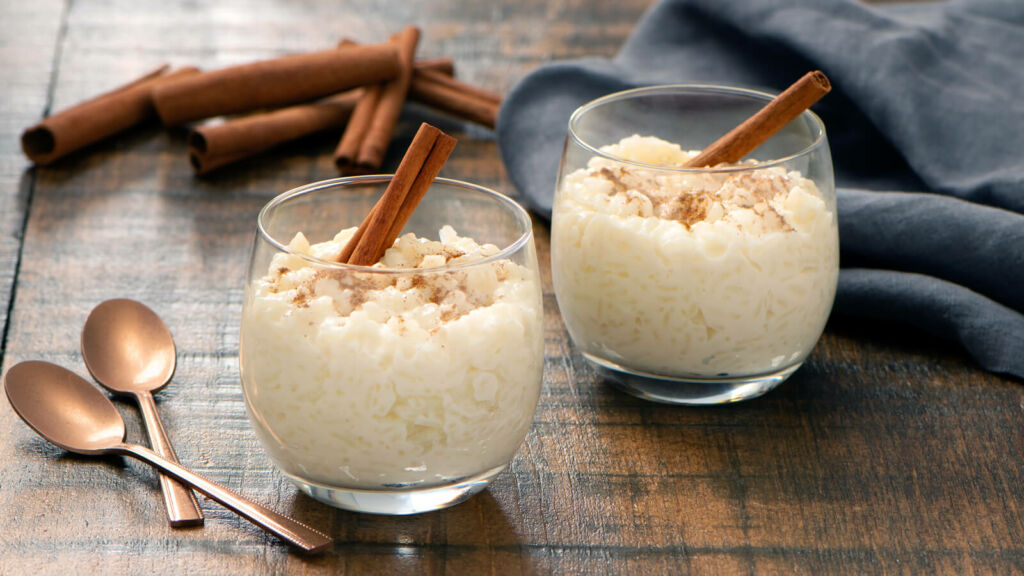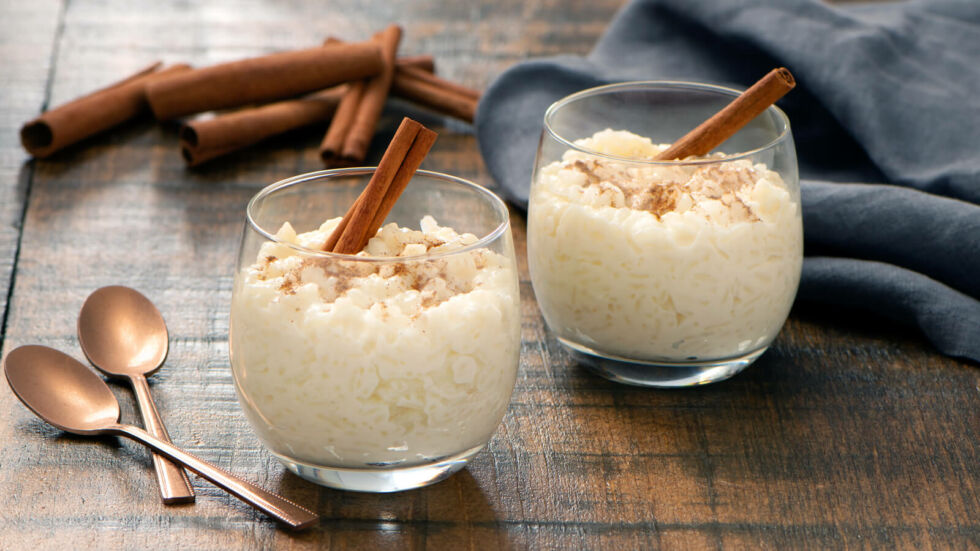 Essentially, no matter which version you choose to make, every rice pudding recipe is made with the same staple ingredients: rice, milk, cinnamon and sugar. Variations include sweet toppings like Cajeta, thickening agents like eggs, or earthy nuts and spices like cardamom or pistachios.
See below for some delicious recipe inspiration, and check out our fool-proof guide on How to Make the Perfect Rice Pudding.
2. Mochis
Originating in Japan, mochis are round bite-sized rice cakes that have become an international food trend. These treats are made with rice flour and both sweet and savory ingredients for the filling. In japanese culture, making mochis is a labor intensive activity, where the entire family is involved and tradition is passed along from one generation to the next.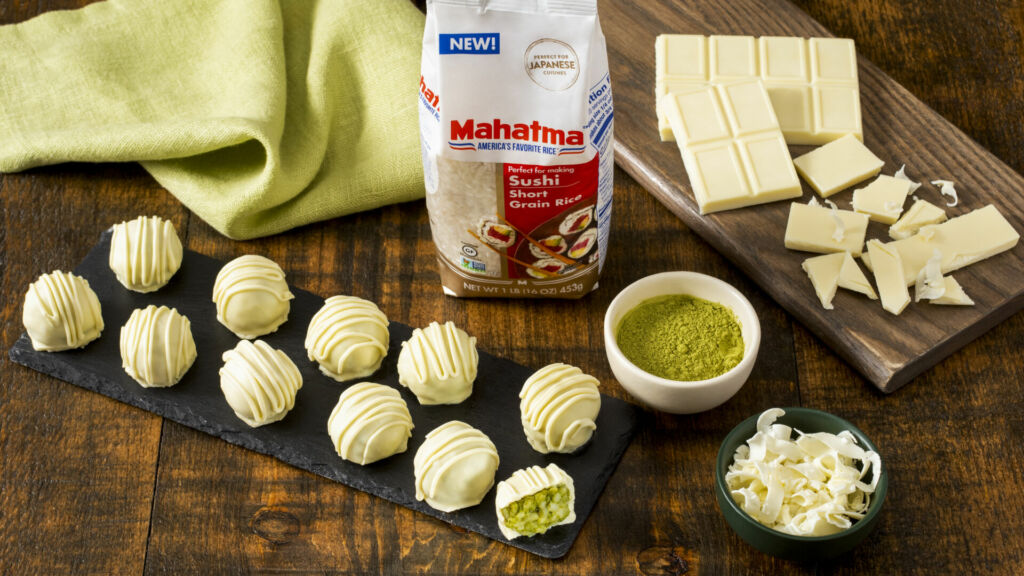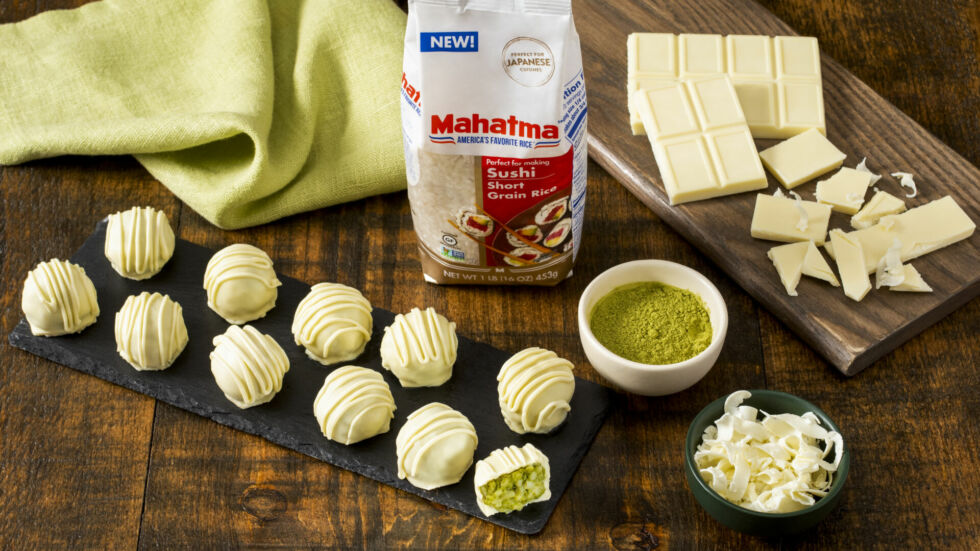 The filling is wrapped with a soft dough made from glutinous rice flour and while it can be found in different flavors, the original ingredient used for the inside is made from a paste from adzuki beans. For a delicious and easy to make variation, use Mahatma® Sushi Rice for these Matcha Green Tea and White Chocolate Rice Truffles – a dessert inspired by Japanese mochis.
3. Mango Sticky Rice
A signature dish from Thailand, sticky rice is a must for Thai street food. With a short ingredient list, but packed with a whole lot of irresistible flavors, this dessert combines the best tropical fruits into a single dish.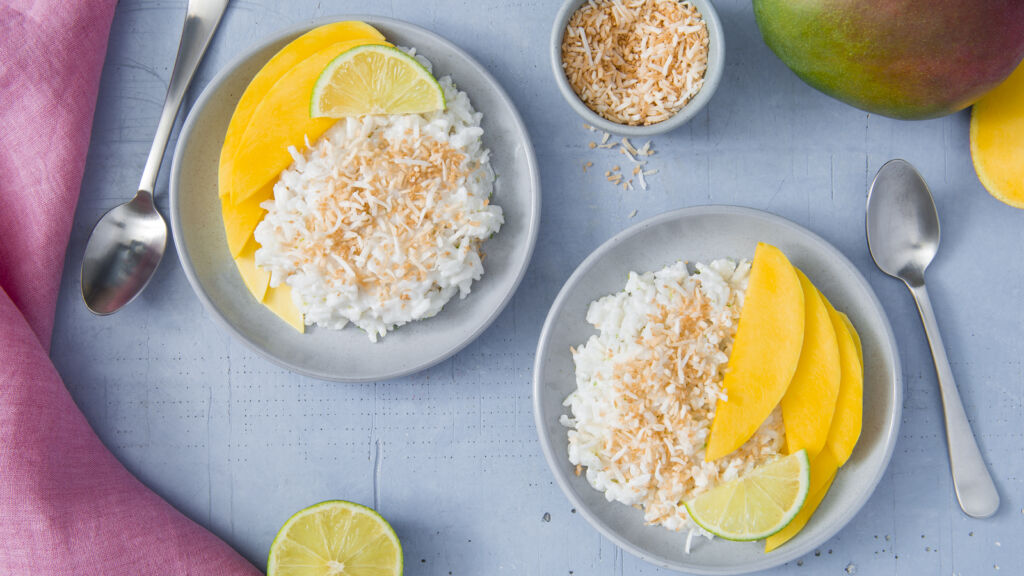 The secret to nailing the sticky rice texture is cooking the grains in rich coconut milk. Try your hand at this delicious Mango Sticky Rice recipe and use Mahatma® Jasmine Rice for best results. Top with toasted shredded coconut for an extra layer of flavor and a crunch.
4. Sweet Arancini
Traditionally made from leftover risotto, arancini is a true delicacy that's very common in Italy. We're taking the classic and giving it a sweet twist. For your next family event, surprise your guests with this impressive looking Sweet Arancini Dessert Board. Use Mahatma® Arborio Rice to make these ooey gooey chocolate and caramel arancini. Serve warm along with sweet sauces for dipping.
5. Rice Fritters
Louisiana is famously recognized for the flavors of Creole and Cajun cuisine but did you know they also have a popular rice dessert? Move over beignets, these tiny morsels, commonly known as calas, are fried rice fritters sold everywhere in the French Quarter of New Orleans.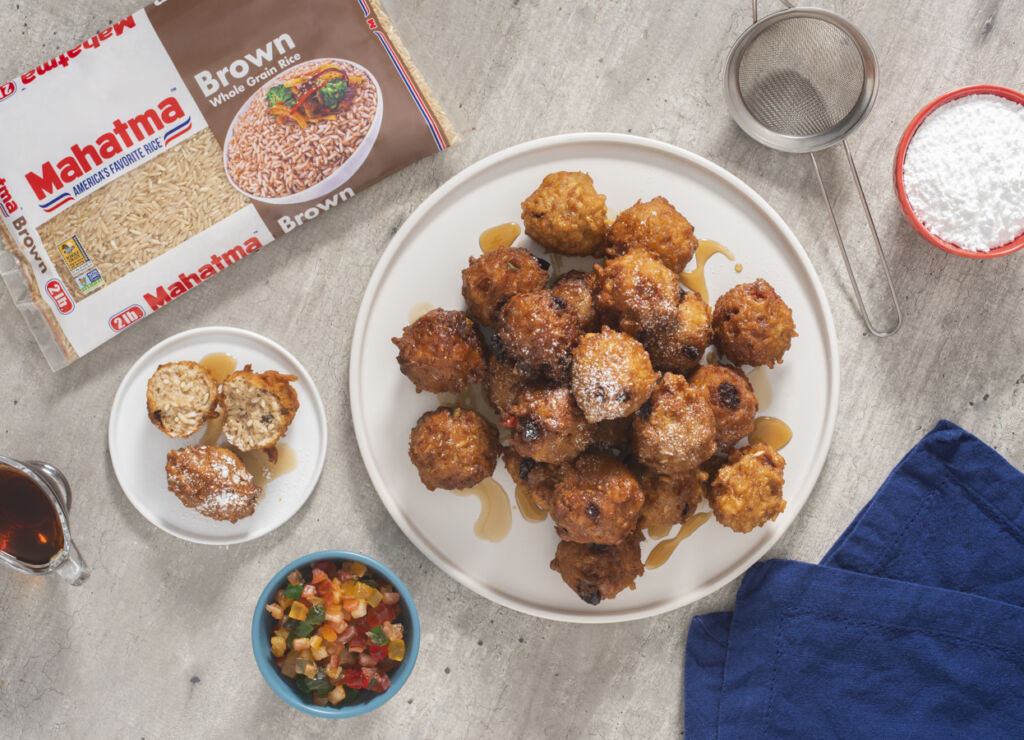 Switch things up when making homemade rice fritters by mixing in flavors from a Caribbean Christmas cake and drizzling with a flavorful rum syrup. Enjoy this wholesome and delicious dessert made with Mahatma® Brown Rice.
6. Horchata
Horchata is a creamy Latin American rice-based drink. The main difference between this and other latin beverages is that Horchata is served chilled, over ice, while Atole is enjoyed steamy for a comforting hot drink.
This sweet and refreshing beverage can be enjoyed on its own or as part of more complex drinks, like Café Horchata. While it may be savored during the meal or after, this sweet rice treat can be used as a base for other wonderful dessert ideas. Here are some other recipes you can try to continue enjoying it's satisfying flavor: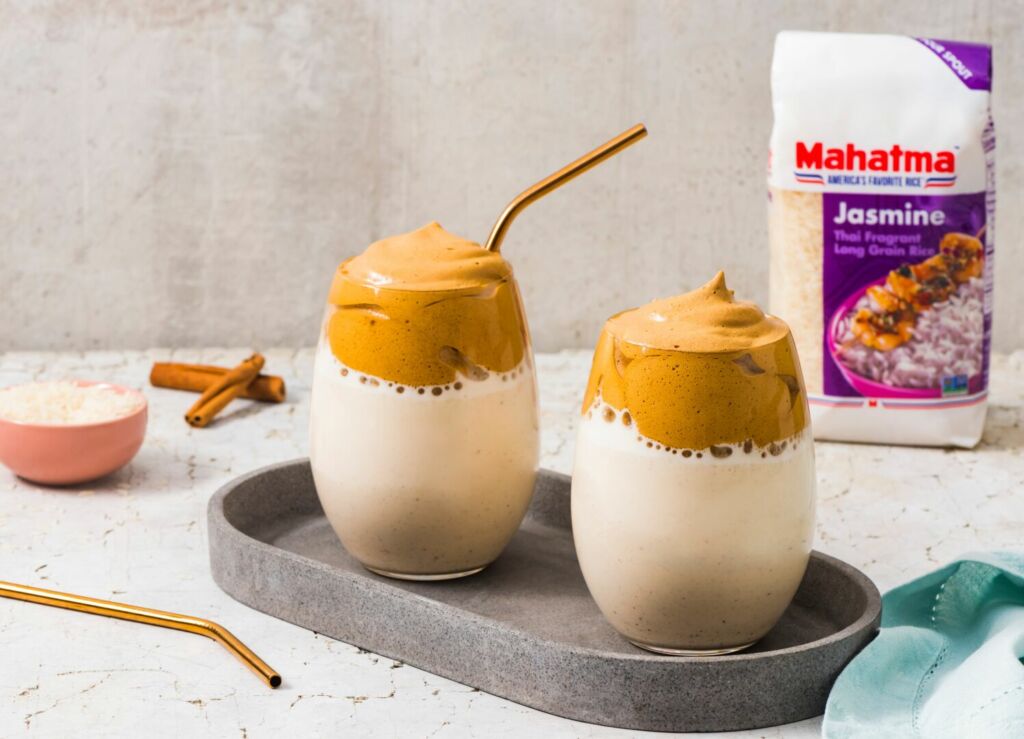 7. Rellenitos
Combining refried black beans, hearty jasmine rice and ripe plantains all coated in cinnamon and sugar, rellenitos are a flavor combo that will satisfy both kids and adults alike. Plantain Rellenitos are a delicious dessert common in Latin America, especially in Guatemala.
These croquette-style bites are great for any special occasion, from family get-togethers to birthday parties. Make them even better by serving with chocolate dipping sauce or dulce de leche. This latin-inspired dish is definitely a great addition to your desserts repertoire!
8. Tamales
Are you one of those that save a little bit of masa after the tamalada to make some tamales de dulce? We get you! If you haven't tried your hand at sweet tamales, this easy recipe with Mahatma® White Rice will have you enjoying delicious dessert flavors with a simple prep.
Sweet tamales are another delicacy from Latin America that you can try with any berries of choice, dulce de leche, chocolate, raisins or nuts. Make sure to check out our video guide on how to properly wrap tamales!
If you are looking for a savory option try these Tacos Dorados.
Are we missing any of your favorite rice desserts in this list? If so, make sure to share it with us! We love hearing from rice fans and your family recipes. With so many options to try, which of these sweet treats are you trying first? Trust Mahatma® Rice and make something that will satisfy a crowd. Continue learning new dishes and cooking tips like how to cook jasmine rice in rice cooker by browsing our website.