Pumpkins have many different uses, whether you are preparing a Thanksgiving feast or decorating your house for halloween. You can also use almost every part of the pumpkin, from skin to seeds, so very little actually goes to waste. In today's post we are going to be taking a look at some of our favorite savory and sweet recipes that can be made using Mahatma® Rice and pumpkin.
But before we begin, let's learn how to cut your pumpkins, no matter what variety you choose.
Choosing the Right Pumpkin
You can choose whichever variety of pumpkin you want to cook with, however we recommend sugar pumpkins. These pumpkins are small and round and have a sweeter flavor. When selecting your pumpkin at the supermarket look for one with a healthy brown stem. You'll also want to inspect the pumpkin and check for any bruises or soft spots.
Sustainable Tip:
Use any leftover pumpkins to create jack o lanterns. Pumpkin seeds also make a great snack.
How to Store a Pumpkin
When storing a pumpkin, it's best to store it in a cool dry place. Once you have cut your pumpkin, you should carefully wrap it and store it in the fridge where it will keep for about 5 days.
How to cut a Pumpkin
Cutting a pumpkin can be quite challenging at times, luckily there are a few different ways that you can cut your pumpkins. The pumpkin cutting method which you should use depends entirely on the recipe you are making.
To start, you'll need a large, sharp knife. Place the pumpkin on a large cutting board and cut into the pumpkin close to the stem. Cut down towards the chopping board, slowly rotating the pumpkin until you have two halves.
How to Empty a Pumpkin
With your knife, cut off the crown of the pumpkin so you can easily reach inside. With a spoon, you can scoop out the seeds and other innards.
How to Peel a Pumpkin
It's easier to peel a pumpkin when it is in smaller pieces, so cut your pumpkin into chunks and then use a vegetable peeler to peel off the skin. Alternatively, you can roast your pumpkin, once roasted the skin will easily come off by hand.
How to Dice Pumpkin
Peeling your pumpkin first will make dicing it even easier. Once you have peeled your pumpkin, you can cut it into strips and then dice them.
Savory Pumpkin and Rice Recipes
There are plenty of different pumpkin and rice dishes that can be made with Mahatma® Rice.
Baked Pumpkin Recipes
If you are looking for an interesting baked dish to impress your dinner guests with during the holiday season, look no further than this amazingly presented Brazilian Shrimp Stuffed Pumpkin. Who knew that you could also use a pumpkin as a food receptacle.
On the other hand, if you don't have a whole pumpkin to spare, this easily-customizable Southwest Chicken and Rice Casserole made with Mahatma® Brown Rice tastes great. The original recipe doesn't include pumpkin but it can be swapped in for the zucchini.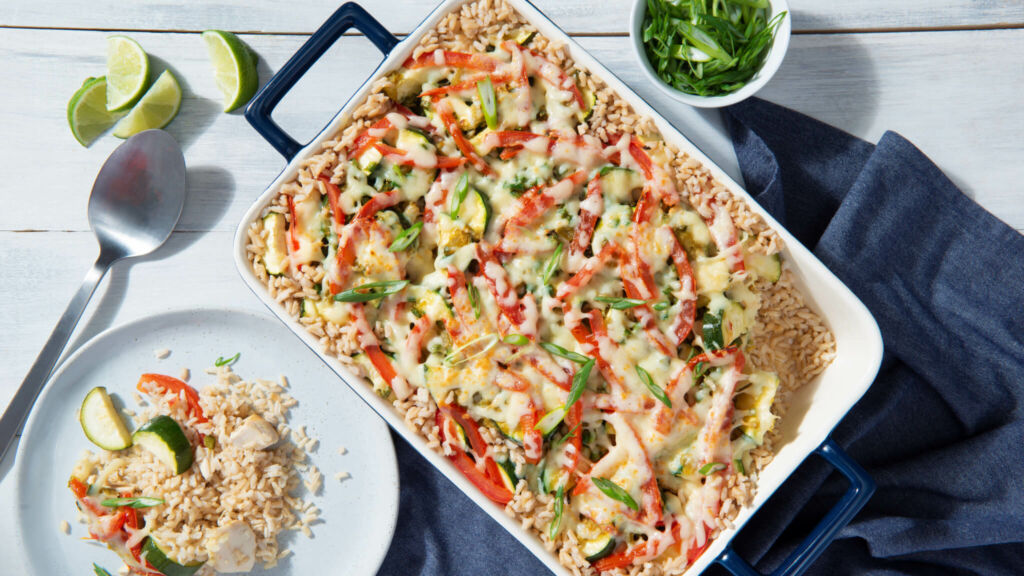 Rice Bowls
For a fall inspired rice bowl you can serve your friends, learn how to make this Yellow Rice With Corn and Pumpkin. You can turn up the fall flavors even more by adding in additional ingredients like butternut squash and carrots. If you are a fan of spice you can add in a dash of cayenne pepper to proceedings. To make this dish vegetarian, try replacing the chicken broth for vegetable broth instead.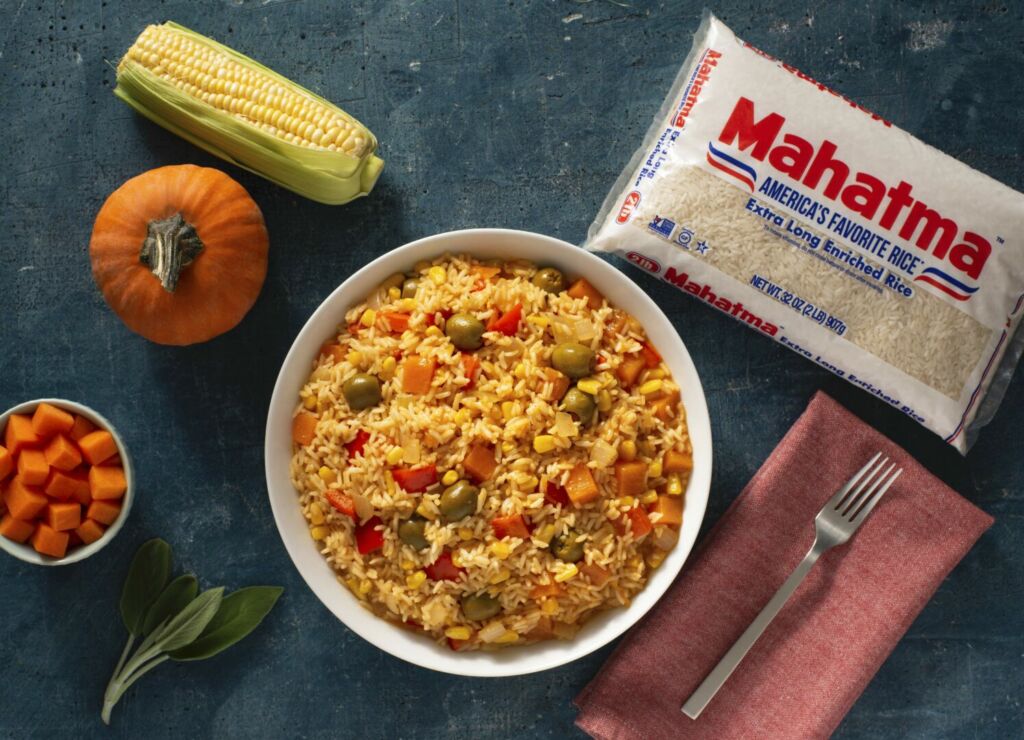 Soups
For a creamy pumpkin flavored soup, learn how to make this comforting Pumpkin Coconut Rice Soup using Mahatma® Jasmine RIce. If you've never tried coconut rice before, you're in for a treat! If you are following a vegetarian diet or you are serving this dish to vegetarians, you can replace the chicken broth with vegetable broth instead.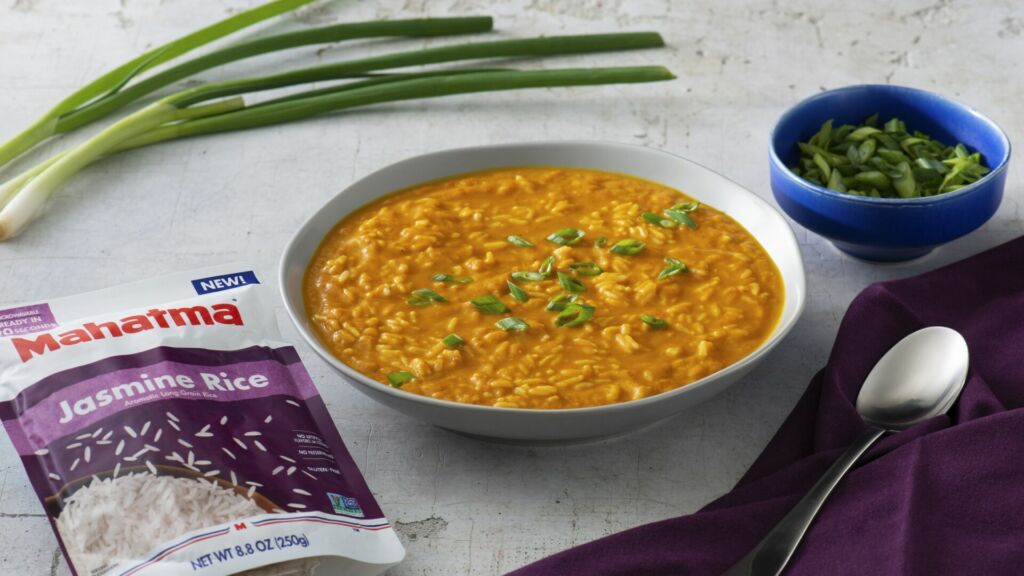 Curries
Although this Thai-inspired One-Pot Green Curry Chicken made with Mahatma® Jasmine Rice doesn't explicitly call for it, pumpkin makes an excellent addition. If you are following a vegan diet, you can replace the chicken for tofu and the chicken broth for vegetable broth.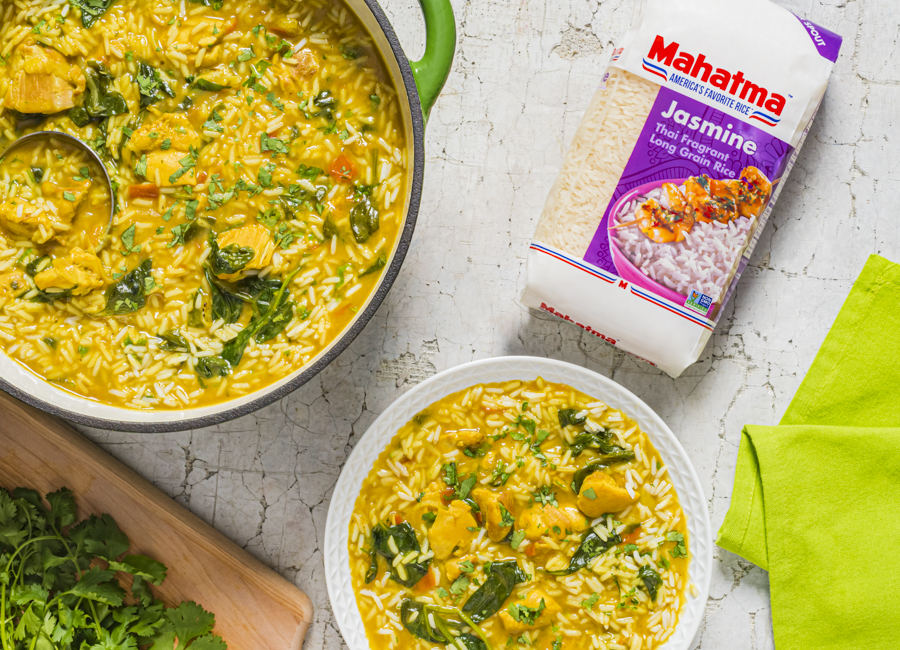 Pumpkin Seeds
For a fun on-the-go snack or topping you can roast your pumpkin seeds in the oven with a bit of oil and salt. You can also use pumpkin seeds in other stuffed fall recipes like this veggie loaded Stuffed Butternut Squash With Pork Jasmine Rice and Apple. If you want to add some meat into this dish, try adding in a bit of bacon.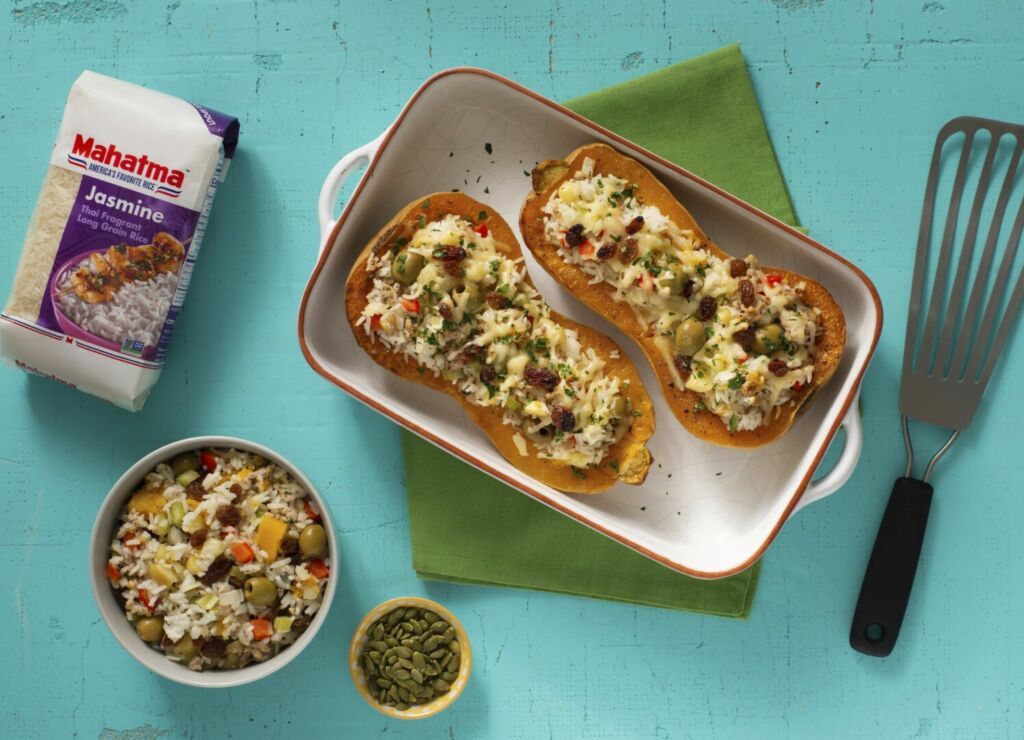 Pumpkin Desserts
Pumpkin can also be used to add some fall flavors to your desserts and use up any leftover pumpkin puree in the process. For example this Rice Creme Caramel With Ginger and Pumpkin dish which is topped with pumpkin seeds (though you can use walnuts or pecans if you prefer.)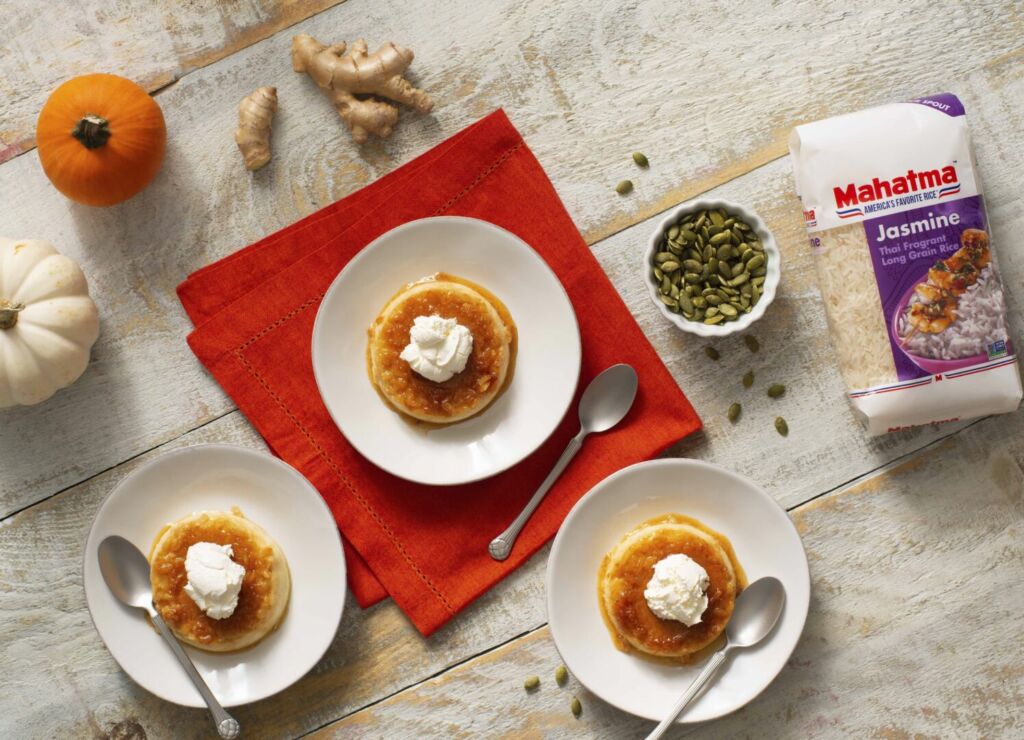 For another fall-inspired dessert, learn how to prepare this Pumpkin Spice Latte Rice Pudding made with Mahatma® White Rice, vanilla extract, coffee and topped off with lovely whipped cream. For another sweet treat, learn how to make arroz con leche.
For more recipes with seasonal ingredients, stay up to date with Mahatma® Rice.