During the holiday season there's nothing better than enjoying something sweet after a nice savory dish. Whether you are preparing a Thanksgiving, Christmas or New Year's meal for friends –or even if you just want something indulgent to make yourself – you'll want to have your dessert game on point during this holiday season. Luckily, with Mahatma® Rice there are plenty of holiday-style dessert recipes you can make which will be sure to impress your friends and family.
Holiday Season Dessert Recipes
Here are some of our favorite dessert recipes so you can keep treating yourself and your friends and family throughout the holiday season.
Warm and Comforting Desserts
With lower temperatures at this time of year, the holiday season is the perfect time to whip up a comforting sweet treat. For example, these Sweet Rice Tamales are just the thing if you are looking to bring something decadent to your Thanksgiving meal. This recipe is a sweet twist on a Latin American classic, providing the perfect warm dessert when temperatures start to drop around fall time.
Making Tamales – If this is your first time making tamales, the process is actually quite simple. To begin with, let your corn husks soak in some water until they are soft. Once your paste is ready, you can spread it over the softened husks before tying them up.
This Crème Caramel With Ginger and Pumpkin dessert is loaded with fall flavors like pumpkin, pumpkin seeds, walnuts and pecans. You can easily divide this dish up into individual ramekins to make serving it up even easier. If you have any leftover pumpkin, feel free to use it in one of these savory recipes.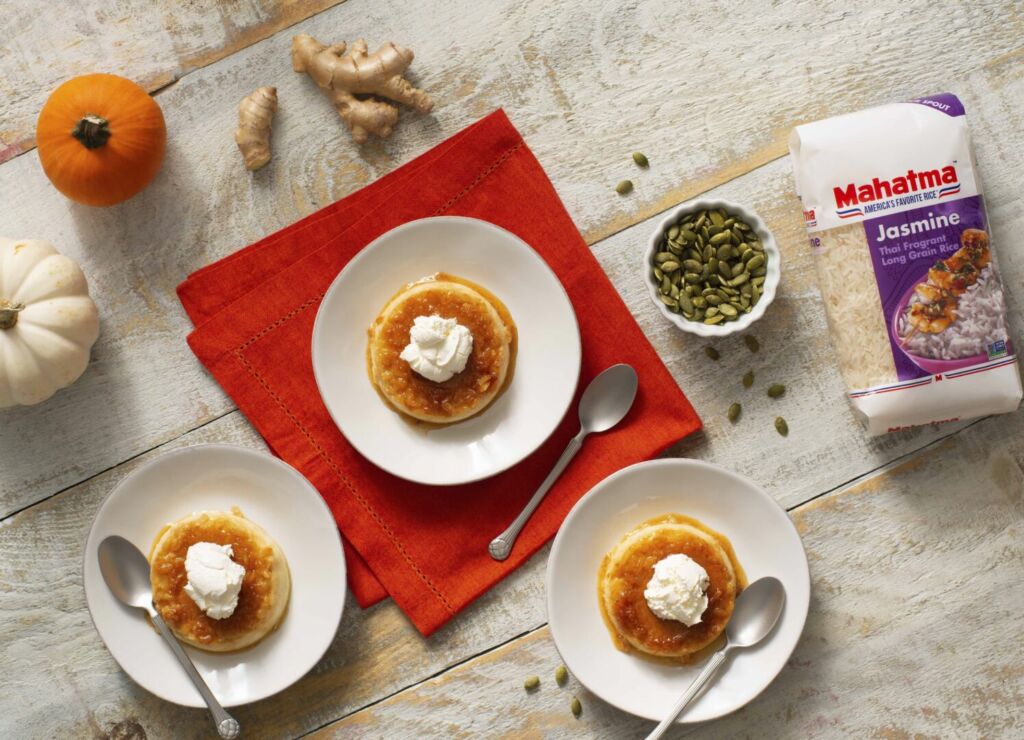 These Chocolate Hot Cakes With Brown Rice served with chocolate sauce drizzle are great for dessert and can double up as a breakfast option in case you have any leftovers. Feel free to experiment with your favorite toppings.
Serving Tip: We recommend serving these hot cakes with dulce de leche, whipped cream and fruit!
If you are having guests over, try this Sweet Arancini Dessert Board – made with Mahatma® Arborio Rice – as a sweet twist on an Italian classic. This dessert board can also function as an appetizer board if you prefer. Although you may not associate the ingredients in this recipe with the holiday season, you can very easily swap them out for fall and winter classics like pumpkin and pecans.
Cool Desserts
Of course it's not always about the hot desserts; sometimes during the holiday season, it's also nice to enjoy something a bit cooler, such as this sweet and creamy Cuban-Style Natilla Custard recipe with Mahatma® Jasmine Rice. This recipe is perfect for serving in individual ramekins, making it ideal for the next time you are entertaining friends or family. To add some further decadence to this treat, try topping it with some dulce de leche!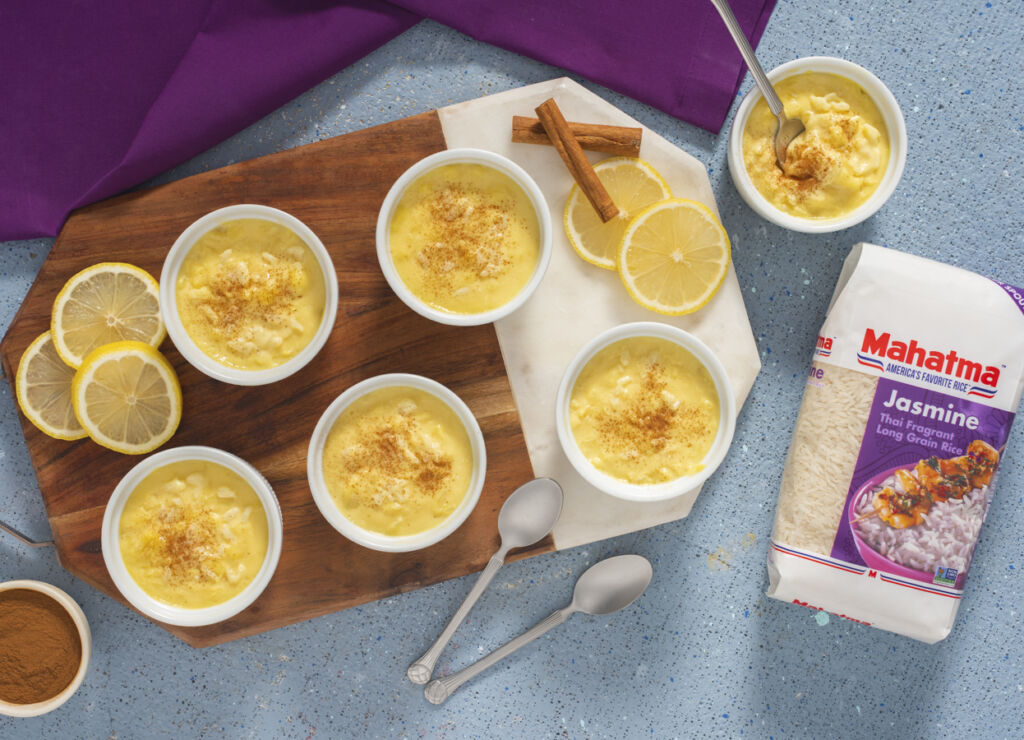 For another creamy dessert, opt for this Horchata Ice Cream topped with cinnamon. If you are craving a dash of comfort to this cool recipe, drizzle on some hot fudge. Although this recipe calls for an ice cream maker, if you don't have one in your kitchen, simply put the mixture into zip lock bags and put it in the freezer to chill instead.
Alternatively, if you are craving something a bit more tropical flavored, add some fall flavors into this Easy Coconut Rice Pudding by topping with some ground cinnamon – the Mahatma® White Rice will absorb every drop of flavor. 
This fall-flavored Almond Rice Pudding is made with Mahatma® Jasmine Rice, maple syrup and cinnamon. Make this dessert with sugar free maple syrup instead and see if anyone can tell!
Christmas Desserts
For something sweet you can serve at Christmas time, check out these festive Christmas Cake Brown Rice Fritters. This recipe calls for a homemade sweet rum syrup; however, if you are looking for a little something extra to top these fritters with, try serving with a dollop of whipped cream.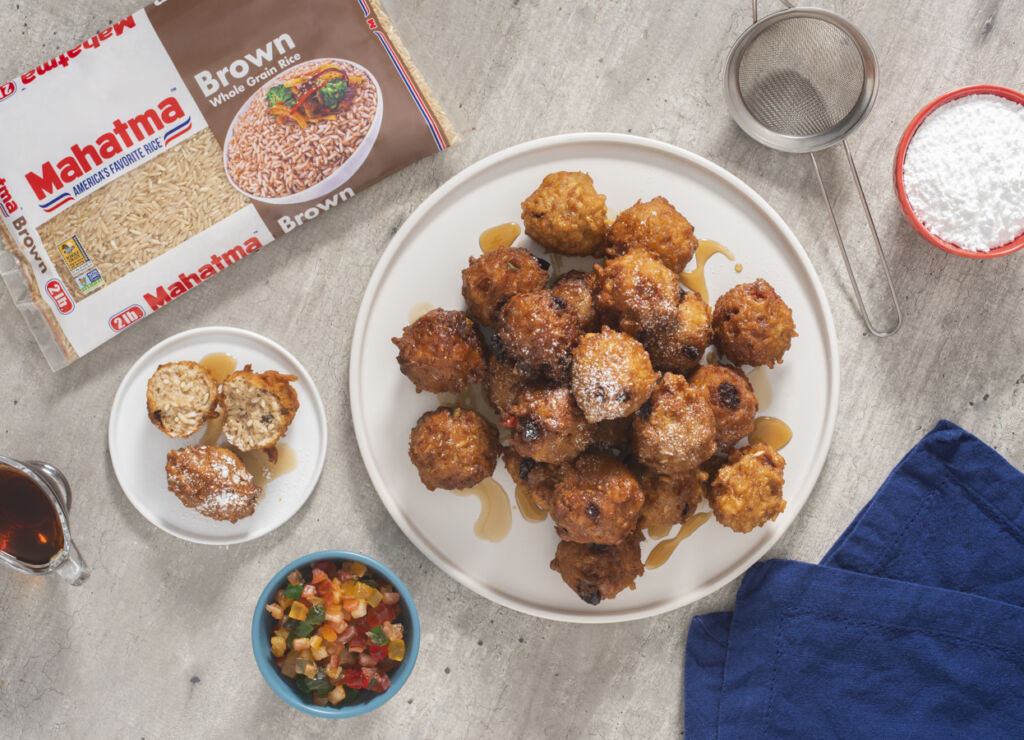 For a velvety rice pudding dessert – flavored with a Christmas drink staple, try this sweet and creamy Egg Nog Rice Pudding recipe.
In some countries around the world like Spain, churros are a very common Christmas treat! If you are enjoying a romantic Christmas for two with a special someone, surprise them with a deliciously decadent dessert like this Strawberry Churro Rice Pudding made with Mahatma® Jasmine Rice and chocolate chips. As we are making this dish during the holiday season, you'll probably want to swap out the strawberries for something more festive like pecans or use strawberry conserve instead.
For more festive recipes, stay up to date with Mahatma®, America's Favorite Rice!