There are few things greater in this world than meatballs, especially when they are prepared well, so make sure to take note of these creative and delicious ideas.
In this handy guide, we are going to be taking a look at some great recipes which feature meatballs and rice. In addition, we'll also be showing you a few ways you can make meatballs from scratch using our own Mahatma® Rice varieties.
How to Make Meatballs Using Rice
If you prefer to make your meatballs from scratch instead of buying them from the store, you'll love this simple method which you can actually prepare using Mahatma® Rice!
One of the best reasons to use rice to make your meatballs is that it works as a great binding agent, making sure that your meatballs won't fall apart while you are cooking them! It also works as a great base for meat free meatballs as you can very easily swap out the other ingredients for vegetarian or vegan options.
To begin, you'll need your favorite long grain Mahatma® Rice variety including white, brown, jasmine or basmati. Once you've got your favorite variety on hand, take a look at these recipe ideas using it to make your meatballs more compact.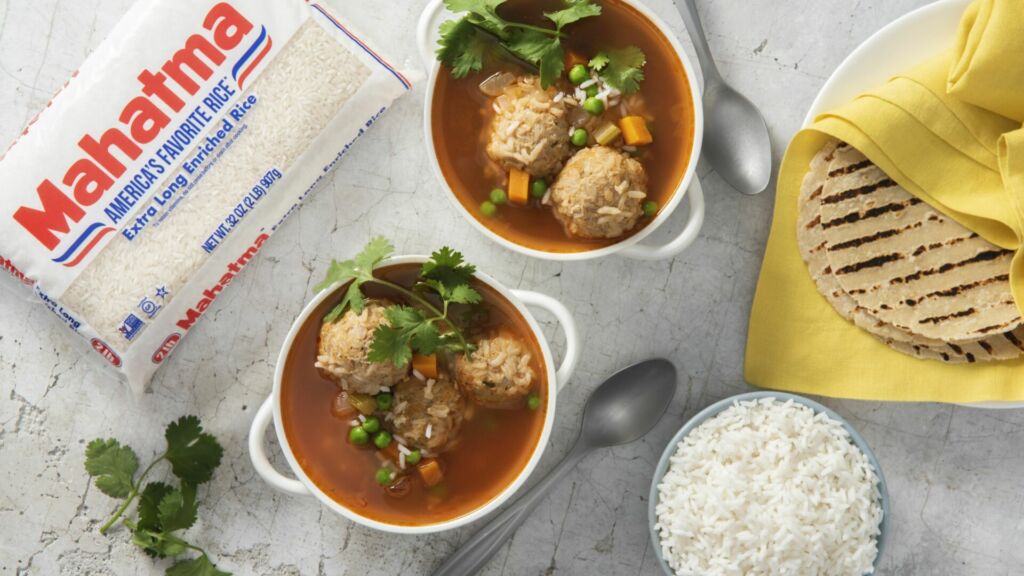 Meatball Recipes Made with Rice
Latin American Chicken Albondigas
This simple dish of albondigas, or meatballs, is traditionally served in Mexico, but it can be found throughout Latin America and even in Spain. This recipe calls for chicken meatballs, which are prepared with sautéed onions, celery and carrots in chicken broth and tomato sauce creating a nice comforting soup. Try using our Jasmine White Rice while making the meatballs for something a bit more aromatic.
Considered more like patties, these meat-free meatballs use brown rice and black beans to get that great taste and texture! The great thing about these rice cakes is that the rice and beans work together to create a whole protein. It's also easily adaptable so that any non meat eaters don't have to miss out on the meatball fun! If you are having friends over for a dinner party you can even serve these by themselves as a nice appetizer.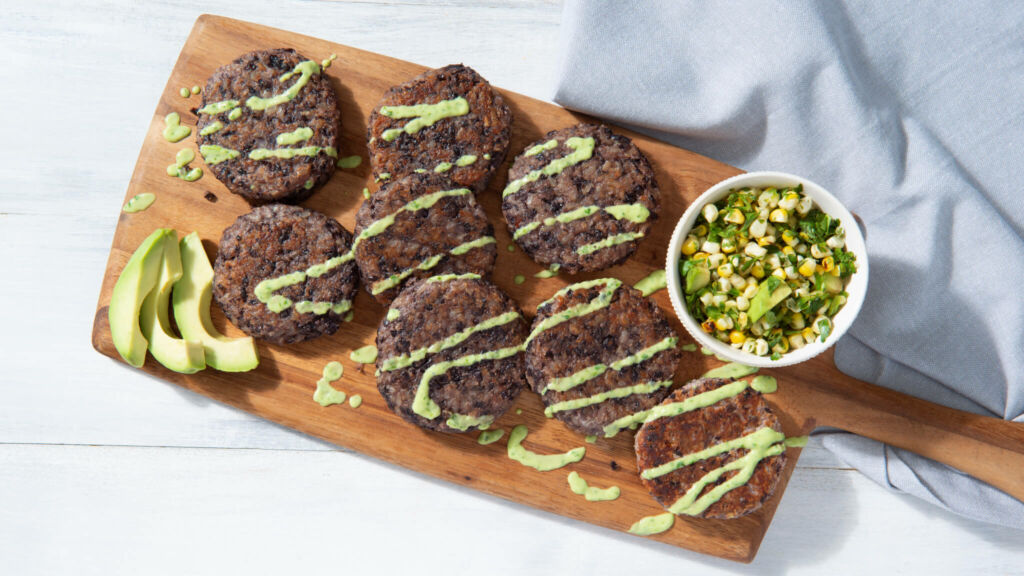 A great addition to these brown rice cakes/meatballs is salsa. To make a great salsa dressing you can simply mix together corn kernels, avocado, cilantro, lime juice and some jalapeños.
Traditional Meatball Recipes with Rice on the Side
If you'd prefer to make meatballs the old fashioned way, here's a great way to create nice tender meatballs that are also packed with flavor.
First of all, you are going to choose your meat. For these meatballs you can use any ground meat you like, whether it be beef, pork, turkey… even tuna! If you are feeling extra creative you can try mixing your ground meats together.
Instead of using rice, you can also use other ingredients like milk, eggs and breadcrumbs as binders in this recipe. Once you've mixed the ingredients together you can sculpt the mixture into balls then either roast them or fry them.
As always, meatballs taste great accompanied with a nice sauce and some rice on the side, below you can find some great ideas!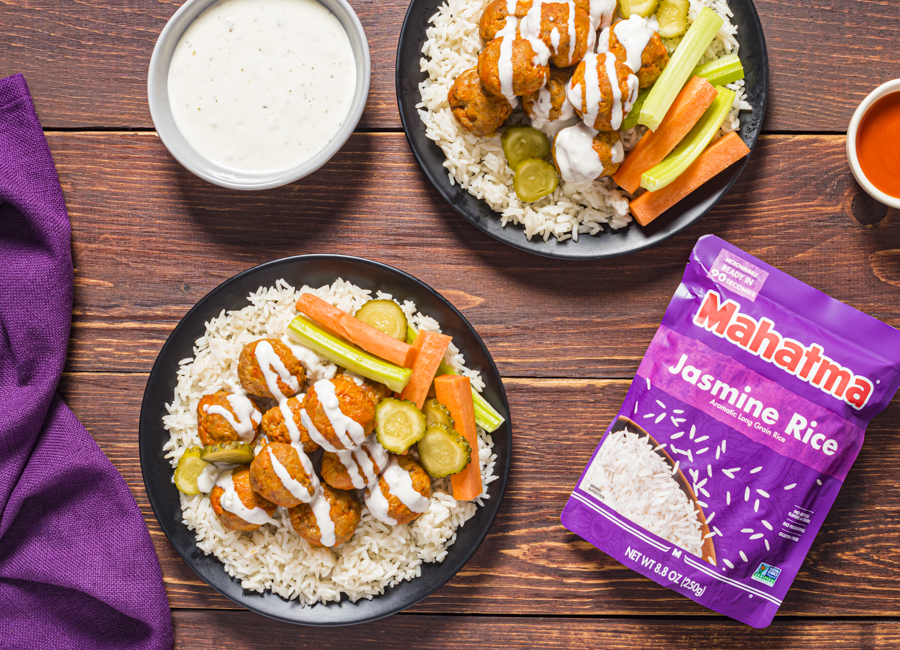 Chicken Meatballs
These rich and creamy baked Buffalo Chicken Meatballs are always a hit. This dish tastes especially great when served alongside Mahatma® Jasmine Rice.
If you are feeling adventurous you can try swapping out the chicken with cauliflower for a vegetarian friendly crunchy alternative. You can also add your own twist to the buffalo sauce by adding in additional ingredients such as lime juice, garlic or onion powder. Or if you are feeling particularly brave you can even try cranking up the spice by adding in some hot sauce with paprika and chili flakes.
If you feel that you've made too many meatballs then not to worry, you can always freeze them and reheat them the next day for a tasty snack!
Pork and Beef Meatballs
Mojo Meatballs with White Rice
If you want your meatballs to pack a bit of spice but not so much it'll leave you gasping for the nearest glass of milk, you'll love these, easy to prepare, flavorful Mojo meatballs with our Mahatma® Rice.
We understand that cilantro may not be for everybody, if this is the case you can try swapping it out for basil if you are looking for something sweeter, or parsley if you want something a bit more subtle.
In addition to tasting great with rice, these meatballs also work great in burritos and enchiladas.
Tuna Meatballs
If you want to show off your air-fryer or you are a pescatarian/looking to cut down on your meat consumption, you'll be sure to love these tuna meatballs.
If you don't have an air-fryer then not to worry! These meatballs will taste great from the oven as well.
For best results try serving with Mahatma® Brown Rice and garnishing with some cilantro.
We hope that this guide has helped to inspire you to try out some different ways of cooking and preparing meatballs. Remember we frequently update the Mahatma® Rice cooking section with tips and tricks like how to cook jasmine rice in coconut milk.