Whether you love Mediterranean food or have a passion for Mexican food, there is a rice dish that will satisfy your craving. And, the great thing about rice is that, with so many classic dishes available to make, it is the perfect staple ingredient no matter what your skill level is in the kitchen.
In this guide we are going to take a look at 10 different ways to prepare rice using Mahatma® Rice. As always we're here to help you discover your inner chef, from simple white rice dishes all the way to meals that use Arborio and Paella rice — there's something here for everybody!
1. Chicken Fried Rice
If you can't get enough Asian takeout, then you'll love this Chicken Fried Rice recipe, which uses soy sauce and vegetables along with our own Jasmine Rice.
Learning how to make any fried rice recipe is actually pretty easy, you just need to take the ingredients you want and mix them together in a wok or a pan. The key is selecting the right rice for the right recipe. For more classic rice recipes you will most likely want to use white rice as it's the most versatile. However, for Asian dishes like this it is best to use Jasmine Rice as it's more aromatic.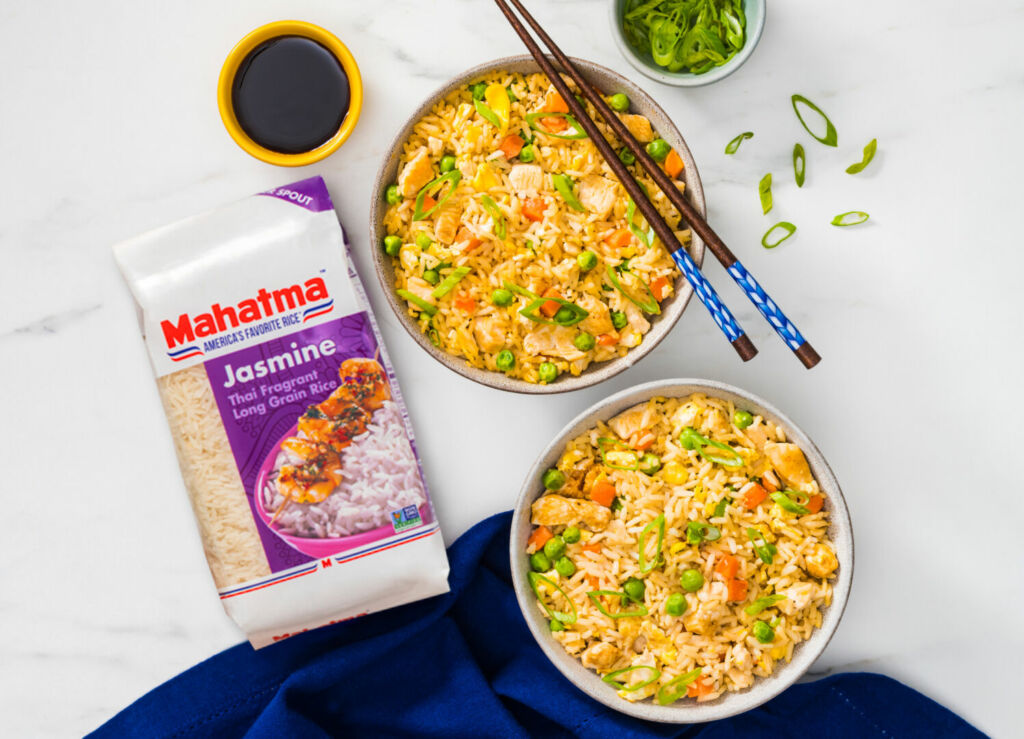 Mix it up
Although this specific recipe uses chicken, you can switch it with whatever protein you want, whether it's beef, shrimp or bacon. For vegetarians, there are plenty of ways to make this dish with tofu, fruits and vegetables.
From Indonesian nasi goreng to Thai fried rice, there are so many possibilities with fried rice. To really level up your fried rice game, try using our Mahatma® Long Grain and Jasmine Rice Blend, perfect for cooking Asian style rice.
2. Authentic Spanish Paella
For something with more of a Mediterranean flavor, try this Spanish Seafood Paella. You can learn how to make Authentic Paella in plenty of different ways using ingredients like sofrito, onion, pepper with tomato along with saffron and paprika.
Perhaps the most important ingredient however, is our own Mahatma® Parboiled Medium Grain Paella Rice. This rice is perfect as it absorbs the flavor from the tomato base and fish broth.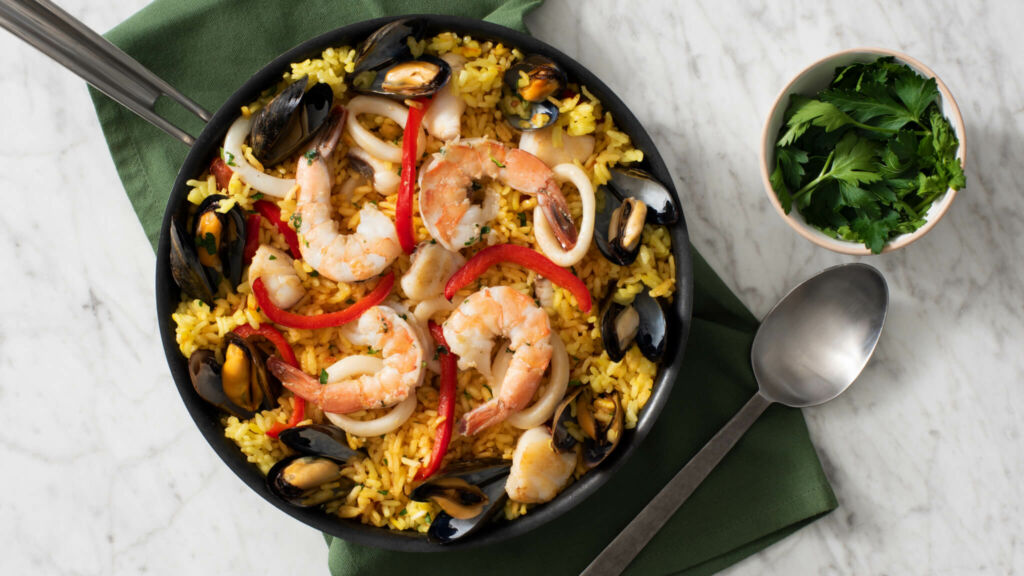 3. Puttanesca Risotto
Follow this Puttanesca Risotto recipe for another Mediterranean classic dish. This recipe mixes the richness and creaminess of risotto with tomato Puttanesca sauce. Although Puttanesca sauce is normally used with pasta, it also works great with this dish too if you are looking for something a bit different to a traditional mushroom risotto recipe.
What Rice do I need to Make Risotto?
Traditionally risotto is made using Arborio Rice, however you can also use white rice or basmati rice if that's all you have in the pantry, or if you want a different flavor or texture to a traditional risotto dish.
4. Rice Pudding
For lovers of desserts and sweet things, why not learn how to make Rice Pudding? The original version is an all time classic which I am sure you are already familiar with, however, did you know that there are plenty of ways you can make this dish your own? For example: try adding in different flavors like chocolate or pumpkin spice latte.
You can make rice pudding using our own White Rice or Basmati Rice.
5. Sushi
Learn how to make delicious homemade Sushi with vegetables, tuna and avocado. Making restaurant style Sushi has never been easier, you just need to make sure you choose the right rice to ensure your Sushi ingredients stay inside the roll. Mahatma® Short Grain Rice works great as a sticky rice option for Sushi.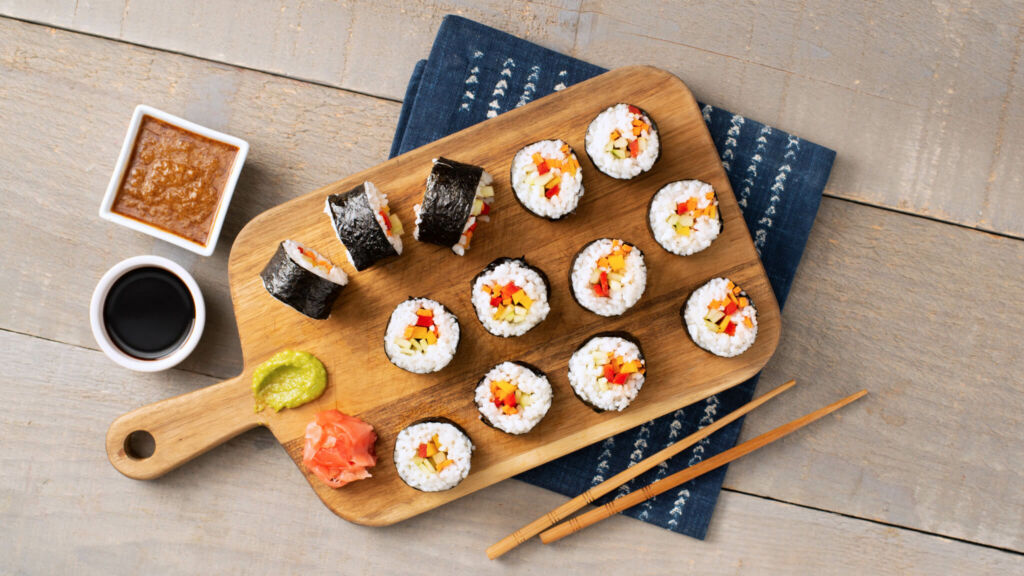 Mix it up
You don't have to use tuna to make this dish. For an alternative flavor, why not try using Salmon instead or fruit if you are a vegetarian.
6. Rice Pilaf
For a great vegetarian dish try this Brown Rice and Shiitake Pilaf Recipe. With shiitake mushrooms, lemon zest and toasted pine nuts along with our Mahatma® 100% Whole Grain Brown Rice, this dish works perfectly as a light lunch or a side dish.
7. Spanish Brown Rice
If you are looking to add more whole grains to your diet, try this Spanish Rice Recipe. It uses green bell peppers, onions and stewed tomatoes along with Mahatma® 100% Whole Grain Brown Rice.
This is typically a vegetarian dish, however feel free to add any protein you want, such as beef, chicken or pork. There are plenty of different ways to make this dish, the most traditional way normally uses white rice, however if you want a richer, nuttier taste you can also try it with brown rice instead. If you are in the mood for really experimenting, try adding Cumin, Chili Powder or Garlic powder.
Is There a Difference Between Spanish Rice and Mexican Rice?
Believe it or not, despite its name, Spanish Rice actually originates from Mexico. In Spain they typically color their rice using Saffron, whereas Mexican Rice typically keeps its natural color.
8. Spicy West African Jollof Rice
Using Mahatma® Basmati Rice with tomatoes, tomato paste, onions and habaneros, this Jollof Rice recipe combines Latin American and West African cultures. Feel free to add chicken if you want a bit more protein.
As the title of this recipe suggests, this is a spicy meal. If you are somebody who doesn't like spice, try swapping out the habaneros with another pepper. On the other hand, if you want to turn up the spice to 11, why not add some sriracha into the mix!
9. Mexican Chicken & Rice
Known as Arroz con Pollo in Spanish and made by simmering together tomatoes, vegetables and seasoning, this dish is a classic in both Latin America and Spain. It's a simple dish but packed with flavor and is perfectly made with Mahatma® White Rice.
For another great Latin American Chicken & Rice recipe, try this Peruvian take on this dish, which, interestingly enough, adds beer into the mix.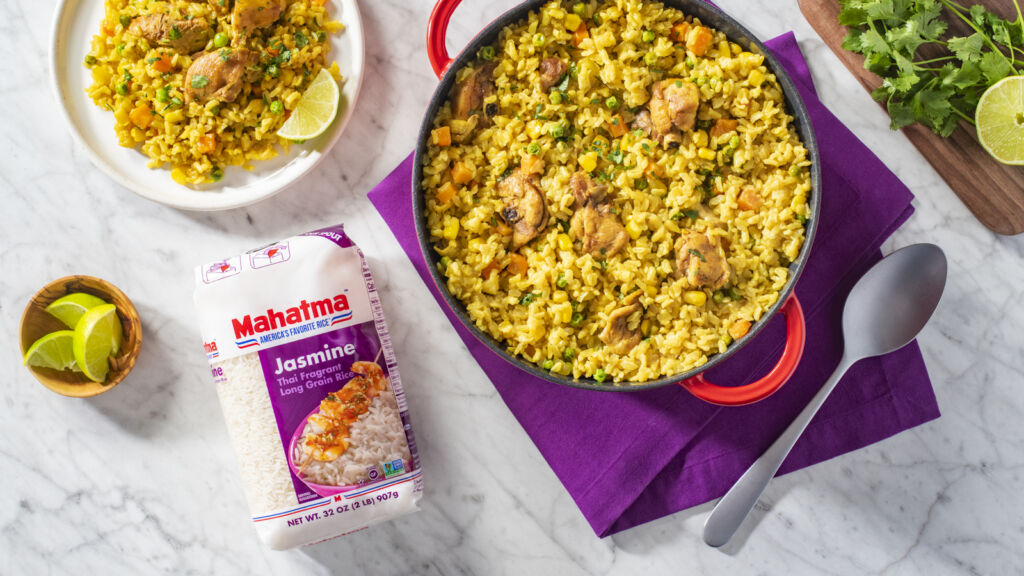 10. Cilantro Lime Rice
Made with Mahatma® Jasmine Rice, this simple Cilantro Lime Rice recipe works great as a side dish whether you're eating breakfast, lunch or dinner. Or alternatively add some chicken, fish or other protein to make this into the main course!
If you are pushed for time you can try our microwavable ready in 90 seconds Cilantro Lime Rice.
For more protein add in some beans, chicken or beef. You can also try adding in some green onions and saffron as well for something a bit different.
If you're looking to expand your kitchen skills and learn something new like a recipe for rice and bean tacos or this arroz con leche recipe, we can help! For more cooking tips and tricks be sure to check out the Mahatma® website with recipe inspiration using our wide variety of products.