Who knew that the combination of chocolate and rice could be so irresistible? When these two ingredients come together, a perfect culinary match is made. The possibilities are endless in your kitchen when these two forces unite. From classic pairings to unexpected recipes #unfollowlareceta with this beloved pair. Whether you're looking for a sweet treat or an innovative twist on traditional recipes, experimenting with the combination of chocolate and rice can lead to some surprisingly delicious results. Join Mahatma® Rice on this delectable adventure as we celebrate the harmonious union of these delicious ingredients in every bite.
What Makes Rice and Chocolate the Ideal Combination?
The delicate and adaptable qualities of rice are wonderfully complemented by the smooth and rich flavor profile of chocolate. A pleasing balance is achieved when the robust, comforting qualities of rice are combined with the creamy sweetness that chocolate has to offer. The distinct flavors and textures of rice and chocolate combine to provide a mouthwatering symphony of flavors.
Before we dive into some rice and chocolate combinations, let's take a look at another magical pairing of nuts and chocolate.
The Delightful Harmony of Chocolate and Nuts
This combination has remained popular throughout the ages. It's true confectionery bliss! The rich and velvety texture of chocolate harmonizes flawlessly with that unforgettable nutty crunch and creates a taste sensation that no one can forget. Every bite offers that amazing contrast of flavors and textures, leaving a satisfyingly sweet and slightly savory note on your tongue. With so many variations to choose from, Mahatma® Rice offers you the best to begin your journey with.
Nuts that Pair Well with Chocolate
Hazelnut: This sweet and earthy tasting nut can be found in our Chocolate Energy Bites. These no-bake bites make a terrific grab-and-go breakfast or snack since they are loaded with delicious chocolate and hazelnut flavor.
Peanuts: Did you know that peanuts were the first to be used in chocolate? This nut is still a popular choice today–not surprising!
Macadamia: Because of its buttery texture and subdued sweetness; when combined, these two ingredients will undoubtedly result in a lovely and delectable chocolate confection.
Pistachio: Pistachios may give any chocolate an exquisite appearance by adding a green tint to the final product.
Almonds:These nuts are more on the neutral side so they are easy to pair with a variety of ingredients.
Apart from pairing your chocolate with nuts, we also recommend branching out to different types of cheeses.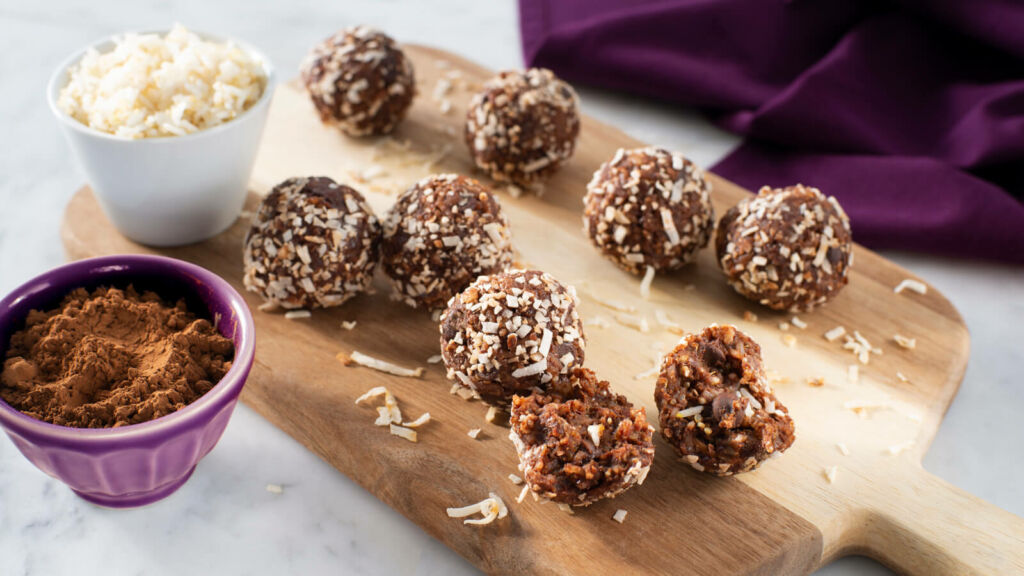 Chocolate and Cheese Pairings
Our Sweet Arancini Dessert Board is the perfect place to start your exploration of this seemingly unconventional combo. Creamy and mild cheeses, such as brie or gouda, offer the perfect base that highlights the velvety texture of the chocolate. As an alternative, you might choose matured, sharper cheeses like Parmesan or blue cheese to balance out the sweetness of the chocolate. Try out other pairings, such as dark chocolate and a creamy Camembert or milk chocolate.
Now that we have explored other options, let's hone in on various rice varieties.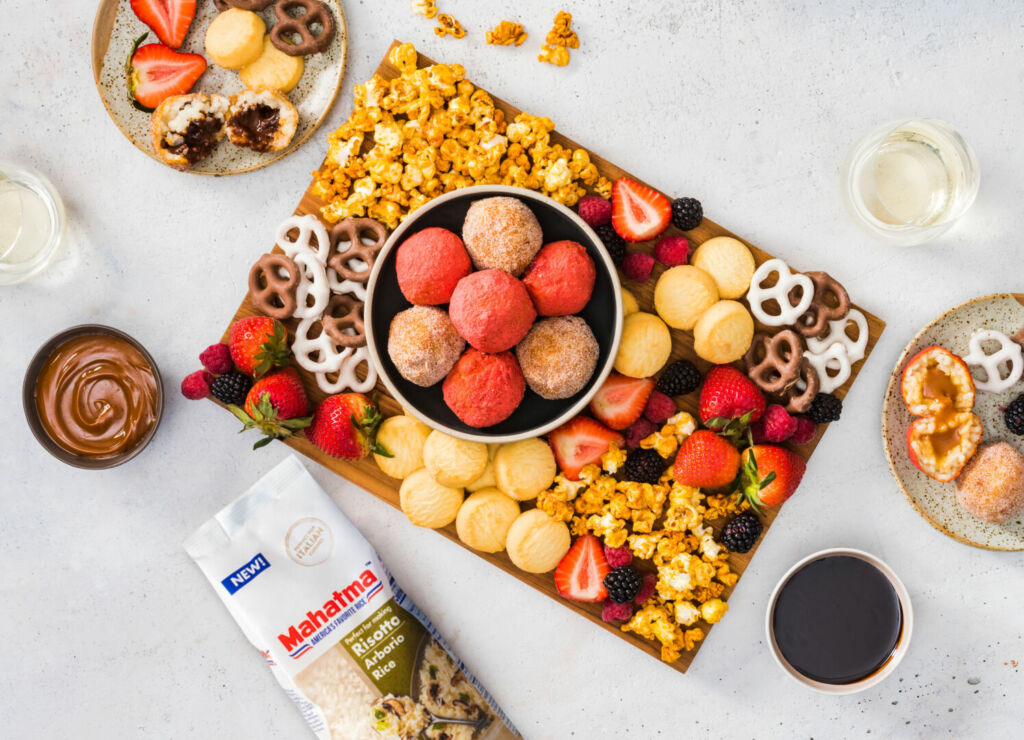 Investigating the Various Rice Types that Go with Chocolate
The kind of rice you choose can significantly improve the whole experience while eating rice with chocolate. Different varieties have special characteristics that enhance the richness of chocolate in different ways. Luckily, Mahatma® Rice has several to choose from!
Jasmine Rice
The decadent flavors of chocolate are subtly complemented by the faint perfume and somewhat sticky texture of jasmine rice. It is a great option for making rice-based chocolate treats like these Puffed Rice Chocolate Bars due to its gentle sweetness and soft grains.
Brown Rice
Mahatma® 100% Whole Grain Brown Rice has a mild nutty flavor and chewy texture that makes it ideal for adding a little more whole grains to your favorite chocolate and rice recipes. These Chocolate Hot Cakes with Brown Rice are the perfect way to start out a family breakfast any day of the week. Use your favorite toppings, such as fresh fruit that's in season, peanut butter, or maple syrup. You can also try whipped cream, chocolate sauce, and strawberry jam.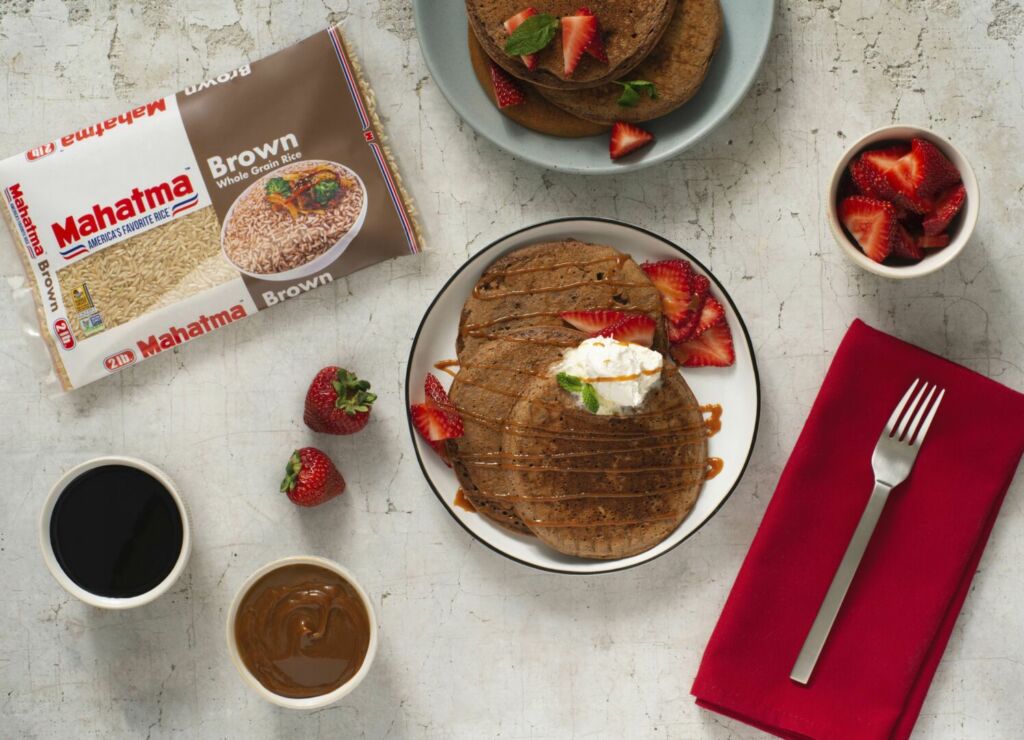 White Rice
Family favorites include extra long grain white rice, which can be used for any recipe, regardless of the occasion. Use Mahatma® White Rice in our German Chocolate Rice Pudding. If you don't have time to bake but love the classic German chocolate cake recipe, you will not be disappointed! This rice pudding will be a family favorite for years to come.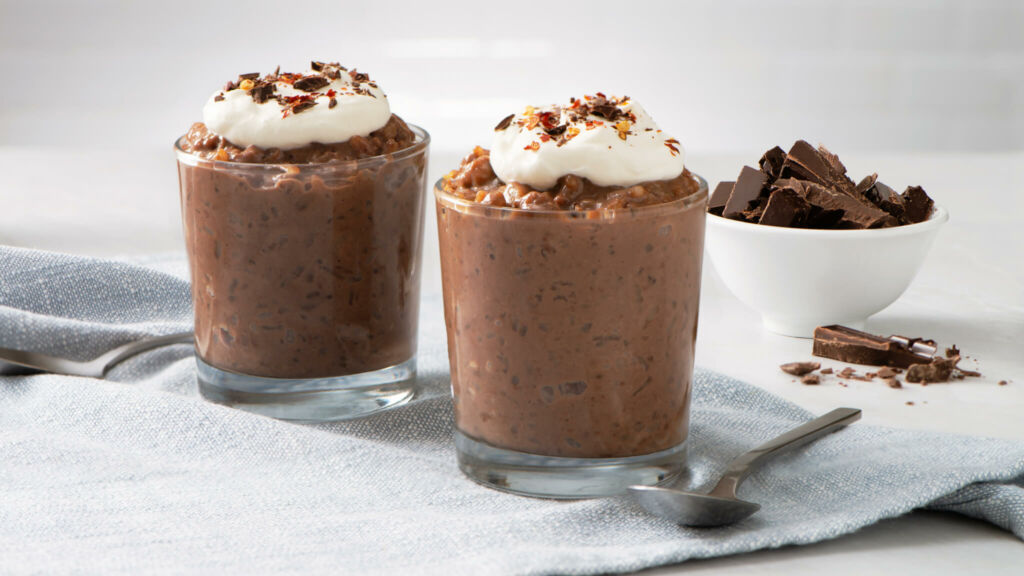 Chocolate and Rice Traditions Around the Globe
Beyond American cuisine, you may find chocolate and rice in many different ethnic traditions around the world, and each one gives this classic combination its own special spin.
Known as "arroz con leche," rice pudding is a beloved delicacy in Latin American nations. This hearty dish is made with rice, milk, sugar, and toasty spices like cinnamon. Grated chocolate is occasionally added for an extra delicious touch.
Mochi is a classic Japanese treat that blends sweet rice cake and a delicious chocolate filling. Mochi's soft and chewy texture and the rich, creamy chocolate center make for a delectable mix that is popular during festive events like the New Year.
The "onde-onde" is an Indonesian treat made of chocolate and rice. These little rice balls have molten chocolate inside and sesame seeds on the outside. They are frequently relished as a dessert or sweet snack. The cultural significance of pairing chocolate and rice demonstrates the innovation and diversity of culinary traditions around the world, from rice puddings to mochi and beyond.
For more delicious rice recipes, please visit https://mahatmarice.com.