Rice pudding is by far one of the most creamy and delicious desserts out there, so much so that it is used as inspiration for a wide variety of other sweet treats ranging from Key Lime Rice Pudding Pie to Rice Pudding Milkshakes. However, before you can delve into making those variations, we recommend you master the classic version first!
Although rice pudding is part of many cultures ranging from Latinamerica to Asia and everywhere in between, our recipe is inspired by the traditional South American version of Arroz con Leche — rice pudding, in English. Each component of this recipe plays a role in the final result, so make sure to take notes so you too can make a show-stopping rice pudding dessert.
What is Rice Pudding?
In order to make the perfect rice pudding, first we need to understand the dessert and its components. Essentially, rice pudding is a rice-based dish cooked in water and milk with other ingredients. It is most commonly served as a dessert, so sugar is added to give it a sweet flavor.
Components of Rice Pudding
As we stated previously, each ingredient added to rice pudding plays a part in the final result starting from the rice all the way to the garnish.
Rice
As its name suggests, this recipe is a rice-based pudding and therefore it is essential to use the right variety of rice when making this dish. Some recipes might focus on different varieties or flavors, but traditional rice pudding uses White Rice.
Although this dish is most commonly made using long grain White Rice (some would even use Thai Jasmine Rice, many would argue that, to achieve a balance between consistency and flavor, aromatic Basmati Rice should be used as it contains starch.
When heat and liquid are applied, that starch is released giving the dish its texture and ensures that you'll get that creamy and slightly solid consistency. However, both rice varieties can be used for your rice pudding recipe.
Milk
When the rice is combined with the water and whole milk, it becomes creamy on its own without needing to add in additional thickening agents such as eggs or cornstarch. The milk and starch from the rice give this treat its creamy texture.
Flavor
Since we are preparing a dessert, the sugar works to give the dish a sweet touch. We suggest white sugar, if you use other sugars like brown sugar, just be aware that it will alter the taste and possibly the texture.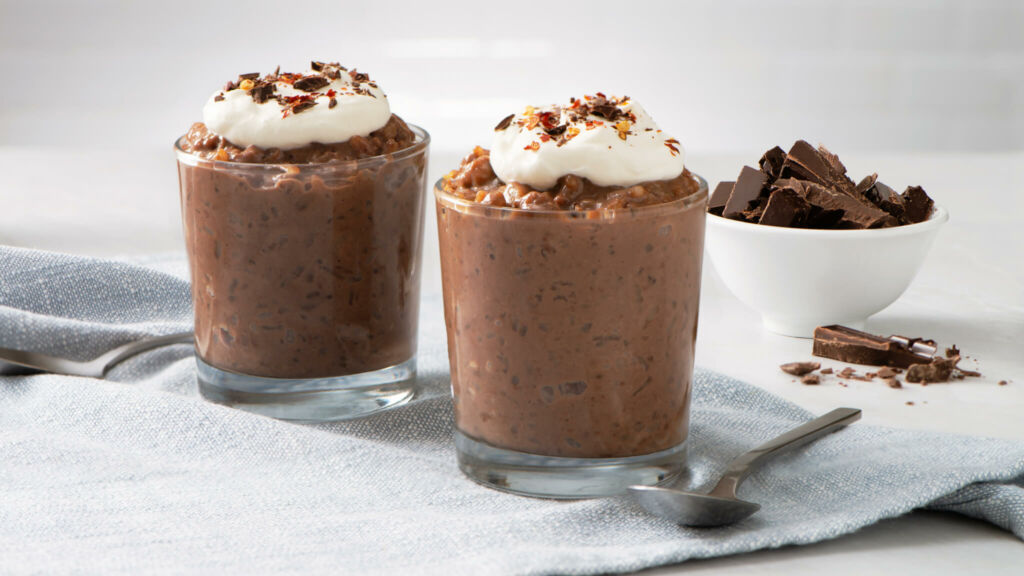 For flavor, try using fresh cinnamon sticks to add a stronger, earthy and fresher taste to the dish. The lime zest brings an added touch of citrus that, when combined with the milk, makes for a heavenly combination. Additional ground cinnamon can be used as garnish along with raisins if desired.
Rice Pudding FAQ
Before preparing our rice pudding, let's tackle a few questions that might come up.
Can I Use Leftover Rice?
One of the most common questions surrounding rice pudding is if you can use leftover rice to make it. Yes, it is possible but you'll need to adjust the water ratios, so we suggest sticking with freshly cooked rice.
Should I Rinse the Rice Beforehand?
You might have also heard that you should or should not rinse the rice beforehand. Although we don't normally suggest washing the enriched White Rice or Basmati Rice, for this recipe we do as it helps to wash off excess debris and added starch. You might be scratching your head as to why we would be removing the very thing that gives this dish its creamy texture, but if too much starch is mixed in, it might lead to the dish becoming overly mushy and surpass that perfect creamy texture.
Classic Rice Pudding Recipe
Ingredients
1 cup Mahatma® Basmati Rice or White Rice
2 cups water
2 cups whole milk
2 cinnamon sticks
1 tablespoon lime zest
1 ½ cup sugar
1 ½ cup raisins (optional)
ground cinnamon (optional)
Instructions
Step 1
Rinse rice in cool water until the water runs clear. Drain any excess water. After, in a medium saucepan, bring water to a boil.
Step 2
Stir in the rice, reduce heat and simmer for 15 minutes, uncovered. Then, add milk, cinnamon sticks, lime zest and sugar.
Step 3
Return the pot to a simmer. Cook, stirring occasionally, 15 minutes. When rice is done, remove the cinnamon sticks.
Optional: Can be served both warm or chilled, and garnished with raisins and ground cinnamon.
Additional Varieties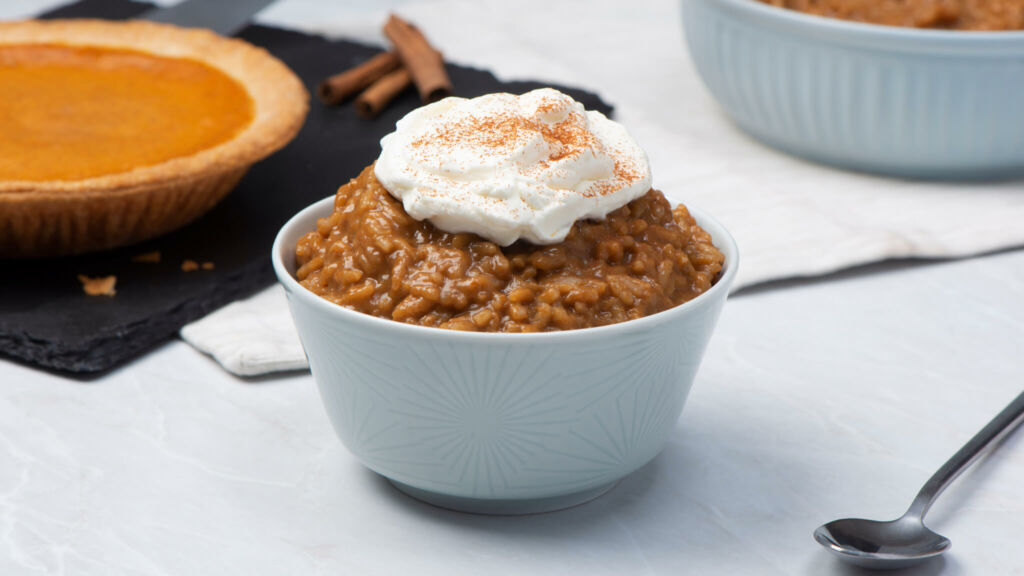 Once you're a pro at making our specialty rice pudding, you can add some of your favorite ingredients including anything from fresh or frozen fruit to chocolate or even your favorite fall Pumpkin Spice flavor.
Chocolate Rice Pudding
For all of you chocolate lovers out there, this Chocolate Rice Pudding hits the spot, made with chocolate milk, a touch of vanilla extract and White Rice! Top with anything from whipped cream, pecans and coconut to chocolate shavings and a cherry.
Pumpkin Spice Latte Rice Pudding
Don't just enjoy your favorite fall seasoning in a drink, make it a dessert or special snack! This Pumpkin Spice Latte Rice Pudding uses water and a bit of vanilla and coffee alongside creamy milk, pumpkin spice and just a bit of your favorite pumpkin puree. But, don't limit yourself to one season, enjoy your favorite flavors any time of year! 
If you're craving something with more of a tropical flavor, learn how to make this coconut milk rice recipe.