With a mouthwatering filling and tender, flaky outer shell, empanadas are a perfect option to serve for any meal of the day starting with breakfast all the way to a cinnamon and sugar coated dessert. Including an infinite number of dough recipes and fillings, empanadas are true anytime food, even for a tasty snack in between meals.
They are not only convenient, but filling and satisfying as well, and with the right ingredient combination can taste amazingly delicious. This makes them perfect for having on hand when your schedule gets a bit more hectic, like at the start of a new academic year. If you've got a few busy months ahead, plan on making a big batch and enjoy them fresh or freeze them for quick meals when you need them. Take a look at three different recipe ideas from Mahatma® Rice and prepare your favorite, or try them all!
What Are Empanadas?
As a quick crash course into empanadas, the name is taken from the Spanish verb empanar, meaning to coat or cover with dough or breadcrumbs to cook. These filled pockets are said to have originated from Spanish colonists, but the tradition quickly took off using local ingredients and techniques in all of Latin America. In fact, the empanada is considered a common Latin food staple right alongside Bolivian salteñas, Brazilian pasteis and Puerto Rican pastelillos among many others.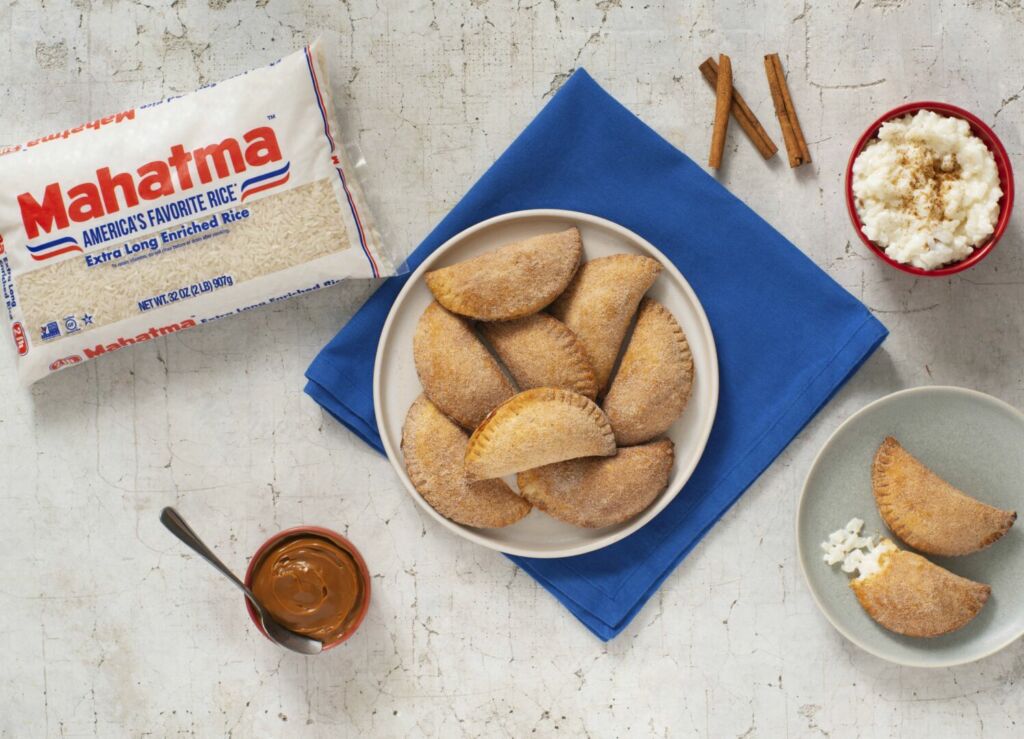 The flattened dough, or masa, is cut into circles and wrapped around a wonderfully tasty savory or sweet filling, or relleno, including vegetables, meats, seafood, fruits and much more!
How To Make Basic Empanada Dough
The dough used all depends on how you'll cook it later as well as the filling you'd like to incorporate. Most commonly, doughs are baked or deep fried. But, you can also use an Air Fryer, which works with a homemade dough for frying or wonton and egg roll wrappers.
Learn how to make homemade empanada dough for baking here.
How To Freeze For Later
For best results, we suggest that you freeze your empanadas uncooked to save on cooking and reheat time, as well as ensure the best texture.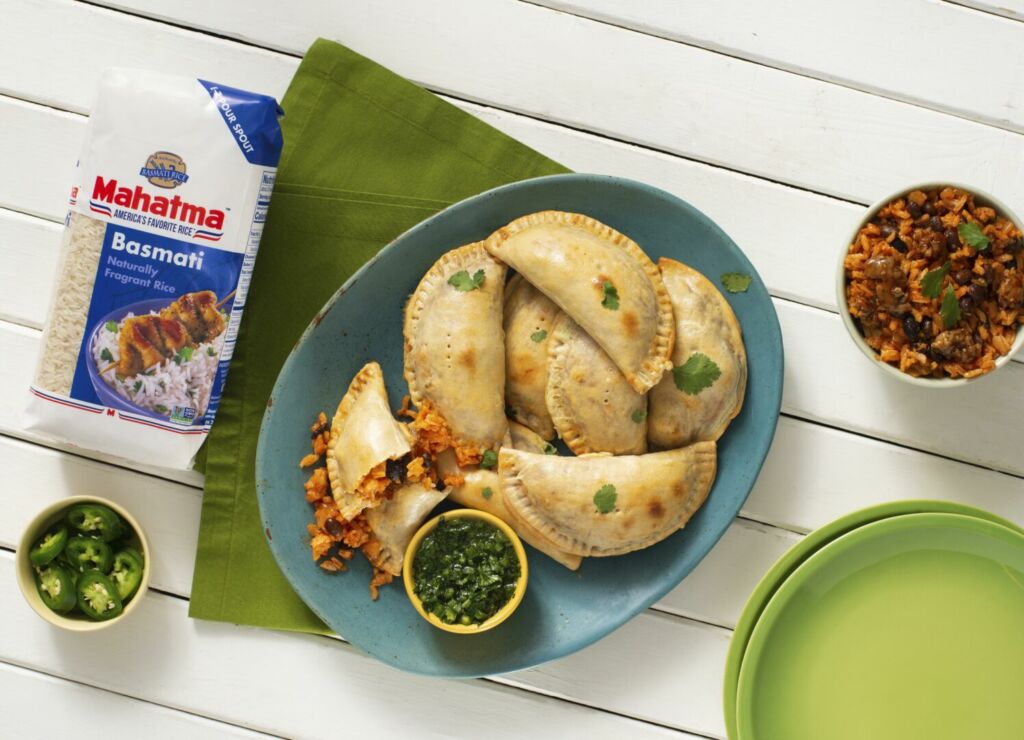 To freeze them, first lay them side by side on a parchment-lined baking sheet, without touching. Freeze separately and after about 30-60 minutes check to see if they are solid. Once they are solid, place in a freezer-proof bag. We suggest you eat them up within a month, and they can be baked or fried directly from frozen.
Empanada Recipes
Whether you're heading back to school or trying to get back into a routine, empanadas can make a wonderful breakfast, lunch or dinner recipe that you can make ahead and enjoy on the go or for a quick dinner you can just pop in the oven.
1. Chorizo Empanadas
For a more classic option with chorizo sausage, loads of spices, tomatoes and black beans, these baked Empanadas with Chorizo and Basmati Rice are a meal on their own. Learn how to make your own homemade dough from scratch and filling for a tasty dinner.
As a bonus, make your own Argentinian chimichurri sauce on the side ahead of time for dipping.
2. Ground Turkey or Chicken Empanadas
These Empanadas with Turkey and Rice Picadillo are filling and loaded with incredible flavor. If desired, swap in meatless ground or cooked vegetables to make this a vegetarian meal. You can also swap in our Mahatma® Organic White Rice.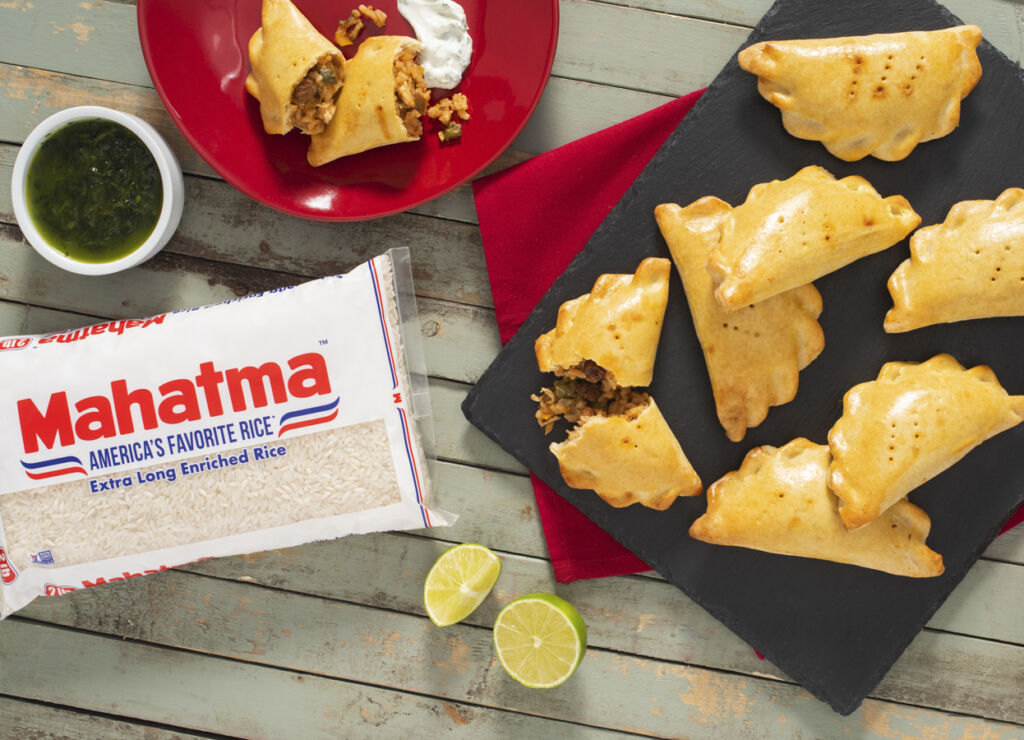 Make your own dough with masa harina and bake to perfection with a cilantro cream sauce for dipping on the side. Try this tacos dorados recipe if you are looking for a twist.
3. Air Fryer Beef Empanadas
For an extra crispy and flaky crust, these Cheesy Beef and Rice Empanadas are wrapped in wonton or egg roll wrappers and cooked in an Air Fryer! Truly crispy on the outside and warm soft on the inside! It may just become your favorite jasmine rice recipe.
Take a look at our quick video recipe for how to make them.
BONUS: Sweet Empanada Recipe
Of course, with such a wide variety of filling options, we also wanted to offer something on the sweet side. These Empanadas with Rice Pudding are baked and coated with cinnamon and sugar alongside dulce de leche, chocolate syrup or another delicious dipping sauce on the side. Of course, pairing empanadas with a classic arroz con leche recipe or an instant pot jasmine rice never fails to please! 
Use these recipes as inspiration for getting creative in the kitchen when it comes to you and your family or getting ahead of your busy back to routine schedule. With a little help from Mahatma® Rice, anything is possible.