Social media is an incredible source for amazing recipe content. Apps like Instagram, Facebook and even TikTok are all so great for any home cook to share their culinary creations, cooking tips and recipe tutorials. So much so that these channels have the power to make recipes go viral and spur a global community to try making them at the same time!
These trendy and drool-worthy recipes are visually appealing and designed so that users can easily replicate the recipe at home all from instructions from only a 60 second video. From the famous Tortilla Hack to Baked Feta Pasta, we at Mahatma® Rice have made our own versions of these viral recipes and want to inspire you to get creative in the kitchen and share your results with us! Try them today and let us know how it went.
Tortilla Wrap Hack
More than a recipe, this tasty trend became an instant viral video as a hack to wrap a tortilla. Instead of rolling it like a burrito, the tortilla is divided into 4 sections for each of the fillings and then folded into quarters to make a copycat version of a delicious taco bell-inspired crunchwrap supreme.
The process is rather simple and toppings can be customized to enjoy new flavors every time. Follow the instructions in our video and get inspired by our flavor combinations below – which are you trying first?
Spicy Tex Mex: Use our ingredient combination in the tutorial with white rice, avocado, refried beans, shredded chicken and Cheddar cheese for a Tex-Mex inspired meal with a kick from the pickled jalapeños. Or swap in Mexican white rice for the plain white rice.
Pro Tips
If you want a cheesy wrap, make sure that cheese is folded in one of the outer layers of your wrap. Grill in a toaster or sandwich press until melted.
Want to add some greens? Leafy greens such as spinach or kale are better options if you want to enjoy your tortilla heated. These veggies are good either hot or cold.
For boosted flavors, serve with a dipping sauce on the side. Tzatziki, soy sauce, sriracha, guacamole or salsa, depending on which ingredient combination you are going for.
Whipped Coffee
The internet went crazy for this elevated drink that's served with whipped frothy coffee goodness. You might have heard or seen many videos and photos of Dalgona Coffee – but what exactly is Dalgona Coffee? Frankly, it's just another way of saying whipped coffee, made from a recipe that originated in Japan. It's made with three simple ingredients that are whipped until foamed for a creamy velvety texture. Wondering what you need to make it? All you need is instant coffee, sugar and hot water.
We couldn't help but offer our own twist to this trendy drink by replacing the milk base with rich chilled horchata for this Horchata Whipped Iced Coffee. Give it a try and serve either for a pick-me-up snack, or for an energizing morning drink. You may also want to try the adult-version made with splash of rum, Kahlua or Amaretto liqueur.
Nature's Cereal
With mesmerizing colors and flavors from the berries, this refreshing bowl recipe is simple to make for either breakfast or a snack. Although the original version calls for coconut water (in place of milk) we put another natural ingredient into the dish: Mahatma® Brown Rice.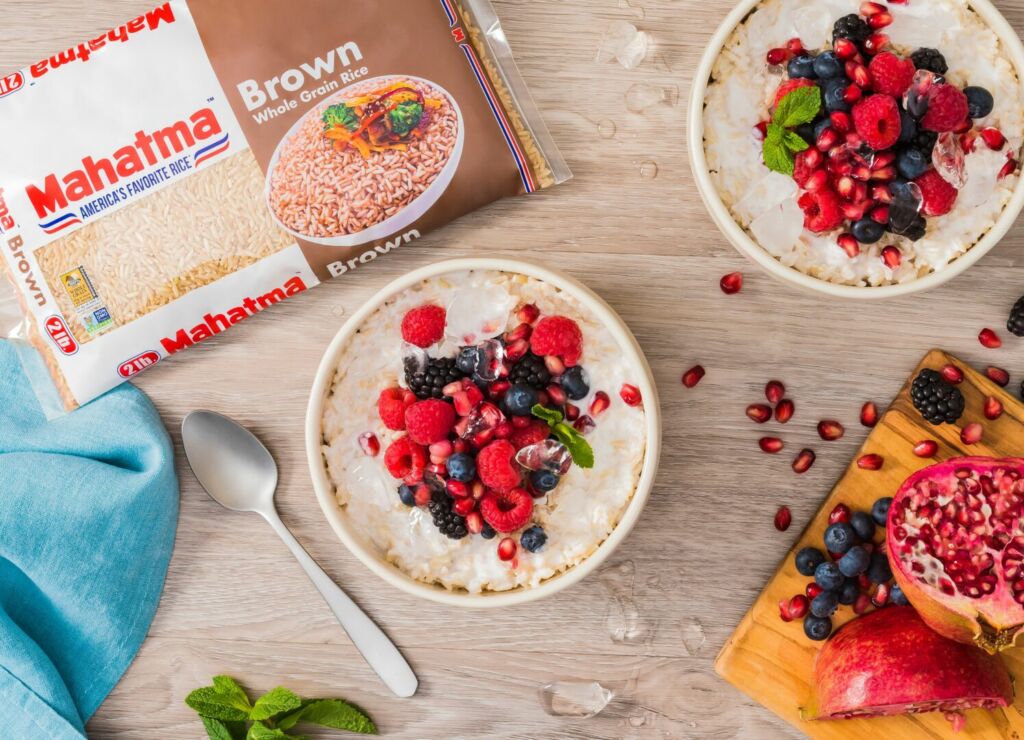 Keep the crushed ice for a crunch, stir in coconut milk and feel fueled and satisfied throughout the day with this whole grain take on "Nature's Cereal" Rice Bowl. Top with your favorite fruits or a combination of raspberries, blackberries, blueberries and pomegranate seeds.
Baked Feta Pasta
This recipe got everyone wondering how something so simple could taste so delicious! Which is precisely the reason why the baked feta recipe became so popular.
Instead of combining cheese with pasta for dinner or lunch, why not take things up a notch and turn this dish into a brunch entrée? Season the feta cheese with harissa paste, mix with aromatic Mahatma® Jasmine Rice (it can be Jasmine Rice Instant Pot if you prefer to follow this cooking method) and serve topped with a poached egg for an upgraded version that will not disappoint.
Our version of Baked Feta and Rice is also oven-baked to perfection for a saucy blend of grape tomatoes, cheese, Greek yogurt and the bold flavors of spicy harissa paste. If you are not a fan of this seasoning, sprinkle some dried herbs like oregano, thyme or parsley on top of the cheese and tomatoes before baking for an extra layer of flavor.
The advantage of using rice is that grains will soak up every last bit of flavor while turning the trendy recipe into a Gluten Free version that everybody can enjoy! Check out our video and try it today.
Pressed Sushi
If you've never tried making homemade sushi, this TikTok trendy recipe is a great place to start! The beauty of this recipe is that you get all the sushi flavors you love with half the ingredients and no issues when rolling rice with the fillings.
These delightful bites are put together in no time by simply cooking Mahatma® Sushi Rice (following package directions), seasoning with vinegar, salt and sugar, pressing into ice trays for the shape, and topping with your preferred smoked fish, sesame seeds and sauces. Yes, it really is that simple! No wonder it went viral.
Don't get us wrong, making homemade sushi rolls can be uncomplicated if you follow the right recipe and take a little advice from an itamae – check out our sushi 101 guide for a few more tips and tricks.
Dessert Charcuterie Board
While a traditional arroz con leche recipe never fails to please, cheese and charcuterie boards are everywhere across social media. Not only do they make a stunning appetizer, but they are also great for entertaining. Inspired by a traditional combination, we've created our own lovely dessert spread that will definitely wow your guests at your next dinner party!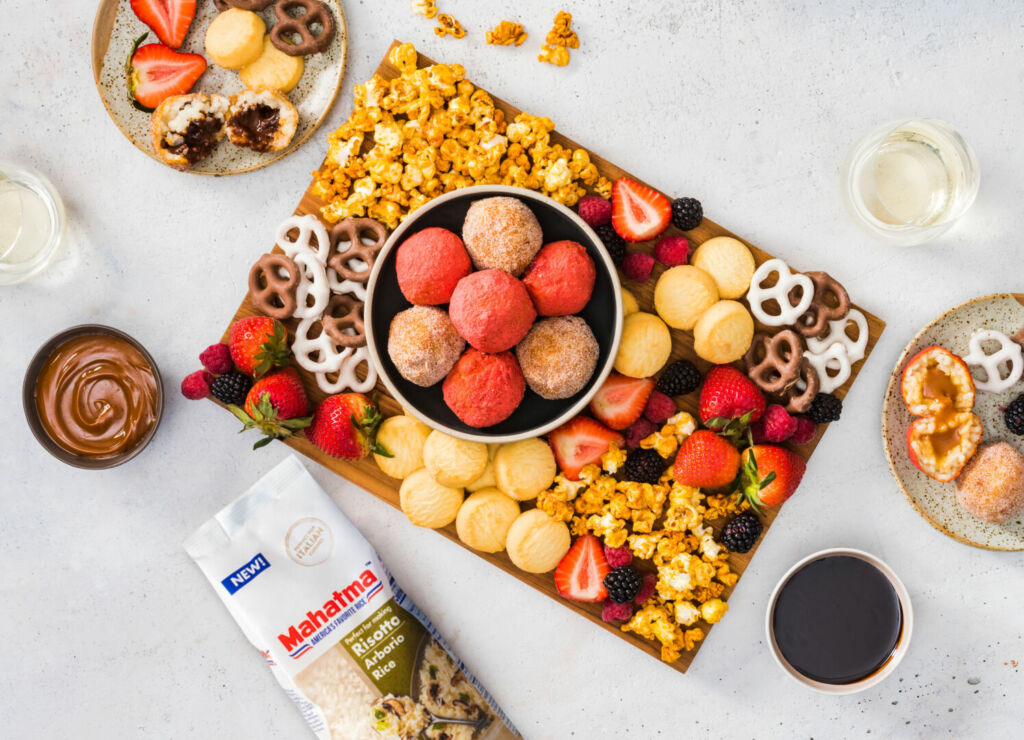 This Sweet Arancini Dessert Board has all the elements of a great dessert charcuterie board. Follow our ingredient suggestions or make it your own by following the tips below:
Choose treats with bright colors that make your spread look attractive and appetizing. Use a wide array of fresh fruit and other ingredients like pretzels or gummies for a variety of textures.
To successfully present your board, make sure to play with colors and strategically place ingredients so those with similar colors or textures are placed separately. If you are decorating your sweet arancini with freeze-dried red berries, make sure to arrange them far from red ingredients like strawberries or cherry candy.
For easier assembly, place all of your toppings in different-sized bowls. Use bigger ones to more of those treats everybody loves!
For a pop of light green, make these Matcha Green Tea and White Chocolate Rice Truffles to add in with the other delicacies.
Crispy Rice Cakes
For another easy-to-make and Internet-loved recipe, try these crispy rice cakes with your preferred toppings. Shape into balls after the rice has cooked and cooled, or follow the same technique as the pressed sushi recipe to shape into small rectangles. Sear the small rice bites in a nonstick skillet until golden brown for that addictive crunchy finish.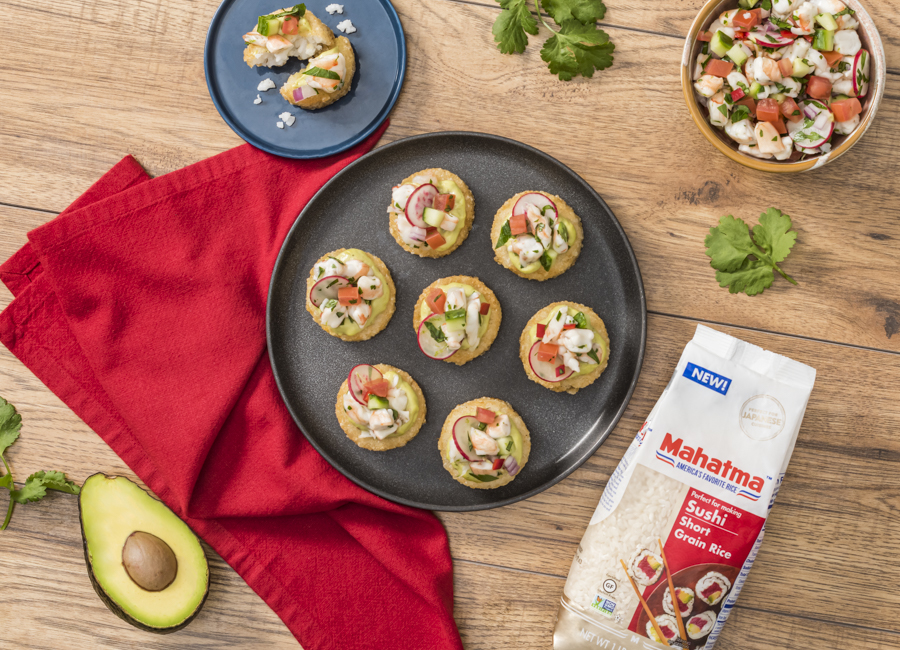 The best part about this recipe is that it can be served in a variety of flavors, either for a finger food appetizer, or a sushi dinner. Here are some of our favorites:
Are you loving that crispy rice texture? Here's another little something you can make with rice that is fun and has a lot of potential to become a TikTok trend: Puffed Rice. Use as a topping in any of your favorite desserts for a crunch or as a substitute for cereal in your morning bowls or afternoon snacks.
West African Fufu
Fufu is a fluffy dough eaten in many parts of Africa that rapidly went viral around the world. This starchy dough made from cassava is traditionally used in place of utensils. To enjoy it, it's used to scoop up hearty vegetable soups or stews. Wondering what fufu tastes like? The neutral and bland taste allows it to absorb more of the flavors of what it's served with.
Haven't heard of the #fufuchallenge? It's never too late to discover new international flavors and have some fun in the kitchen. Try making homemade fufu today with this Kitchen Sink Soup and Fufu recipe.
Ready to try one (or maybe all) of these globally trending recipes? Gather the family together, discover new flavors and create lovely memories in the kitchen with these drool-worthy and easy to make recipes. Remember to take a short video or pictures of the process and share them with us by using #MahatmaRiceUnites. Happy cooking!
For more great tasting recipes like tacos with beans and rice and to have your questions like what is jasmine rice? answered, check out our website.