Food has a special way of bringing everyone together, especially if it's a delicious assortment of different finger foods, dips and bite-sized snacks, served as appetizers. These perfectly small portions are great for starting off a meal, accompanying an important game, or serving as hors d'oeuvres at an elegant event.
No matter the time of year or what you have going on, there are tasty items to be enjoyed! That's why we've rounded up our favorite appetizer recipes for you to try and sorted them based on time of year, event type, or if you're going with an international theme. Choose which you like best and prepare a feast of flavors with the help of Mahatma® Rice.
Tasty Snacks to Start an Event
Get any party or event started off on the right foot with a few-crowd pleasing options from elevated canapés and stuffed vegetables to classic creamy dips and sliders.
Elegant Canapés
Around the holidays, like Thanksgiving, it's fun to surprise everyone with an impressive new and innovative food platter like these Seared Tuna Crispy Rice Canapés. Inspired by the TikTok trend recipe, these tasty bites are made with a simple base of crispy sushi rice topped with seared and sliced tuna, all drizzled with a vibrant green avocado mayo sauce.
Prepare your own using this simple video:
Classic Stuffed Vegetables
What would a holiday evening or family get-together be without a few stuffed vegetables. These Wild Rice and Italian Sausage Stuffed Mushrooms are simple yet sophisticated. Prepare them in advance and store in the fridge until ready, bake for 10-12 minutes, and serve fresh out of the oven.
If you prefer something with a bit more heat, try these Cheesy Rice Stuffed Jalapeño Peppers that perfectly mix creamy and spicy flavors together with a gooey and tasty touch.
Dips
Perfect for scooping up, dips make wonderful appetizers to share starting off a game day or tailgating outside. Use classic flavors with a twist like this Guacamole Mango Lime Rice Dip. Make a platter and serve with veggie crudités, tortilla chips, or pita chips. You might also get creative and try making your own plantain chips to serve with a Spicy Beef Chimichurri Rice Dip or a Sriracha and Ranch Rice Dip.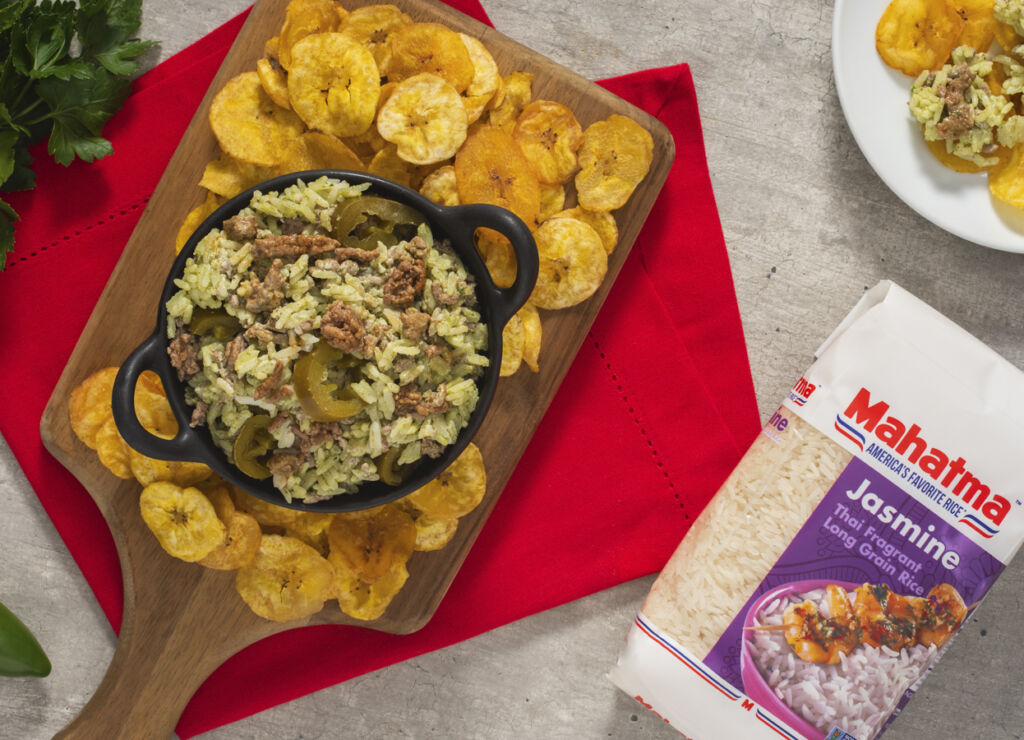 Meatball Sliders
Savory, saucy and deliciously cheesy, these Jasmine Rice and Quinoa Meatball Sliders are exactly what you need for a heartier option in your spread. The homemade sliders are made with flavor-infused Mahatma® Jasmine Rice with Quinoa, extra-lean ground beef and loads of seasonings. To feed a hungry crowd, make a double batch and serve half as sliders and half as cooked meatballs with marinara dipping sauce.
Time of Year
Spring and Summer Cold Appetizers
When the temperatures rise, there's nothing like a fresh starter to kick off an event. Using those crispy rice and tuna canapés as inspiration, we've got a few other tasty seafood options to serve. First, prepare your crispy rice and make your own simple Shrimp Ceviche with zesty lime, avocado and crisp vegetables to serve on top. Or, you might try a more sushi-inspired version with Spicy Crab and Avocado over Crispy Rice. Whichever you choose, your guests will be delighted.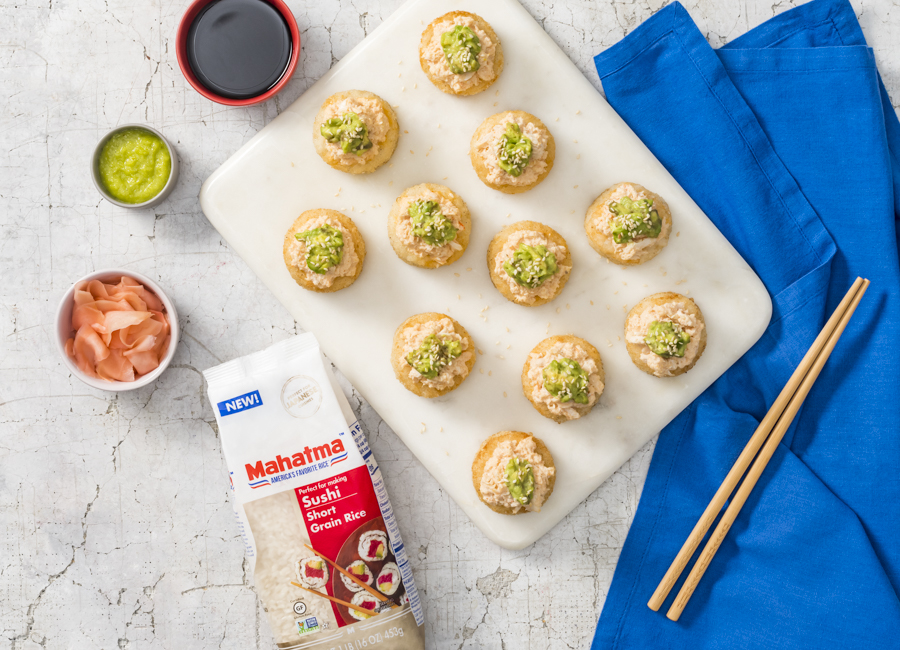 Warm and Crispy Fall and Winter Appetizers
If you're hosting a dinner or game day event when the cold weather sets in, you're going to need something that is warming from the inside out. Either pan fried or deep-fried, these crispy options are an excellent comforting choice.
Tasty Croquettes
Spicy Salmon Rice Croquettes: Deep fried with salmon, jasmine rice, chipotles in adobo and vegetables served alongside a chipotle dipping sauce.
Spicy Croquettes: Deep fried with chorizo, jasmine rice, jalapeño peppers, chipotle in adobo and fresh cilantro croquettes with an avocado cream sauce.
Crispy Cakes
Basmati Crab Cakes: Homemade crab cakes with basmati rice, creole seasoning and a curried mango sauce.
Cheese and Jalapeño Quinoa Cakes: Golden brown cakes with loads of gooey cheese and spicy jalapeño alongside a homemade aioli sauce.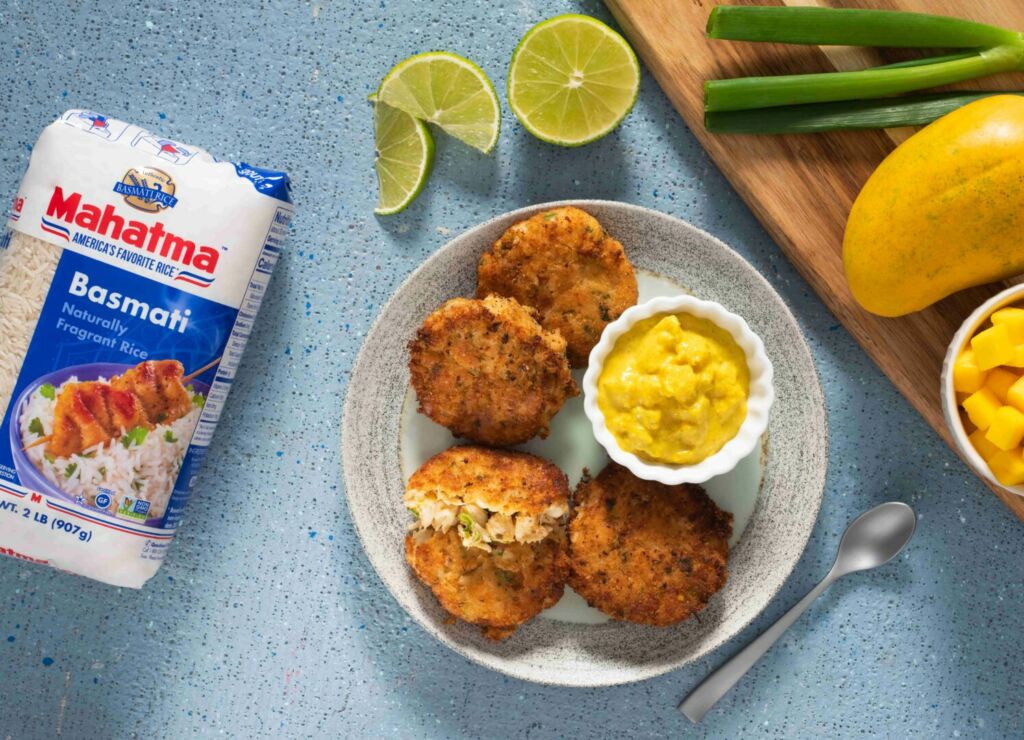 International Restaurant Inspiration
If you're enjoying a restaurant-style night at home, these international-inspired starters are sure to please.
Italian
Offer an authentic Italian experience at home with arancini risotto rice balls. Using different cooking methods, you can achieve that gooey on the inside and crispy rice outside.
Japanese
With a base of sushi rice filled with surimi, avocado, carrot and green onions these Yaki Onigiri are a taste of Japan in crispy bite-sized morsels.
Mexican
For a Mexican-inspired dinner, start your meal off with a few Black Bean and Rice Taquitos cooked to perfection in an Air Fryer. Or, slice up pieces of these Cheesy BBQ Chicken and Rice Quesadillas to serve with all kinds of toppings and dip.
Follow these starter options up with a few more restaurant-style meal options to make at home.
Take any experience to the next level with these appetizer and snack options using Mahatma® Rice. Take a look at more tasty meals and recipe ideas like this coconut rice or learn more information on what is arroz con leche? in our Cooking section.