Ramped-up flavor, bright ingredients, and a rich cultural influence make Latin Food one of the most expansive and popular cuisines around the world. Whether your taste buds danced after the first bite of tangy tomato based arroz con pollo or your eyes have been delighted by the colors of a fresh pico de gallo, Latin flavors are sure to have a spot in your kitchen!
Variety, flexibility and versatility are key to that ubiquitous flavor profile that distinguishes Latin American food. With staple ingredients, Central and South America are king when it comes to unique local culinary delights you're probably already familiar with, but have you ever tried your hand at preparing Latino flavors? Take a close look at this list of foods and what makes them quintessential to Latin cuisines – plus a little help on recipe inspiration!
1. Grains and Beans
Since ancient times, grain crops have been a staple for Latinos and their food. There are countless delicious dishes in which grains and beans, combined or on their own, are the star of the dish. Rice and beans are within the top consumed foods in the continent and the foundation of Central American cuisine – however, there are many countries that have their own typical recipe with this combo:

When it comes to beans, pinto beans, black beans and red beans are at the very top of the list. For rice, white rice is the most extended but you can cook these delicious dishes with your favorite Mahatma® Rice variety or the one you have on hand.
Alongside rice, corn has found its way into almost every local cuisine. It can be enjoyed fresh, grilled, steamed, simmered into soups and stews, or even turned into flour for delicious doughs in the form of famous corn tortillas, tamales, arepas or Salvadoran pupusas. See below for some cooking inspiration with this ingredient and different ways to enjoy it:
Hominy is another important corn variation in Latin cuisine, taken from the indigenous word for prepared maize. It originated in mesoamerican civilizations as dried field corn that was soaked and treated for use in both sweet and savory dishes like chocolate atole or pozole.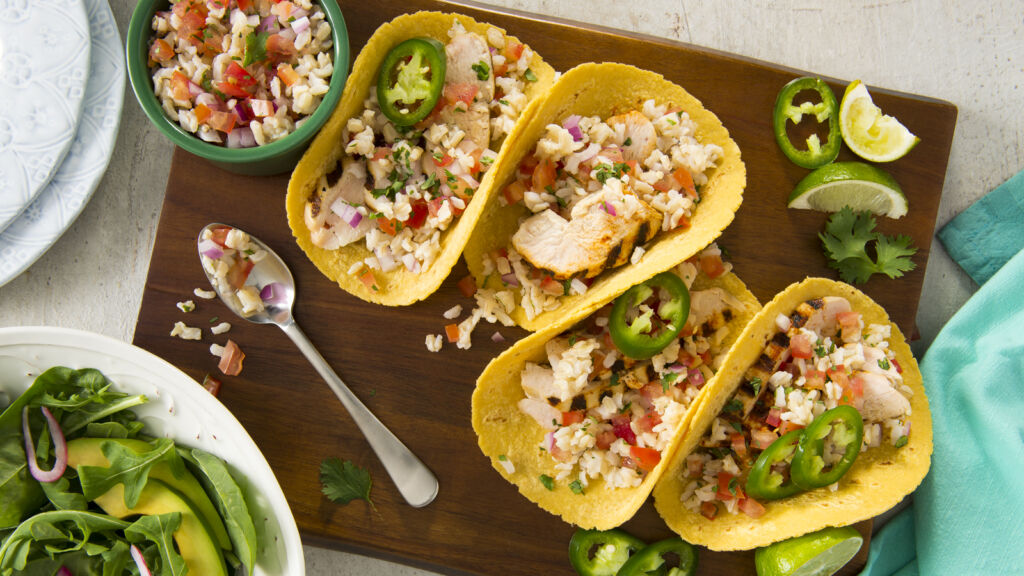 2. Salsas and Condiments
In Latin American cuisine, flavors come in every way – including liquids like sauces. Fully blended, packed with fresh spices or with freshly chopped veggies, sauces are a must for many latin dishes. They are often served on the side, like the Argentinian chimichurri and even as the key ingredient for recipes like Mexican Mole or the all-time favorite Guacamole. Take note of these recipes and start amping up your meals with flavor packed salsas, or sauces.
Salsa Verde
Store-bought or made with fresh tomatillos, salsa verde or green sauce is an uncooked oil-based sauce with chopped herbs and a sour taste. This versatile sauce is common in traditional Mexican dishes like these Enchiladas with Salsa Verde, but can be poured on top of any other food to bring out the flavors – this Salsa Verde Rice proves it!
Chimichurri
Similar to salsa verde, chimichurri is made with oil and fresh parsley, seasonings, garlic and vinegar, common in South America but a specialty in Argentina and Uruguay. It is commonly served with steaks, grilled meat or churrascos.
Learn how to make homemade chimichurri and mix it up with rice and beef to make this Classic Chimichurri Rice, or serve along these Empanadas with Chorizo and Rice for dipping.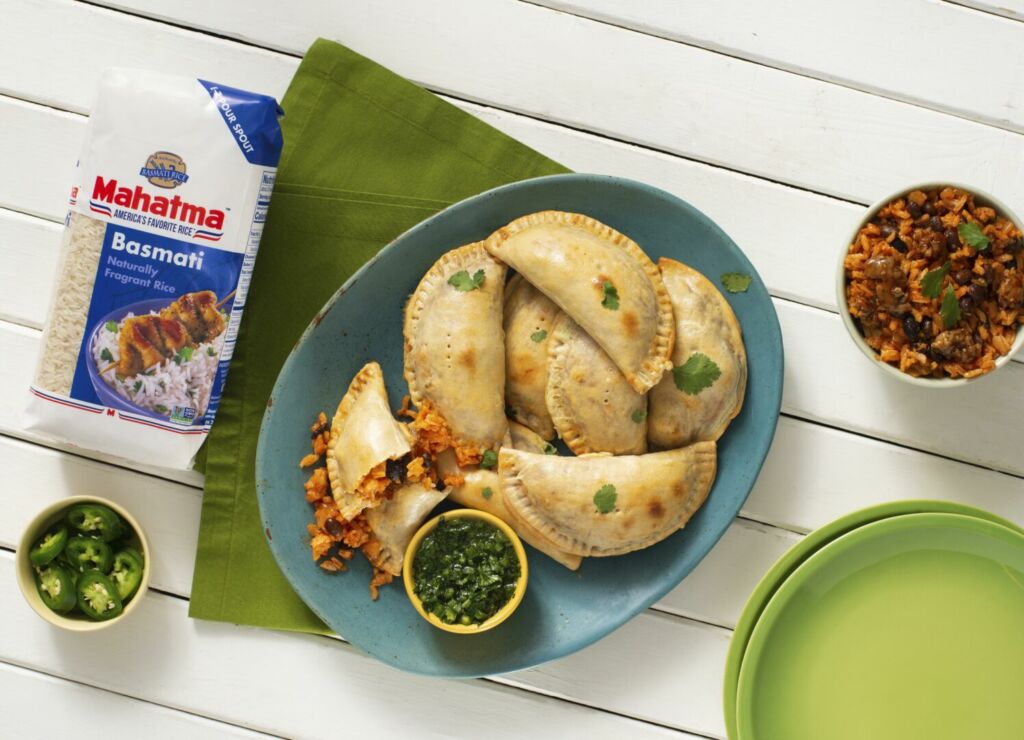 Guacamole
Probably one of the most common salsas (and the thickest), Guacamole is loved all around the globe. It can be eaten on its own, with chips to dip, as a burrito or taco topping and pairs great with many foods. Skip store bought and try your hand at this hearty Homemade Guacamole Dip with the addition of Mahatma® Thai Jasmine Rice and mangoes. If it's easier for you, you can also cook Jasmine Rice in the Instant Pot.
Some people say condiments are the language of cuisine as they add authentic flavors – if this is true, allspice, cumin, annatto (achiote), adobo seasoning or sazon seasoning are some of the most beautiful words in the Latin language of food.
3. Bright Vegetables & Fruits
Peppers and Chiles
With a wide variety in colors and flavors, chiles and peppers are capable of brightening any meal. They can be eaten either dried, pureed, in salsas or fresh and are delicious as a raw topping, roasted, stuffed or in stews.
Mexican cuisine is known for the use of chiles and peppers, the most common being poblanos, jalapeños, serranos and habanero peppers, and chipotle, ancho and guajillo chiles. Versatility goes a long way in Latin food, delicious fusions can be created after blending chiles and peppers along with other ingredients – like in this spicy twist on a Thanksgiving classic: Cranberry Ancho Sauce – or a delicious Vegetarian Mushroom Bowl with Chipotle in Adobo. You can even learn how to cook Mexican Rice using a blend of vegetables and the amount of spice you prefer.
Contrary to what many people may think, not all peppers and chiles are within the same level of spiciness – check out our guide on how to add spice to your meals and learn more about these veggies. And if you're already a lover of peppers, here is a recipe that's bursting with Latin flavors and is great to upgrade your average white rice side: Grilled Jalapeño Rice.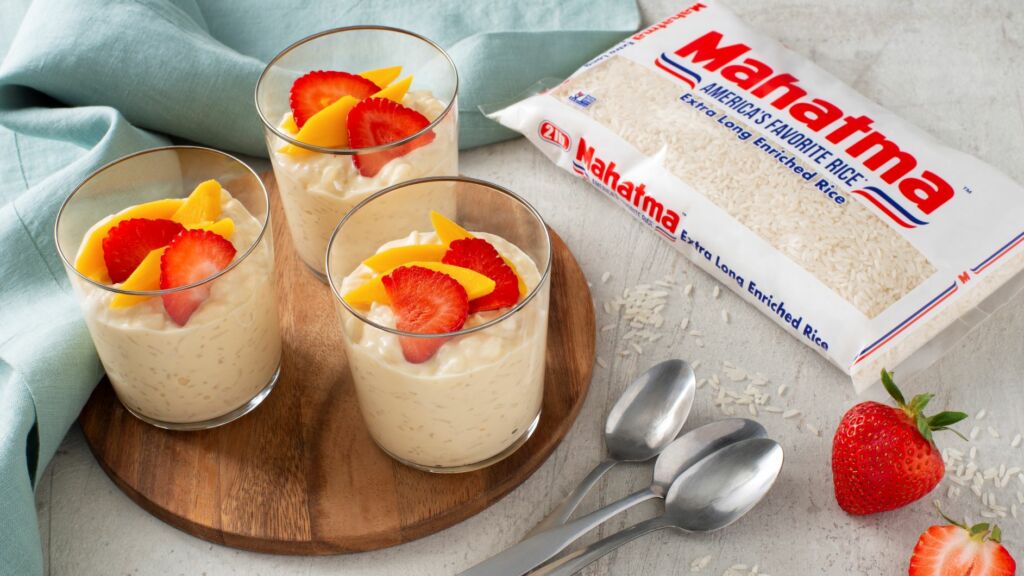 Tropical Fruits
Latin America is well recognized for the abundance of fresh and exotic fruits. Maracuya (or passion fruit), guanábana (or cherimoya), pitaya (or dragon fruit) and nopal are just a few. If you've never heard of these regional fruits, buckle up because they are not only eye-catching but also delicious.
To get started on tropical fruit, this parfait-style Mango and Pineapple Rice Pudding will bring an exotic dish to your table anytime of the week. If you have other fruits on hand, feel free to swap them in!
Did you know? Not commonly thought of as a fruit, tomatoes are native to South America and much more than a simple taco topping. They are often the key to making sauces, sofritos and stews with a rich tomato base like in this Puerto Rican style Arroz con Habichuelas Guisadas.
4. Animal Proteins
In the meat department, Latin cuisine has some delectable and typical dishes too!
Chicken and rice might be one of the most common ingredient pairings in many households – whether it be a tasty Arroz con Pollo or in a delicious Pollo Asado (Roasted Chicken) with rice pilaf on the side. However, each country adds its own signature flavors to these staple foods – and this Cuban Inspired Mojo Chicken proves that just right!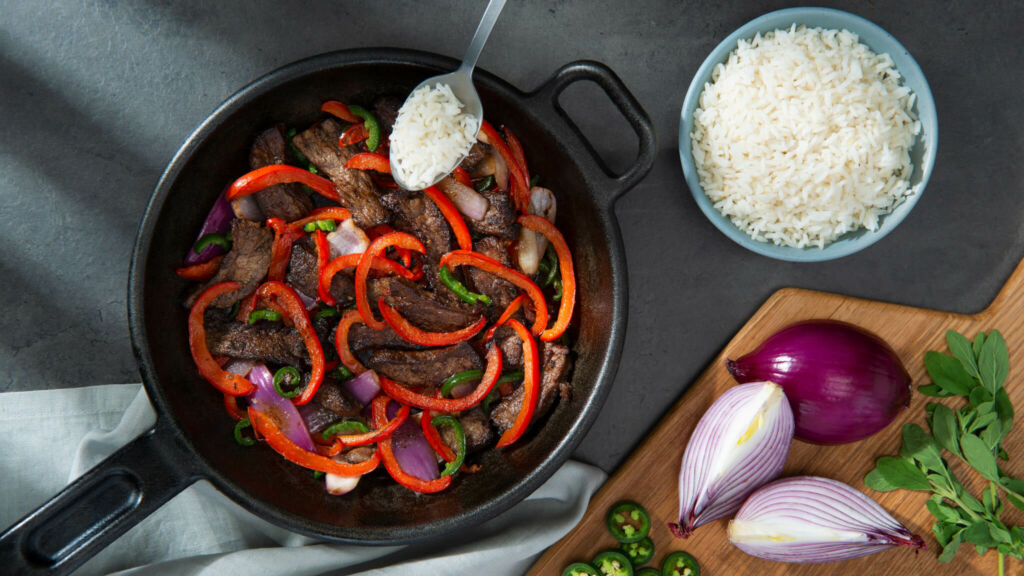 If you're more of a red meat person, you will be happy to hear that Latin flavors can tantalize your taste buds by whipping up any of these recipes:
For a Mexican Inspired dinner, go with this Flank Steak Stir Fry and a side of Mahatma® White Rice.
To experience Cuba in a meal, try one of its national dishes: Ropa Vieja with Rice.
Get a taste of Argentinian flavors and surprise your guests in your next get together by putting together this easy Spicy Beef and Chimichurri Rice Dip. Serve with plantain chips to add more latin inspired foods to your spread.
Seafood also made its way to the culinary goodies of Latin America. Camaráo na Moranga is a Brazilian dish you want to keep in your back pocket for an amazing entree! It consists of a creamy shrimp stew served inside a pumpkin – serve over a bed of Mahatma® Brown Rice for a hearty dinner experience.
5. Pantry Sweets
Stock your pantry with your favorite Mahatma® Rice variety, and you're well on your way to quick and simple dessert! WIth our arroz con leche recipe, you'll get that creamy classic! Or, keep a few cans of evaporated, condensed or coconut milk on hand — then you'll just be just a few steps (and eggs) away from an array of custards, puddings, and flans when the sweet cravings hit. If you want to try true Latin inspired desserts, our Tres Leches Rice Pudding and Cajeta Rice Pudding are the absolute go to!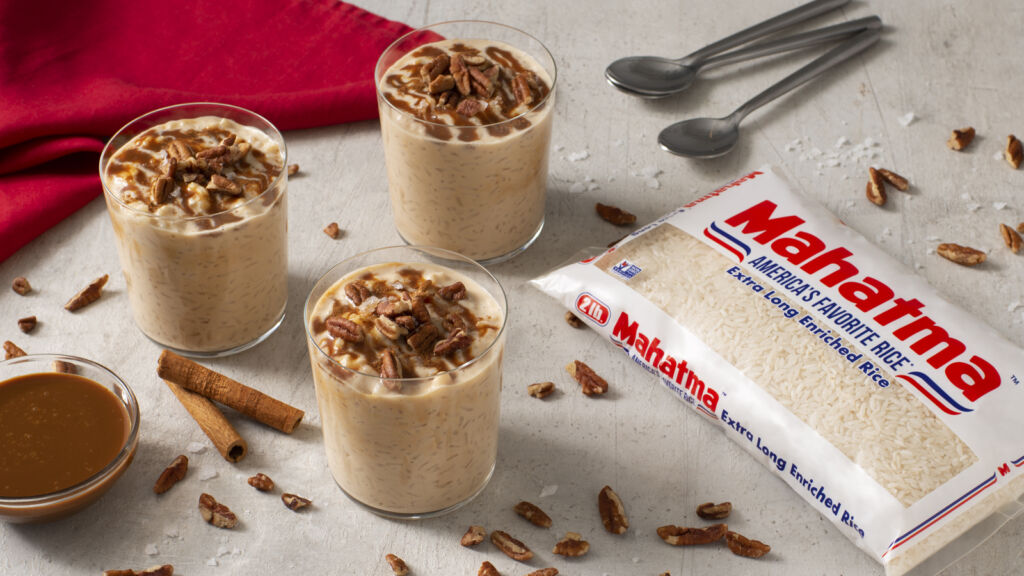 For a delicious treat to cool off, Mexican-style Horchata is actually quite simple, made with a few pantry staples like milk or water and Mahatma® White Rice. Given its popularity, it's also quite versatile. Add a caffeine boost with Cafe Horchata or make it into a family-friendly summer Horchata Ice Cream.
Exploring different cuisines from around the world is made easy with the help of Mahatma® Rice! Learn how to make your own versions of some of your favorite Latin classics at home using your favorite rice variety.