Rice lovers rejoice! Explore rice recipes in the air fryer with Mahatma® Rice. From easy tips for cooking rice to adding protein and serving suggestions, we've got you covered. Discover the delicious flavors you can achieve with this quick alternative to traditional fried rice.
Whether you're a fan of fish, spicy, or arancini, there's a recipe for everyone in the family. Get ready to elevate your rice game with these simple, yet flavorful air fryer recipes. Before we dive into some dishes, let's take a closer look at the ins and outs of the air fryer.
Tips for Cooking Rice in the Air Fryer
Cooking rice in the air fryer doesn't have to be difficult. With these helpful tips from Mahatma® Rice, you'll achieve perfect results every time.
Use Leftover Cold Rice: Air fryers work best with cold rice, as it helps to prevent sticking and ensures a better texture.
Don't Overfill the Air Fryer: Make sure to leave enough space for the rice to crisp up. If the fryer is overcrowded, the rice may turn out soggy.
Evenly Spread the Rice: To ensure even cooking, spread the rice in a single layer in the air fryer basket or tray.
Stir Often: During the cooking process, give the rice a good stir every few minutes. This helps to ensure even browning and prevent any clumping.
Adjust Cooking Time: Different air fryer models vary in their cooking times, so it's essential to keep an eye on the rice and adjust the cooking time accordingly.
Experiment with Seasonings: Don't be afraid to get creative with your seasonings. #PlayWithYourFood and try adding garlic powder, onion powder, or your favorite herbs and spices to enhance the flavor of the rice.

With these helpful tips you're well on your way to creating culinary masterpieces!
Delicious Air Fryer Fried Rice Recipes
Spicy
When it comes to serving Air Fryer Fried Rice, the great news is that the options are endless. This flavorful dish goes well with a variety of main courses and can be paired with complimentary side dishes to create a complete meal.
Get started with our Spicy Air Fryer Rice. For those hectic weeknights, try this simple air fryer rice recipe. With our handy Mahatma® Ready to Serve Jasmine Rice, you can enjoy this tasty, fluffy rice variety in only 20 minutes.
#PlayWithYourFood and make this recipe all your own. Substitute the eggs with chicken, pork, or beef for a different protein. If you are not a fan of spicy, you can also choose a milder sauce for this recipe.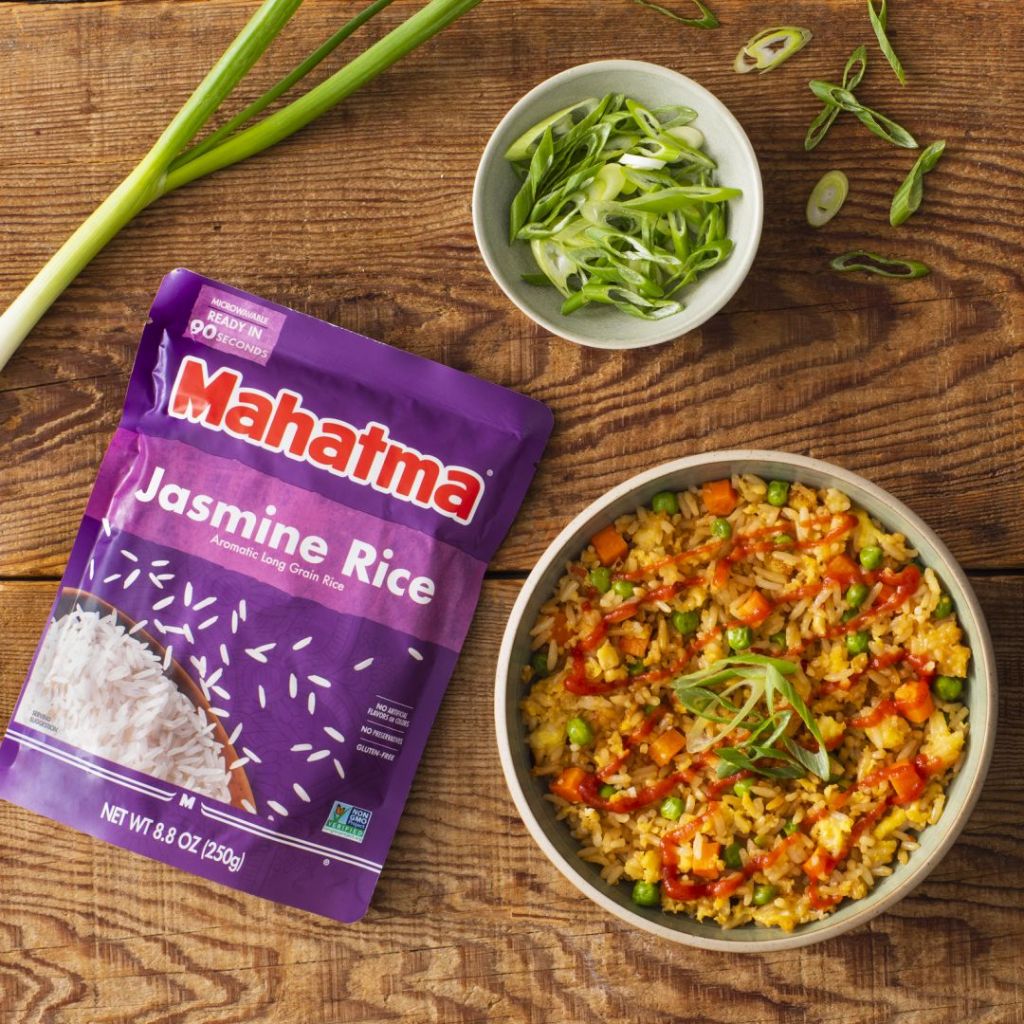 Fish
In the mood for some Fish Tacos? Our Baja Fish Taco Rice Bowl is a great way to #playwithyourfood and create something completely new out of the classic fish taco recipe. This recipe is layered with Mahatma® Brown Rice, crispy fish and sliced vegetables all drizzled with a homemade lime cream. If you enjoy Rice Bowls this recipe is definitely one that you should try. The whole family will love it!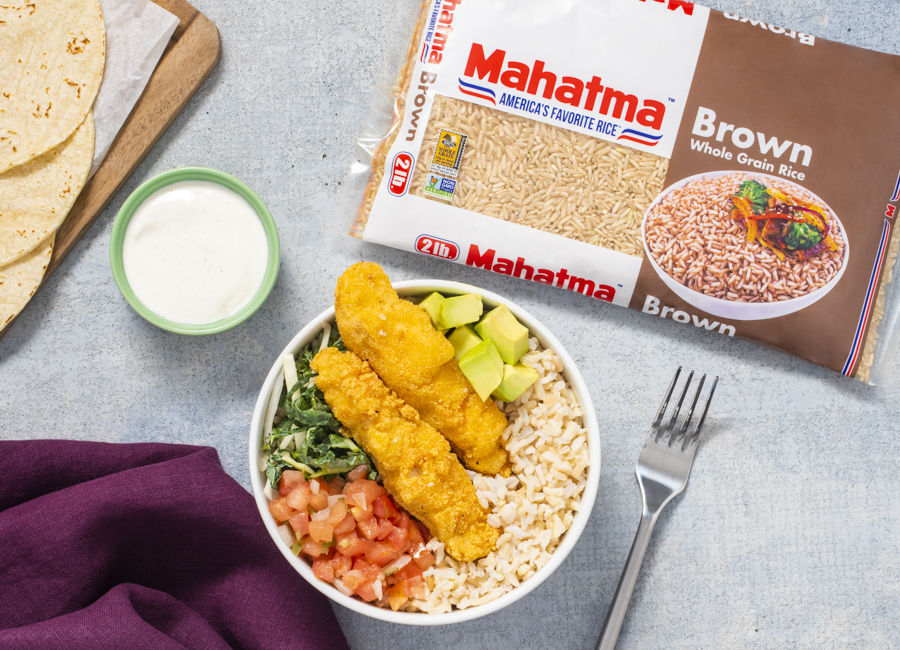 Arancini
If you're looking for a delicious appetizer for your next family gathering, or a quick something to make for the kids, these Air Fryer Arancini with Arroz Rojo are the ideal choice. The traditional Italian fried rice ball, the arancini, has been spiced up with a mixture of red rice, or arroz rojo, which is similar to Mexican rice. They are cooked with hot veggies and spices in wine, broth, and tomatoes. #PlayWithYourFood and fill them with ragu, ham and cheese or mozzarella.
Meatballs
Who knew that you could make meatballs in the air fryer? These Chipotle Tuna Meatballs and Rice are made with canned tuna and chipotle in adobo, coated in a marinara sauce, and all served over a bed of whole grain Mahatma® Brown Rice. We are certain that you already have all of the pantry staples needed to create this yummy recipe from scratch.
Adding Protein to Your Air Fryer Fried Rice
If you are craving more protein for your dishes, Mahatma® Rice offers you some delicious choices:
Tofu: Crumble or dice tofu and stir fry it before adding it to the rice. It adds a satisfying texture and absorbs the flavors of the sauce.
Chicken: Cook diced chicken until it is golden and cooked through. Mix it in with the rice for a flavorful and protein-packed meal.
Turkey: Ground turkey is another great choice. Brown it in a pan before mixing it into the fried rice for a lean and tasty twist.

These protein options bring variety and depth to your air fryer fried rice, making it a more wholesome and satisfying dish. #PlayWithYourFood and experiment with different combinations or try one at a time to find your favorite.
Side Dish Ideas for Air Fryer Fried Rice
Looking for the perfect accompaniment to your air fryer fried rice? These side dish ideas will take your meal to the next level:
Vegetarian Sushi Rice: Serve your fried rice with homemade sushi rolls for the perfect addition.
Shrimp Fried Rice: Sautéed shrimp in a flavorful sauce adds a succulent seafood element to your rice dish.
Vegetable Rice Fritters: Create a colorful side by frying a medley of your favorite vegetables such as broccoli, carrots, bell peppers, and snap peas. Get creative with your dipping sauces.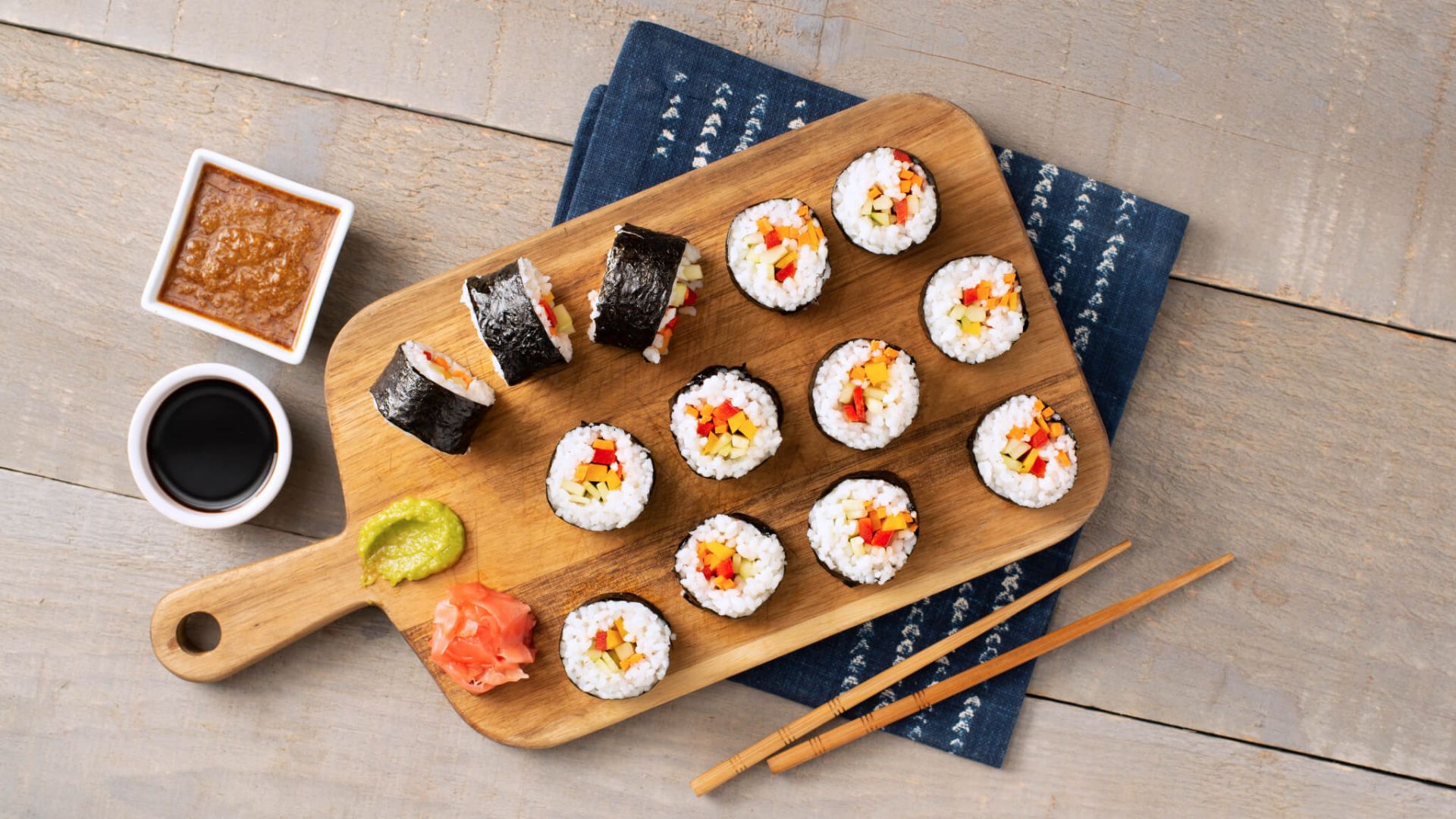 Experiment with these side dishes to find your favorite combination. Whether you want something crunchy, light, or protein-packed, there's a perfect match for your air fryer fried rice.
Check out our recipe page for more incredible recipe ideas from Mahatma® Rice.