Once that calendar flips to November, many people start thinking and planning their Thanksgiving holiday. It's a time to get together with close friends and family, listen as your abuela shares embarrassing stories from the past, enjoy yummy food, and give thanks for all the blessings received over the years. Mahatma® Rice is here to help you make the most out of the day. We invite you to #PlayWithYourFood and reinvent the classics with your very own spin on things. Combine traditional and modern flavors for a memorable Thanksgiving feast. Before we dive into the menu, Mahatma® Rice has some helpful tips to plan your day.
Tips for an Organized Thanksgiving
Make a Game Plan: Who is going to bring what? Make sure you delegate specific dishes so there is no confusion on what everyone is bringing.
Plan Your Menu: Make a list of what everyone is bringing as well as what you need to make. Make a shopping list and plan prep and cooking.
Stick to the Basics: Although we encourage you to honor Thanksgiving traditions, at Mahatma® Rice we believe it's good to #playwithyourfood and put your own stamp on holiday favorites.
Survey your Appliances: Are they all up to par for the big day?
Take Inventory: Do you need chairs, table cloths, dishes?
Plan Decorations: Think fall colors and whimsical decor.
Make a Timeline: Make sure you organize your day by mapping out a timeline to help you be extra organized.
Distribute Leftovers: Instead of having a large excess of food leftovers, why not invest in some disposable containers so your family can take home some leftovers? Everyone wins!
Planning the Perfect Thanksgiving Day Menu
One of the most important aspects of throwing a memorable Thanksgiving gathering is creating a delicious menu. With Mahatma® Rice you will feel beyond prepared and confident to serve your family on the best recipes.
Appetizers to Start the Show
As your family begins to arrive and start to mingle, it's best to have several options of appetizers available. They can start out with our delicious Crispy Veggie Rice Balls. They are a magical way to start any holiday party. #Playwithyourfood and experiment with the filling. Try different fillings like meat, cheese, or any other filling you and your guests enjoy.
Our Seared Tuna Crispy Rice Canapés are always a crowd favorite. They will be gone almost as soon as you start passing them around the room!
After you have had some drinks and appetizers your guests will surely be anxious to get to the good stuff! Mahatma® Rice has the ideal menu planned out for you.
Delicious Thanksgiving Main Dishes
The centerpiece of your feast, the main dish, should be flavorful and filling. Although a conventional roasted turkey is commonly chosen, consider offering additional main dish options to satisfy a range of dietary requirements. Dishes like delicate roasted chicken or savory glazed pork can offer a delightful change of pace. Having vegetarian and vegan options is never a bad idea.
Side Dishes
From elevating mashed potatoes to introducing innovative ideas for green beans and butternut squash, we'll show you how to bring a fresh perspective to these traditional favorites.
Mashed Potatoes: Elevating the Classic Side Dish
Mashed potatoes are a staple of Thanksgiving, but that doesn't mean they have to be dull and predictable. Mahatma® Rice helps you to elevate your mashed potato game. Get ready to take your mashed potatoes to the next level! Try our Middle Eastern Roasted Sweet Potato, Cauliflower, Jasmine with Red and Wild Rice for a whole new twist on a classic mashed potato dish. Use Mahatma® Jasmine Rice with Red & Wild Rice and combine with roasted sweet potatoes and cauliflower that have been seasoned with cumin, paprika, garlic, honey, and mustard. It is delicious when topped with pomegranate seeds and toasted almonds. It's super easy to make and your guests will love every bite.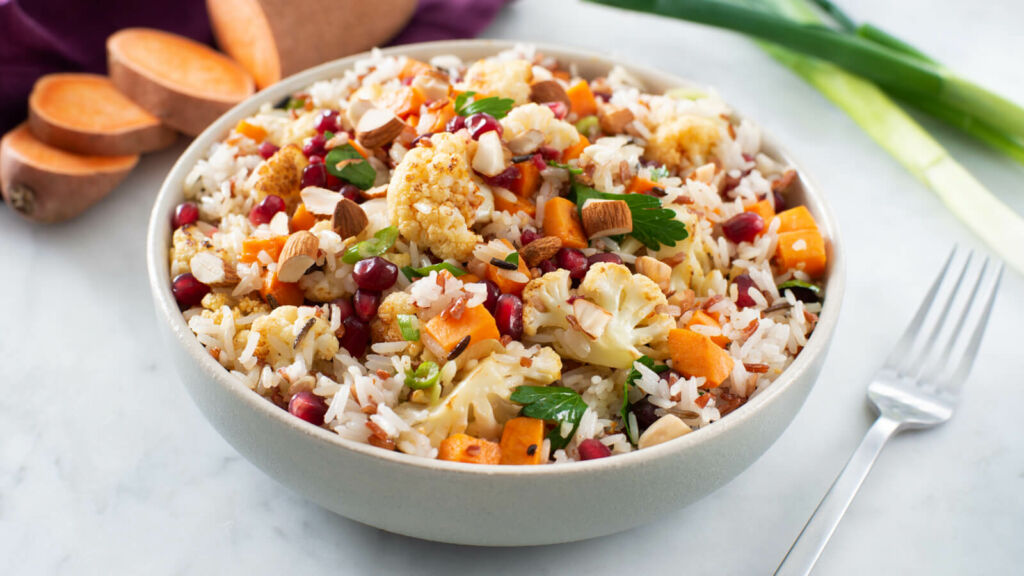 Green Beans: Innovative Ideas for a Classic Vegetable
Green beans often make an appearance on Thanksgiving tables, but they can sometimes be overlooked. #Playwithyourfood and help those green beans shine! Incorporate unexpected ingredients like almonds or lemon zest and experiment with cooking methods like roasting or sautéing, we'll inspire you to reimagine this classic vegetable and make it a standout dish on your holiday spread. Our Green Bean Rice Casserole is a perfect example of reinventing a classic. Amp up this holiday classic with some added Mexican-style cheese and fluffy parboiled grains for a tasty twist you'll be sure to continue making year after year.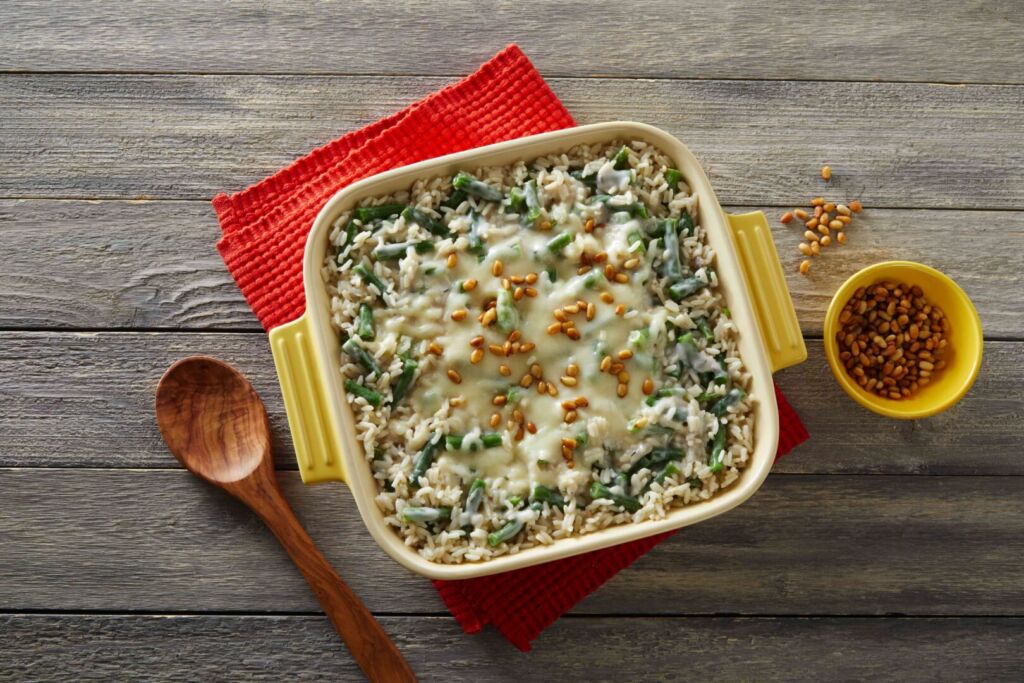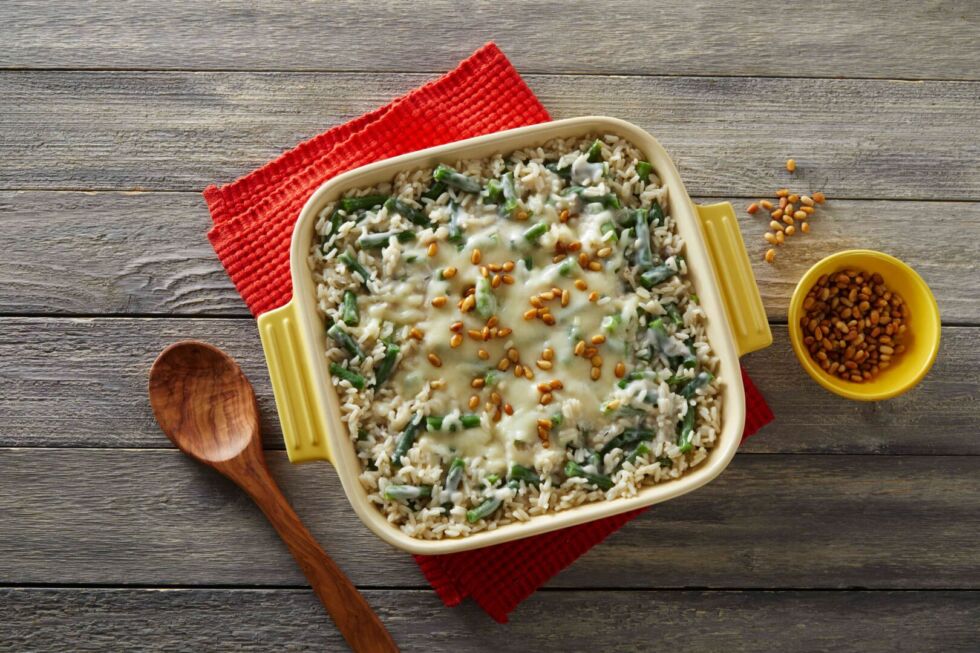 Butternut Squash: Creative Recipes for a Sweet and Savory Dish
Butternut squash offers a delightful combination of sweetness and savory flavors, making it perfect for Thanksgiving. These recipes celebrate the versatility of this fall favorite. From Stuffed Butternut Squash to Risotto, each dish will bring a unique twist to your Thanksgiving feast.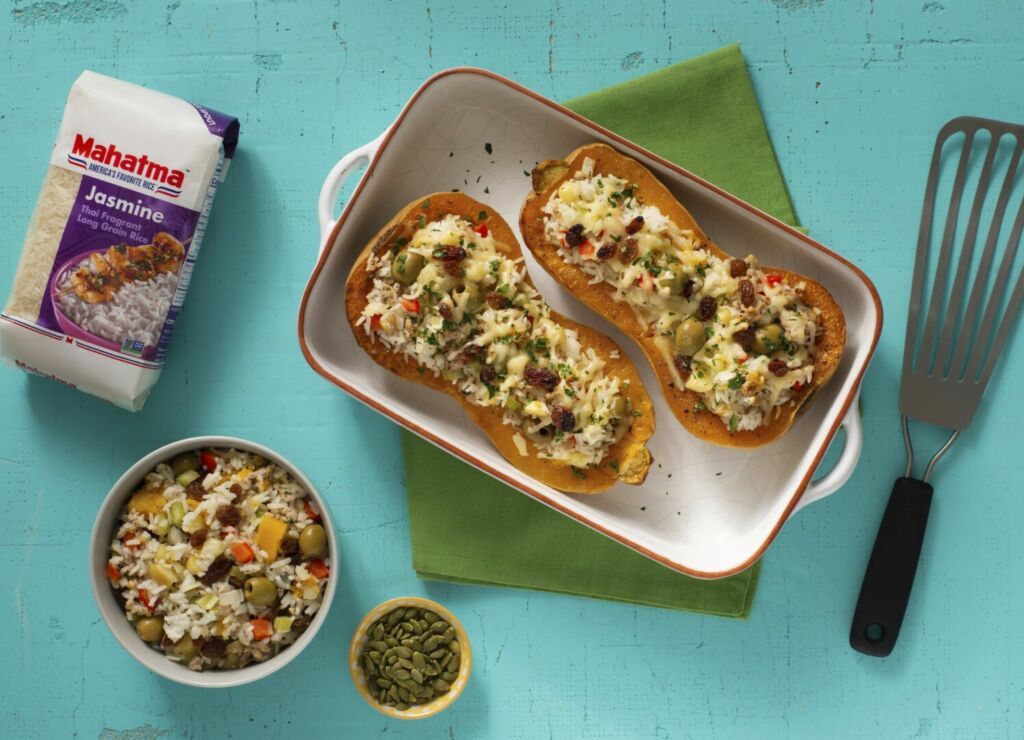 Unforgettable Desserts
No Thanksgiving is complete without indulging in some delectable desserts. People always enjoy traditional alternatives like pumpkin pie, apple pie, or pecan pie. For a modern twist, consider adding unique desserts like our Raisin & Rice Mini Pies or our Rice Créme Caramel with Ginger and Pumpkin. It will be the perfect finale to the perfect day.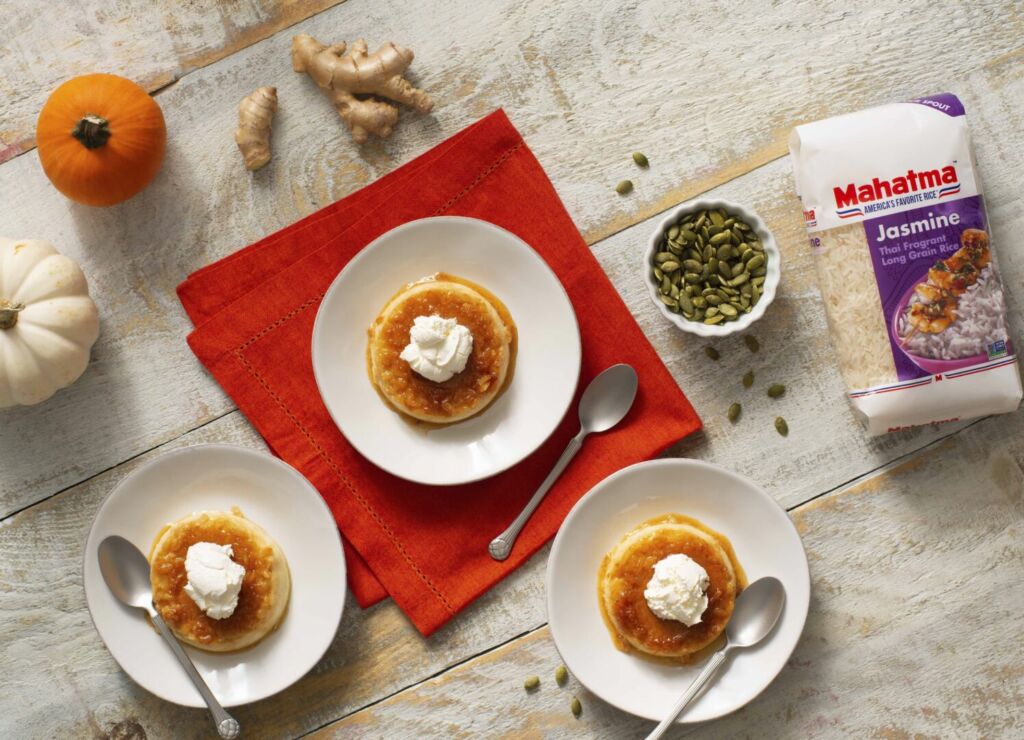 Embrace the spirit of exploration and open your mind to new flavors and ingredients this Thanksgiving. By incorporating unique elements into your recipes, you'll create a holiday feast that will surprise and delight, leaving your guests eager for more. Check out our Recipe Page for more innovative ideas.