Deliciously savory in every bite, nothing quite beats biting into an incredible taco! And, if you're looking to spice up your homemade tacos for your next Taco Tuesday get-together or the next time you celebrate Cinco de Mayo, then you've come to the right place.
Whether you're a meat eater or a vegetarian, there is a taco out there for you. We are going to be taking a look at some different ways we can make tacos using Mahatma® Rice varieties along with some different side dishes we can serve them with.
Before we get started, let's take a look at some of the ingredients you're going to need.
Taco Fillings
You can fill your tacos with whatever you want, however, to get you started, here are some of the most popular taco fillings:
Mahatma® Rice (White, Brown etc..)
Vegetables and fruits (onions, chilis, garlic, avocado, tomatoes, lettuce, mango)
Spices and seasonings (pepper, sazon, cumin, chili powder)
Fresh Herbs (cilantro or parsley)
Beans (black beans, kidney beans, red beans)
Cheese (feta, queso fresco, Cheddar, Cotija, manchego, etc.)
Meat (beef, chicken, pork or meat-free alternative like tofu and tempeh)
Sour Cream
Lime Juice
Sauces (tomato, chipotles in adobo sauce, guacamole, pico de gallo, salsa)
Using either corn or flour tortillas, use your preferred size of shell! And, if you're in the mood for a bit more filling, take a look at our guide to filling and rolling burritos.
How to Make Your own Hard Taco Shells
While many enjoy the simplicity of soft tacos, others enjoy eating theirs with a bit of a crunch in every bite. To make a crispy taco shell, first fill it with your desired ingredients, then coat your tortilla wraps in cooking oil, then rest them against each other so they resemble that typical taco shape. You can cook your shells in the microwave, but we prefer the oven so that they get that nice crispy texture. They should crisp up in about 10 minutes.
Taco Recipes
Traditional Tacos
These tangy Grilled Chicken Tacos With Brown Rice Salsa made with Mahatma® Brown Rice offer a filling meal with a Mexican flavor. Try including some diced jalapeño to the salsa if you want to turn up the spice.
You can also make this Chicken Tinga and Rice Tacos recipe with Mahatma® White Rice. Made with avocado and feta cheese, this dish mixes two Mexican delicacies into a delicious combination. This recipe calls for chicken, but feel free to use another type of meat like beef or pork instead if you prefer.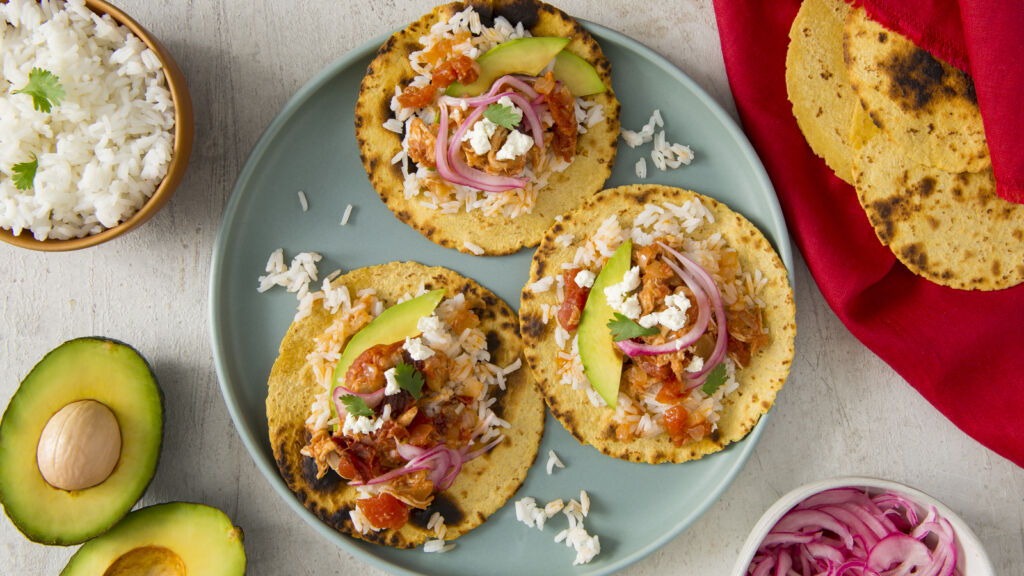 Tacos Dorados
Tacos dorados are another Mexican specialty, sometimes going by the names golden tacos or taquitos. Tacos dorados are different from traditional tacos in that they are baked until they are golden and crispy. You can cook tacos dorados in a few different ways. Lovers of avocado will enjoy these Rice and Beans Tacos Dorados made using Mahatma® White Rice with onion, garlic and chipotle.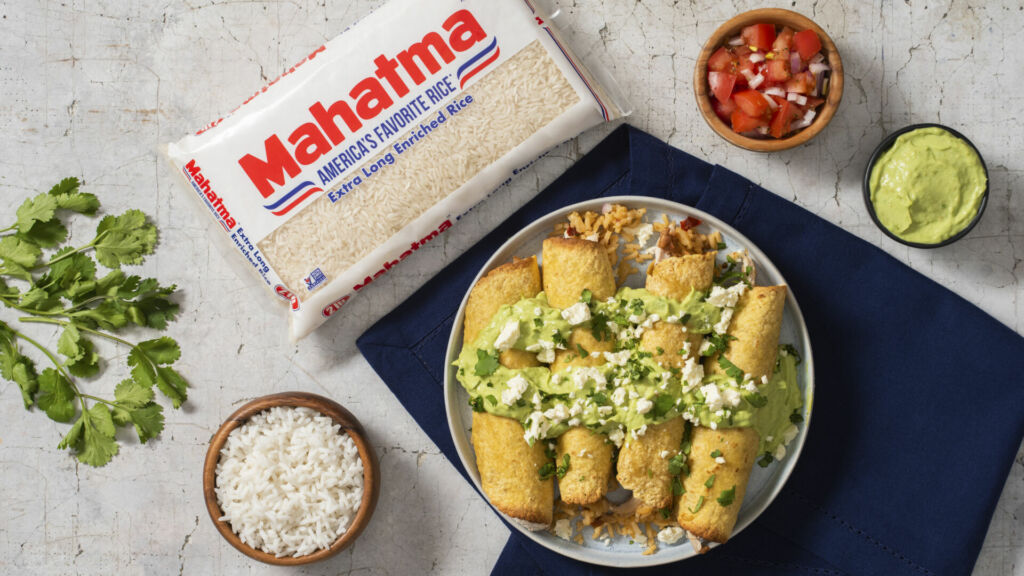 Using an air fryer, cook up these Black Bean and White Taquitos. Made with Mahatma® White Rice, these taquitos are perfect for if you are entertaining guests, or even if you just want a lunch or dinner time snack. Although this is a vegetarian dish, feel free to add in some crumbled bacon bits.
Taco Rice Bowls
Sometimes you might just want to enjoy a nice taco filling without having to worry about the shell. With a taco rice bowl you can create a bowl of delicious filling to enjoy it alone, or alternatively serve it with the taco shell or tortilla wrap of your choice.
Try a veggie loaded Taco Rice Bowl with Roasted Squash recipe with Mahatma® Organic White Rice along with lettuce, guacamole, pico de gallo and black beans if you are looking to get more greens into your diet. The white rice and beans in this plant-based recipe will leave you feeling fuller for longer. If you are making this recipe out of season, you can switch out the delicata squash for sweet potato or another type of squash.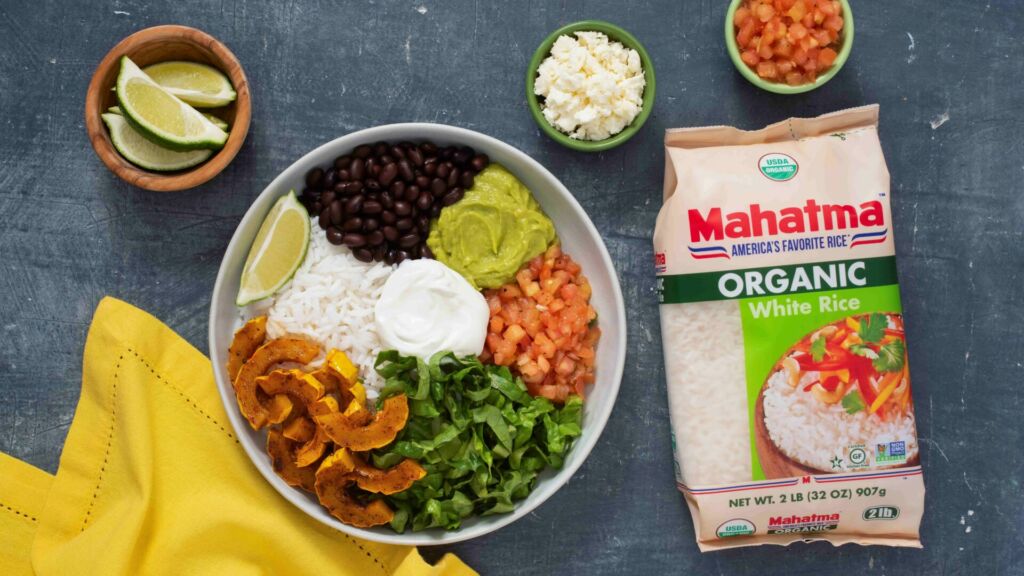 Our Jasmine Rice & Quinoa Taco Bowls make for a perfect on-the-go breakfast or lunch meal. This recipe calls for premade taco seasoning, however this doesn't mean that you can't experiment yourself with other types of flavorings to really make this dish your own.
Taco Side Dishes
Make sure you serve your tacos with a nice dipping sauce like avocado or sour cream. If you want to make your tacos into a full meal, try one of our latin american rice recipes like Tres Queso Rice, Salsa Verde Rice or Cilantro Lime Rice.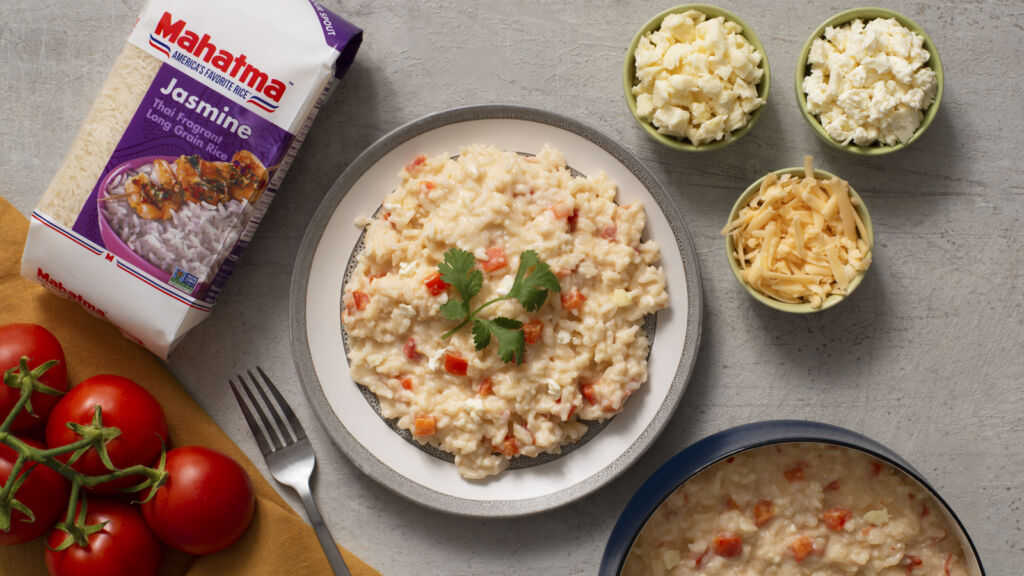 For more recipes and meal inspiration from all over the world, like this Jamaican coconut rice, stay up to date with Mahatma® Rice