High in nutrients, fiber and a versatile ingredient that can be prepared in a variety of ways, cauliflower is a great vegetable to have on hand. With its blooming appearance, the name comes from the Latin words caulis (cabbage) and flōs (flower).
Cauliflower is part of the cruciferous vegetable family including Brussels sprouts, kale and broccoli. And, it comes in four different colors, white, purple, yellow and green, that have their own list of benefits. But, no matter what color you choose, we've got cooking tips to make adding this veggie to your meals easier than ever along with recipe ideas that even picky eaters will enjoy!
Should I Use Fresh or Frozen Cauliflower?
Both fresh or frozen cauliflower are perfectly normal to use in recipes, however certain experts say that unlike other vegetables like spinach, cauliflower might lose a bit of their nutritional value if frozen too long. So, if possible, we suggest you cook with fresh cauliflower.
If you don't often use it fresh, don't worry, we'll show you how you can cut and core it to use in all kinds of recipes.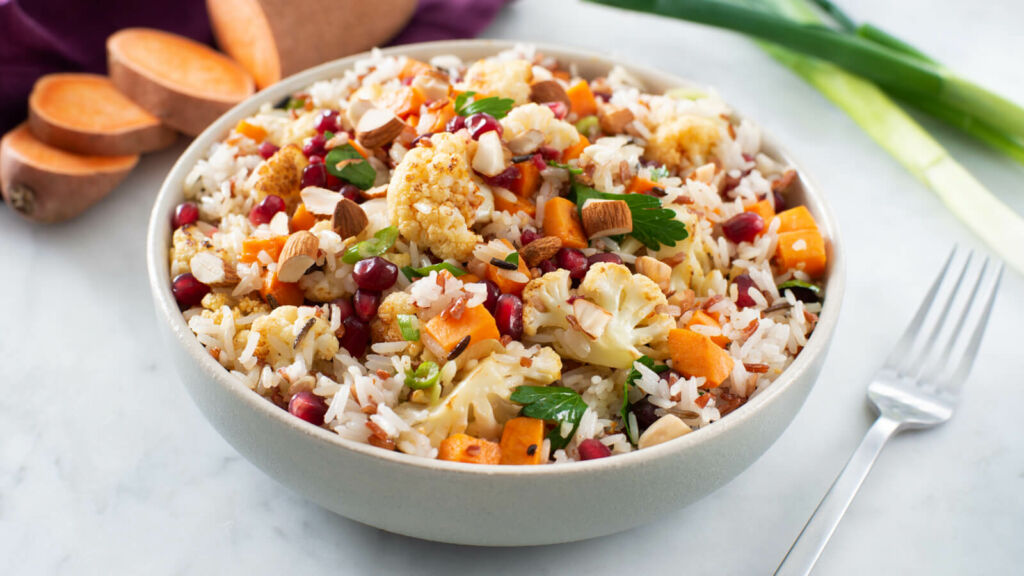 Cutting Cauliflower
Learning how to cut your cauliflower is the first step to preparing it. And, while there are many ways you can cut this vegetable up, most chefs would suggest first taking off the leaves and cutting the cauliflower head, with the stem attached, into four quarters. When you've got the four pieces, cut the stem and core at an angle. Finally, pull out the florets and place them in a strainer to wash before you cook or eat them raw.
Tip to use every part: Don't throw out the stem, leaves and core as they are equally great to cook with. Save them and use as a base for vegetable stock, or pulse in a food processor and add to soups or slaws. The leaves can be roasted in the oven for salads or to enjoy on their own.
Tips For Cooking Cauliflower
Follow these tips and discover different ways for cooking with cauliflower and start incorporating it more into your meals. You might be surprised at the versatility of this veggie!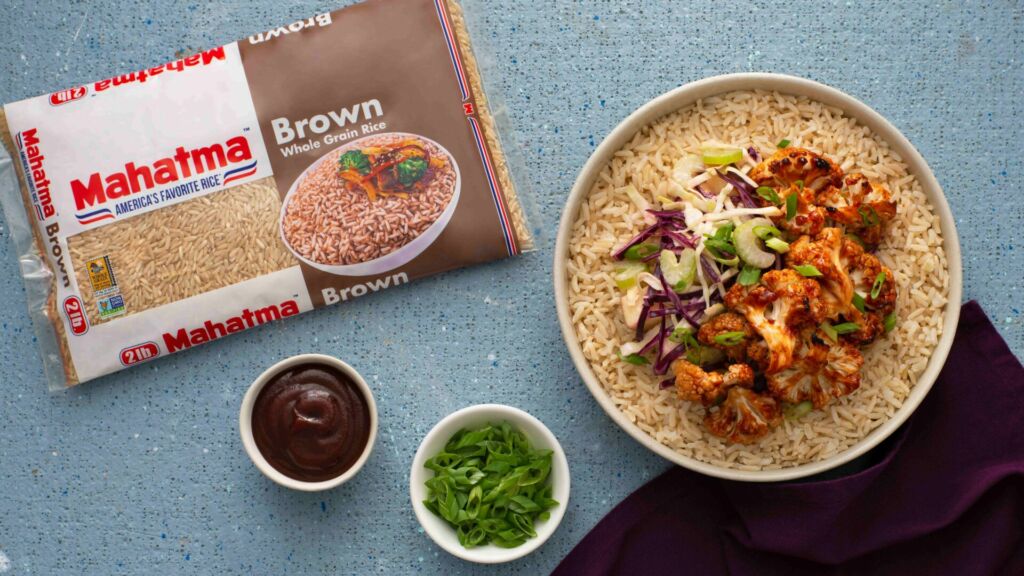 1. Add a Marinade to Roasted cauliflower
You may have tried your hand at roasting cauliflower in the oven with a bit of olive oil and salt, but you can also add a sauce or marinade to liven it up! This vegetable readily soaks up all kinds of flavor, so it's a great option to discover something new with every sauce you try.
Start simply with this recipe for BBQ Cauliflower coated in a blend of oil and barbecue sauce. To complement it, serve in a rice bowl with whole grain Brown Rice with homemade coleslaw. To cook the florets more evenly, make sure to flip halfway through cooking.
On account of its meaty texture, cauliflower is also great for using in vegetarian recipes instead of meat. Try one of our enticing jasmine rice recipes — This Roasted Buffalo Cauliflower Rice Bowl is coated with melted butter and brown sugar, chili powder, cumin, coriander, oregano, garlic powder, salt and pepper. Finally, mix with buffalo sauce before placing in the oven and voilá!
Make sure to test for doneness by testing with a knife or fork. If it pierces smoothly, it's ready to enjoy.
2. Add Cauliflower to Oven-Baked Casseroles
If you've got a large cauliflower head to use up, why not try using it in oven-baked casseroles as a way to sneak in a bit more veggies!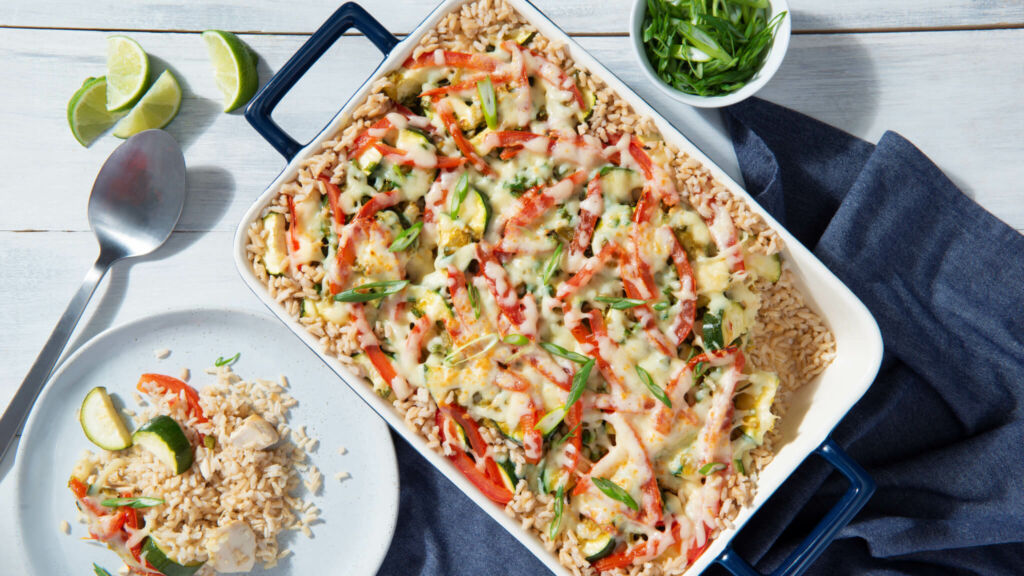 Try this cheesy Southwest Chicken and Rice Casserole with brown rice, cheese, chicken, and perfectly customizable with added vegetables like zucchini, peppers or cauliflower! Top with sour cream, onion, salt, cumin, and black pepper for a rich finish before placing in the oven.
3. Use Steamed Cauliflower in Delicious and Family-Favorite Recipes
If you've ever had difficulty spicing up your steamed cauliflower, add it to your favorite recipes like this Rice Mac and Cheese or a Fried Rice Falafel Bowl with a Tahini dressing drizzle.
Still not sure how to steam your veggies? Use our guide to achieve that perfect texture!
How to steam:
Out the florets in a steam basket or a heat proof colander inside a cooking pot on the stove.
Add enough water to the bottom about ½ inch.
Cover the pot and bring it to a simmer, continue until the cauliflower reaches the desired texture, about 5-9 minutes.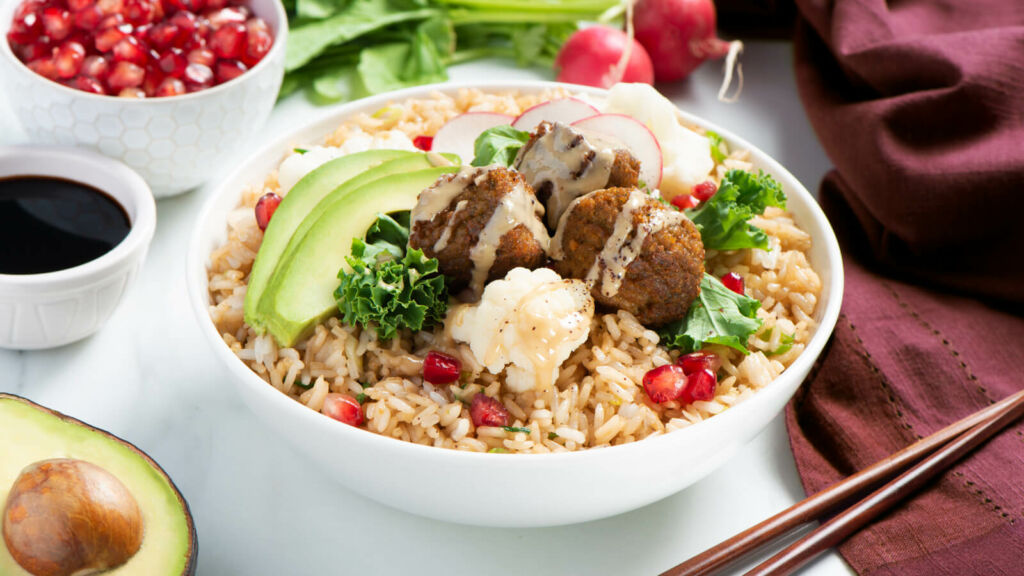 How to blanch and shock:
Boil water to a boil in a saucepan with a prepared bowl of ice water to the side.
Place the florets in the boiling water for about 2 minutes, remove with a slotted spoon and place in the bowl of iced water to shock.
4. Add Cauliflower to Risotto or Other Rice Dishes
Finally, sautée your cauliflower florets with other vegetables to use in your favorite rice recipes. Try it in this Risotto with Sausage and Cauliflower with all of the delicious flavors you love from risotto.
Note: If you really want to make the cauliflower unnoticeable to any picky eaters, we suggest making it into cauliflower rice. Use a food processor or a grater to rice the cauliflower and sautée so that it is easier to eat along with the rice!
Once you have tried these cauliflower recipes, why not try this delcious Arroz con Leche recipe for dessert.
With Mahatma® Rice, learn everything you need to know to unfollow the recipe and feel confident in the kitchen with all kinds of ingredients – which of these dishes are you trying first? There is no limit to what you can create with rice! Start here with: how to make tacos dorados.