If you struggle to find time to cook during the week, don't worry you're not alone. After a busy day at work, it can be difficult to properly switch off and prepare a decent meal. Luckily, Mahatma® Rice has you covered with some delicious recipes that can be made in under 10 minutes, giving you more time to relax in the evenings.
But before we begin, let's take a look at some simple things we can do to save time in the kitchen.
Saving Time in the Kitchen
These simple tips will go a long way in helping you cut down on cooking time.
Plan Your Meals in Advance
Choosing your menus in advance and making sure you have the right ingredients ready will go a long way in saving you time in the kitchen. Having your weekly meals planned will also save you from having to go to the supermarket multiple times a week.
Wash Your Produce Before Putting it Away
Rinsing your fruit, vegetables and herbs before putting them away, is a very simple way of saving you time in the kitchen as you won't need to when you are cooking your meals.
Organize Your Ingredients
Having a properly organized fridge or pantry is a timesaver as it will make it much easier for you to find your ingredients when you are cooking.
Batch Cook
When cooking, make plenty of extra portions. That way, you can enjoy home cooked meals throughout the week. This will save you time in the long run as for your next few meals you won't need to cook anything new as you can simply reheat your leftovers! Don't want to eat the same meal day after day? Many of our recipes are easy to freeze; simply thaw whenever a craving strikes.
Now that we know a few ways to make every minute count in the kitchen, let's take a look at some quick and simple recipes!
Meals That Can be Made in 10 Minutes
This Pumpkin Coconut Rice Soup made with microwaveable Mahatma® Jasmine Rice is perfect if you want a quick and easy lunch or a light dinner option. To make this into a vegetarian dish, try substituting the chicken broth with vegetable broth.
Recipe Tip: Save the pumpkin seeds for a great on-the-go snack.
Shrimp recipes like this Shrimp Fried Rice With Coconut made with Mahatma® Jasmine Rice and shredded coconut can also be made in just 10 minutes.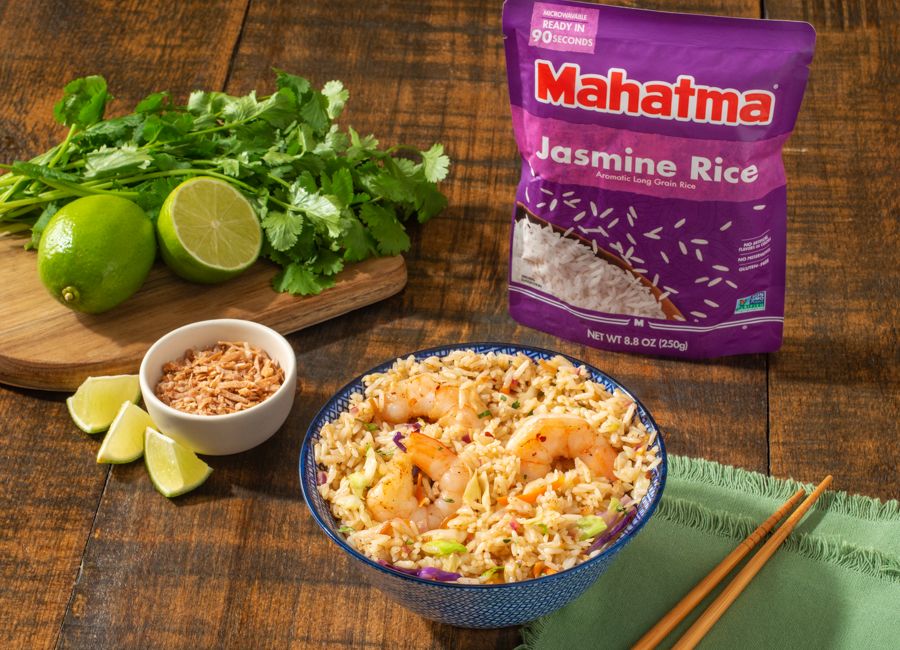 Alternatively, if you like your shrimp with a kick, learn how to make this Chipotle Rice With Shrimp with our spicy Mahatma® Chipotle Rice. Give this dish your own spin by mixing in your favorite greens.
This recipe for Shrimp Burritos in Minutes made with our 90 second Mahatma® Ready to Heat Rice pouches is another quick dish that will not disappoint. 
Meals That Can be Made in 5 Minutes
If you're really pushed for time, you can make this Savory Coconut Fried Rice made with Mahatma® Jasmine Rice in just 5 minutes! This recipe is a simplified version of our Arroz Con Coco With Fried Plantains – a meal that's both sweet and savory. In fact, it's an ideal opportunity to unfollow the recipe: try serving it with additional ingredients like blueberries or sesame oil to see which one you prefer.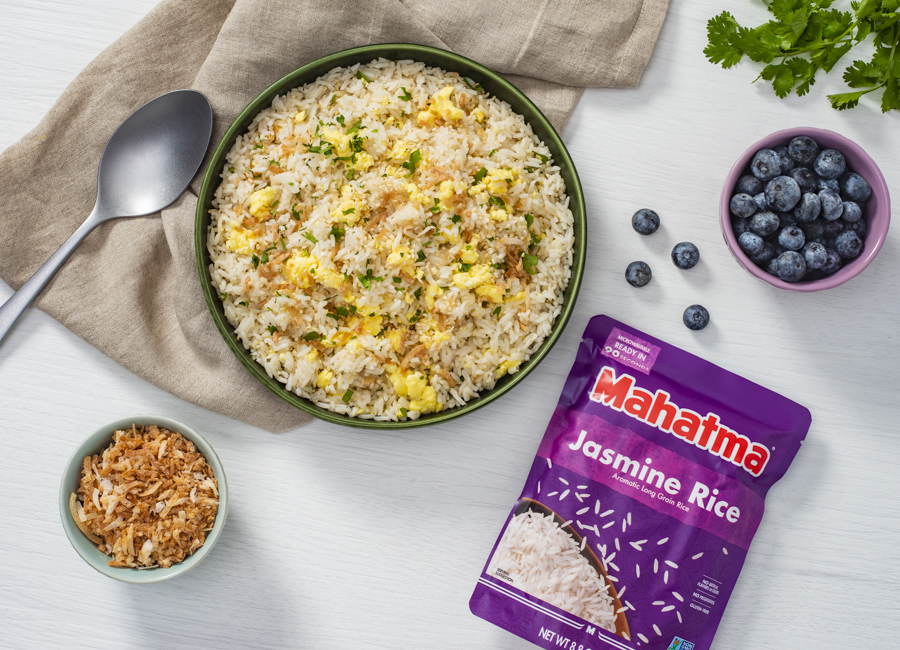 This simple Nacho Rice is another 5 minute recipe that calls for Mahatma® Ready to Heat Rice. If you don't have any rotisserie chicken in the pantry, use pulled pork instead. On the other hand, for a vegetarian alternative, opt for kidney beans.
You may also find this Burrito Rice Bowl recipe interesting. This 5 minute dish made with Mahatma® Cilantro Limón Rice is perfect for a rapid fire meal recipe, so you can enjoy it throughout the week. There are plenty of ways you can personalize this meal: try swapping out the chicken for pork, shrimp or beans for something a bit different!
Want to include more vegetables in your meals? Perfect your stuffed pepper game. If you have any leftover Mahatma® White Rice, these Cheesy Rice Stuffed Jalapeños are a crowd pleaser. Even better, they can be cooked in just 2 minutes! To prepare these jalapeños even quicker, you can also put them in the microwave instead of the broiler.
Quick Rice Drinks
When you're in the mood for a tasty beverage but don't have a ton of time to spare, whip up this Quick and Easy Horchata Recipe. With just 5 ingredients, this flavorful drink pairs perfectly with Mexican meals; make a batch the next time you host Taco Tuesday. Try mixing and matching with your favorite milk variety to really make this dish your own.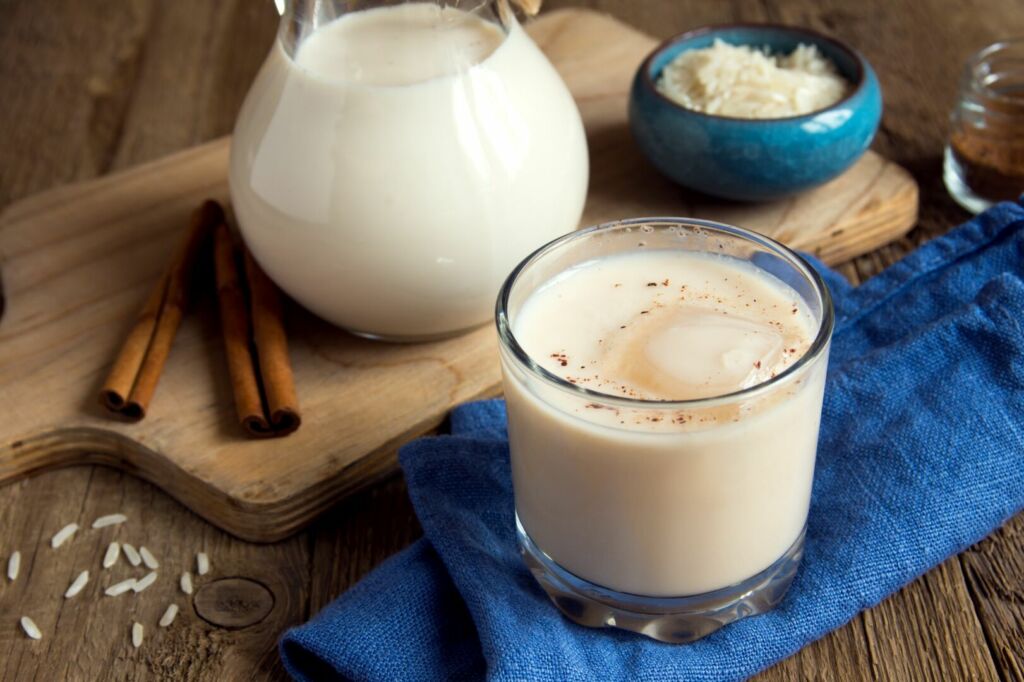 For a variation on a classic horchata, blend up a Banana Horchata Smoothie with leftover Mahatma® White Rice and just a few other ingredients. This drink is perfect for cooling down on a hot day or makes for a power breakfast when served alongside some fruit.
For more cooking tips and recipe ideas, stay up to date with Mahatma® Rice.