Mardi Gras is all about having fun, indulgence, and cutting loose – so don't be shy, go wild and add a little extra spice to your season. Yes, we know what you're thinking – an authentic Cajun-style feast but, don't worry, we'll get there.
From vibrant decorations to DIY masks, we'll get you into the festival season mood and guide you on how to throw an authentic Mardi Gras Party.
Is Fat Tuesday and Mardi Gras the same?
This is a common question and a fun fact that many people might not be aware of. The truth is, Mardi Gras is Fat Tuesday, as in it is a word-for-word translation of Fat Tuesday in French.
However, the actual Day of Mardi Gras (Fat Tuesday) is technically the last day of the "Carnival" season, that huge festival celebrated in many places like New Orleans and Brazil alike. So, even though you might think this is a case closed on whether they are different or not, you may still hear people refer to them as different events.
This is because most people refer to Mardi Gras with a sense of celebration, and the festivities can last for days, whereas Fat Tuesday is generally thought of as one single day before the beginning of Lent. In places where the Carnival season is biggest, like New Orleans, there are Mardi Gras style parades all throughout February.
So, if you're thinking about when the best time to plan your Carnival Mardi Gras themed party, you don't have to wait until Fat Tuesday to do it. Most people use the week leading up to Fat Tuesday as a time to celebrate with a Classic Jambalaya and assorted colorful beads with family or friends on the street.
Quintessential New Orleans dishes
For all those foodies out there, we get you – experimenting with Creole cuisine is one of the best things about Mardi Gras. So, let's get to it!
Rice and Beans Appetizer
Rice and Beans are a comforting combo across many cultures, especially authentic Creole specialties. Although predominantly found in main courses, this mixture also serves as a tasty and hassle-free appetizer – perfect for Carnival get-togethers.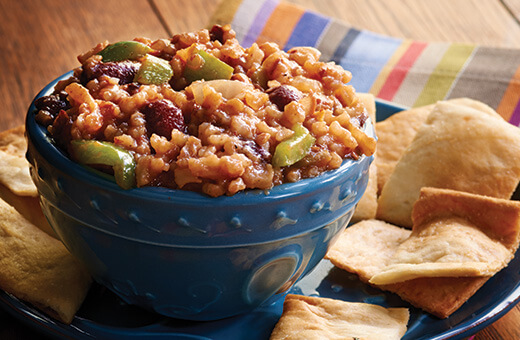 Made with our Mahatma® Red Beans and Rice Mix, this Bourbon Street Rice Dip is perfect to give your party a taste of New Orleans! Aside from its fast clean-up, this meal is sure to satisfy hungry guests. Loaded with cajun seasonings and mixed with your favorite salsa, it's ready in the blink of an eye – and doesn't skimp on flavor.
Prepare it the day before and enjoy an added boost of character as it marinates through the night – trust us when we say it's worth the extra step. To add a festive flair, make sure to serve the dip and chips in purple, green, and gold bowls.
Jambalaya
When it comes to preparing an authentic Cajun Jambalaya, the jury's still out – rice cooker or stovetop? Well, it depends. As long as you mix in the right amount of seasoning and pick quality ingredients, the result is likely to be unaffected by your cooking method of choice.
This decision also depends on how much time you have on hand or if you'd like to throw a party in which cooking is one of the main activities. Luckily, we've got you covered. This Spicy Cajun Jambalaya recipe cooks up perfectly with the help of a rice cooker or an Instant Pot but, it can also be adapted to the stovetop.
The secret to making this traditional Louisiana delicacy is choosing the right ingredients. Starting with Mahatma® White Rice, this recipe is all about classics and family favorites. Jambalaya originates from a mixture of French, Spanish, and West African influences and is made by mixing vegetables, meat, seasonings, and rice. And yes, this is one of the best meals for feeding the hungry masses.
For this recipe, our pro tips include sauteeing the onion and garlic thoroughly and including spicy-andouille sausage. It's no secret that the punch to every Cajun dish is all thanks to the 'Holy Trinity' of creole cooking i.e. green bell pepper, onion, and celery. Other veggies are always welcome, of course, but a traditional Jambalaya won't be complete without these key players.
We recommend andouille sausages, mainly as it is the most authentic of options. You can find it in almost every supermarket, and its smokey attributes genuinely make a difference.
If your party has guests of all ages, an excellent way to entertain the little ones is for everyone to decorate their own Masquerade masks – leaving the adults time to catch up around some great food. Make sure to assign a task to every guest, so prepping the main dish becomes the center of attention. After all, a good Jambalaya does make quite an impact.
Shrimp and Coconut
Picky eaters are a thing, especially if you're hosting a big party with kids. Although the aromas and flavors of Creole are irresistible, they have a depth of spices that not everyone will enjoy. Still, if you want to serve something along the Mardi Gras lines, without the traditional Louisiana flavors, Coconut Rice and Shrimp is an ideal alternative. If you have any leftover ingredients, you can make this Jamaican coconut rice recipe the day after.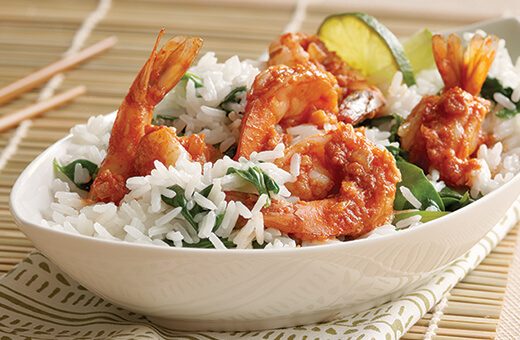 Traditionally a city with many seafood dishes, shrimp are in almost every authentic New Orleans recipe and can also be a tasty Jambalaya addition. Skip the spicy flavors and serve this refreshing alternative for the main dish – it's the mildest version of a New Orleans-Style Spicy Shrimp plate.
Now that the party menu is sorted, here are some extra tips for an extra special get together, whether you want to make it family-friendly or adults only:
For the adults, Hurricanes are an excellent cocktail of choice.
There are tons of themed party decorations and favors to choose from at your local dollar store to a big department store, you'll have a plethora of options to get your guests in the celebration mood.
Serve a King Cake for a traditional sweet treat and one of the ultimate Mardi Gras desserts. If you're making from scratch, don't forget to hide a figurine in the middle for that lucky someone to find. It's almost as important as the Jambalaya itself.
Mardi Gras is a great occasion to plan a group gathering, cooking jasmine rice or preferred variety for these amazing recipes, and have a great time with your family and friends.