During the holiday season, there are plenty of ways to get into the festive mood, whether it be decorating your home, watching a classic film or with delicious dishes amidst everything from get-togethers to small meals at home. And, since eating is a full sensory experience, meaning you enjoy it with all of your senses, why not get festive and fun with your food by adding some bright seasonal favorite colors!
We'll show you how to add bursts of color to your table with some of our favorite recipes by preparing meals with naturally red and green ingredients like vegetables, sauces, fruit and herbs!
Decoration Tip: If you'd like to add a bit more color to your table, stop by a local dollar store to find festive cups, colored napkins and plates or include red and green drink ideas by adding sparkling grape juice with fruit.
How To Add Red and Green To Your Meals
Get creative and use these tips to add a touch of red and green so you can feast your eyes on all of these tasty dishes!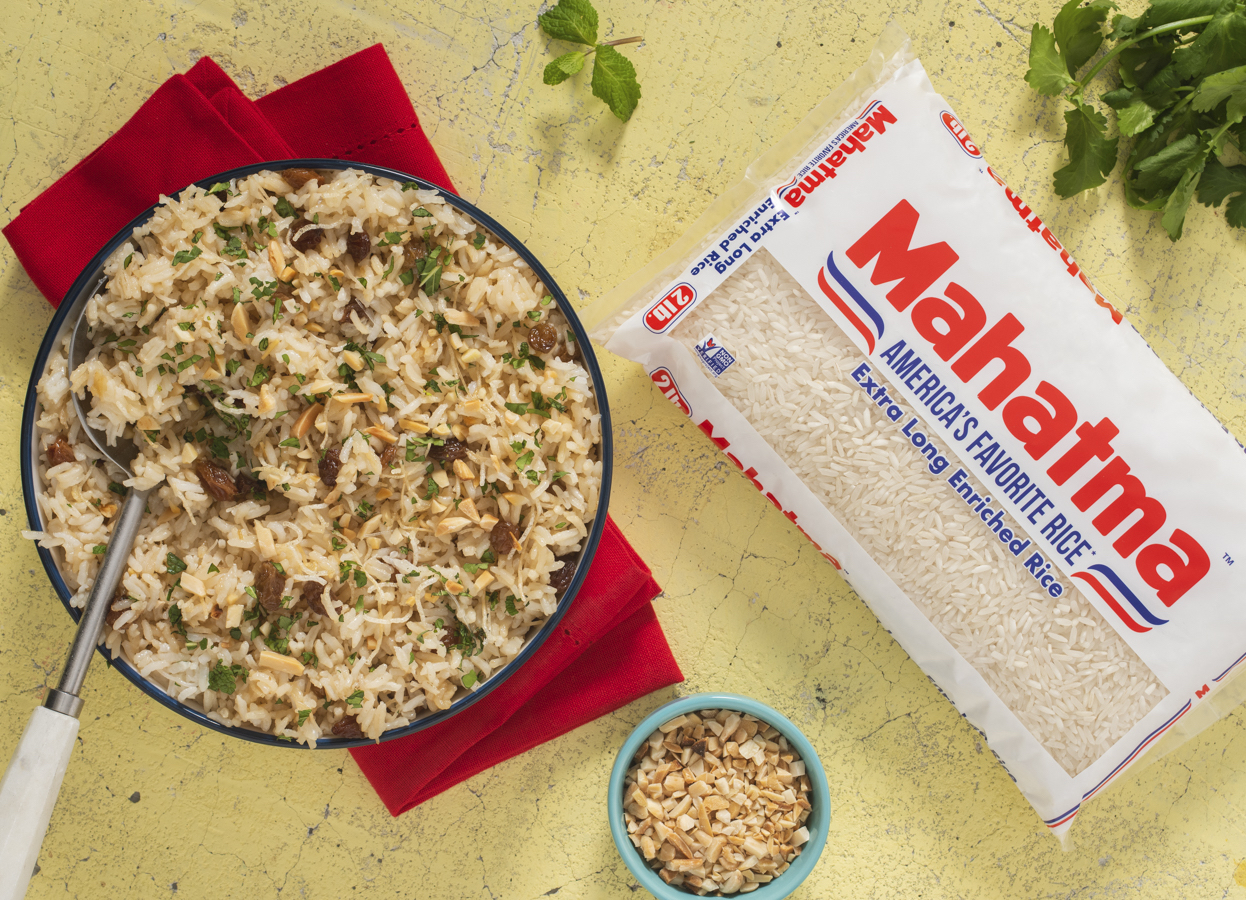 Use Fresh Herbs
One fool-proof way to add a dash of green to your dishes is with fresh herbs. Parsley has a very mild flavor, so it's ideal for adding to a wide variety of dishes (or just for decoration), where cilantro is often used with spicier flavors, and basil with rich tomato or pesto sauce. When in doubt, try a small portion using an herb and see if it works with your dish.
If you are not sure where to start, this dish of Peruvian-Style Christmas Arab Rice is topped with a combination of fresh mint, cilantro and parsley with toasted almonds to complement the sweet and savory flavors in this dish using white rice and vermicelli noodles.
Add some Vegetables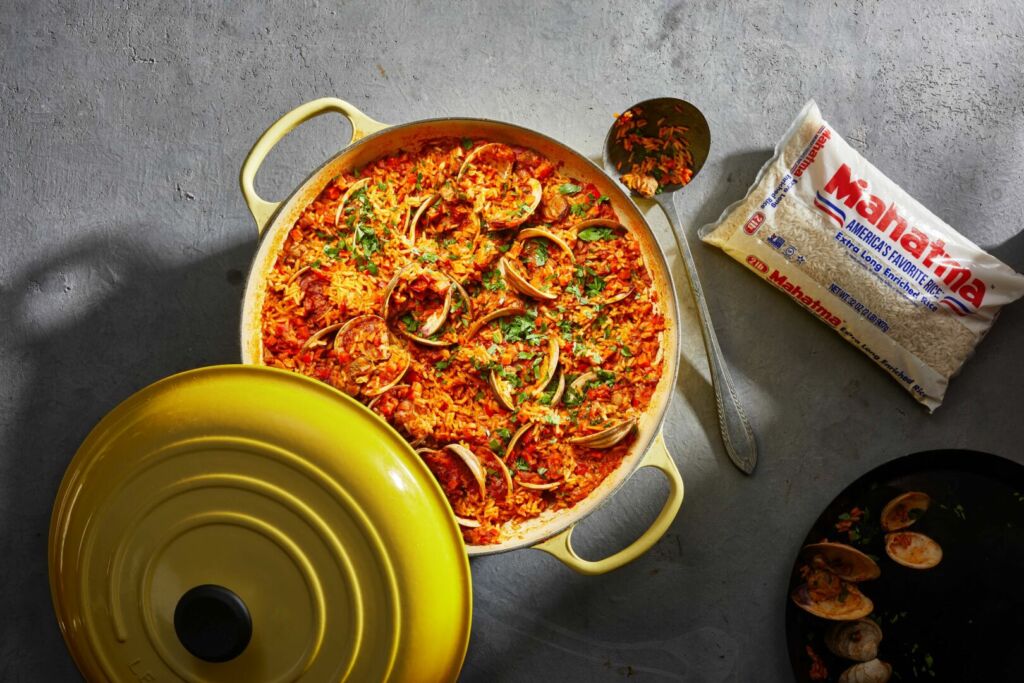 Adding vegetables is the perfect way to include all kinds of both red and green colors into your dishes. Take a look at each of our recipe suggestions using a wide variety of vegetables.
Tomato
This holiday season, treat yourself to a delicious dish of Dirty Rice with Clams which gets its deep red color from Mahatma® White Rice simmered in a delicious blend of Roma tomatoes, chiles and garlic – video recipe by Pati Jinich included!
Cactus
Yes, we've added cactus to this list!
While the plant is technically both a fruit and a vegetable, cactus consists of green pads called nopalitos, which can be cooked like vegetables. Never tried it before? This dish of Creamy Rice with Nopalitos and Turkey uses roasted nopales alongside green poblano peppers, which are then chopped and added into the cheesy and creamy white rice dish. Greens in every shade!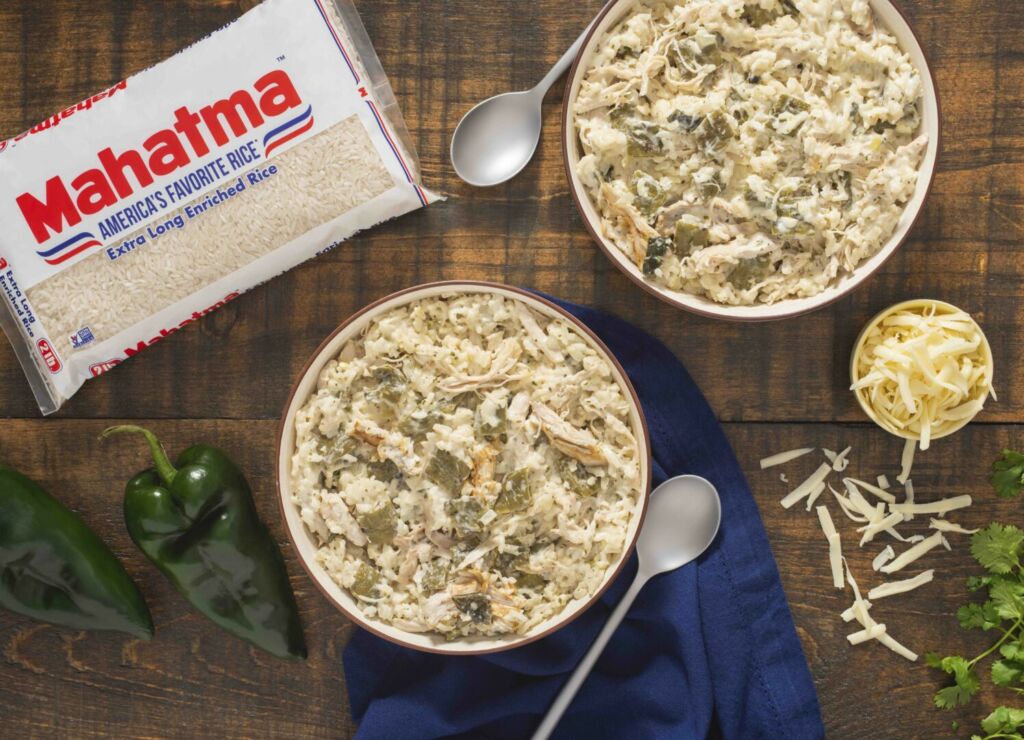 Green Beans
Give your holiday classic green beans a twist with this Green Bean Rice Casserole made with Latin-style cheese and toasted pine nuts for added crunch!
Peppers
Depending on your choice of pepper, you can add quite a bit of heat to your meals or a flavorful bite of delicious green vegetables. If you're unsure which to add, make sure to check out our guide to adding heat to your meals. We've separated a few recipe ideas based on main dishes and side dishes.
Main Dishes
For a hearty meal entree combining all kinds of red and green with tomatoes, mild bell peppers and jalapeños for a bit of a kick, this Southwest Chicken and Rice Casserole is the perfect centerpiece for a green and red meal.
If you want to take the heat up a notch, this Spicy Green Chili Rice with Turkey is made with poblano peppers, celery, serrano peppers, tomatillos and green chili all topped with fresh cilantro for loads of green color.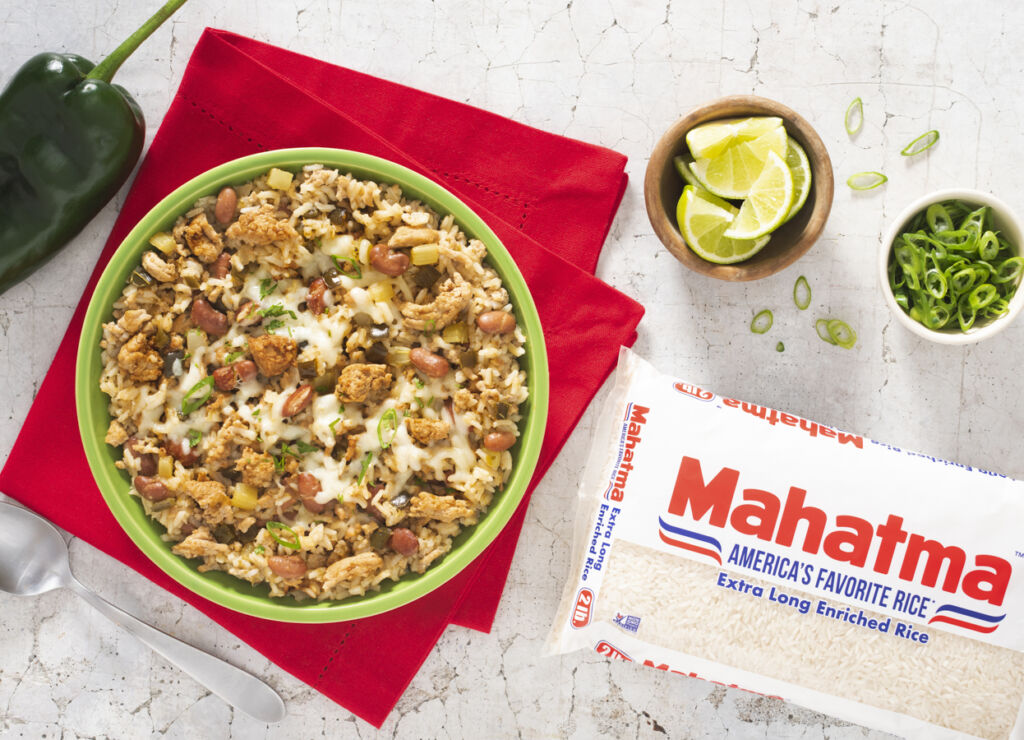 Side Dish
If you're looking for a simple side dish, this simple Green Poblano Rice is loaded with vibrant color as the fragrant jasmine rice is folded with a blend of roasted poblano peppers and spinach leaves. In just 30 minutes you can add a bowl of vibrant color to accompany any main dish.
Vegetable Medley
If you prefer something a bit milder but full of flavor, this Green Rice with Roasted Vegetables is jam packed with greens, and white rice simmered in broth topped with oven-roasted asparagus, Brussels sprouts and broccoli.
Use Sauce
As we eat with our eyes, we tend to find red and green sauces appetizing as they are made using vegetables or fruit. Take a look at three of our top picks for your table made with store-bought and homemade sauce.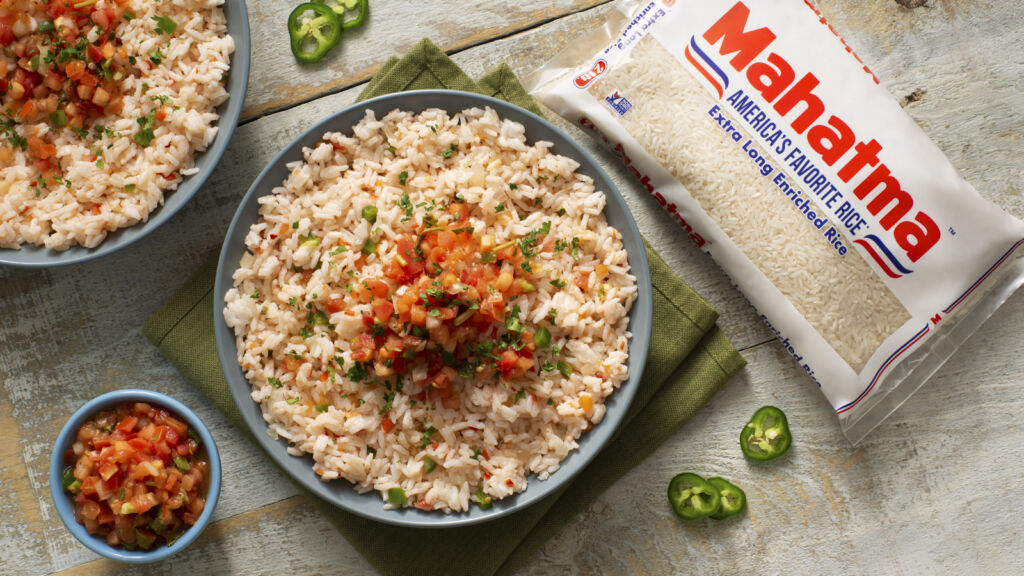 Tomato-Based Filling
Looking for a delicious appetizer or dish to share? These Empanadas with Turkey and Rice Picadillo are filled with seasoned rice and turkey coated in a tomato-based sauce with a cilantro cream dipping sauce on the side.
Red and Green Enchilada Sauce
If you're using two colored sauces like these Enchiladas with Red and Green Sauce get creative and pour the red sauce on one side and the green sauce on another to great flavor and color in every bite!
Fresh Pico de Gallo
If you need a quick side dish that is loaded with color, this Pico de Gallo Rice Pilaf is made with Mahatma® White Rice cooked in sautéed vegetables and broth, all topped with fresh and vibrant pico de gallo!
Delicious and Vibrant Dessert
Of course, you'll need something sweet to finish off your spread! We've also included holiday desserts that can easily include red or green fruit colors.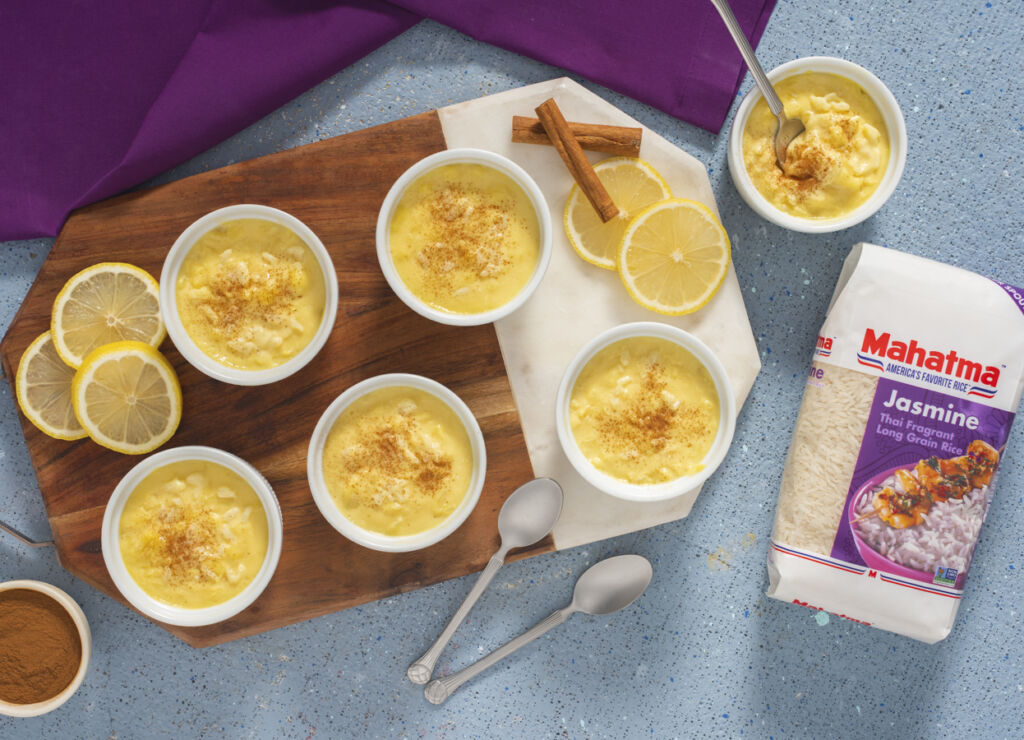 For a bit of holiday fruitcake, these Christmas Cake Brown Rice Fritters are delicious bite-sized morsels made with all kinds of dried red fruits like pitted prunes, currants, cherries or a bit of candied green cherries or raisins. Make sure to top with a rum simple syrup!
Speaking of a dash of rum, this Eggnog Rice Pudding is a holiday must! Using the classic beverage flavors, this creamy rice pudding can be garnished with fresh berries of choice for added color.
Looking for something alcohol-free? Try these individual Cuban Natilla Custards for something truly rich and creamy topped with whipped cream and sprinkles, fresh fruit or crushed red and green holiday cookies. 
If you are looking for something with a bit of a carribean flavor, check out this Jamaican coconut rice recipe.
Enjoy any one of these festive and colorful dishes with friends, family or all to yourself! You don't have to go all out to enjoy the season, celebrate with Mahatma® Rice and add a burst of color to your day.