Both eye-catching and delicious, wild rice is technically not even rice, but rather a semi-aquatic grass native to North America that grows along lakes and rivers. It is, however, a whole grain packed with protein, dietary fiber and amino acids that makes a wonderful addition to almost any meal whether it's a simple rice pilaf, salad, soup, casserole or more.
Wild Rice 101
On its own, wild rice has a strong earthy, nutty and toasted flavor with a firm, chewy texture which is quite tough before cooking, so it normally requires about 45 minutes over the stove. For this reason, we suggest using a blend such as Mahatma®'s premium fragrant Jasmine Rice with Red and Wild Rice. Mixing with other grains helps to balance out the flavor, texture and cuts down on the cook time to just 15 minutes! You can't go wrong with a beautiful blend like that.
If your knowledge of wild rice stops after Thanksgiving stuffing or maybe luxurious sides or soups, it's a lot more versatile than you might think. There are plenty of reasons why you should start or continue to cook with wild rice, but we've chosen our top 5 and compiled them for you with a bit of recipe inspiration!
Top 5 Reasons to Cook Wild Rice
1. Lots of Benefits
There is a reason rice and other grains have been consumed for centuries and continue to be part of our meals around the world. Wild rice is a good source of natural vitamins and minerals, proteins and amino acids and antioxidants so it makes for the perfect whole grain ingredient for any meal.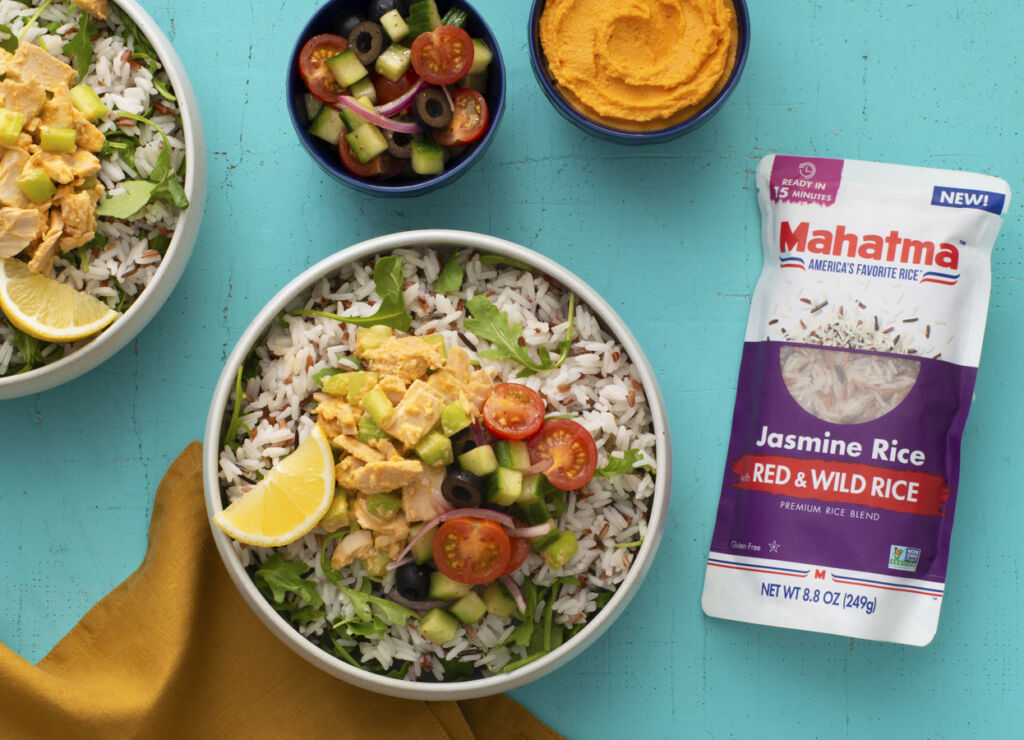 This Mediterranean Tuna Hummus and Rice Bowl uses fresh vegetables like cucumbers, cherry tomatoes, pitted black olives and red onion along with hearty rice. Top everything with canned tuna mixed with roasted red pepper hummus and serve over a bed of arugula leaves for a delicious lunch or dinner.
Or, enjoy a lighter but filling plant-based Wild Rice and Strawberry Spinach Salad made with red onion, feta cheese and pecans all drizzled in a simple balsamic vinaigrette.
2. Pleasing Color, Texture and Taste
Eating is an experience and although we may not realize it, we eat with our eyes, so it's important that our meals not only taste and smell good, but also look appetizing to eat. Using a premium blend with long grain fragrant jasmine and red rice, you have the opportunity to add different colors, textures and flavors to your dishes.
This Middle Eastern-inspired dish of Roasted Sweet Potato, Cauliflower and Wild Rice is an excellent way to add natural vibrant colors to your table with red pomegranate, orange sweet potato, brown almonds, green onions and more! Give yourself the ultimate sensory experience any day of the week.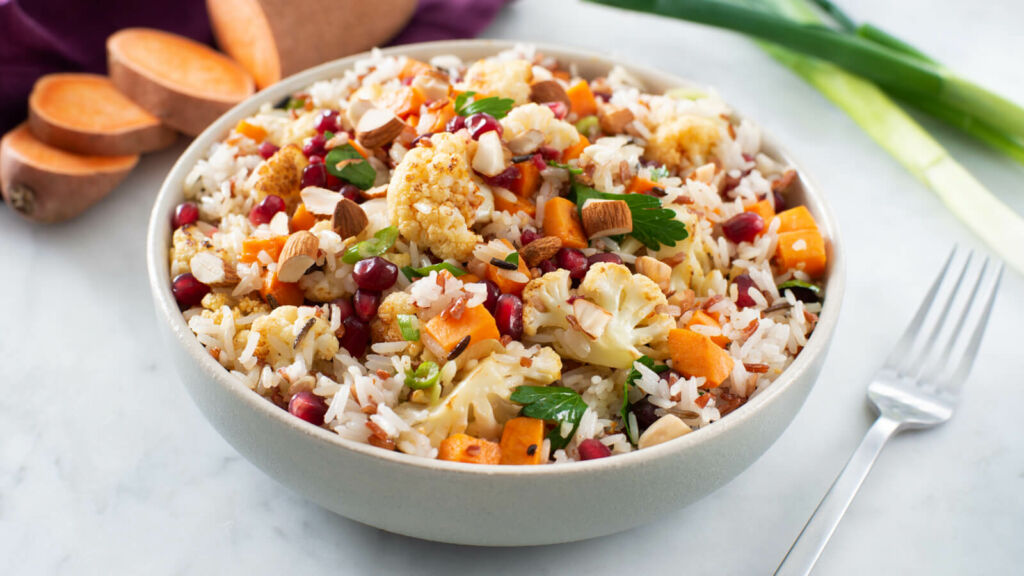 3. Versatile Cooking Methods
Much like other rice and grain varieties, wild rice can be cooked in versatile ways. Break free from the traditional rice pilaf or stovetop methods by cooking in an Instant Pot or Crock Pot like this Simple Crockpot Chicken and Rice dish. With just a few ingredients, this dish is a simple one-pot meal made with hearty pantry staples.
If you don't have additional equipment to cook with, simply switch out the water for broth or other seasoned liquids. Start your day off strong with a protein-packed Turmeric Rice Bowl loaded with vegetables, seeds, creamy avocado and a premium blend of wild rice simmered in seasonings and coconut milk.
If you're looking for something a bit more exotic, this Moroccan Wild Rice Salad is cooked in water seasoned with cinnamon sticks and cloves for an original taste! Everyone will be asking for your secret to making tasty rice salads. If you enjoy Mexican cuisine try out our tacos rice and beans recipe tonight.
4. Native To North America 
One of the very best reasons to enjoy wild rice is that it is native to North America, meaning you can enjoy products grown within the USA and support the farmers who cultivate it. Also, using the premium blend from Mahatma® Rice, you can enjoy non-GMO ingredients!
Serve your family a high quality meal using other USA grown products like mushrooms and local cheese, if possible, to make these Savory Wild Rice and Sausage Stuffed Mushrooms.
5. Everyday Delicacy
Last but not least, treat yourself to a simple and delicious delicacy that you can include in your weekly meals.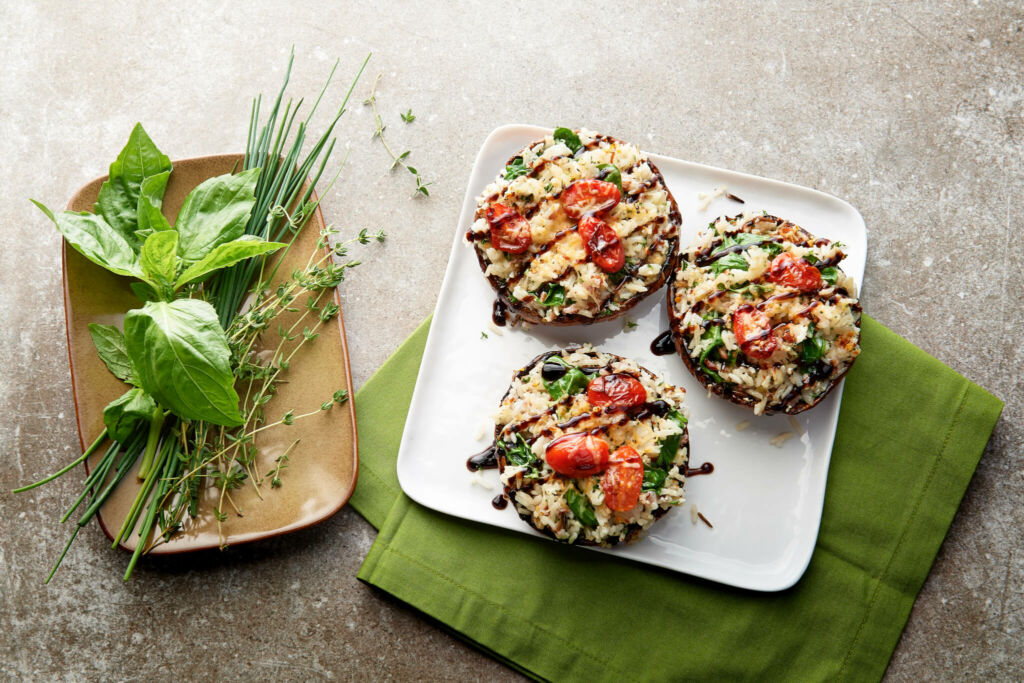 Take your stuffed mushrooms to the next level with this Jasmine, Red and Wild Rice Stuffed Portobello Mushrooms version using greens, grape tomatoes, goat cheese and a balsamic glaze. A spectacular presentation to spruce up your next get-together or to make a dinner at home a bit more special.
Enjoy our premium blend of wild rice in your next meal, or explore other rice varieties like Parboiled Rice, learn the difference between Jasmine vs Basmati, or even Organic Rice. With Mahatma® Rice, you can explore with confidence from the comfort of your own kitchen.