Throughout your life, you might have heard how important it is to eat your greens. However, the fruits and vegetables that fuel our bodies with nutrients and vitamins come in a wide range of colors that goes way beyond just greens. So we propose, instead of just your greens, take it a step further and eat the rainbow!
Aside from their well-known health benefits, fruits and vegetables help us fill our plates with vibrant colors and appetizing ingredients, with varied flavors and textures to keep your meals interesting. Vegetables often get a bad rap and there are plenty of picky eaters out there, but with the right combination of ingredients, vegetables can set the stage for irresistible and well-balanced meals.
If you're interested in eating better, but not sure how to combine delicious fruits and veggies, read along and discover how rice and colorful produce pair beautifully in rice salads that will make eating the rainbow a breeze!
From the average salad to a wholesome meal
Nature has a way of color coding fruits and vegetables for us. Each color has its own assortment of natural health benefits, but the real secret is learning how to combine them on your plate so that they are appealing to the eyes while providing nutrients to your body.
If you're looking to make your meals with fruits and veggies heartier – that's where our beloved grains come into play! We'll show you, color by color, examples of wonderful fruits and veggies so you can eat the rainbow – plus, a delicious rice salad recipe idea where these fruits and veggies shine.
The Fruits and Vegetables Rainbow
You might have noticed in your supermarket produce aisle that some vegetables come in more than one color – i.e. bell peppers or potatoes. All colors are equally important and give the vegetable in question different properties and health benefits.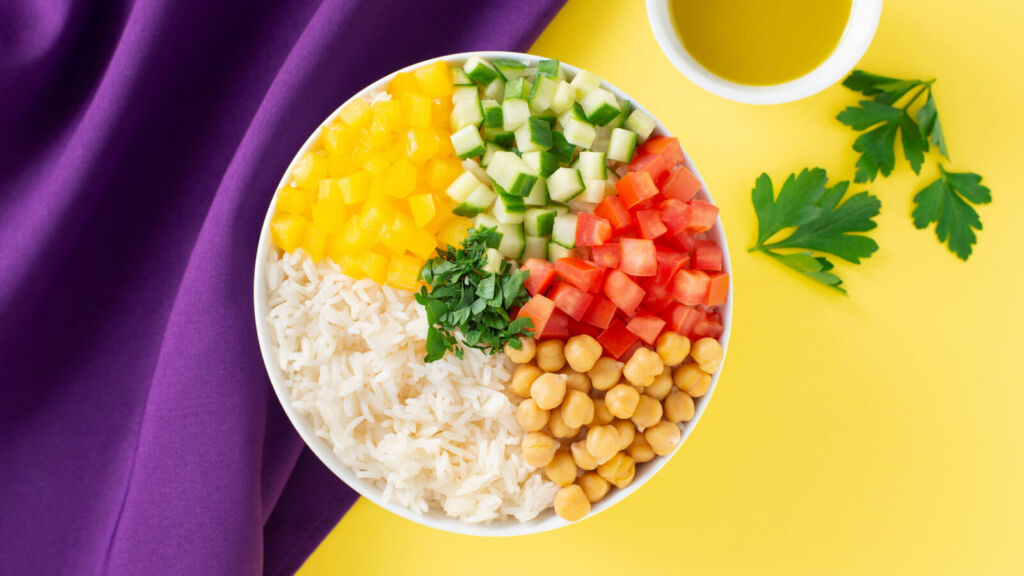 Red
Red is one of the most common colors in many family meals. Tomatoes are beloved for their versatility in use – raw, roasted, in sauces, in juice… But there are more fruits and veggies that will help you cover the red section of your plate, without eating tomatoes over and over again. After all, variety is as important as color!
Tomatoes
Red Peppers
Radishes
Red Apples
Red Potatoes
Cherries
Strawberries
Watermelon
Our Chickpea and Rice Salad is one of those easy to make meals that will get you going. The combination of chickpeas and Mahatma® Jasmine Rice makes a filling combo that pairs to perfection with fresh and crisp vegetables. To keep the color balance, this salad includes bright red tomatoes, yellow bell peppers, and diced green cucumbers. Increase your red intake by substituting in red peppers or more colorful by adding another colored vegetable: white earthy mushrooms.
Green
Along with red, green is one of the most versatile and commonly eaten colors – especially when it comes to vegetables. But, there are also bright green colored fruits that will get you excited about eating your greens!
Broccoli
Cabbage
Brussel Sprouts
Cucumbers
Green Peppers
Leafy greens
Peas
Asparagus
Green beans
Zucchini
Avocados
Kiwi
Pears
Green Apples
As its name suggests, our Green Rice Salad is loaded with crisp green veggies: broccoli and peas. With the addition of Mahatma® Ready to Heat Rice and diced chicken breast, this rice salad is not only a meal on its own but one that you can have ready within seconds – no excuses for skipping your greens today! Keep your meals even greener by having a bowl of kiwis, green apples, and pears for dessert.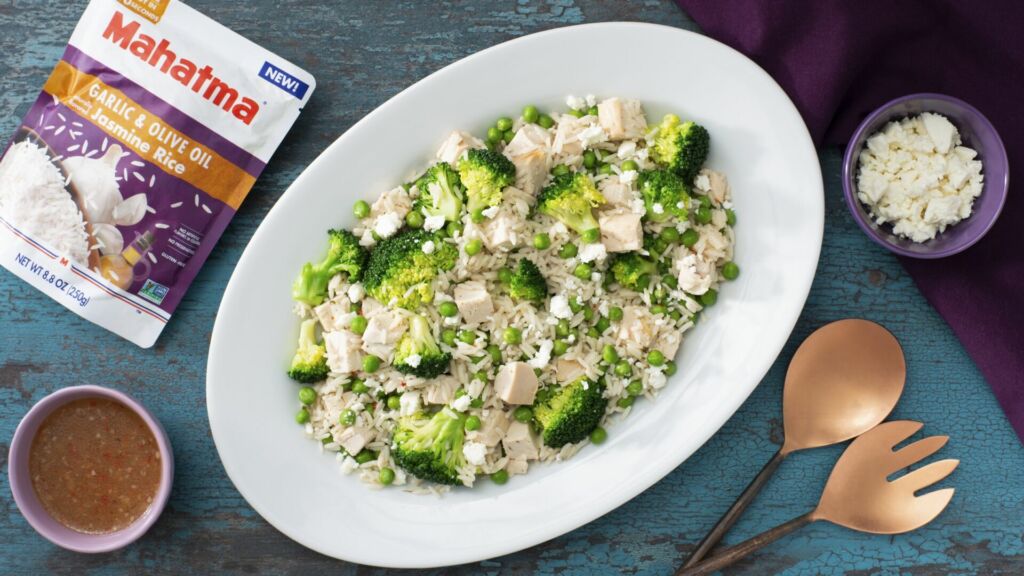 Orange / Yellow
Tropical fruits like mango or pineapple are within the top ingredients to cover the orange/yellow part of the rainbow. However, there are more fruits and veggies where that came from to keep your meals vibrant in color and delicious in taste:
Carrots
Orange / Yellow Peppers
Squash
Sweet Potato
Pumpkin
Oranges
Mango
Apricots
Peaches
Pineapple
For a rice salad with an exciting splash of yellow, this Mango Chicken and Rice Salad is our go to! The brown whole grains and quinoa are combined with fresh yellow mango, golden raisins, green onions, and green leaves for extra color and nutrient boost. Add more color with steamed or boiled sweet potatoes or juicy pineapple chunks.
Blue/Purple
This might be the most underestimated color section of the fruit and vegetable rainbow. Blue and purple berries are usually enjoyed as a snack on their own but have you tried incorporating them into full meals? Moreover, there are other delicious and nutrient-packed fruits and veggies with blue and purple colors that you should definitely give a try.
Eggplant
Red onion
Purple (red) cabbage
Purple potatoes
Blueberries
Blackberries
Plumbs
Beetroot
Black olives
To keep the color profile, try using Mahatma® Premium Blend with Jasmine, Red and Wild Rice in this Middle Eastern Salad. The colorful grains will keep the blue/purple palette along with a few pomegranate seeds. To toss in more purple, add chopped purple (red) cabbage and some blueberries.
White/Brown
Although white and brown are not technically colors of the rainbow, these fruits and veggies are no less important: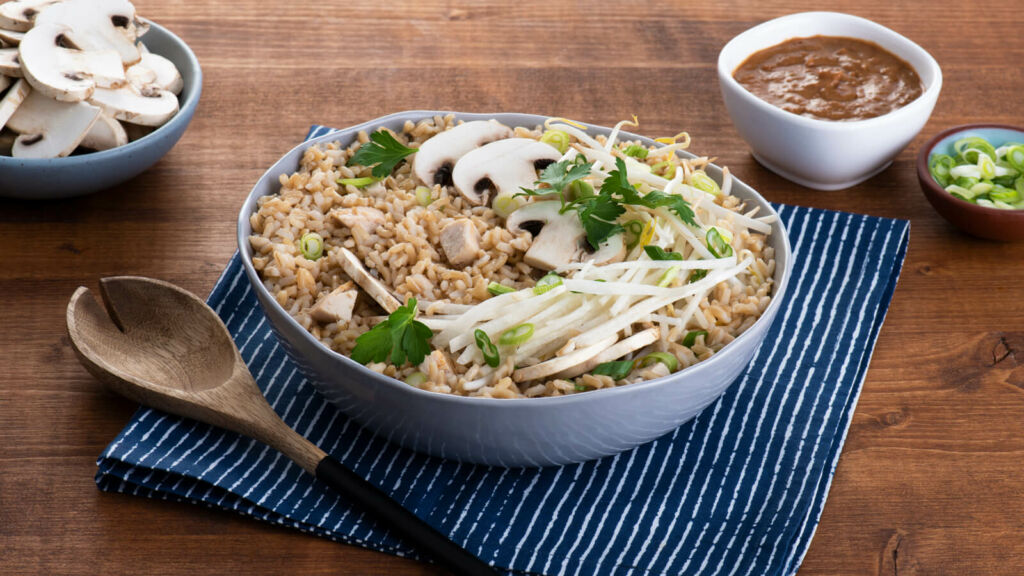 Cauliflower
Garlic
Jicama
Mushrooms
Turnips
Parsnips
Onions
Potatoes
Cannellini Beans
Banana
This Asian-inspired Chicken and Rice Salad combines the flavors of both white and brown veggies for a tasty salad that will keep you coming back for more. Fill your plate with all sorts of neutral browns and whites using sliced mushrooms, jicama, and bean sprouts!
If you are craving something other than a salad try these Tacos Dorados.
Continue exploring our website and discover new tasty recipes and cooking tips like how to cook jasmine rice.