When you're looking to stock up your pantry but also spend wisely, rice is one of the best ingredients you should consider. Aside from being budget-friendly, it's a versatile ingredient that can be combined with almost anything to create a wide variety of meals from breakfast to dessert or as the perfect side.
Whether you're a budgeting expert or just looking for some pointers to cut your food expenses, we'll show you how to use pantry essentials and cost-effective ingredients while still making delicious meals. By planning your meals and making the most out of your ingredients, you'll not only be watching your wallet but cutting down on your food waste too.
Take a look at these helpful tips to keep the delicious rice dishes flowing without breaking the bank!
Budget-Friendly Hacks
1. Repurposing Leftover Rice
One of the best things about rice is that it can be repurposed. It can even be reinvented if you went too far with the cooking time and turned the grains into mush. If you've ever fallen victim to mushy grains, a great way to make use of that leftover rice is by turning it into a fried rice skillet dish, baked rice balls or rice croquettes.
Also known as arancini (Italian for rice balls), these delicious morsels are actually made best with leftover rice. The same applies if you want to nail the perfect fried rice recipe – always best if done with cool leftover rice.
2. Batch Cooking
Batch cooking is an excellent way to save both money and time! Storing cooked rice in the fridge will come in handy to put together a delicious and quality meal in no time at all. Cooked rice is perfect for anything from rice salads to skillet meals, creamy puddings, hearty soups, and even breakfast shakes! Did you know cooked rice lasts up to 6 days in the fridge?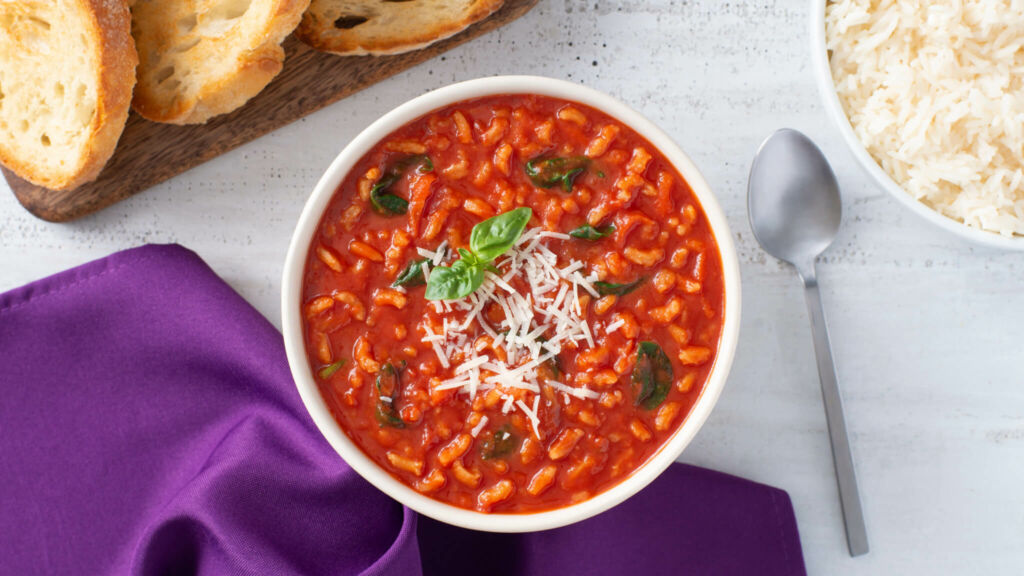 This Tomato Soup is a delicious, budget-friendly, and easy to make recipe to have on hand when looking for alternatives to use the rice from your large batch. Adding cooked rice to soups and drinks turns them into hearty, more wholesome meals.
If you have enough rice as a side or as a meal on its own, try combining it with other grains or legumes to make delicious rice cakes. These Brown Rice and Black Bean Cakes are the solution to that last bit of rice left and also a great alternative for vegetarian burgers. Top them with a fresh and spicy roasted corn, cilantro, jalapeño and avocado salsa and watch them disappear while your family gobbles them up for a delicious snack, lunch, or dinner!
A Note on Rice Nutrition Facts: If you're concerned about the different nutrition facts of your rice varieties to use them daily, we've got everything you need to know regarding the percentage of daily values on our product pages. If you're wondering about our more aromatic options and thinking is Jasmine Rice good for you? Each serving of 1/4 cup Jasmine Rice (45 g) contains only 160 calories with 0 cholesterol and 0 sodium! Our Brown Rice on the other hand has 3g of protein and 2g of daily fiber with Iron and Potassium for every 1/4 cup.
3. Flavor with Seasonings and Spices
We already know how versatile and cost-effective rice is, but having rice for several meals throughout the week can be boring and tiring if it always tastes the same. To keep things exciting, try using those condiments and seasonings in your pantry – this is great to add more flavor to your dish without necessarily adding more ingredients.
Here are some flavor profiles you can explore by simply sprinkling on top of your cooked rice or adding to the water you'll cook your rice in. Try these spice combos for all your favorite dishes.
Mexican flare
Coriander
Cumin
Chili Powder
Caribbean flavors
Cajun seasoning
Cayenne pepper
Paprika
Garlic powder
Flavor from the Mediterranean
Indian infused
Curry powder
Ginger
Turmeric
Savory herbs and seasonings
Thyme
Rosemary
Herbes de Provence
Season Mahatma® Jasmine Rice and Quinoa blend with a few Mediterranean seasonings to enhance saucy Meatball Sliders for your next BBQ cookout. By adding in grains, you can also cut down the expense on meat while getting all the natural vitamins, nutrients, and protein from rice and quinoa.
If you enjoy Mexican cuisine try this tacos beans and rice recipe.
Using flavored oils is also great to add extra flavor to your rice. Simply add a few oil drops to water when cooking your grains and voilá! Start with avocado, sesame, roasted garlic, or coconut oil. Have some bouillon cubes on hand? That will work too.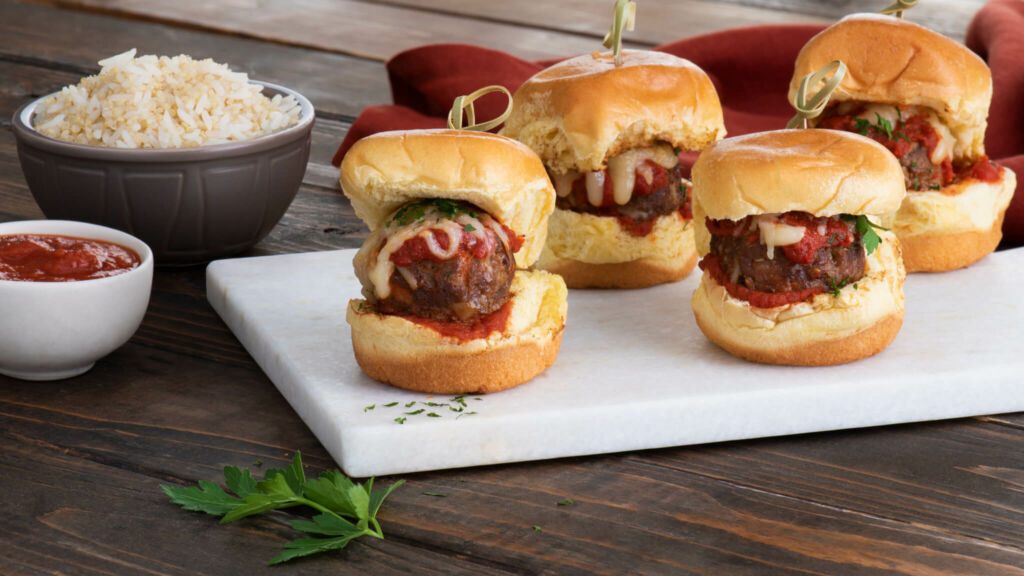 Can you freeze rice?
Freezing food is the best method to stop food from spoiling and to keep you stocked with enough goods to whip up a delicious and nutritious meal every single time. It is also helpful to take advantage of foods on sale. Buy more than what you would regularly buy of an ingredient on discount, freeze and save for later. Your wallet and stomach will thank you for that decision!
You can even freeze cooked meals and simply thaw in the refrigerator for a home-cooked meal. Convenient, right? Just note that some foods are better suited to freezing and reheating than others. And yes, you can freeze rice.
How to freeze and reheat rice
To freeze, simply place the rice in freezer bags and flatten them for easier layering in the freezer. We recommend freezing in no more than 1-2 cup portions. A helpful tip to remind how much rice is frozen per bag is writing the amount on the bag with a permanent marker along with the date you froze it.
To reuse frozen rice add 1-2 tablespoons of water or broth for each cup of cooked rice, cover and microwave for 2 minutes, or until rice is heated through and fluffy. Try this trick with a little bit of chicken broth and you've got the perfect rice to start shaping some tasty Israeli Fusion Rice Balls – their taste will remind you of a delicious Reuben sandwich.