Despite the popular belief it's not possible to make a delicious and satisfying dish at home when you don't have much time or many ingredients, it is definitely possible. It's all about getting the combination right and using flavors you like. You might be surprised at how quickly and easily you can create tasty meals with what you already have in your kitchen and with very little time and effort.
If you can identify with a busy schedule that leaves little time for cooking, let alone grocery shopping, we hear you! That's why we've put together a few of our favorites that include just a few ingredients and require only a few essential kitchen staples on hand like spices, simple dressings or sauces and rice. Discover some ideas to keep you feeling good and energized throughout the day.
Note: salt, pepper, spices, and olive oil/butter aren't included in the ingredient count.
Versatile Grains
Aside from spices and oil, another ingredient that truly deserves a spot in your cabinet is rice. Not only is it budget-friendly, but rice can be eaten in any meal from breakfast to dessert! And, to top it all off, it's naturally Gluten Free and a great source of vitamins and minerals. The taste and texture of rice is so versatile it can be added to anything from sweet, salty or even spicy dishes.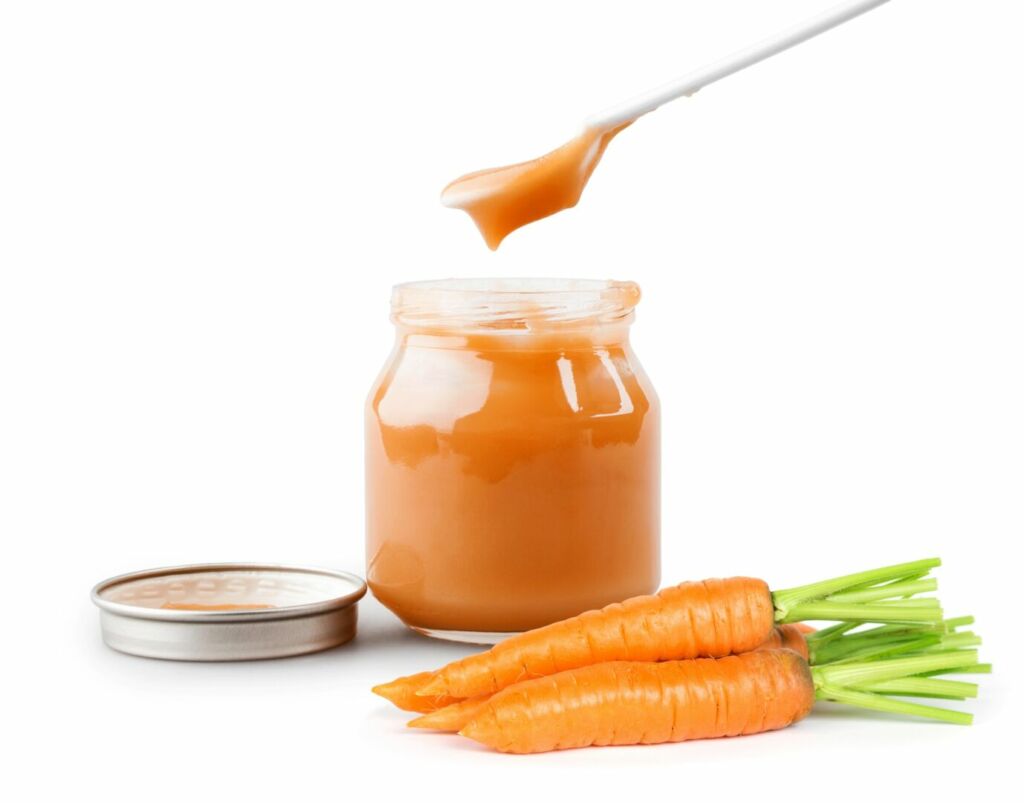 There are quite a variety of rice types out there, so if you're unsure about where to begin we have some suggestions for what to stock up on in your pantry:
To make your meals more fiber dense and with a slightly nutty flavor, try Mahatma® 100% Whole Grain Brown Rice.
Keep Mahatma® Ready to Heat pouches stocked in your pantry for quick and simple meals that can be ready in no time! Just pop them in the microwave and you'll have perfectly cooked rice in just 90 seconds to use in your favorite recipes.
For dishes that call for aromatic rice with delicately sweet undertones, use our fragrant Thai Jasmine Rice – click here and learn how to cook jasmine rice.
Recipes with Just Two Ingredients
Tasty and Nutritious Meals for Your Littlest Ones
It's no secret that every family has picky eaters and more often than not they happen to be the youngest in the family. So if you find that you'd like to add more fruits and veggies into your little one's diet, or they are just starting on solid foods in general, a rice puree is perfect for the job!
Simply gather your choice of rice and an extra ingredient like apples, bananas, peas or carrots, etc. Blend complementing flavors together and you've got a tasty puree that your family will love.
Puree recipes worth trying:
Never made puree at home before? No worries, follow this guide and explore how easy and versatile purees can be.
Quick Coconut Rice
2-ingredient recipes don't stop at purees. This Easy Coconut Rice is exactly that: easy! Simply place Thai Jasmine Rice, coconut milk, and water in your rice cooker and set to cook. You won't believe that such simple ingredients can create such a tasty meal or side dish.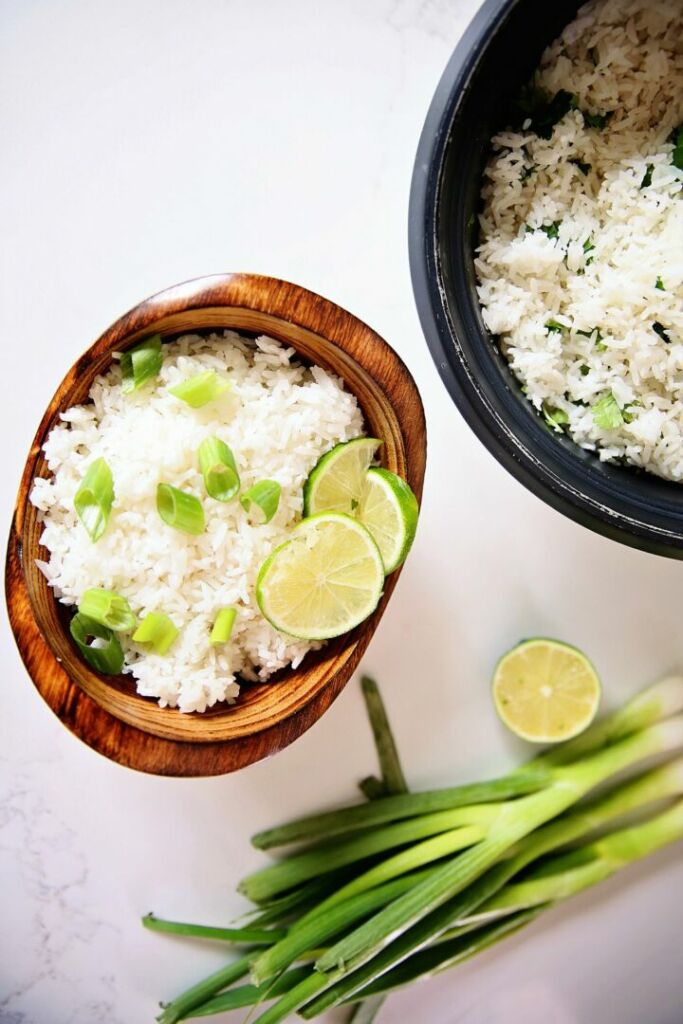 For added flavor and zest, you can add a pinch of salt and top with lime wedges, green onions, and cilantro.
Breakfast with Three Ingredients
They say breakfast is the most important meal of the day and sometimes, it's all too easy to skip amid your hectic morning. Give yourself the morning boost of protein you need to start your day off right in just minutes with this Apple Cinnamon Breakfast Jasmine Rice & Quinoa recipe.
Flavorful and easy, this tasty oatmeal-like meal is made with quinoa, a power food loaded with fiber, minerals, antioxidants, and all nine essential amino acids. Eat it at home, or take it to go, but never skip breakfast again with quick, easy, and delicious recipes like this one!
Four-Ingredient Recipes
Whether it's breakfast, lunch, or dinner, there are plenty of tasty meals you can whip up with just four simple ingredients. From a breakfast burrito to a much-loved classic like mac and cheese, you can enjoy a satisfying and tasty meal in no time.
Mac and Cheese with a Twist
This twist on a classic is not only easy and made with just a few ingredients, but it's also delicious and an excellent Gluten Free alternative to the traditional macaroni and cheese recipe. All you need is shredded cheddar, cream cheese and milk. Add these ingredients to Mahatma® Ready to Heat Garlic & Olive Oil Jasmine Rice and you'll have a deliciously creamy mac and cheese dish in no time.
Tip: Garnish with green onion and breadcrumbs for added flavor and texture.
Breakfast Burritos: At Home or To-Go!
What's not to love about your favorite ingredients conveniently wrapped in a warm, soft flour tortilla? Even better for a breakfast that you can make in just a few minutes that's perfect to-go.

These tasty burritos are a simple way to never skip breakfast again filled with lunch meat, white rice, and Monterey Jack cheese. Choose your favorite salsa and done!
Breakfast on-the-go? To keep burritos warm, make sure to wrap them up in a bit of aluminum foil.
Comfort Foods with Just Five Ingredients
You've already seen the tasty meals you can create with just four ingredients or less. Now, we'd like to show you some of the delicious possibilities that can be made with just five ingredients and your favorite Mahatma® Rice.
Comfort food recipes can sometimes be labor-intensive and time-consuming, but they certainly don't have to be. We've got recipes for some comfort foods that are simple, delicious, and can be made with just five ingredients! Start enjoying hearty and tasty meals like a rice bowl or a flavor-packed soup any day of the week.
Shrimp and Rice Bowls
You can enjoy this satisfying dish any day of the week in just minutes. If you love the taste of grilled shrimp over fluffy white rice, you'll definitely love this tasty recipe! The five simple ingredients you'll need are shrimp, canned corn, sun-dried tomatoes, and an Italian cheese blend. Make sure to top with fresh or dried basil.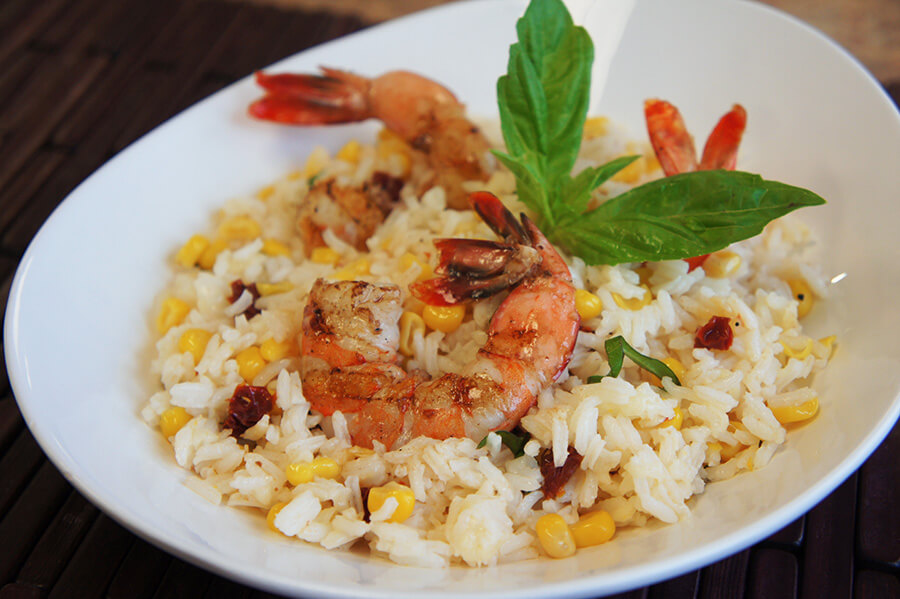 Simply grill the shrimp on skewers, cook up some white rice with the veggies and cheese, and done! So much flavor with very little effort. Perfect as a quick meal at home or toss the shrimp and corn on the grill for your next summer BBQ.
Chicken Enchilada Rice Soup
Five ingredients, one pot. That is all you need to make this tasty Enchilada Soup. Whip up a batch of our whole grain brown rice and add chunky garden vegetable pasta sauce, enchilada sauce, rotisserie chicken, cheddar cheese, and chicken broth. Such little effort for so much flavor!
If you're really craving a few more restaurant-style tastes, pair this comforting soup with a side of this simple recipe for Mexican Rice.
Whether it's a relaxed Saturday evening or a short lunch break on a busy Wednesday, these recipes prove you can always enjoy a quality meal with a short shopping list! For more great tasting recipes and to have your questions answered like what is arroz con leche? check out our website.