Diwali is a joyous celebration of the victory of light over dark and goodness over evil. This vibrant festival of lights holds great importance in the Hindu community–it's a time to come together with family and friends, exchange gifts, and indulge in grand feasts.
What better way to celebrate this glorious festival than with aromatic Basmati rice dishes from Mahatma® Rice? Dive into the world of this long-grained rice to add a harmonious blend of flavors and a feel of tradition to your table. Immerse yourself in the joy of cooking and spending quality time with your family while bringing our recipes to life. Create lasting memories while preparing and savoring these dishes for a delicious Diwali feast!
Embracing Tradition with a Twist: #PlayWithYourFood
While Diwali has been celebrated for millennia and is steeped in tradition, it has evolved and adapted to modern times. Try infusing your favorite recipes with your own unique creative flair! You can find imaginative ways to #PlayWithYourFood while respecting cultural heritage.
We encourage you to take these beloved Mahatma® Rice recipes and make them your own by adding custom sauces, spices, ingredients, and more. Unleash your imagination by using our inviting dishes as your canvas to experiment with a medley of flavors, textures, and aromas. Let your inner chef shine at this Festival of Lights!
Recipes to Elevate Your Celebration with Mahatma® Rice
Crafted to enhance your Diwali feast, each culinary creation promises a harmony of flavors that will awe your loved ones. Basmati rice is the star of the show in every dish, from traditional favorite main courses to citrusy side dishes!
Chicken Rice Dishes
Fill your home with the aromatic scents of curry powder, garam masala, cumin, turmeric, cinnamon, and cayenne from this Chicken Tikka Masala recipe. Elevate this classic dish with a special twist on the creamy coconut milk and #playwithyourfood. This luxurious creation served atop a bed of fragrant Basmati rice provides the perfect canvas for exploring variations to add new dimensions of flavor.
Another timeless classic, our recipe for Chicken Biryani is sure to wow you and your loved ones! This dish is believed to have originated in ancient Persia before making its way to the Mughal royal kitchen and then to India. Its warm, comforting essence is a testament to the love woven into each grain. This popular dish can be elevated to new heights by infusing your favorite aromatic spices and herbs. Let your creativity run wild as you layer succulent chicken and Basmati rice.
Tips to Make the Best Biryani
Never Overcook the Rice and Prepare Meat Separately– Never overcook rice to prevent it from getting mushy. Additionally, marinating is crucial; for succulent chunks, red meat, mutton, and lamb should be marinated for at least 4-5 hours or overnight.
Don't Forget the Fried Onions– The secret to getting everything right is to use fried onions, which may require a lot of time but is worth every second. Sliced onions are browned in some oil in a non-stick pan over a medium temperature. Make sure they are deep golden brown while frying them; they don't need to be particularly crunchy. They will give the Biryani an appealing color in addition to adding real flavor.
Add Some Extra Moisture– Add additional moisture after the rice has been layered over the meat or vegetables. You can use kewda, milk, beef stock, rose water, ghee, or butter for this. Any of these items used as moisture will enhance the flavor and gloss.
Use the Appropriate Pot– The greatest pots are made of copper or brass because they have thick bottoms and are flawlessly tinned. Although other metalware is acceptable, make sure the utensil you choose has a sturdy base to prevent scorching at the base. The pot should also be big enough to fit all the ingredients inside with at least 30% room left over for the steam. Once cooked, transfer the biryani to a stainless steel hot container or casserole to preserve it warm and fresh.
Cook Rice with Spiced Water-Using seasoned water to cook the rice is one approach to prepare the ideal Biryani if you're short on time. You can boil rice with entire spices, salt, and herbs in a pot with lots of water because the rice should be spice-flavored. When you notice a color shift, thoroughly whisk all the spices into the boiling water. Rice that has been soaked should now be added to the boiling water and cooked until 70% done.
Recipe Tip:
We suggest adding a cup of frozen peas in the final minutes of cooking and serving with a dollop of plain yogurt for extra flourish. Garnish with a tapestry of sliced almonds, pistachios, dried apricots, fried shallots, and sliced chilies.
Next up, add bold and exciting flavors to your table with Moroccan Style Chicken and Basmati Rice. The rich spices of ginger, garlic, and allspice are used to add delightful aromas and flavors that will fill your home. This dish is brimming with a unique fusion of flavors that pays homage to the spirit of Diwali. Saffron would be a delightful addition to this recipe, and consider incorporating your favorite savory spices to create a flavor profile that's uniquely yours.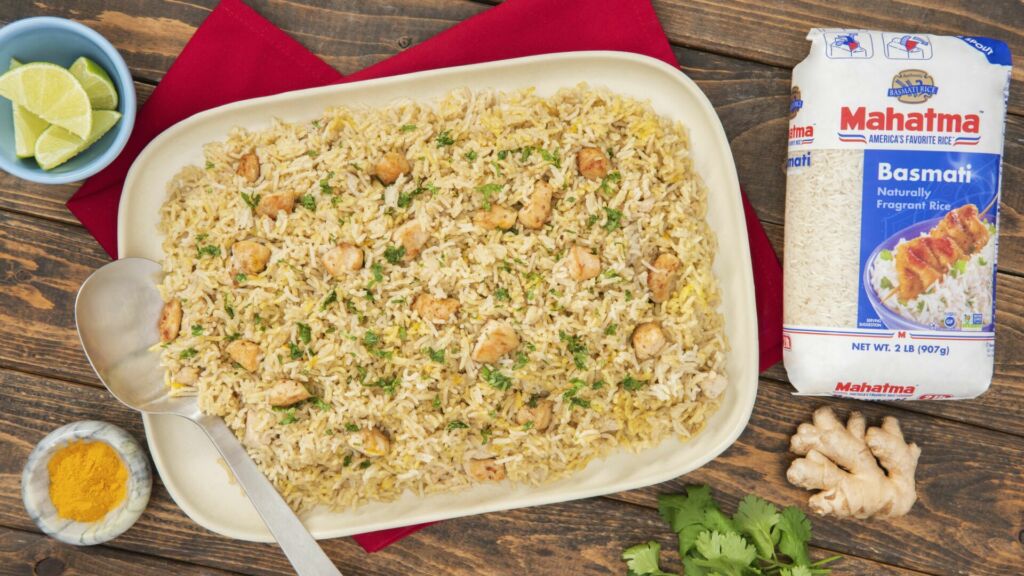 Other Basmati Recipes
If you want to highlight seasonal flavors, try our Turmeric Yellow Rice with Butternut Squash and Kale. This vibrant, colorful dish will allow you to celebrate the earthy flavors of autumn. Infuse your personal touch by experimenting with additional seasonal vegetables, such as the fall favorite–pumpkin.
Enjoy a burst of bright citrus flavor to your Diwali spread with this Lime and Saffron Basmati Rice. This zesty side dish harmonizes effortlessly with any main course! You can easily experiment with different citrus fruits and herbs to add your own signature touch.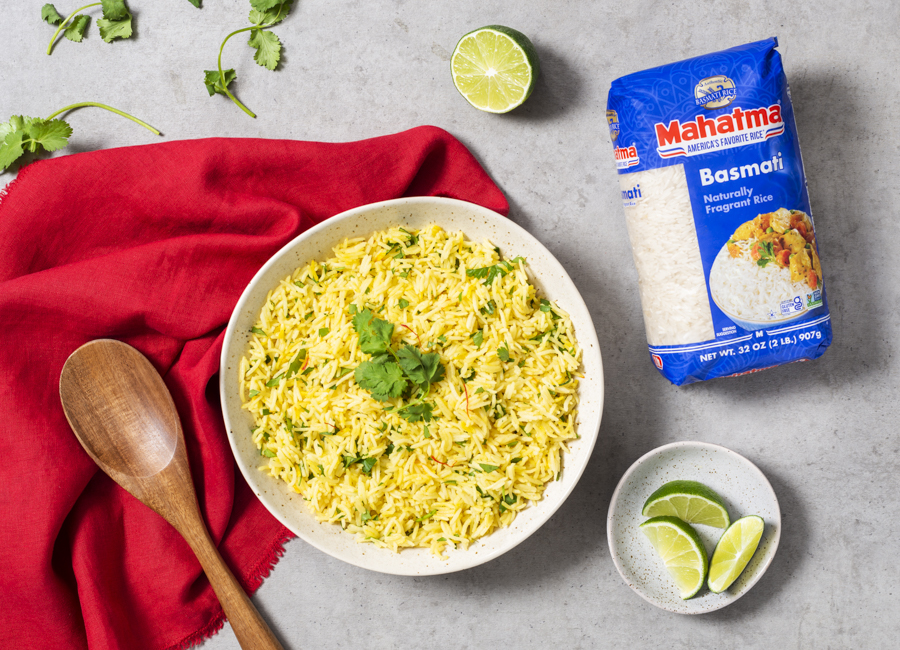 Creating Lasting Memories in the Kitchen
This Diwali, let Mahatma® Basmati Rice be the star of your culinary creations. The enticing aromas and delectable flavors of each dish are sure to enrich your celebration! Get your family involved in the creation of these dishes, such as chopping vegetables or simply stirring ingredients, to add a special touch and foster cherished memories. All recipes are made that much better when created with the special ingredient of love!
Take your time in the kitchen, savoring each moment spent preparing these dishes. From comforting Chicken Biryani to citrusy Lime Saffron Rice, these Basmati rice dishes bring a blend of flavors and textures to your table. Celebrate togetherness during this year's Festival of Lights.
Delight in the joy of cooking with Mahatma® Rice. Find more recipes for any and all occasions on our website.