Grab your ladle and get ready to cozy up this fall with some delicious and hearty rice soups. As the leaves turn and the weather starts to cool down, there's no better way to warm up than with a bowl of comforting Mahatma® Rice soup. We will be exploring the wonderful world of soups packed with flavor that will satisfy all your cravings. These soups are not only tasty but incredibly easy to make. With flavors ranging from classic chicken to rich tomato, we've got you covered. So grab your favorite blanket, put on some fuzzy socks, and get ready to embrace the cozy vibes of fall with these hearty rice soups.
Tips for Making the Perfect Rice Base for Your Soups
If you want to take your soup game to the next level, mastering the art of making the perfect rice base is a must. Not only does it add a hearty and satisfying element to your soups, but it also helps thicken and enhance the overall flavor. So, let's dive into some tips that will help you create a rice base that will have everyone coming back for seconds.
Steps to Follow
First off, choosing the right type of rice is crucial. While long-grain rice works well for dishes like pilaf or stir-fries, when it comes to soups, medium-grain or short-grain rice is your best option. The results will be a thicker and creamier texture.
Next is the crucial process of washing your rice before cooking, which should not be skipped. Rinsing aids in removing any extra starch from the grain's surface and keeps the grains from sticking together while cooking. Put your chosen quantity of rice in a fine-mesh sieve, then run the sieve under cold water until the water is clear.
Now let's talk about ratios. For producing a rice base for soups, 1 cup of rice to 4 cups of liquid is the perfect ratio. By doing this, you can be sure that there will be enough liquid for the rice to be thoroughly cooked without becoming mushy or dry. If you prefer a thicker or thinner consistency, you can change this ratio to suit your tastes.
When it comes to cooking methods, using a pot on the stovetop is generally recommended for making rice bases for soups. Bring your liquid (such as broth or stock) to a boil before adding in your rinsed rice. Reduce heat to low, cover with a lid, and let it simmer gently for about 15-20 minutes or until all the liquid has been absorbed and the rice is tender.
Lastly, don't forget to season your rice base. While the broth or stock you're using will provide some flavor, adding herbs, spices, or even a splash of soy sauce can elevate the taste even further. #PlayWithYourFood to find the perfect seasonings that complement your soup.
Classic Chicken and Rice Soup Recipes
When it comes to comforting and nourishing soups, chicken soup is a timeless classic. And what better way to add some heartiness and texture than by incorporating rice? Elevate your classic chicken soup game with this welcomed addition. These recipes are sure to bring comfort and satisfaction with every spoonful and will instantly become a family favorite.
Our Homemade Chicken and Rice Soup is the ideal choice if you are feeling under the weather or just have a chill in your bones and are craving warmth. #PlayWithYourFood and add fun substitutes to make this soup your very own creation. Swap the onions for shallots and no parsley? No problem. Find spices that you already have in your pantry like oregano, chives or cilantro.
Another chicken soup option is our Chicken Enchilada Rice Soup. Everything you enjoy about enchiladas is included in this dish and is served in a heated soup bowl for comfort. The best part is that you can make this recipe in a crockpot, slow cooker, or on the stove.#PlayWithYourFood and add sriracha or chipotle sauce to spice things up. Get creative with your toppings and add some diced avocados, black beans or wherever your mind takes you!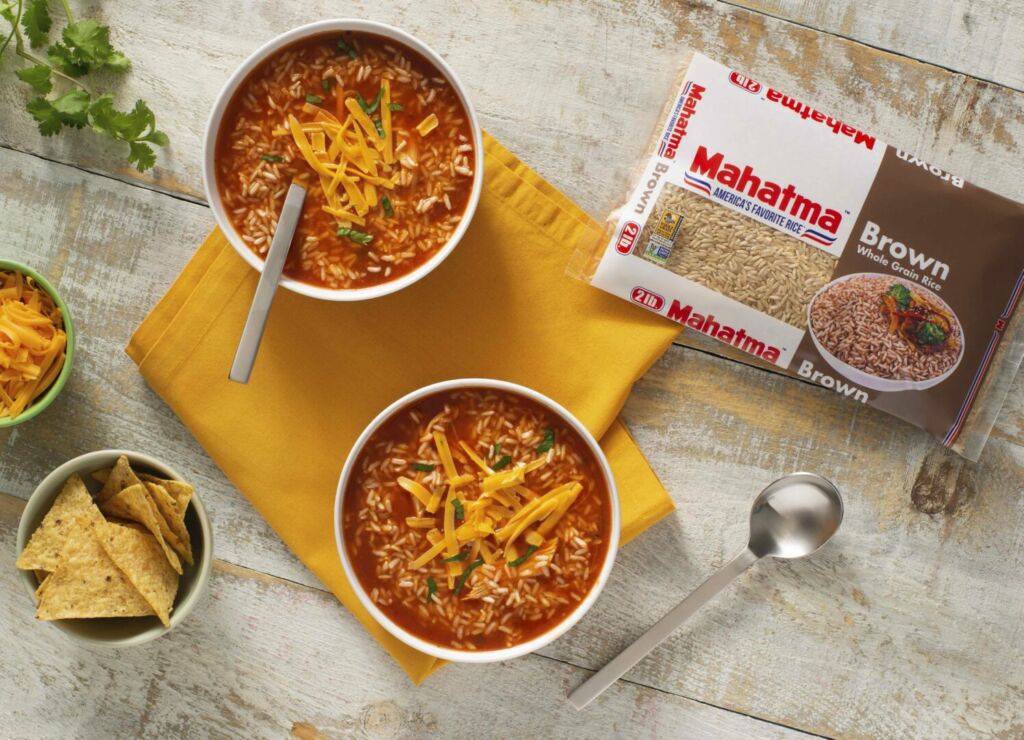 Rice and Tomato Soup Recipes
Let's explore some delicious recipes that combine the goodness of rice with the tanginess of tomatoes. When combined with tomatoes, rice makes a flavorful base for soups that creates a pleasant surprise. Our Tomato Rice Soup is perfect to combine with a hot sandwich or quesadilla for a quick lunch for the kids. Made with our Mahatma® Jasmine Rice Naturally Flavored Garlic & Olive Oil, spinach and carrots why not #PlayWithYourFood and add some toasted nuts like almonds, hazelnuts, pistachios or sunflower seeds to make it all your own?
Our Chicken Tomato Basil Rice Soup is another comforting tomato soup option. This soup meets all those veggie requirements with tomatoes, celery, onions, garlic as well as any other vegetables you wish to add such as kale or spinach. To take this recipe to the next level, top it with your preferred cheese and some crunchy croutons. For a nutty, toasted flavor before cubing, toast or grill a couple slices of rustic bread or fry leftover bread in brown butter.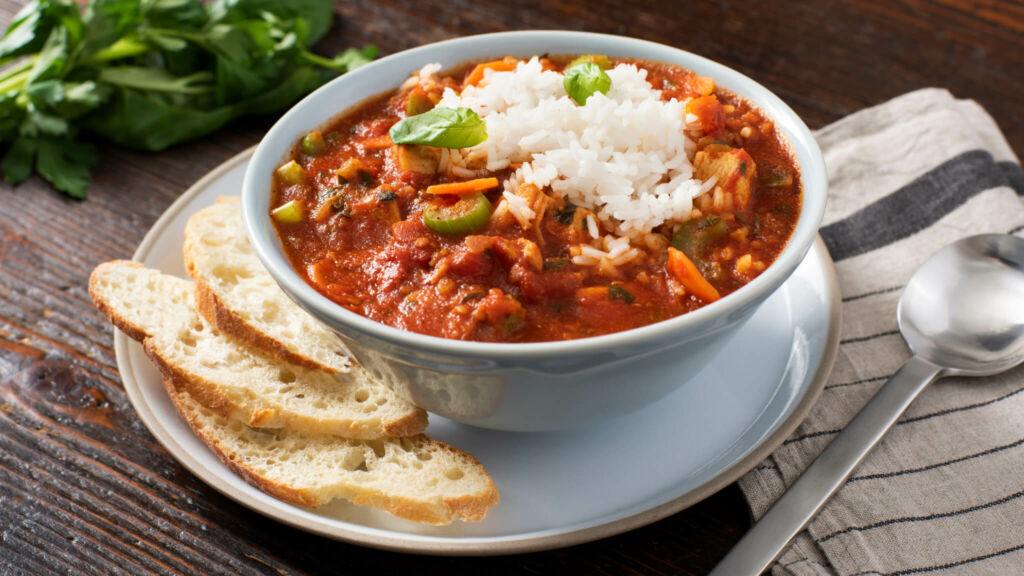 #PlayWithYourFood to Elevate Your Rice Soups to the Next Level
If you're a fan of rice soups and want to take them to the next level, adding some extra ingredients can do wonders for your taste buds. By incorporating these additional ingredients, you can elevate your rice soups from ordinary to extraordinary in seconds.
Fresh Herbs and Spices: Try tossing in some chopped cilantro, basil, or parsley for a burst of freshness. Try some in our Creamy Mushroom and Rice Soup. You can also experiment with spices like cumin, turmeric, or paprika to add depth and complexity.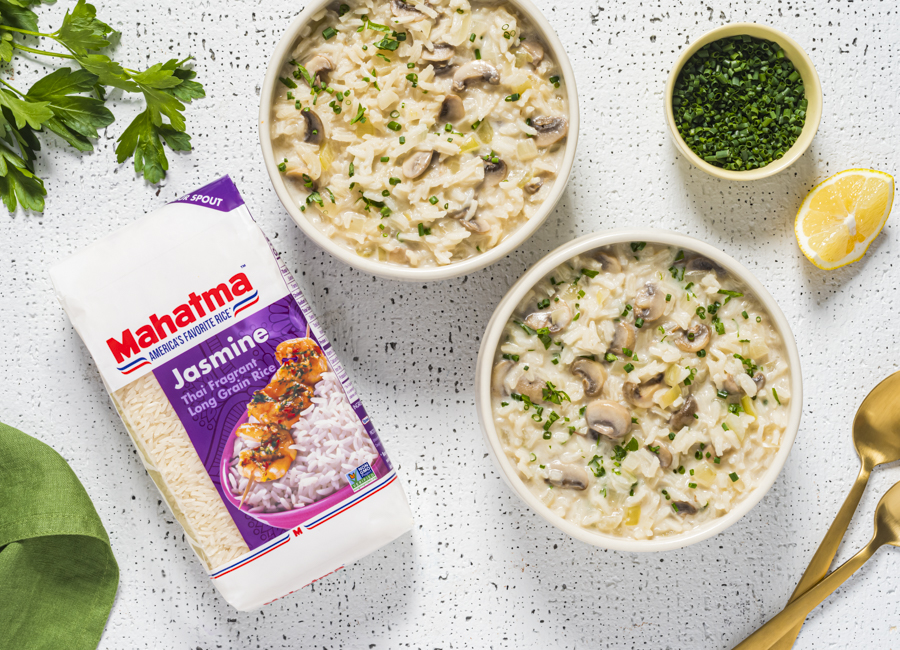 Protein-Rich Ingredients: Consider adding cooked chicken, shrimp, or tofu for more texture and substance. If you're feeling adventurous, try throwing in some cooked sausage or bacon for a savory twist.
Vegetables: Adding colorful veggies like carrots, bell peppers, or spinach not only adds nutritional value but also brings vibrant flavors and textures to your soup.
Toppings: Sprinkle some grated cheese on top before serving or add a dollop of sour cream or Greek yogurt for a creamy finish. Crispy croutons or toasted nuts can also provide an extra crunch that takes your rice soup to new heights.
The beauty of rice soups lies in their versatility. You can easily customize them by adding your favorite vegetables, proteins, and spices. They are the perfect meal option for those chilly autumn evenings.
Follow us at our recipe page for more recipe inspiration.