Much like most authentic Italian recipes, when it comes to cooking risotto, certain rules must be obeyed. Everything is accounted for, from the choice of rice varietal to the appropriate time to add fresh herbs or a sprinkle of cheese, and if not – well, it's just not risotto.
With the right rice, cooking process, and, most importantly, texture – these creamy risotto recipes are downright irresistible. From a mushroom loaded sensation to a summery beet and goat cheese combo, try your hand at one of these five delightful recipes and you'll be making risotto on a weekly basis.
Choosing the Right Ingredients
Keep in mind that the perfect creamy recipe needs to start off with the right ingredients. By choosing top-quality ingredients, you can do just that. So, before you read on, we want to share our pairing list for you to jot down and save for later – happy shopping!
Pears & Blue Cheese
Seen above, this distinctive combination of sharp blue cheese and candied pears make this risotto recipe a tasty delight.
If you're a fan of sweet and salty contrasts, this risotto was made for you! Sautéed caramelized pears perfectly compliment the salty crumbled blue cheese, sweet shallots, and savory garlic that make up this buttery risotto with pear and cheese.
Beets, Greens, & Goat Cheese
Chock-full of golden beets, chopped beet greens, and goat cheese, this recipe is as scrumptious as it is eye-catching.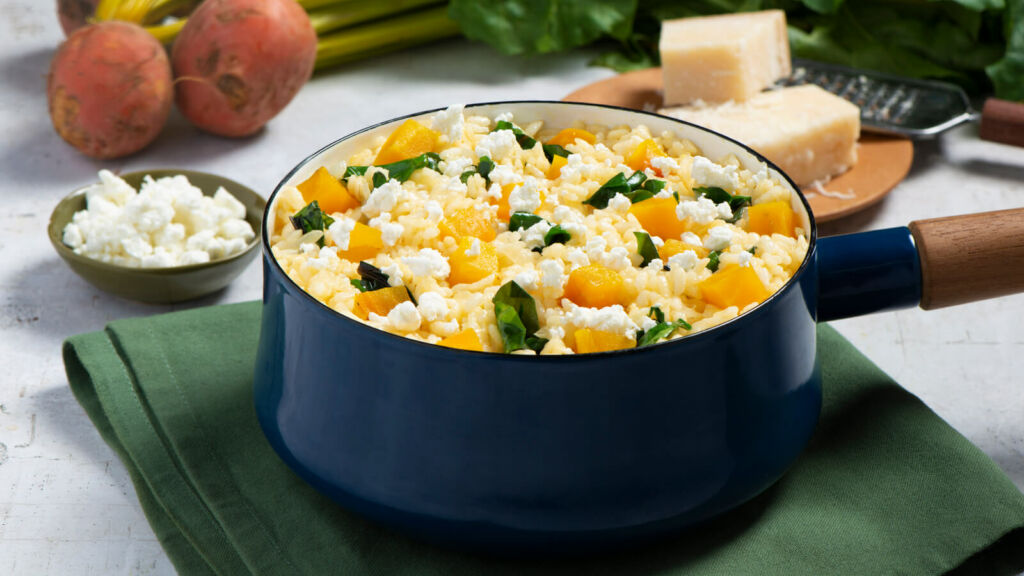 Simmered in a base of dry white wine, bay leaves, and vegetable broth, this recipe doesn't skimp on seasoning. As an added bonus, it includes layers of added flavors from earthy greens and salty grated Parmesan to creamy goat cheese and sweet beets.
Butternut Squash
This incredibly easy Butternut Squash Risotto, which is bursting with so much flavor, is pretty much the mecca on our list of seasonal risottos.

With spices including freshly chopped sage, nutmeg, and cayenne pepper, this recipe is as aromatic as it gets. Add butter, sautéed onions, and grated Parmesan cheese and you've got a delightful recipe in seconds flat.
Prosciutto & Green Peas
Prosciutto knows no bounds when it comes to Italian cooking, and in this delectable risotto, the salty meat truly takes center stage.

Topped with fresh basil leaves and shaved Parmesan, this recipe is worth a trip to your closest Italian specialty store. With the addition of tasty green peas and sweet green onions, it's quite the springtime treat.
Mushrooms & Parmigiano
This Mushroom Risotto is ideal for a rainy day or those in need of a little comfort food.
With its undeniably robust taste, this risotto brings salty, cheesy, and earthy flavors all into one delicious mushroom-packed meal. Made with evaporated milk and Parmesan cheese, it also doesn't hold back on the creaminess.
Our secret: Arborio Rice
There's a secret ingredient behind every traditional recipe and, now that you have an idea of which risotto is calling your name, it's time to reveal ours.
When it comes to recipes like these, we owe all successful risottos to our Authentic Grains Mahatma® Arborio Rice – with its starchy taste and short-grain nature, this rice product is sure to give you the desired texture and taste of the delicious risotto your family will be dreaming about for days to come.