Authentic Italian comfort food at its best, a rich and creamy risotto just has what you crave when you need something to warm both your body and soul. There is something almost magical about that silky texture of the classic Mediterranean-inspired rice dish.
The beauty of this famous plate is that it's extremely versatile and blends well with almost any ingredient combination. That, however, can make it difficult to decide which to make next. That's why we've compiled a list of 5 of our top risotto recipes made with all kinds of meaty and vegetarian ingredients alike.
Our Secret: Arborio Rice
There's a secret ingredient behind every traditional recipe and before getting started, we think it's time to reveal ours.
When it comes to recipes like these, we owe our success to Mahatma® Authentic Medium Grain Arborio Rice – specially crafted for creamy risotto rice dishes. Non-GMO Project Verified, this rice is sure to give you the desired texture and taste of the delicious risotto your family will be dreaming about for days to come.
Foolproof Steps
Mastering the art of a delicious risotto starts with a few foolproof steps. While each of the recipes below has something that makes it unique and delicious in its own way, we've taken a look at three key steps that can make or break your dish.
Start with a base of flavor: This involves heating oil and/or butter together in your pan with onions or shallots and garlic. It helps to infuse the oil with flavor to toast your rice and give the dish a base of incredible taste.
Add in heated broth: While seemingly trivial, adding in heated broth helps to keep the temperature in your dish level so that you can create perfectly dreamy and creamy results every time.
Stir continuously: This refers to stirring your rice and broth mixture. The medium grain arborio rice contains just the right amount of starch to give your dish that luscious texture without any added cream. The starch is released when the rice grains are stirred with the flavorful broth.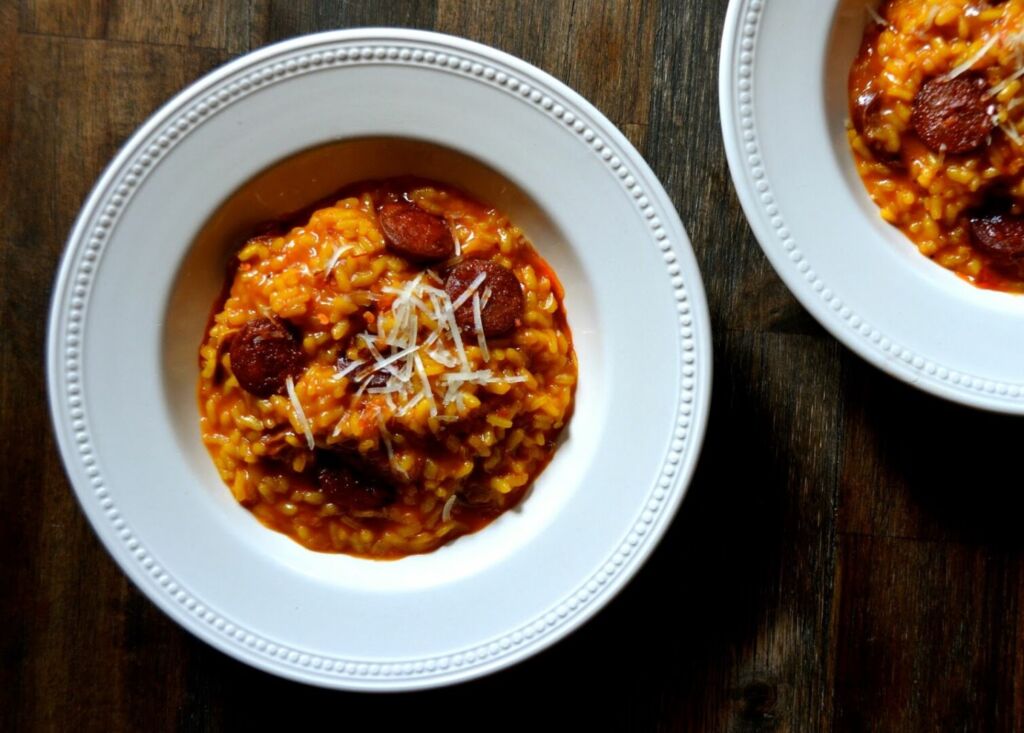 Top 5 Incredible Risotto Recipes
With the right quality rice, the perfect measurements for risotto and tasty ingredients – these creamy risotto recipes are downright irresistible. From a mushroom loaded sensation to a summery creamed corn option, try your hand at one of these five delightful recipes and you'll be making risotto on a weekly basis.
1. Mushroom & Truffle Oil
We're starting off with an elevated version of classic Mushroom Risotto using truffle oil and shimeji mushrooms along with asparagus in this Truffle Risotto. With its undeniably robust taste, this risotto brings salty, cheesy, and earthy flavors all into one delicious mushroom-packed meal. Sprinkle with chives, a drizzle of truffle oil and make sure to serve this elegant risotto with extra Parmesan cheese.
2. Butternut Squash
Fall produce at its best, this Butternut Squash Risotto has become an almost essential dish for taking full advantage of seasonal squash varieties. With spices including freshly chopped sage, nutmeg, and cayenne pepper, this recipe is as aromatic as it gets with a surprising kick. Swap in other squash varieties throughout the year along with plenty of butter, sautéed onions, and grated Parmesan cheese and you've got a delightful recipe.
3. Creamed Sweet Corn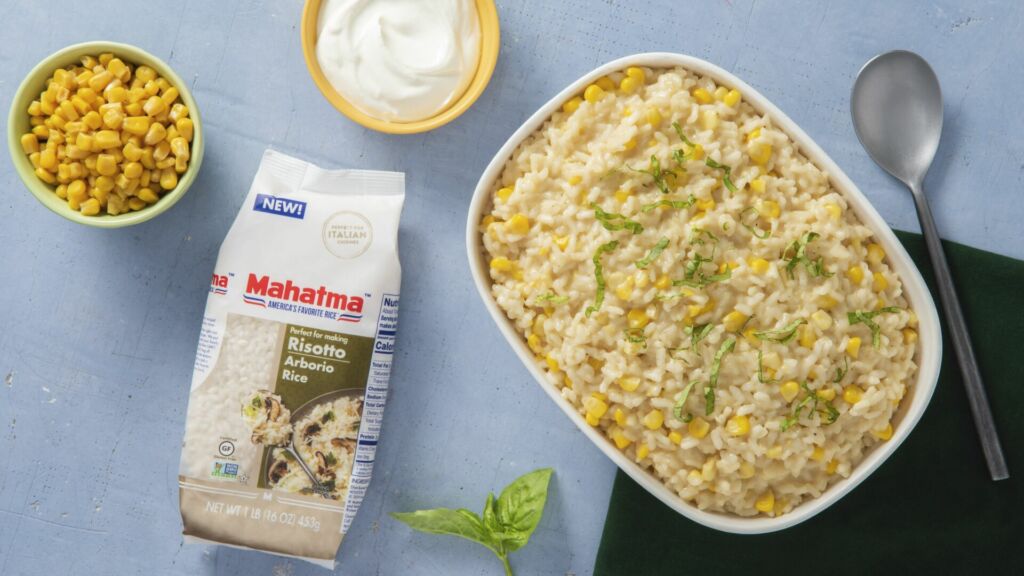 Speaking of seasonal favorites, although it's best made with summer corn on the cob, this Creamy Sweet Corn Risotto can be made all year round. Creamier than ever, this arborio rice in this vibrant risotto dish absorbs the buttery taste along with colorful corn.
4. Chorizo and Manchego
Made with rich meaty and cheesy flavors, this Chorizo and Manchego Risotto is a heavenly fusion of both Italian and Spanish ingredients. In place of dry white wine, this recipe calls for Spanish Sherry wine along with smoked paprika and saffron threads to add a deep yellow color.
5. Pear and Blue Cheese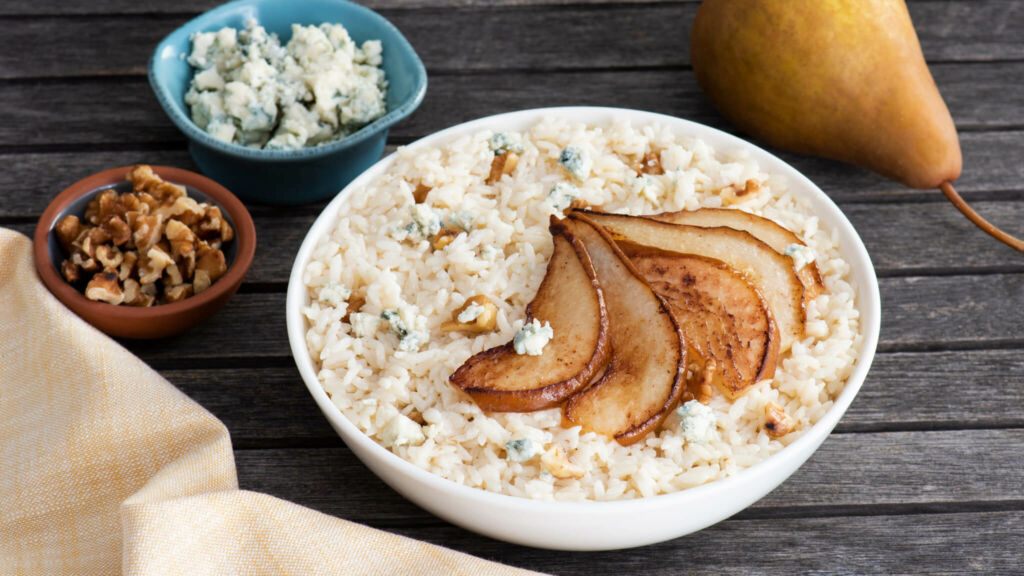 This distinctive combination of sharp blue cheese and candied pears make this risotto recipe a tasty delight.
If you're a fan of sweet and salty contrasts, this risotto was made for you! Sautéed caramelized pears perfectly compliment the salty crumbled blue cheese, sweet shallots, and savory garlic that make up this buttery risotto with pear and cheese.
Bonus: Arancini Recipes
Crispy on the outside and deliciously savory on the inside, arancini are fried Italian rice balls made with rolled risotto. Don't stop at risotto on your plate, try it for yourself in one of these simple recipes: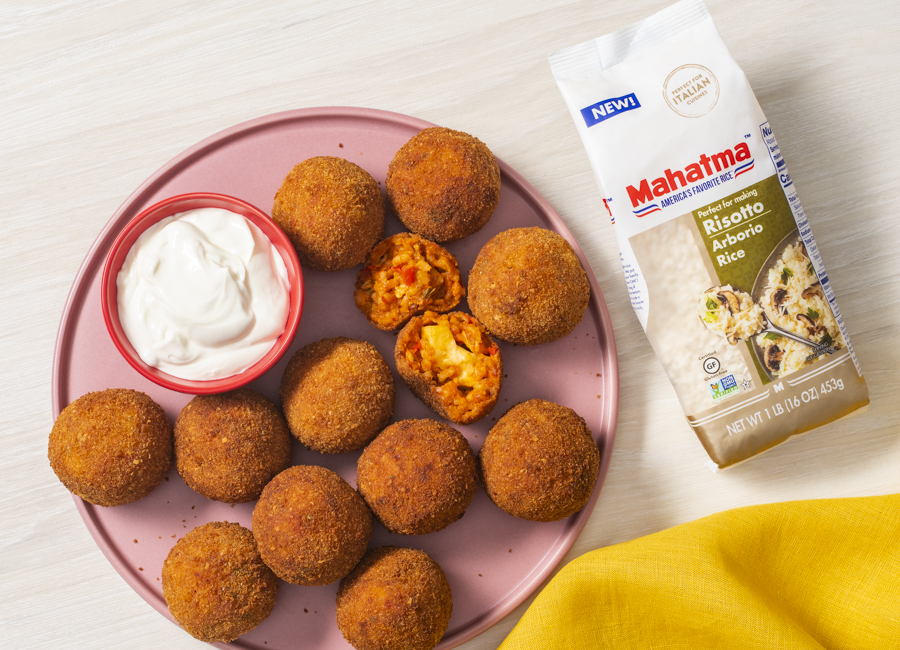 With so many wonderful options available, with a little help from Mahatma® Rice you're ready to take on any risotto recipe! And once you master these recipes, continue experimenting in the kitchen and discovering alternative cooking methods for all your favorite rice varieties, like an Instant Pot Jasmine Rice or these tacos rice and beans. For something sweeter, learn how to make arroz con leche.