There is something uniquely appealing about the Mediterranean. Many would say it's the crystal blue water, the sunshine, or the vibrance of its people, but there is one thing everyone can agree on — the delicious tastes of its cuisine. While there are quite a few countries that border the Mediterranean Sea, experts have found general similarities between cultures and cuisines from Spain and Morocco to France, Greece, Italy and more.
Different from other Western countries, these meals are centred around vibrant foods like vegetables, fruits, whole grains and legumes, lean proteins, fats such as extra virgin olive oil, and herbs. Among the long list of benefits, a great meal can make anyone feel good from the inside out. So, we've put together a list of key ingredients that make Mediterranean meals so special with our favorite recipes.
Making Mediterranean Inspired Meals
The meals in this region are often considered to be a cross between the use of quality, fresh ingredients and different cooking styles. It also includes sensible tasty portions and slower, more enjoyable eating. And, while there may be differences in cultures, there are a few essentials found, that we'd like to showcase with delicious recipe ideas to give you the taste of the Mediterranean at home.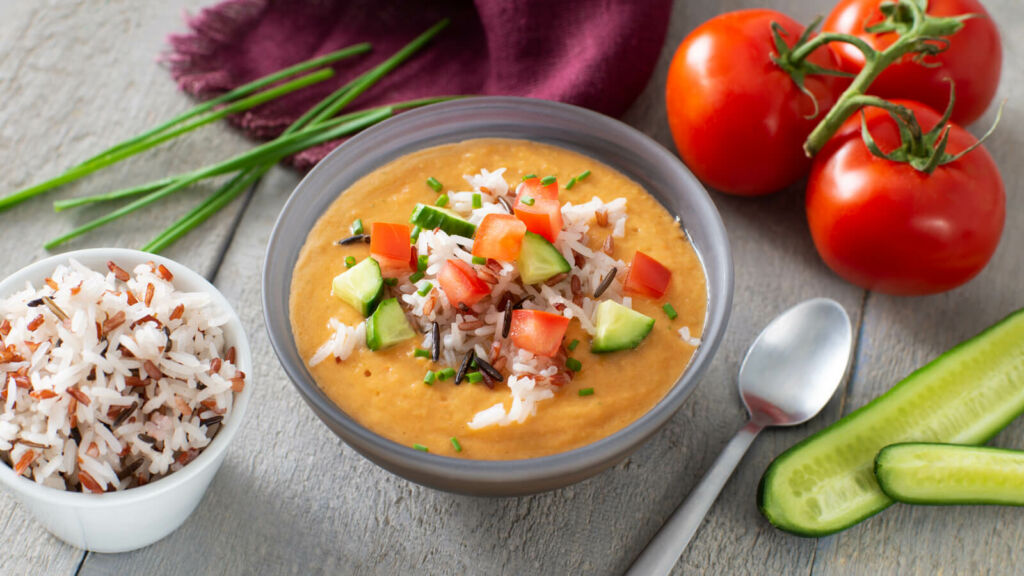 Fresh Vegetables and Fruits
One of the essential elements of this region is its rich use of fresh produce like fruits and vegetables which also adds color, nutrients and flavor to its dishes. Some of the most commonly incorporated are:
Vegetables: Tomatoes, eggplant, garlic, zucchini, bell peppers, mushrooms, broccoli, spinach, onions, cauliflower, carrots, cucumbers, potatoes, and more.
Fruits: Apples, bananas, oranges, pears, strawberries, grapes, dates, figs, melons, peaches, and more.
Each country may have its own cooking style, but they all incorporate vegetables like tomatoes in their own way. Take a look at three recipes using similar ingredients in new and delicious dishes with a Mediterranean flair.
Italian Caprese Salad
Commonly served as a starter before meals, this simple Italian layered Caprese salad consists of a base of freshly sliced heirloom tomatoes, mozzarella cheese, leafy basil and Mahatma® White Rice for a hearty addition. Everything is drizzled with balsamic vinaigrette and olive oil for a flavorful touch.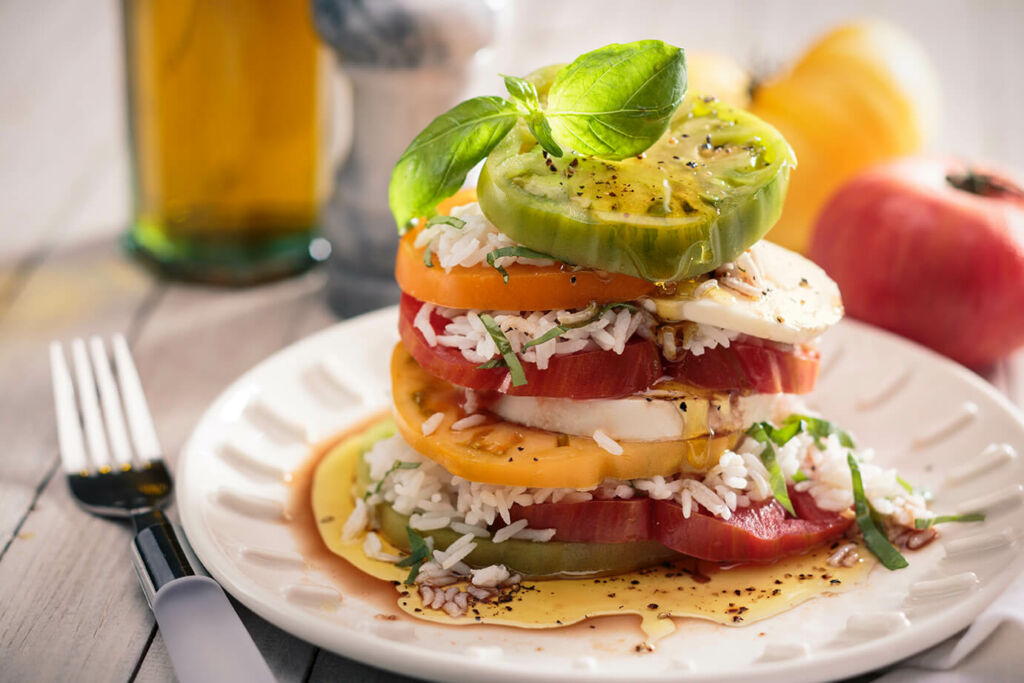 Spanish Gazpacho
Perfect for beating the sun's heat, our second recipe is a Spanish delicacy. Gazpacho consists of pureed tomatoes, cucumbers, yellow pepper, shallot, extra virgin olive oil, garlic, vinegar, salt and pepper. For an added kick, this recipe also includes hot sauce and paprika topped with a premium blend of Mahatma® Jasmine Rice with Red & Wild Rice.
French Ratatouille
Originating in France, this world-famous dish includes sautéed vegetables like onion, red pepper, zucchini, eggplant with simmered tomatoes. Our version for Ratatouille Rice adds a rich and filling layer of Mahatma® Authentic Medium Grain Arborio Rice to soak up every bit of the broth, fresh herbs and tomato.
Whole Grains and Legumes
In addition to fresh produce, Mediterranean meals include whole grains and other plant-based ingredients such as legumes. This helps to make dishes more filling as they are loaded with fiber and protein for a more satisfying meal.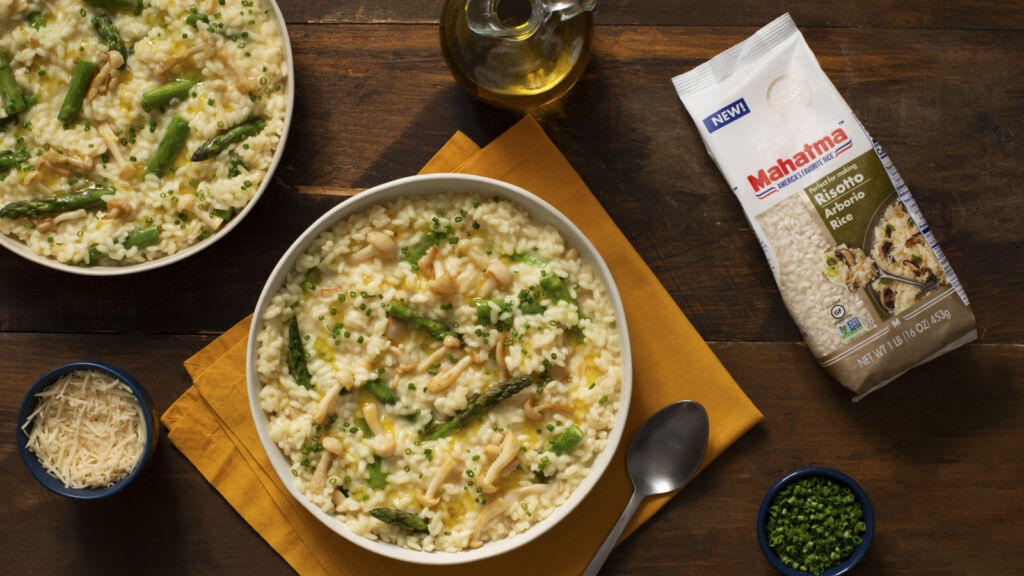 Quite possibly one of the most world-famous rice dishes, Italian risotto is known for its rich and creamy texture using specialty Mahatma® Arborio Rice. Try it in a classic like a creamy Truffle Mushroom Risotto or mold it into an arancini-style finger food like these Fried Mushroom and Thyme Risotto Balls.
While there are many whole grain options to choose from, you might like a bit of brown rice in this Mediterranean Layered Rice Salad. Or, if you can't decide, use a blend like in this Tabbouleh with Jasmine Rice, Quinoa and Lentils using Mahatma® Jasmine Rice and Quinoa along with lentils. You'll be feeling full and energized for any meal of the day.
Fish and Seafood
The natural choice for many locations on the Mediterranean Sea, fish and seafood are prevalent in cuisines along these coastal countries. The recommendation is to enjoy a variety at least two to three times a week. We've got some wonderful recipes, as well as more flavorful seafood dishes that you can incorporate into your weekly meals.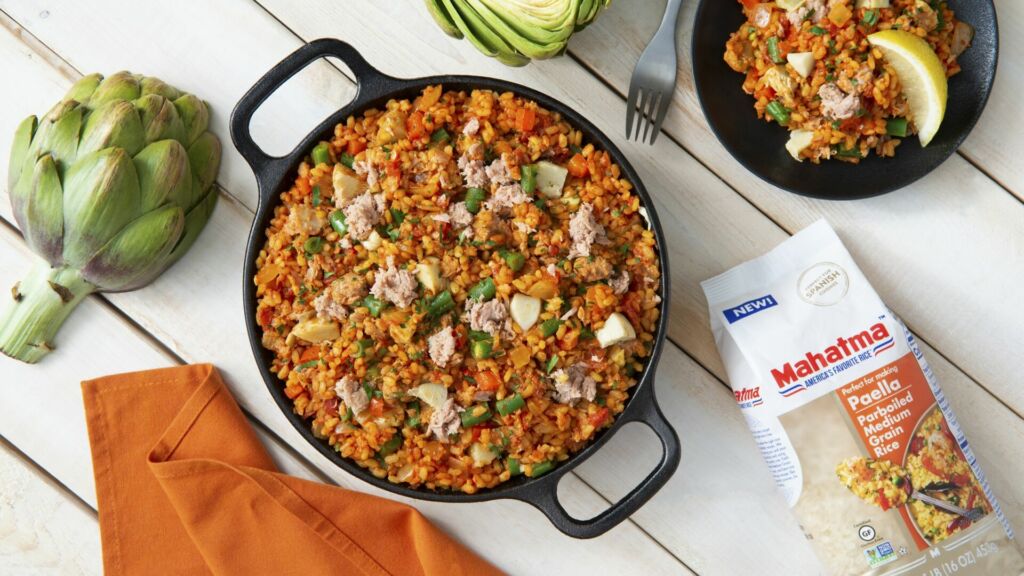 Using fish in your meals can be easy, and doesn't have to require high quality fresh same-day caught fish. Start simple with pantry staples like canned tuna. This Tuna and Artichoke Paella is a tasty meal option using canned tuna along with fresh vegetables like red bell pepper, garlic and onion with Spanish seasonings like saffron, bay leaves and paprika. If you're going to make the perfect paella, make sure to use our Mahatma® Parboiled Medium Grain Rice, which is crafted specially for rich paella dishes.
This Greek-inspired Mediterranean Tuna Rice bowl is perfect for lunch or dinner and will get even the pickiest eaters to enjoy seafood and vegetables. Adjustable to all tastes, each bowl is made with canned tuna and your favorite hummus, alongside other vegetables such as cucumbers, tomatoes, olives, red onion, oil, vinegar, salt and pepper.
Authentic Option: If you're feeling adventurous in the kitchen, step outside of your comfort zone and try your hand at an authentic Spanish Seafood Paella. Made with a blend of different seafood options like monkfish, mussels, calamari, prawns and seafood broth for a seafood lovers' delight.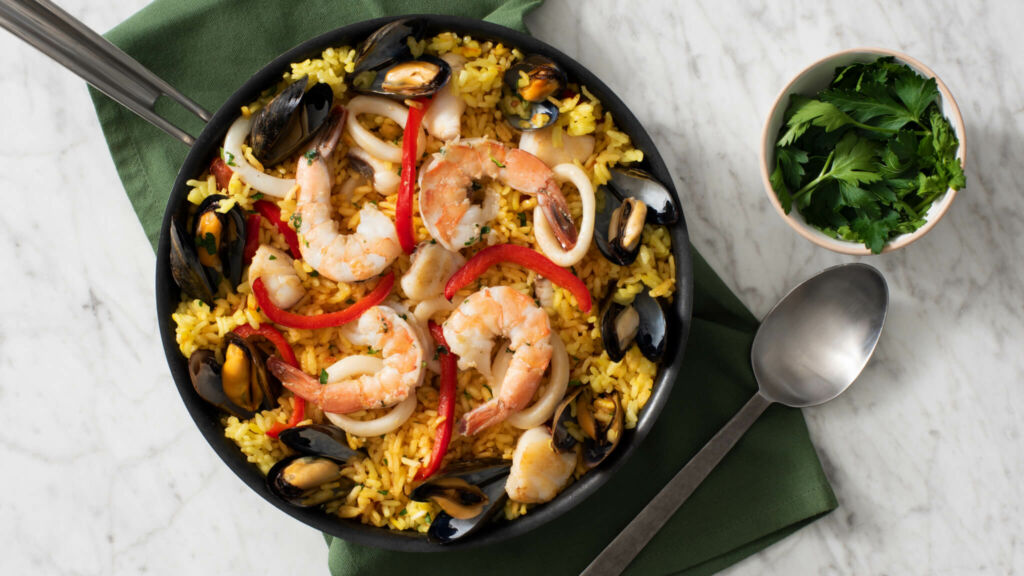 Herbs and Spices
The use of herbs and spices helps to boost the flavor of any dish while lessening the need for excess salt. Given the expanse of the Mediterranean region, there are a wide variety of spices and herbs from Greek Islands all the way to the top of Africa. You may already have a few on your spice rack like basil, paprika and saffron, dill or blends like herbs de provence, or harissa and tahini pastes.
These Stuffed Eggplant with Rice and Tomatoes including a range of spices like cumin, coriander, allspice, cinnamon and pepper with fresh herbs like cilantro, mint, and parsley — guaranteed flavor in every bite!
Herbs and spices can also be used as a tasty marinade for ingredients other than meat and vegetables. Try this Roasted Feta Cheese with Harissa. The spicy kick from the harissa along with soothing butter, dill and garlic give this dish a unique touch served with rice and roasted tomatoes.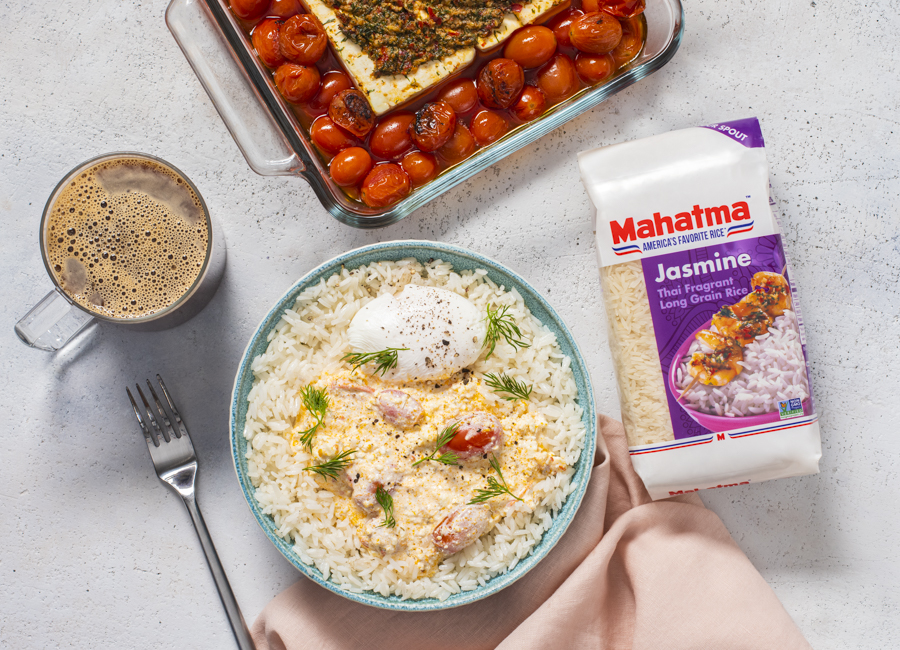 Fresh Dressing and Sauce
Part of the Mediterranean diet is the simplicity of using fresh and quality local ingredients that are dressed with a drizzle of olive oil, a vinaigrette or other oil-based sauces that include herbs, nuts and vegetables or legumes. Some of the most common are balsamic vinaigrette, basil pesto, aioli, hummus, salsa verde, tzatziki and romesco.
Try making your own creamy Greek tzatziki sauce in this loaded Jasmine Rice Greek Power Bowl using olive oil, Greek yogurt, grated cucumber, oil, lemon juice, garlic, dill, parsley, oregano, salt, and pepper with avocado for an extra touch. You can also try this recipe by preparing jasmine rice in instant pot.
You can explore cuisines from around the world with Mahatma® Rice with recipes like this jasmine rice with coconut dish.