Used in the form of translucent paper sheets, as an essential flour in fried batters, and even as a key ingredient in desserts – whatever its shape or form – rice, and especially Jasmine Rice (what is jasmine rice?), has a perpetual presence within an infinite amount of Asian recipes.
This popular long grain rice is one of the most pivotal rice varieties for cooking up some of the most desired Asian dishes. From the high mountains of Thailand all the way to Japan, explore different recipes with us that use this prized rice.
Curry with Jasmine Rice
Asian recipes captivate all of our five senses, but the most alluring of all have to be curries. And, in order to enjoy them to the fullest, they are meant to be served with a steaming side of rice. So, while Indian curries may traditionally use Basmati Rice, Southeast Asian curries always include light and fluffy Thai Jasmine Rice.
One main difference between Thai and Indian curries is that in Thailand there are three different pastes varying in spice level. Red curry paste is the spiciest as it is made from red chili peppers. Try it in these Thai-inspired Coconut Curry Chicken Burritos. Next, is green curry paste which is milder as it uses herbs and green peppers, but still packs a punch. Use it in your next One Pot Green Curry with Chicken. Finally, yellow is the mildest of three made with yellow chilies, lemongrass, galangal, fish sauce, and spices, including turmeric.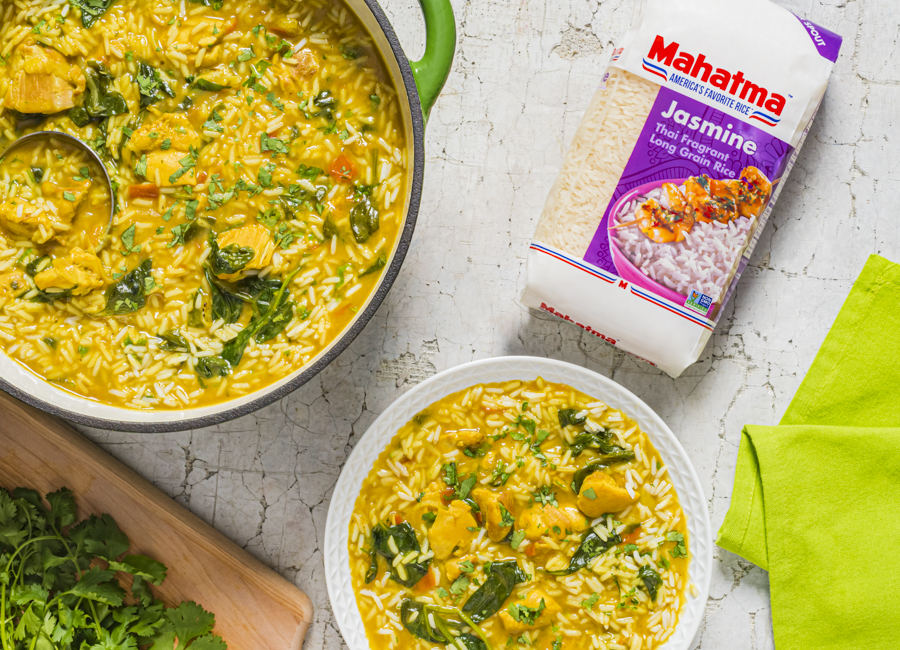 If you're interested to know more about how to level up your meals with this spice, take a look at our in-depth guide to understanding curry.
The Perfect Fried Rice
One of the secrets to making outstanding fried rice is using long grain rice. Experts suggest choosing traditional white rice or aromatic jasmine rice to add a fragrant and fluffy touch. While either are great options, we suggest you use the best of both worlds with Mahatma® Long Grain Rice & Jasmine Rice Blend, crafted perfectly for fried rice.
Start with a classic like authentic Chinese Chicken Fried Rice using garlic, ginger, sesame oil and soy sauce. Or, try a quick and easy Jasmine Fried Rice option using only chicken, sauces and spices and any leftover vegetables you have on hand.
Difference Between Thai and Chinese Fried Rice?
If you venture to Thailand or Indonesia, the fried rice recipes tend to be prepared with more local ingredients such as curry powder or pineapple like in this Thai Fried Rice. Or, you might find a blend of citrus lime juice with sweet and savory sauces such as ketchup, oyster sauce, fish sauce, garlic, sriracha and brown sugar like in a Pad Thai Fried Rice recipe.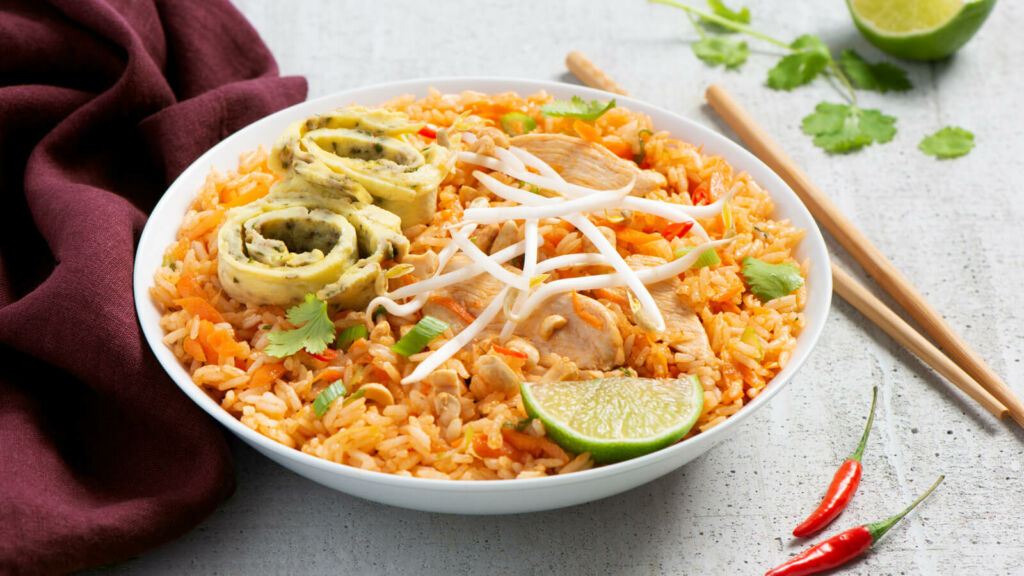 This Ginger Pork Fried Rice incorporates even more flavor with hoisin sauce, soy sauce, rice wine vinegar, sesame oil, and brown sugar along with incredibly savory pork tenderloin and crisp mushrooms, bok choy, onion, ginger, and garlic.
Want to take your fried rice skills to the next level? Take a look at our guide to making restaurant-style fried rice at home.
Fermented Foods
Traditionally used globally as a historical method of preservation, many different Asian countries include them alongside rice in everyday meals.
Using Korean Kimchi
This versatile ingredient is salted and fermented vegetables, such as napa cabbage and Korean radish that can be used in all kinds of meals from Bibimbap to Korean Beef Lettuce Wraps. It is often paired with other Korean specialties like gochujang (a Korean chili paste).
Fermented Soy Products
Another common practice throughout Asia is using fermented soy products in meals including natto, miso, soy sauce, tofu and tempeh.
Miso, used in dishes like Miso Fried Rice, is a paste produced by fermenting soybeans with salt, kōji and sometimes rice, barley and seaweed. Tofu is another commonly used food that has made its way into Western culture for all kinds of meals like an Asian Tofu Rice Bowl.
Fermenting Rice
There is another commonly used item throughout the world that may not always be thought of as a fermented food — Rice Wine Vinegar and Rice Vinegar.
Used for everything from salad dressings to ingredients in sushi, rice wine vinegar is made by fermenting the starches in rice. While sushi rice may almost always be short grain rice, this Japanese recipe for Yaki Onigiri prepares jasmine rice in the same way with rice vinegar, sugar and salt. If you have any leftover rice, use it for the base in these TikTok Salmon Rice Bowls topped with Kewpie mayo, soy sauce, nori and furikake.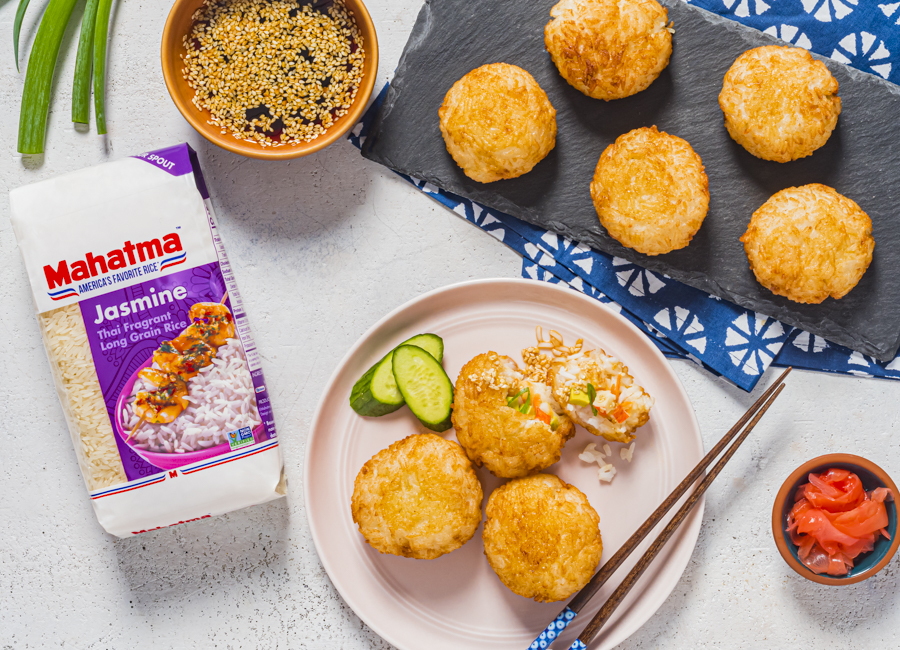 Tasty Asian Sauces
It's clear that Jasmine rice has endless uses in Asian cuisine, mostly due to its pairing abilities with all kinds of delicious sauces. It can take the heat as a bowl of fried rice with soy sauce, sesame oil and more as well as soak up a thick curry.
Don't know what to pack for your office lunch today? Our Spicy Thai Chicken Rice Salad with Thai rice is not your average packed lunch. Really a one-bowl specialty, as you won't need much more than a bowl and a bottle of your favorite Thai peanut sauce. The combination of rice and these staple Asian sauces makes a flavor combo that will tantalize your taste buds.
Looking for more flavorful cooking shortcuts? Stock up on these local sauces and use them to spice up any weekly meal!
Indonesian: Sambal or Sambal Oelek
Chinese: Oyster Sauce, Hoisin Sauce
Korean: Doenjang
Japanese: Ponzu, Wasabi
All Asian Countries: Yuzu, Sriracha
Dessert Options
Typical of Asian desserts, aromatic and sweet rice is a staple ingredient. For those with a sweet tooth, try an incredible option like Mango Sticky Rice simmered in coconut milk and topped with fresh fruit. Did you know this is one of Thailand's most iconic street foods? Now you can also try it from the comfort of your kitchen and take your family on a culinary trip.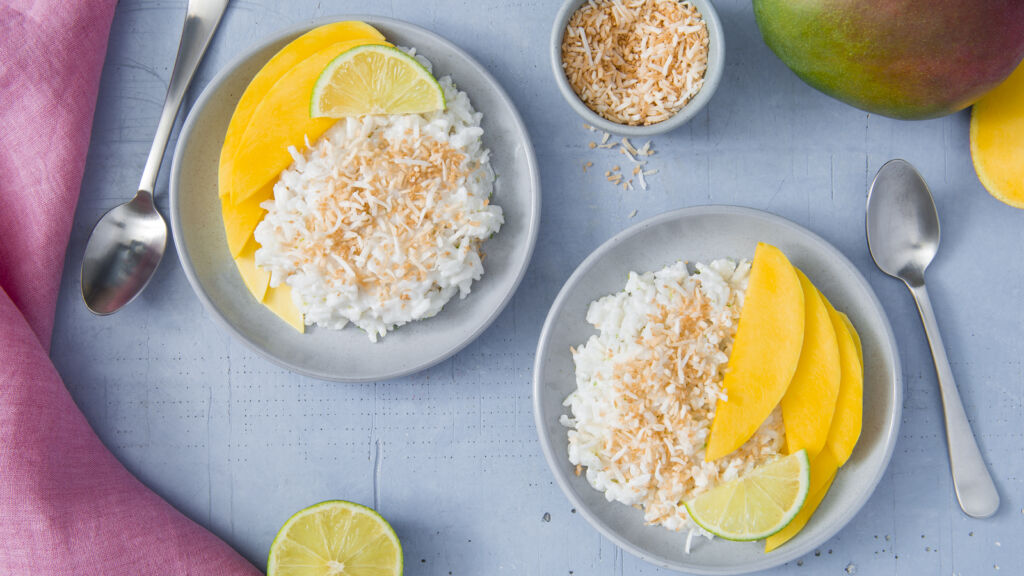 If you prefer to sip on something sweet, try a Jasmine Rice Pudding Milkshake with Coconut. Or, a Dalgona-coffee inspired Horchata Whipped Ice Coffee for breakfast, a snack or an after meal treat.
Bonus: Whole Grain Thai Jasmine Rice
With the same aromatic properties, an extra punch of fiber and minerals, and an irresistible nutty taste, you should know that all these Asian delicacies can also be prepared with Jasmine Brown Rice. Just remember to adjust cooking time and water to rice ratio!
With Mahatma® Rice you can find all types of cooking tips, such as how to cook rice in a rice cooker.