Used in the form of translucent paper sheets, as an essential flour in fried batters, and even as a key ingredient in desserts – whatever its shape or form – rice, and especially Jasmine Rice (what is jasmine rice), has a perpetual presence within an infinite amount of Asian recipes.
From the high mountains of Thailand to the bustling streets of Phnom Penh, Cambodia, jasmine rice can be found in dishes all over Southeast Asia. Originally cultivated by the nobles of the Kingdom of Siam, today this popular long-grain rice sits high upon our pedestal as one of the most pivotal rice varieties for cooking up our most desired Asian dishes.
Jasmine Rice for everyone!
Whether it's a recipe as simple as a Chicken Stir Fry or something more complex like Cambodian rice cakes, also known as Khmer Num Krok, jasmine rice is sure to make an appearance. Here are our tasty picks featuring this highly-regarded grain.
Bring on the Curries
Asian recipes captivate all of our five senses, but the most alluring of all have to be the curries – and this Cambodian Chicken Amok is no exception. Traditionally served in a banana leaf, this dish has a presentation of its own and would be nothing without a side of aromatic jasmine rice to absorb the enticing combination of coconut milk, lemongrass, chilis, and ginger.
If you like the sound of that, you'll also adore kaeng khiao wan, which directly translates to 'sweet green curry'. In spite of its name, don't let this curry fool you, as this dish has a spicy side. With a fragrant flavor profile, it acquires its color from the young green chilis – which additionally crank up the heat – and adds to the mix Thai eggplant, cilantro, kaffir lime leaf, and fresh basil.
Fried Rice on the Brain?
We'll start with khao pad kratiam, which is Thai for 'fried rice with garlic'. Sounds simple enough right? Well, it is. There are no big tricks with this recipe. Its ingredients, among them garlic, onion, butter, eggs and fresh scallions, are easy to find and the recipe itself will only take 15 minutes out of your busy schedule. Quick and easy, this fried rice can also be used as a base for incorporating other seasonal vegetables.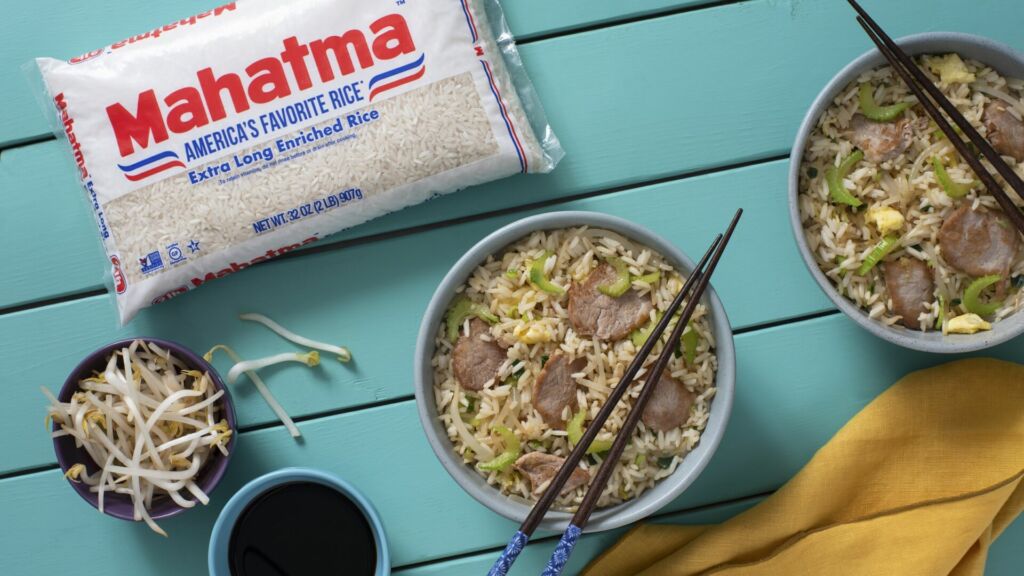 Want to take your fried rice skills to the next level? This Oriental-Style Pork Fried Rice, combines peanut oil, lime juice, fresh cilantro, pork, and cooked shrimp for an explosion of flavor you could only expect from the home of the highly-acclaimed Banh Mi.
One-Pot Specialties
It's clear that jasmine rice has endless uses in Asian cuisine – it can take the heat as a bowl of fried rice and soak up a dense curry. Mostly found in recipes close to its homeland, its third use will take you away from Southeast Asia to the other side of the continent. If you've been waiting for a Chinese-inspired recipe, this is it. This one-pot Chicken Fried Rice is right up your ally.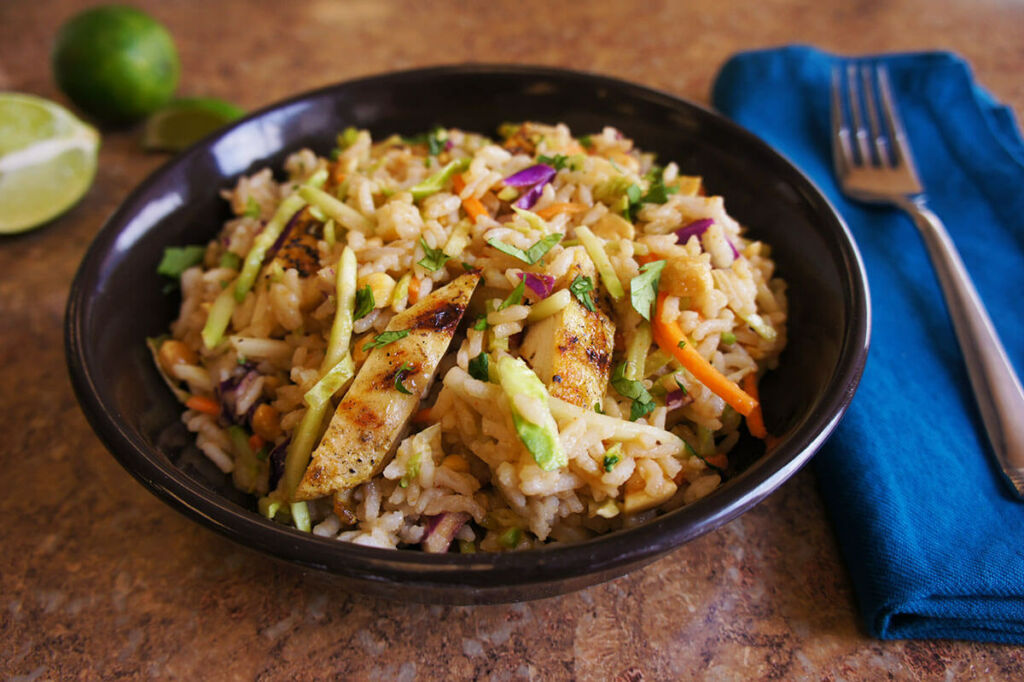 For a meal-prep option, our Spicy Thai Chicken Rice Salad with Thai rice is not your average packed lunch. Really a one-bowl specialty, as you won't need much more than a bowl and a bottle of your favorite Thai peanut sauce.
Feeling inspired?
Check out our recipe for chicken fried rice with quinoa or, for those with a sweet tooth, see our dessert options like our Jasmine Rice Pudding Milkshake with Coconut.