Picture this: there's a chill in the air and you have a medley of seasonal veggies all tucked away in your kitchen. Now, imagine cooking those veggies with Mahatma® Rice and you´ve got yourself a plan in motion. Think velvety butternut squash, hearty kale and earthy sweet potatoes. The key to a successful harvest vegetable rice dish is to keep it simple yet full of flavor. If you´re feeling adventurous #PlayWithYourFood and see what delicious combinations you come up with. Grab your favorite apron and let's get cooking!
Ingredients in Rice Recipes Using Harvest Vegetables
Many typical or unusual items can be utilized to make delicious and flavorful harvest vegetable recipes with rice. Your recipes benefit from these components' richness and intensity of taste. Mahatma® Rice examines the essential ingredients that give these dishes their pleasing flavor.
Common Harvest Vegetable Ingredients
In dishes made with harvest veggies, the simplest of ingredients can play a crucial role in bringing out the very best flavors in your rice. Some of these staple ingredients include:
Pumpkin: Let pumpkin be the hero of your weekly recipes. Whether that be sweet or savory, pumpkin can swoop in and save the day! It's true that pumpkin is mainly thought of in dessert recipes, but it is useful for so much more! For example, in this Brazilian Shrimp Stuffed Pumpkin you can #playwithyourfood and get creative this fall season by using a small sugar pumpkin as the main event at your dinner table.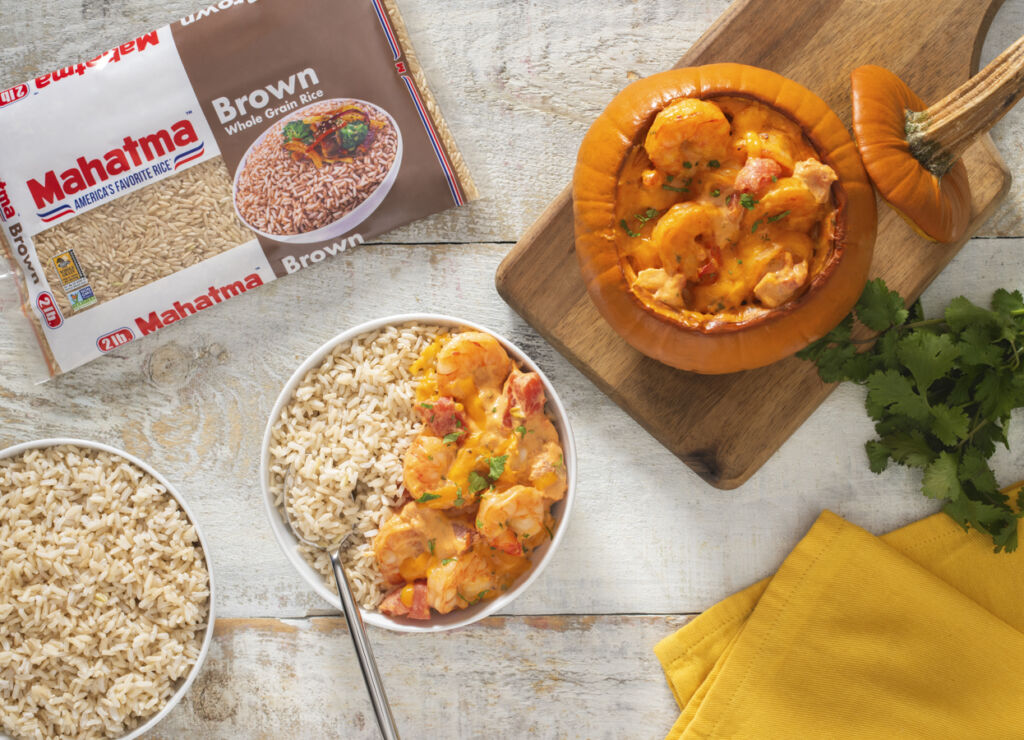 Where to Find Sugar Pumpkins
For use in cooking, sugar pumpkins are your best option. They have silky flesh and a sweet, aromatic flavor. They have several variations and don't all have the same appearance. Some of them are oblong, some are round, some are small, some are big and fat, some are orange, beige, or even white.
You should look for pumpkins marked "sugar pumpkins" or "pie pumpkins" while purchasing them at the grocery store if you intend to eat them rather than carve them. Depending on the type, aim for sugar pumpkins that weigh between 4 and 8 pounds.
How to Cook Sugar Pumpkins
Sugar pumpkins can be cooked in a variety of ways, including baking, roasting, boiling, stewing, steaming, and pureeing. They can even be prepared in an Instant Pot. If you are planning on pureeing your pumpkin, take advantage of it and make some of our Pumpkin Spice Latte Rice Pudding. This autumn inspired dessert will have you falling more in love with fall.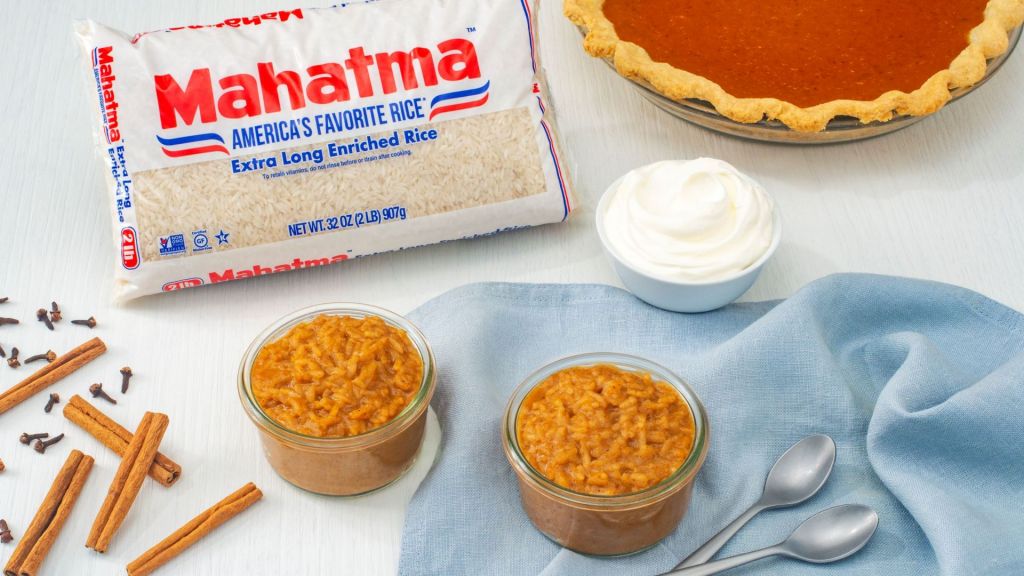 Sweet Potatoes: The sweet potato is a humble veggie that is capable of transforming into wonderful dishes. Their extreme versatility may surprise you and their natural sweetness adds a delightful contrast to the savory flavors in any dish. You wouldn't normally associate sweet potatoes with a breakfast food but Mahatma® Rice challenges you to #playwithyourfood and try our Morning Power Bowl. This breakfast bowl is a great way to start off the day and is topped with all the powerhouses like a fried egg, avocado, kale and roasted sweet potato over a base of Mahatma® Parboiled Rice. Now that you have your breakfast covered, you are going to want something warm and hearty on a crisp fall night. The whole family will love this Chili Soup with Turkey Rice and Quinoa. This chili is comfort food at its best and is loaded with sweet potato, turkey, beans along with seasonings and veggies.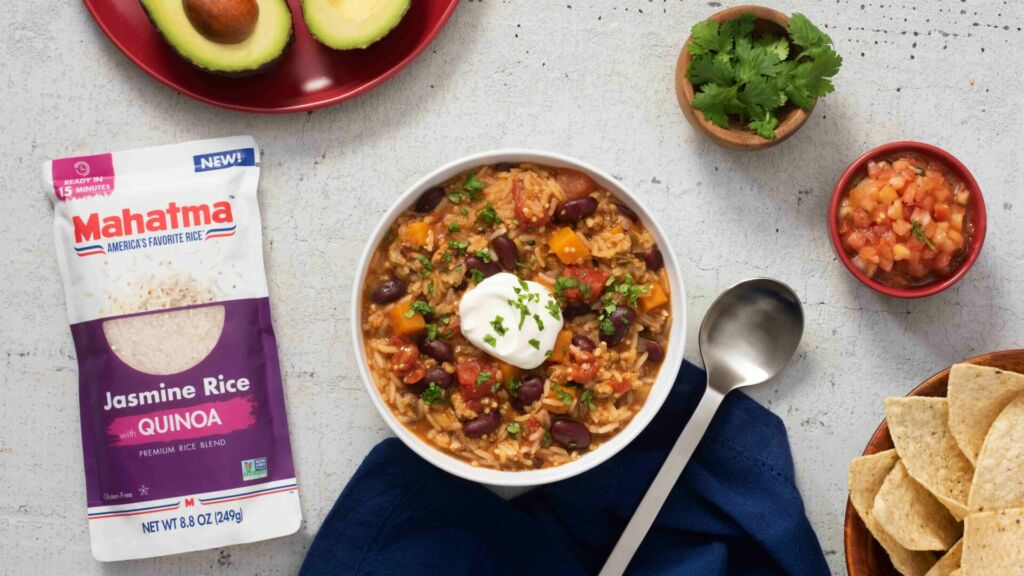 Kale: This leafy green vegetable adds a nutritious boost and a touch of earthiness to the recipe. Kale is the epitome of versatility as it can be crispy, mellow, velvety or sharp. #Playwithyourfood and discover all the magical things it can turn into! Our Turmeric Yellow Rice with Butternut Squash and Kale is a wonderful vegetarian dish that makes a hearty lunch or dinner side dish to go with meats, additional grilled vegetables, or tacos or burritos.
Broccoli: One of the quickest and easiest veggies to cook, broccoli can be steamed, crispy, crunchy or raw. #Playwithyourfood and your kiddos won't even realize they are eating their greens! Kids love our Broccoli Cheese Rice. The best comfort food is broccoli cheese rice, which combines the nutrition of broccoli with the creaminess of cheese and the warmth of rice. It is a tasty and filling dish that may be eaten as a side dish or as a main course. Looking for a breakfast option? Our Broccoli and Rice Quiche is an ideal option for your next Sunday brunch. 
Harvest Vegetable Rice Bowls
Enjoy your harvest vegetables in a different way. Whether you prefer something sweet and spicy, a vegan and gluten-free option, or a customizable rice bowl, Mahatma® Rice has got you covered. These harvest bowls are packed with flavor and versatility. This Orange Cauliflower Rice Bowl is the ideal choice for lunch or dinner. If you have Mahatma® Brown Rice in your pantry then go ahead and make our BBQ Cauliflower and Rice Power Bowl. #Playwithyourfood and make this rice bowl all your own!
Unique Ingredients
Why not experiment and play with your ingredients and surprise your friends and family with a fun and new recipe! Try using some of these options:
Maple Syrup: This natural sweetener adds a hint of sweetness to complement the savory elements of the dish.
Sriracha Sauce: For those who enjoy a spicy kick, this hot sauce adds a fiery and tangy flavor.
Goat Cheese: Its creamy texture and tangy taste offer a delightful contrast to the vegetables and rice.

Experiment with different combinations and variations to create your own signature dish.
#PlayWithYourFood
Vegetable Substitutions
While the original harvest vegetable recipes with rice include specific vegetables, you can easily substitute them with other options based on your preferences or seasonal availability. Consider the following alternatives:
Swap sweet potatoes with butternut squash or pumpkin for a different creamy and sweet taste.
Replace kale with spinach or Swiss chard if you prefer milder greens.
Experiment with different types of peppers, such as bell peppers or poblano peppers, instead of red pepper for a unique flavor profile.
Try using other root vegetables like parsnips or turnips in place of carrots to add a different level of earthiness.
Sauce and Seasoning Alternatives
Add your own twist to the harvest vegetable recipes by exploring alternative sauces and seasonings. Here are some suggestions:
For a tangy kick, substitute Sriracha sauce with hot sauce or chili paste.
Enhance the flavors with a drizzle of balsamic glaze or honey instead of maple syrup.
Experiment with different herbs and spices like thyme, rosemary, or cumin to infuse varied aromatic notes into your dish.
If you don't have mayonnaise on hand, you can replace it with Greek yogurt or sour cream for a creamy element.
For more recipe ideas check out our page here.