In the hot hot heat of summer, we tend to look for cooler, more refreshing meals – like salads! Salads are fantastic for a picnic or for an early supper with the family. However, green salads can get a little boring and repetitive for some, especially if you always follow the same combination of ingredients and toppings.
Switch things up and add some grains and protein to a salad by supplementing it with rice. Opt for a quinoa or grain blend for some extra nutrients and a bit of crunch. And if you're looking to make your salads a bit more flavorful, here are a couple of easy homemade vinaigrettes that are guaranteed to spruce up any plain salad.
See, there are many ways to change up any dull leafy salad.
Shaken, not Stirred
There is a fine line between a perfectly coated salad and a salad that is drowning in dressing. Store-bought dressings can taste the same, but might have more of those ingredients that you can't pronounce. Rest easy knowing exactly what you're feeding your family by shaking up your dressing yourself. The best part is, you can customize your homemade vinaigrette by choosing the ingredients and the amount of which you add to it.
Instead of stirring the ingredients, shake them up in a salad dressing container, or an airtight container. For perfectly balanced in flavor and texture dressings, try keeping these rules of thumb in mind:
Always maintain a 3:1 ratio of oil and vinegar – vinegar can be overpowering, keep the oil three times the amount of vinegar so the dressing doesn't become sour.
If you store your dressing in the fridge, take it out of the fridge and let it get to room temperature before serving.
A glass container will maintain the flavors of your homemade dressing longer than a plastic container will – plus, the flavor and color won't stick to the glass.
Some vinaigrettes can be stored at room temperature – we recommend keeping them in the fridge, though.
Homemade dressings containing dairy should be enjoyed within the week.
Ingredients like lime, lemon, orange juice, balsamic, wine or apple cider vinegar will balance the acidity of your dressing.
Use a hand blender or food processor to make creamier dressings.
Fresh and dried herbs are great seasonings for vinaigrettes.
5 Dressings You Can Make at Home
Avocado Tzatziki
Tzati-what? Tzatziki, pronounced 'sat-see-kee' is a traditional Mediterranean sauce made with yogurt and cucumber as a base. This version includes all the classic ingredients along with avocado to add a delicious buttery taste and creamy texture.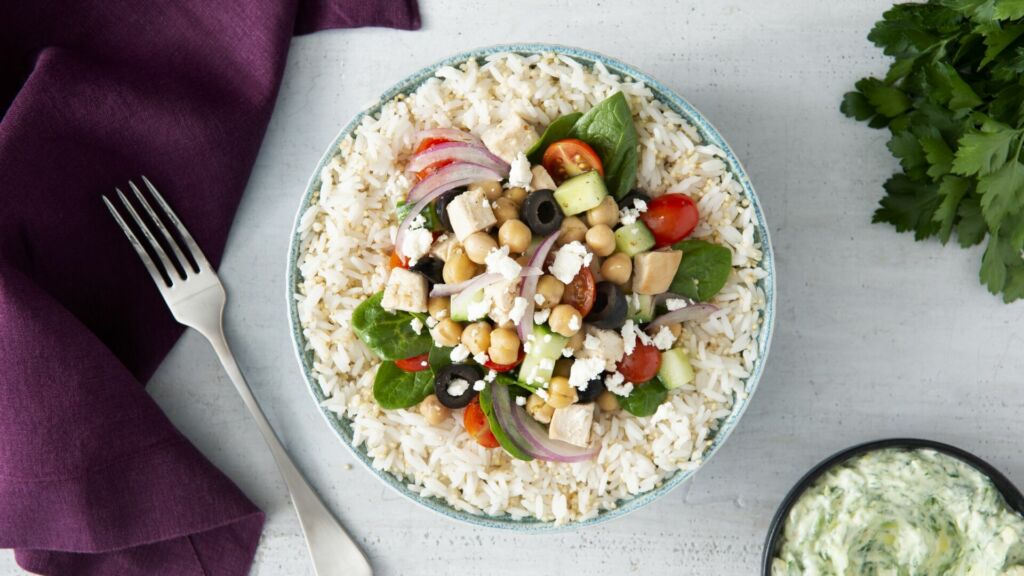 Make this sauce by grating the cucumber with a wide cheese grater and mix with the mashed avocado, spices, oil, and yogurt. Whisk or shake until the ingredients are combined.
Pro tip: for rice salads, creamier dressings pair best with long grain rice varieties as when cooked, grains won't clump together. Try this Greek-inspired dressing in a Greek Power Bowl with Mahatma® Jasmine Rice and Quinoa blend. You can also try this recipe with aromatic grains like Basmati or Thai Jasmine Rice – learn how to cook jasmine rice and try it today!
Ingredients
You can make 4 servings of this Greek-inspired dressing by combining the allotted amounts of these ingredients:
¾ cup Greek yogurt
1 ripe avocado, halved, pitted, peeled and mashed
½ cup cucumber, grated and squeezed dry (use paper towels to squeeze cucumber)
2 tbsp olive oil
1 tbsp lemon juice
2 cloves garlic, minced
2 tbsp fresh dill, finely chopped
2 tbsp fresh parsley, finely chopped
½ tsp dried oregano
½ tsp salt
½ tsp pepper
Ginger Vinaigrette
A ginger dressing is a great way to add some zest to your plain salad. Ginger's zesty properties can take any vinaigrette to the next level. Starting with rice wine vinegar as a base and combined with tasty oils and honey, the array of natural ingredients in this vinaigrette come together quite nicely. Put ingredients in a jar or container and shake to your heart's content.
Try this vinaigrette on top of a Spiralized Veggie & Jasmine Rice Bowl to bring together all the flavors.
Ingredients
These ingredients in these quantities make 4 servings of this tasty ginger vinaigrette. If you are serving only a few people, half the recipe or save the leftovers for later in an airtight container.
3 tbsp canola oil
3 tbsp rice wine vinegar
1 tbsp sesame oil
1 tbsp minced fresh ginger
1 tbsp honey
½ tsp salt
Sesame Orange Vinaigrette
For an Asian-inspired dressing with a hint of citrus, combine ingredients like sesame, ginger, and orange marmalade.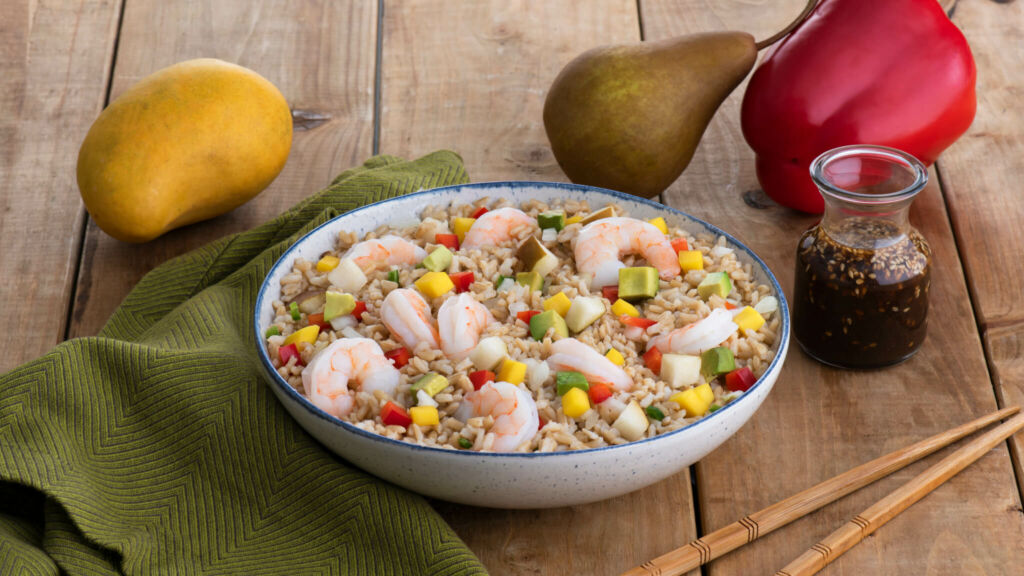 This specific dressing is the perfect pairing for our Asian Brown Rice and Shrimp Salad. The ginger and fruity flavors from the mango and orange marmalade complement the salad ingredients perfectly. The nuttiness of Mahatma® Brown Rice pairs beautifully with the sesame and ginger to make this dish all the more delicious for your family.
This vinaigrette is super easy to make, the base is just a sesame and ginger vinaigrette combined with some orange marmalade to change the consistency a bit creamier. For a homemade version of this vinaigrette, keep reading!
Shake together:
⅓ cup light Asian vinaigrette with sesame and ginger
1 tsp orange marmalade
Homemade Sesame Vinaigrette
Sesame oil has a unique flavor that is super easy to use in vinaigrettes. Its sour zesty taste can immediately make all the other flavors in a salad pop. Feel free to substitute ingredients as you wish – for a more authentic taste, we recommend trying out rice wine vinegar in place of the white vinegar.
¼ cup soy sauce
2 tbsp toasted sesame oil
¼ cup white vinegar
¼ cup olive oil
1 tbsp sugar or 1 ½ tbsp honey
Thai Peanut Dressing
Make your own peanut sauce with this versatile dressing recipe. Not only is this combination of flavors perfect for a salad, but it also goes great in a stir fry as well.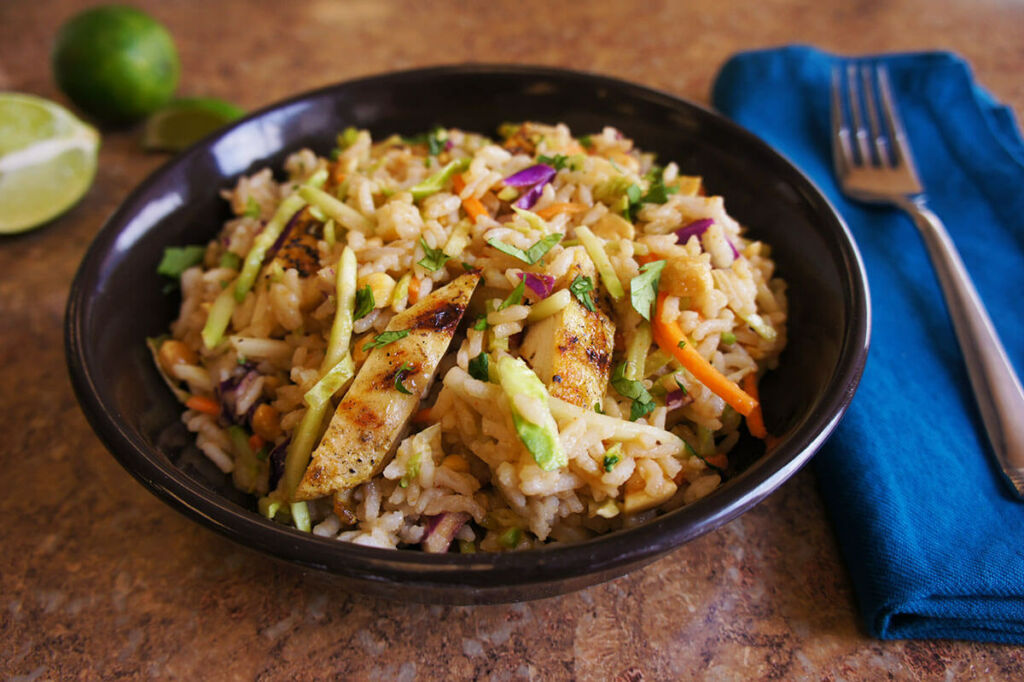 This vinaigrette gets pretty thick when shaken together, making a sticky creamy base for a stir fry that will leave everyone happy with the meal. Skip the store-bought version and make this vinaigrette at home as a fun activity to do with kids. Get some of their energy out by enlisting their help to shake the ingredients in a jar.
Pairing Suggestion: Spicy Chicken and Jasmine Rice Salad
Ingredients and variations
The ingredients specified below will make about a cup of sauce. Adding chunky peanut butter as opposed to smooth peanut butter will give your vinaigrette a delightful crunch. Additionally, honey can be replaced with maple syrup as a sweetener. Replace the hot sauce with sriracha sauce for a less intense amount of spice. A spicier version will go well with Curry Chicken Burritos.
1 clove garlic chopped
½ cup peanut butter
2 tbsp fresh lime juice
2 tbsp rice vinegar
2 tbsp soy sauce
1 tbsp honey
1 tsp sesame oil
1 tsp sriracha sauce
¼ tsp ground ginger
Lemon Combo
Skip any extra steps by dressing your salad the old fashioned way, adding lemon juice, salt, pepper, and your favorite oil.
Citrus makes any salad more refreshing, try this combination of ingredients next time you make something simple yet delicious like a colorful Chickpea Rice Salad.
Check out our website for even more tips such as how to cook coconut rice in a rice cooker.