Not many things can top a BBQ or cookout with family, friends, and delicious food on a warm, sunny day. Enjoying your food outside with a refreshing drink and good conversation is always a great time, especially if you've mastered the classics like burgers and hot dogs! Now that you've got those down, it might be time to step up your grill game and add some variety to your cookout menu.
We've handpicked some of our favorite recipes to get you started. From a tasty dip to grilled veggies and even dessert, we've got you covered in the flavor department both on and off the grill. Whether you're planning a tailgate, grilling at the lake, or just taking advantage of the nice weather and enjoying a grilled dinner on the back patio, there are many delicious options for putting your grill to great use.
Check out these recipes for inspiration and try one, or all of them, at your next BBQ or cookout! Your family and friends will thank you.
BBQ Starters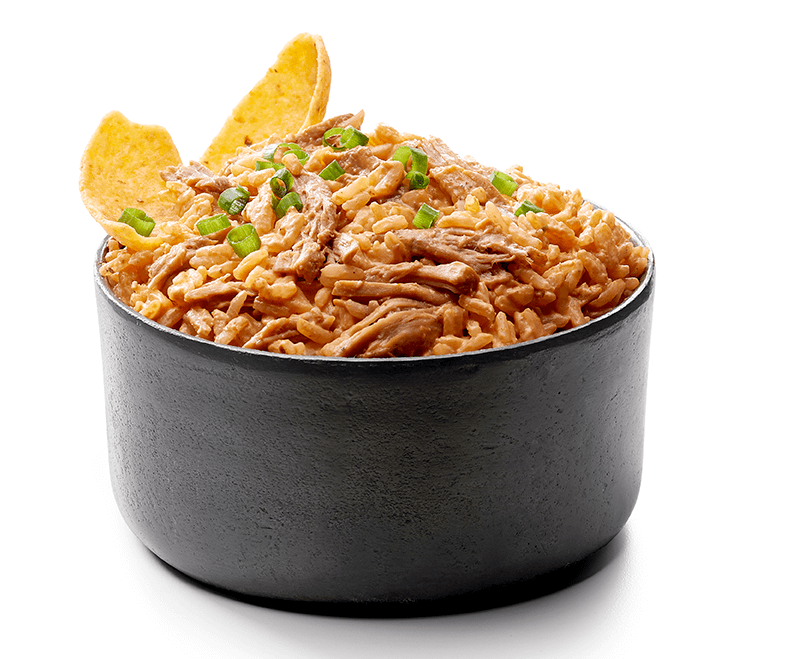 Barbecue Pulled Pork Rice Dip
Keep your guests' hunger at bay while they wait on the main courses with this delicious Barbecue Pulled Pork Rice Dip. Made with creamy ranch, your favorite BBQ sauce, and fluffy Mahatma® Thai Jasmine Rice, you'll need to make sure to grill fast because this tasty dip won't last long.
Serve it with dipping chips and veggies as an appetizer, or as a side to the main meal. Prepare the pork in advance to save time, or cook it right on the grill along with your other foods. Whatever way you choose to cook and serve it, you can be sure it'll be a crowd favorite.
Rice Stuffed Poblano Peppers
These cheesy and rice-filled Poblano peppers are sure to be palate pleasers. Filled with a mixture of white rice, corn, sour cream, and cheese, these tasty peppers are not only delicious, they're easy, too! Just prep them in advance, wrap them in aluminum foil and toss them on the grill when the time comes.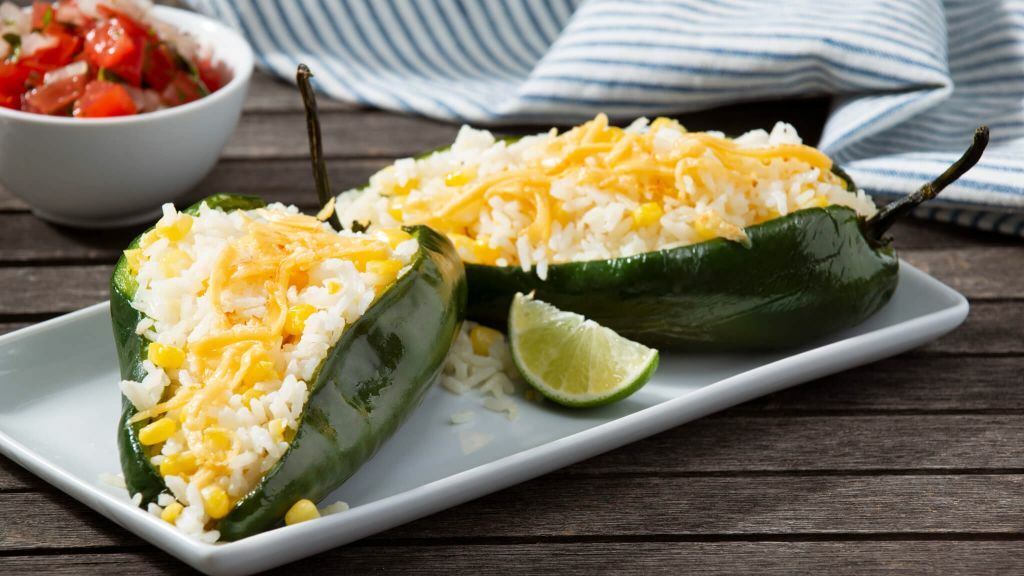 Grilled Entrees
Shrimp Skewers and Corn
Coated in sun-dried tomato oil and grilled to perfection, these Grilled Shrimp Skewers are a great addition to any BBQ or cookout. With complementing smoky, sweet, and acidic flavors, these juicy shrimp are the final delicious touch to a corn, tomato, and cheese rice bowl. Serve them at your next BBQ and impress your guests with the bold flavors and lovely presentation.
How long should you cook your shrimp skewers?
Start by making sure that the skewered shrimp are well-coated with oil before placing them on the grill.
Place them on the grill and make sure to keep a constant eye on them, they cook in a matter of minutes!
You'll know they are ready when they are pink in color and not translucent.
Grilled Veggies
What's a BBQ without some delicious grilled summer veggies? One of the easiest and tastiest parts of a BBQ is tossing some fresh veggies on the grill and letting it do all the work.
To step up your grilled veggie game, try them in these Grilled Veggie Burrito Bowls. Made with your choice of veggies, hatch green chile rice, beans, and guacamole, these colorful bowls are as delicious as they are nutritious.
Pro tip: A great vegetarian option as is, this recipe also pairs well with grilled steak or chicken for some added protein.
Dessert and Drinks
Sweet, Refreshing Horchata
With all the tasty foods to be enjoyed at a BBQ, there have to be some drinks to wash them down with!
For a family-friendly drink that everyone is sure to love, try this Homemade Horchata. This Mexican-inspired and easy-to-make drink is the perfect touch of sweetness because it is made of water, rice, cinnamon, sugar, and vanilla. It's the perfect beverage on a warm summer day. Serve it chilled and over ice for a truly refreshing experience.
Pro tip: make it in advance to save time and ensure that it has time to fully chill as this drink is best enjoyed cold.
Finish with Ice Cream for Dessert
Sticking with the sweet flavors of horchata, this Homemade Horchata Ice Cream is the perfect sweet treat to wrap up any BBQ meal. Whether you have an ice cream maker or not, it can easily be made at home and you and your guests will love the sweet cinnamon and vanilla flavors.
Make it well in advance so it has plenty of time to chill to the perfect creamy consistency and when the serving time comes, it can be topped with an extra touch of cinnamon, drizzled with hot fudge or dulce de leche for some added sweetness.
For more grilling recipes and side dish ideas, take a look at our cooking section and recipes. Learn everything you need to know inside and outside the kitchen starting with tips all the way to how to differentiate between varieties like jasmine vs basmati rice.