Latin cuisine is famous for having some of the most crave-worthy and downright irresistible foods. From empanadas to quesadillas, these dishes have found their way into being part of our everyday meals. If you were to think about the ultimate convenient and versatile recipe packed with yummy flavors, burritos are probably the first thing that come to mind. Who doesn't love a warm and savory burrito, right?
Although seemingly simple, this is a challenging wrap to master at home. So, let us at Mahatma® Rice guide you through the process and resolve some of the most asked questions about this all-time favorite including what ingredients you'll need, how much filling to use and how to wrap a burrito like a pro.
5 Must-Have Burrito Ingredients
Some people say that the toughest part of making a proper burrito is nailing the folding technique. However, what really prevents a soggy wrap is filling it with the right ingredients like absorbent and flavor rice. That's right, we add rice for a reason! And, as each component has unique bold flavors, it is key that they are combined in the right proportions to balance everything out perfectly.
Write down these 5 staples and get some recipe inspiration along the way to try at home – plus, most of these ingredients are probably already in your pantry!
1. Tortillas
Starting with the base, not every tortilla is perfect for a burrito. When in need, any will satisfy the craving, but to make burritos like a pro it's important to choose bigger options at the store.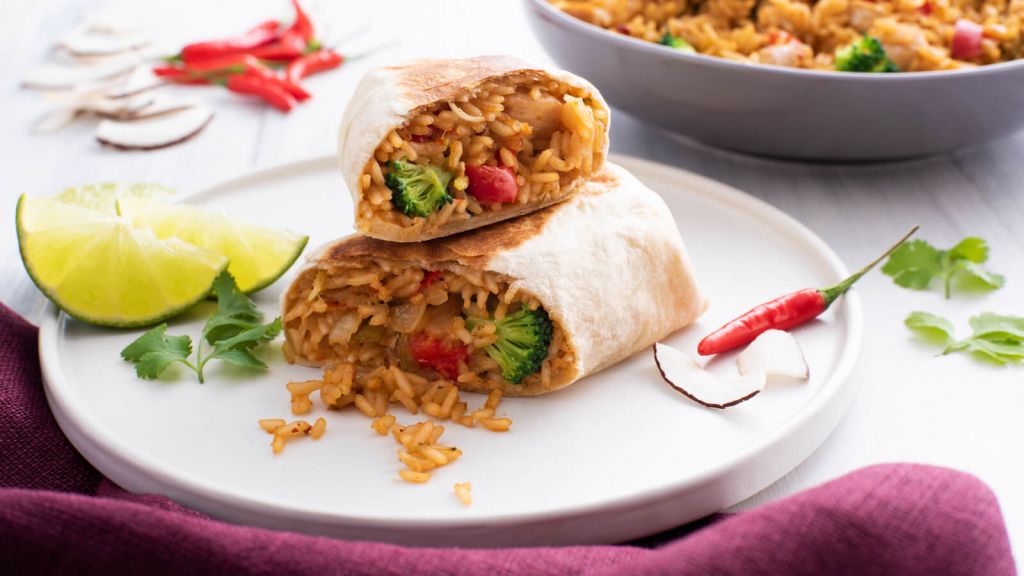 A 10 to 14 inch flour tortilla will hold all the fillings and when warmed, turn soft and flexible enough to fold without tearing. Although corn tortillas are a flavor-packed option, save them for the next time you're making Chicken Tinga Tacos, and use flour tortillas for your burrito.
2. Beans
To fill your burrito, use either plain or refried beans, pinto or black beans. Even the canned versions will do wonders for the final result. When combined with the other toppings, the flavors will marry together and no one will notice that you used this convenient shortcut.
To make homemade beans, make sure to start off with a fragrant sofrito, and then cook the beans in a flavorful liquid like chicken broth. See how they really add an extra layer of texture and flavor by trying this Brown Rice and Black Beans Burrito recipe.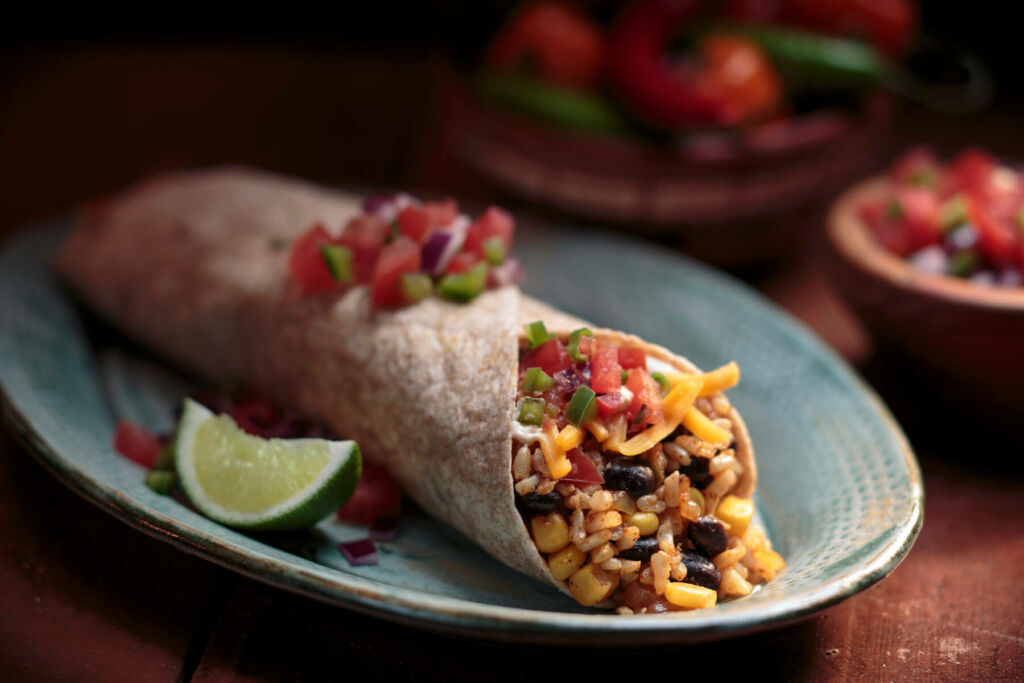 Serving suggestion: about 1/3 cup per burrito.
Bonus: If you've started learning the family secrets to making authentic refried beans, burritos are great for showcasing those newly acquired skills without worrying about getting perfectly textured beans. What really matters here is the flavor!
3. Protein and Vegetables
Probably the best part about this meal is that it can be tailor-made to your preferences or the ingredients you have on hand. You can experiment with different flavors, and also try different fillings.
More traditional options inspired by Latin cuisine include pork cooked Al Pastor or Carnitas style. For a true experience, try your hand at this Birria stew recipe and use the slow cooked meat as a burrito filling. Remember to drain all the excess liquid to avoid soggy results or drizzle on top for that extra something right before eating.
For a protein dense version filled with exotic flavors, try these Thai Coconut Curry Chicken Burritos. Combining the best of both worlds, this recipe is inspired by a fusion of Thai and Mexican cuisine. If you have any leftover ingredients, learn how to make this coconut milk rice recipe.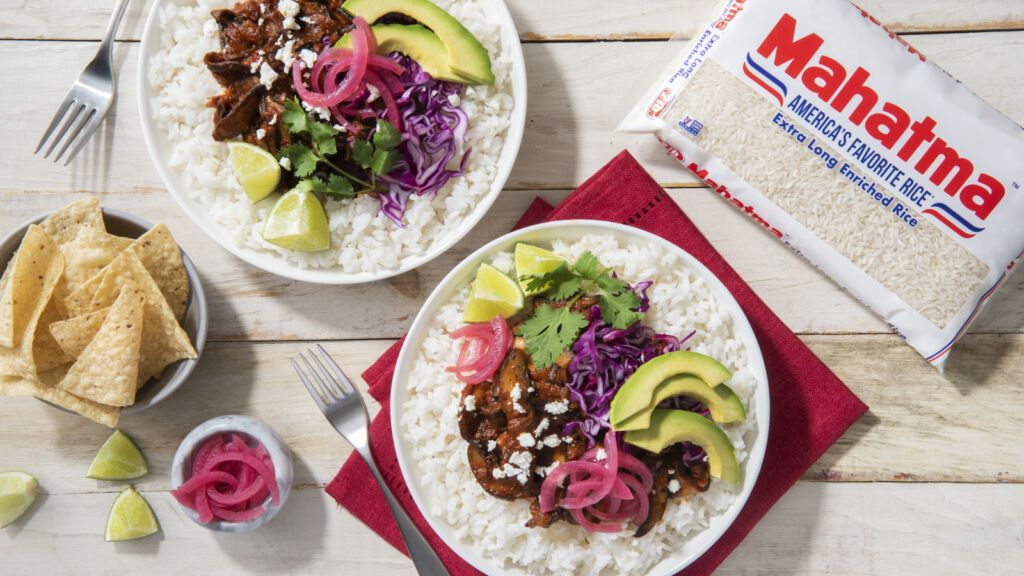 For a veggie-loaded option, turn meat free burrito bowls into a satisfying filling. Try this Grilled Veggie Burrito Rice Bowl for a savory mix of grilled vegetables or a Chipotle Mushroom Burrito Bowl for spicy kick of portobellos with chipotles in adobo.
No matter what ingredients you choose for the filling, remember to play around with spices and seasonings like condimento sazon, adobo, salt, pepper and lime. Bland foods like chicken or mushrooms (for a vegan alternative) will only see their natural flavors boosted with the addition of seasonings.
Chef note: Serve watery vegetables like tomatoes and sauces on the side for a fresh and firm burrito.
4. Salsa
When choosing the sauces, we want thick versions, and the chunkier the better. Of course, everyone knows that no burrito is complete without a hefty dose of guacamole but your favorite restaurant or cantina burrito is sure to have other tasty salsas within the filling.
For a light zesty salsa, pico de gallo is the preferred option. This mild salsa is packed with fresh vegetables and herbs like onion, tomato, peppers and cilantro with a splash of lime juice. If you are into spicy flavors, add some jalapeños or serrano peppers to increase the heat.

Often overlooked, there's a white sour sauce with a creamy texture that is a staple for many burrito lovers. Similar to sour cream, Mexican crema will add a tangy flavor that's sure to satisfy your tastebuds and elevate your dish to the highest flavor standards.
To add a spicy kick, go with flavorful hot sauces, those that even if spicy, are not harsh to the palate nor will outshine the flavor of the other ingredients. Making your own is quite easy, simply broil or grill your preferred peppers or tomatillos, and then blend together until pureéd – add a hint to your Breakfast Burrito and start your day savoring something delicious.
5. Rice
To put any debate to rest, rice is essential for our burritos for not only flavor but for a heartier touch. Plus, there are so many ways to liven up your wrap with this versatile ingredient. Using plain white rice or brown rice will add that delicious and filling layer that will keep your burrito sturdy, but if you really want to make a better than takeout dish, seasoned rice is a must.
Although the possibilities are truly endless, if you want to stick with the classics, we recommend you try our recipes for family favorite Traditional Mexican Rice, zesty Cilantro Lime Rice or plain instant pot jasmine rice. Looking to switch up your meal? Ditch guacamole and use your ripe avocados to make this Avocado Lime Rice with Mahatma® Organic Rice, or try this whole grain Grilled Jalapeño Rice for an extra kick.
Serving suggestion: about 1/4 cup per burrito.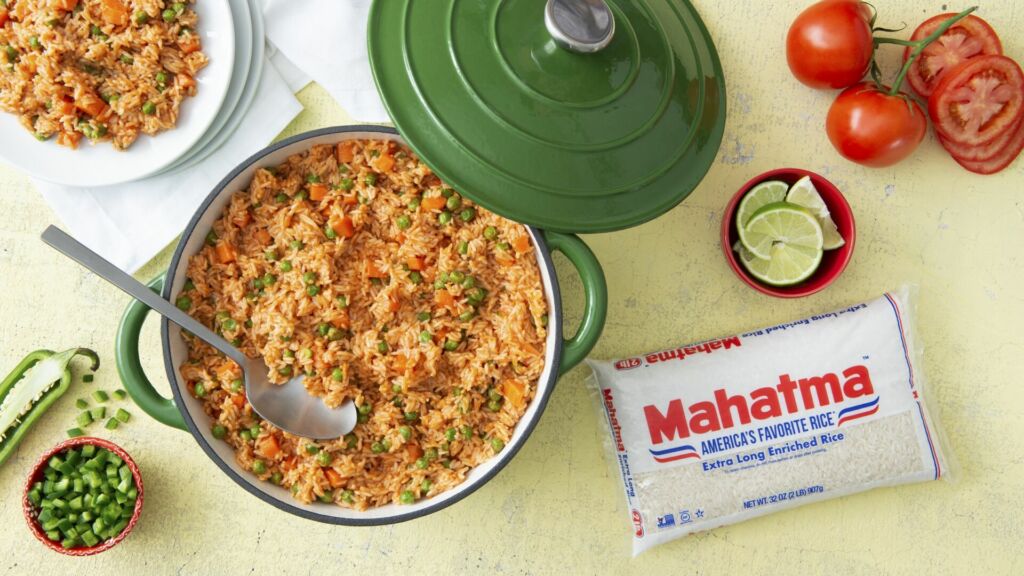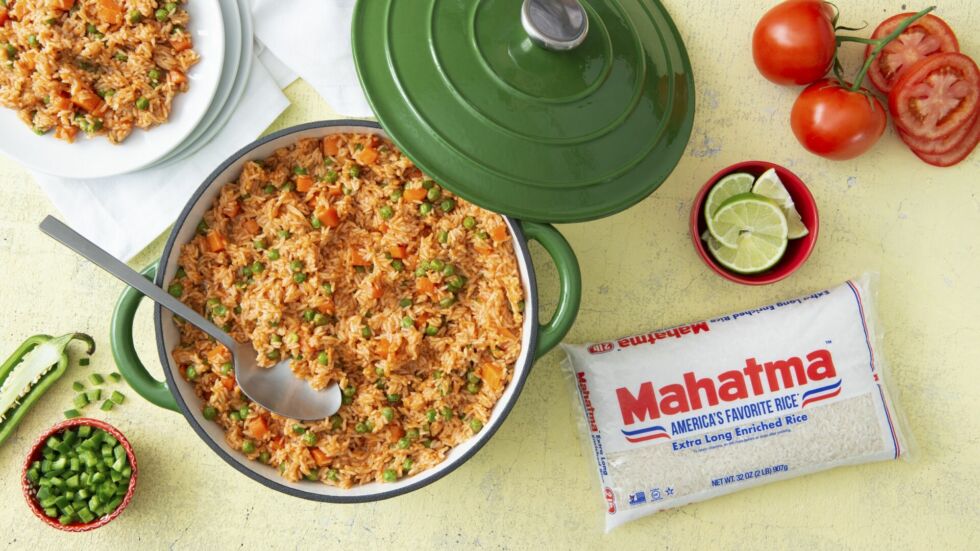 Bonus: Cheese
Cheese is one of those ingredients that just makes any meal better. For your burrito creation, choose mild flavored and soft varieties of cheese. Queso blanco, Oaxaca cheese, Monterey Jack or even Cheddar cheese will add that ooey gooey goodness.
Pro tip: When heating your tortilla before ingredients are added, sprinkle a thin layer of cheese in the center until melted.
Assembling and Wrapping
Before jumping into our easy tutorial including two different ways for how to wrap a burrito, let's go over some side notes for the assembling process.
Have all the toppings ready to fill the tortilla.
Be mindful that ingredients should be arranged along the middle of the tortilla, in one line. The more filling, the harder to fold into a burrito shape.
Start by adding the hot components first (1/3 cup beans, 1/4 cup rice and meat) , then the rest (guacamole and veggies) and top it off with salsa and sauces – add Mexican crema last.
Now fold following the instructions below.
Open Ended Burrito
Start by slightly heating your tortilla in the microwave or in a pan over low heat.
Place filling in the center.
Then, fold the side in about 1/4 th.
Fold the bottom up a little more than halfway.
Fold in the corner slightly to avoid any leakage.
Fold the other half over, wrap in a bit of foil to keep warm and enjoy!
Fully Sealed Burrito
Start by slightly heating your tortilla in the microwave or in a pan over low heat.
Place filling in the center toward the bottom.
Fold both sides in toward the center.
Then, fold the bottom upward in 1/4 th.
Continue to roll over until the burrito is tightly closed.
Place in a warm pan and sear shut if preferred. Wrap in foil to keep warm and enjoy!
Aside from being extremely versatile, burritos are great for repurposing all those leftovers in the back of your fridge for a new and satisfying meal. Next Thanksgiving, make sure to give those turkey bits a second chance in this Turkey and Cilantro Lime Rice Burrito and continue exploring our recipe selection to discover new meals you can use to boost your wrap flavors.
Loved this guide for making the perfect burrito? Learn how to nail an Authentic Paella, or how to prepare a true Italian risotto by visiting our Cooking section.