Celebrations and holidays are always a great time to host an event at home – even if it's just close family at home. Family, friends, music, food, beverages, games, the works. What's even more fun is celebrating traditions from other cultures. One of our all-time favorites is Cinco de Mayo!
Who doesn't love a colorful party featuring tasty drinks, good company, and delicious food? We certainly do.
How Do We Celebrate?
To celebrate this vibrant and flavorful event in style, we've got some kid-friendly craft inspiration plus some tasty recipe ideas you should try out for your next Cinco de Mayo fiesta. The great thing about these meals is that you probably already have most of the ingredients in your kitchen. Enjoy the event with close family in-person, or hop on your computer for a virtual party with friends. Nothing's going to stop us from having fun!
Cinco de Mayo Party Menu Ideas
If your festivities are going to be of the virtual kind this year, make sure to gather your guest list, menu, a good playlist, and rock your favorite party gear! There's no reason you can't connect with your favorite people and party at home or virtually. Everyone making the same dishes at home is a great way to make it feel like a shared experience and great social gathering. Make as much or as little of each recipe as you need for those at home with you.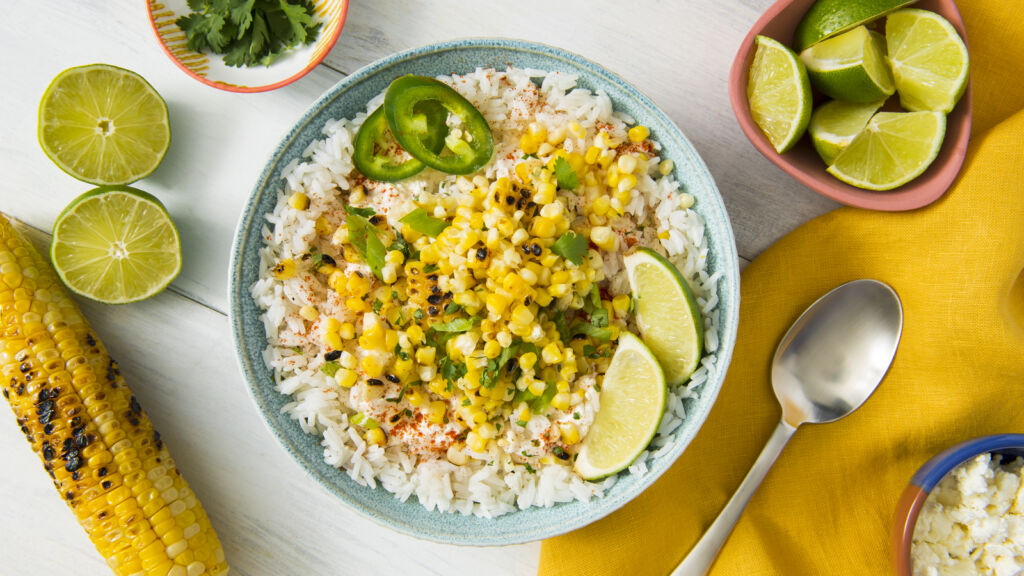 1. Appetizers
Get things started with the obvious appetizer: guacamole. This hearty Guacamole Mango Rice Dip is a classic, fun, and tasty option that you are sure to love after just one bite. All you need is a ripe avocado (or store-bought guacamole), your preferred Mahatma® Rice variety, and a few tropical fruits to cut into juicy chunks.
You might also enjoy an elote-inspired Grilled Street Corn and Rice Salad made with grilled corn sliced off of the cob and white rice. That tasty combo is mixed together with a blend of sour cream, feta, lime zest, lime juice, oil, garlic, cumin, paprika, salt and pepper for flavor in absolutely every bite!
Serve these starters with enough tortilla chips and keep an eye on them because they'll probably be gone in one blink!
2. Filled Tortillas: Tacos, Burritos and Enchiladas
Keep the party going with these colorful and delicious corn or flour tortillas stuffed with tasty fillings in the form of tacos, burritos and enchiladas.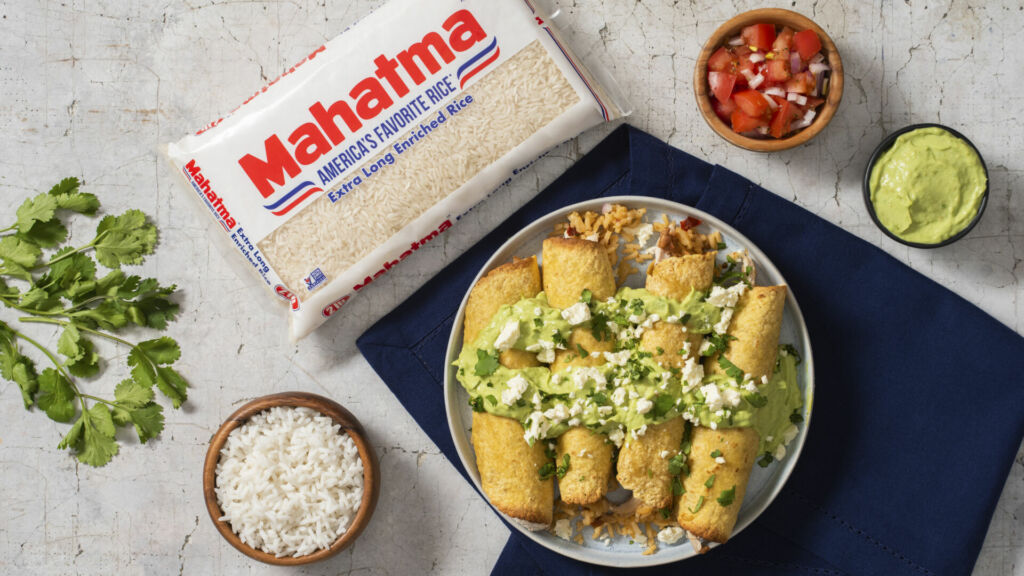 Tacos
No matter the occasion, tacos are always guaranteed to please! For a soft shell option, these Chicken Tinga and Rice Tacos are incredibly flavorful with a kick from the chipotles in adobo. For a crunchier shell, these Rice and Bean Tacos Dorados drizzled with an avocado and herb crema are definitely the way to go.
Burritos
Burritos (wrapped or in a bowl) are great for making good use of those pantry grains or canned items on your shelf. Top with guacamole dip, fresh pico de gallo, and squeeze the juice of a lime for extra flavor. Grab your filling, however you like it best and spoon it in to wrap up to perfection.
For a meaty filling, use this homemade Beef Birria with Tomato Rice using ancho chile peppers, seasonings and flavor infused white rice. Or, for a veggie option, use your grill to roast some vegetables and assemble a Grilled Veggie Burrito Bowl with Mexican Rice Seasoning. Serve them as-is, or use them as incredible fillings for your burritos.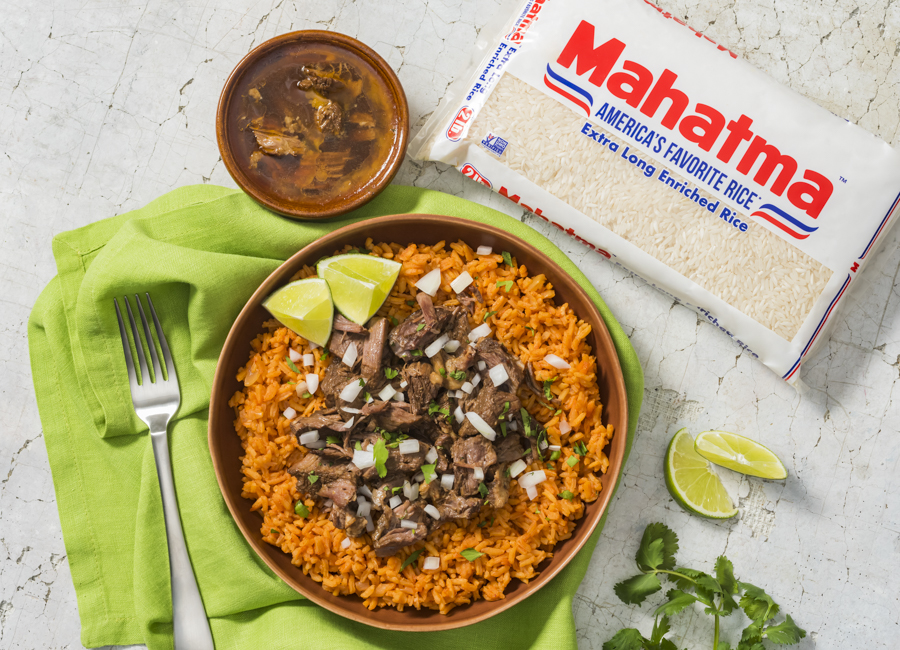 Enchiladas
There is no such thing as too many enchiladas or too much salsa. These yummy Enchiladas with Salsa Verde are of a different variety, made with corn tortillas, a green sauce, and stuffed with chicken. Or, try the best of both worlds, with a little bit of green sauce here, a little bit of red sauce there with these Enchiladas with Red and Green Sauce y todo bien ("and all is good," in Spanish). Why not enjoy a little bit of everything?
3. Mole
Ideal for special occasions, authentic mole sauce is a combination of peppers, nuts, seeds, seasonings and more. Depending on the ingredients used, it produces one color or another ranging from green to red and black. This recipe for Green Mole with Grouper gets its color from using tomatillos, poblano peppers, a variety of seeds, seasonings and other flavorful additions. Everything is served over Mahatma® White Rice to soak up every bit of extra flavor.
Traditional recipes often involve a lot of care and patience, making for the perfect opportunity to spend time with family in the kitchen! Get everyone involved gathering and chopping ingredients, blending and serving.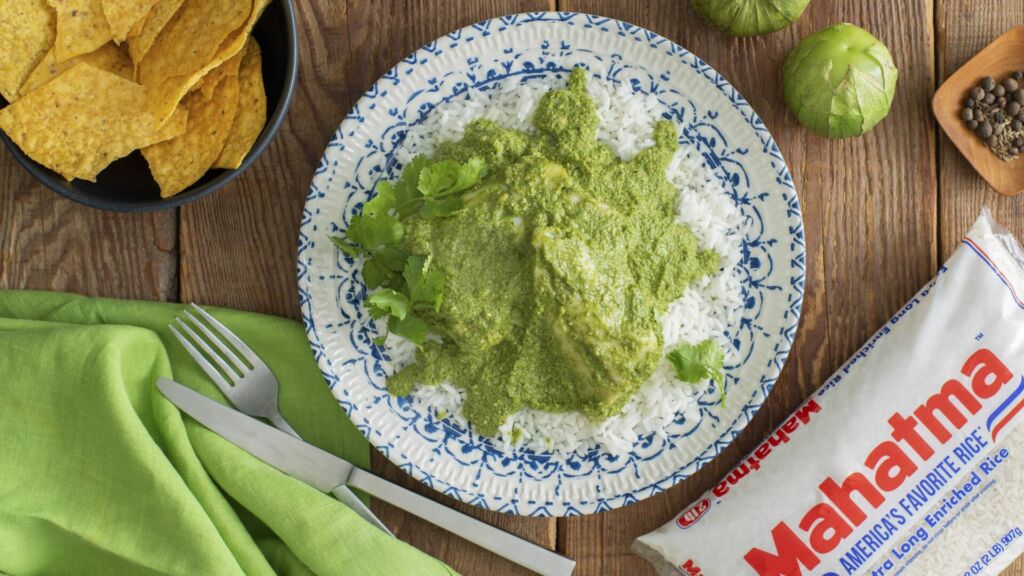 4. Pozole
For a dish to share with family and friends, pozole is perfect for serving up a bowl of comforting stew to feed a crowd. Just like mole, pozole can be found in a variety of colors depending on the ingredients used.
This Green Pozole with Fish and White Rice uses peppers like jalapeños, poblanos and tomatillos along with hominy and is topped with crunchy green cabbage, radishes and creamy avocado. In contrast, this Red Pozole with Rice uses ancho chile peppers, pork shoulder, warm seasonings like cumin alongside staples like hominy, crunchy vegetables and sliced avocado on top. Choose your preferred ingredients and enjoy!
If you are used to cooking these stew-like recipes in an Instant Pot or pressure cooker, you may also want to use these cooking appliances to prepare Jasmine Rice Instant Pot for all your favorite meals.
5. Drinks and Dessert
But what are all these tasty dishes without something refreshing to wash them down? Or a sweet treat to finish the meal off? Don't worry, we thought of that too.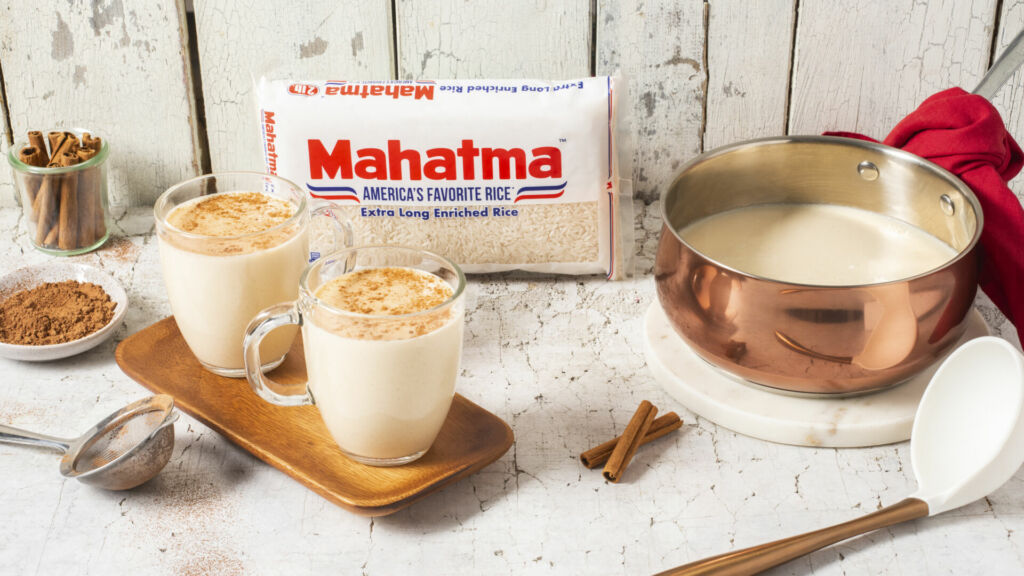 Drink Menu Options
This refreshing Horchata with Cinnamon is a milky rice drink flavored with cinnamon, vanilla, and sweetened with sugar for the perfect chilled drink to pair with your brilliant Cinco de Mayo party menu. Just remember to make a batch in advance as it does need to chill for several hours before enjoying it. For something a bit warmer that won't need to chill, try this comforting Atole de Arroz.
Dessert Menu Ideas
Now, the moment everyone has been waiting for – the sweet dessert menu. You can't go wrong with a classic: after mastering how to make arroz con leche, it's time to take this tasty treat to the next level! Inspired by traditional rice pudding, these options are made with irresistible additions. Combine the best of two worlds with this Tres Leches Rice Pudding recipe or mix in your favorite store-bought or homemade cajeta for this Cajeta Rice Pudding. You'll be wanting to dive right into these treats!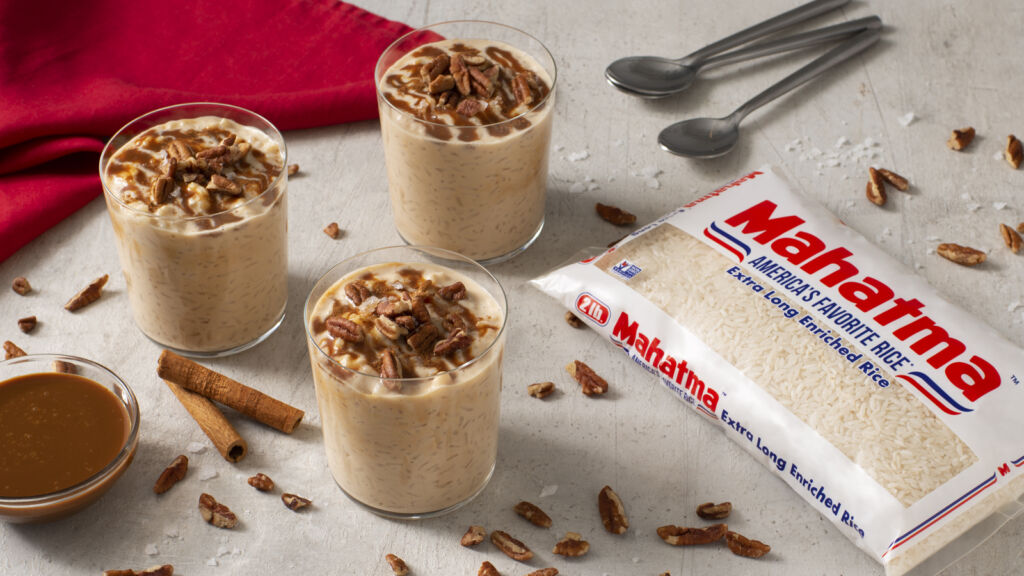 Fun Fiesta With the Kids ( and Grown Ups Too)
Looking for a way to spend more time with your little ones? Turn Cinco de Mayo into the perfect occasion to teach your kids some cooking skills and get extra help while you wrap the tortillas or mash the avocados.
Crafts will come in handy to make colorful decorations out of papel picado (paper fringes), recycled cardboard, and glue. Have fun with your family while sparking your kid's creativity and setting the mood for the fiesta with these easy DIY party projects at home:
Colorful mini piñatas with recycled cardboard boxes (tissue, cereal, tea…)
Paper guirnalda – let your kids draw the pattern and help them carve with a knife.
Paper fringe drink stirrers, toothpicks, and napkin rings.
Whether you're enjoying a small gathering at home for the holiday or you're gathering as many of your favorite people as possible for a virtual party, don't forget that you can make it a fun celebration with delicious meals and snacks made with ingredients you already have in your kitchen.