There are plenty of delicious and satisfying dishes that are completely meat free and keep you feeling full! It's all about choosing the right vegetable and hearty ingredient combinations, whether it is rice and beans or mixing flavorful veggies with protein packed components like tofu or quinoa. If you're looking to add more veggies into your diet, cut down on meat intake, need recipes for meatless weekday meals or simply want to try new and tasty dishes, we've got just the variety you're looking for!
Meat Free and Hearty Meals
We've broken down our favorites into different categories to make it easier for you to navigate all of the different options available whether you enjoy rice bowls, rice and bean dishes, stuffed vegetables, and more!
Tips for Tastier Rice Bowls
Rice bowls can be as simple or tasty as you wish! But, if you want to elevate your bowl from layering plain rice with steamed veggies, we've got the tips you need to add flavor and protein with recipe examples to make your next meal the heartiest yet.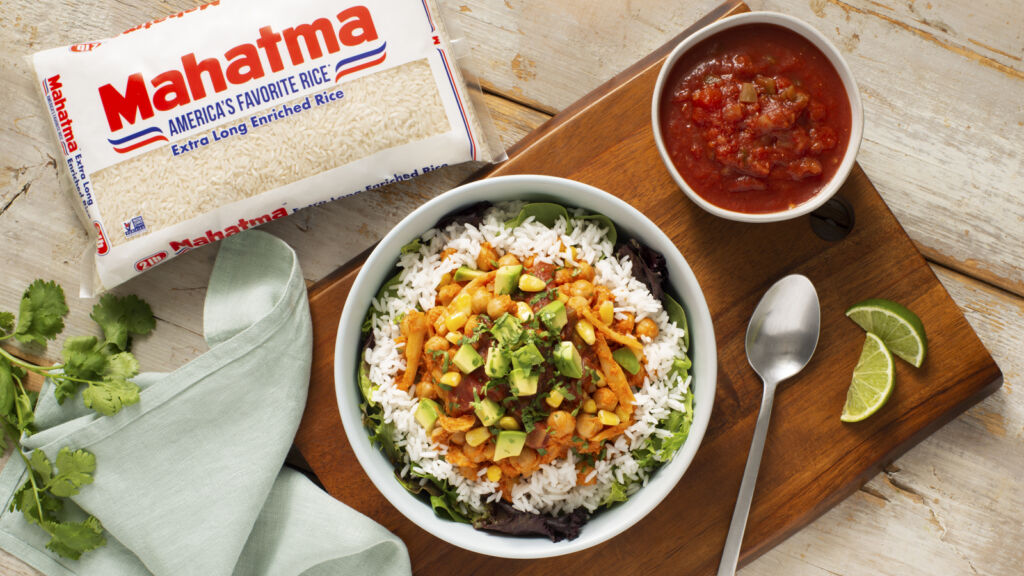 1. Use a Delicious Sauce
To enhance flavors, top your rice bowl with a store-bought or homemade sauce like in this Mexican-inspired Vegan Tinga Rice Bowl made with hearts of palm and chickpeas coated in a tasty sauce blend of tomato sauce, spicy chipotle peppers in adobo and onion. But, the deliciousness doesn't stop there, the combination is served over fluffy White Rice from Mahatma® Rice and topped with salad greens of choice, corn, sliced avocados, salsa, and cilantro!
Perfect for lunch or dinner, you definitely won't be going hungry after enjoying this rice bowl. For another classic with a wonderful sofrito base sauce, try an Easy Mexican Rice.
2. Marinate your Tofu
Tofu is more than just a meat substitute, it's made from soy milk and low in calories while high in protein along with a long list of benefits. If you're like most who might be curious to try it out but not sure how to do that, this Asian-inspired Tofu Fried Rice Bowl is the perfect starting place.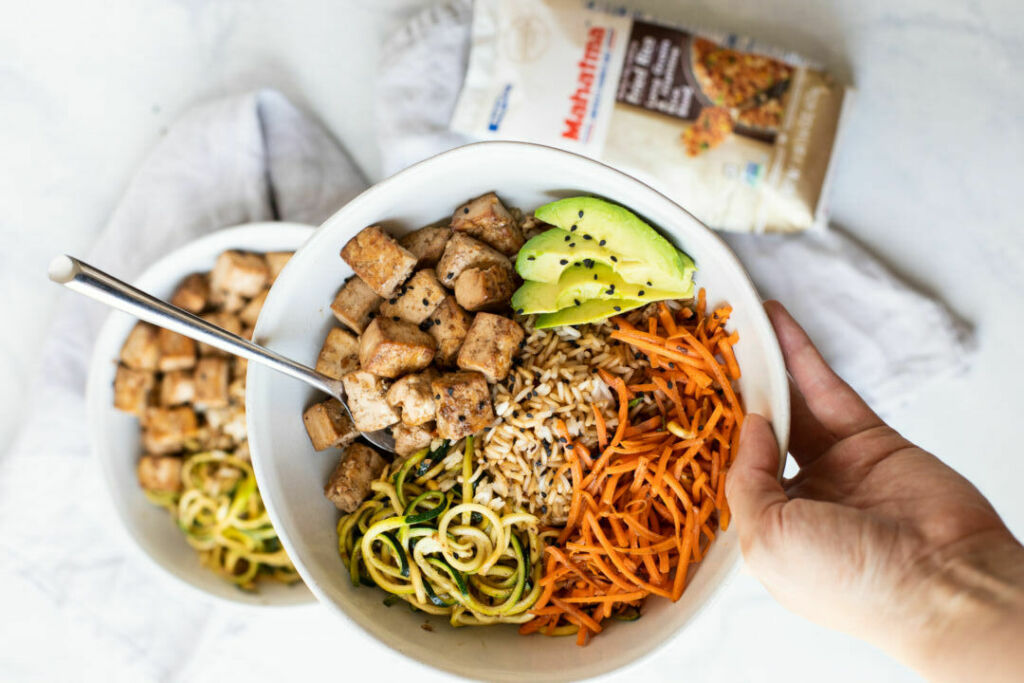 Using a blend of soy sauce, agave, and ginger, this recipe shows you step by step how to marinate and cook with tofu to be served with sliced zucchini, carrots, and creamy avocado all over savory fried rice.
Extra Tip: For best results, use the blend of Long Grain White & Jasmine Rice from Mahatma® Rice as it's crafted specifically for fried rice dishes.
3. Grill Your Ingredients
Fire up the grill and give your vegetables that savory, crisp and tender taste topped in a simple balsamic vinaigrette in this Grilled Summer Vegetable Rice Salad. Make your dish more than a side by using a wide variety of vegetables, topping with sauce and serving over hearty and fragrant Basmati Rice.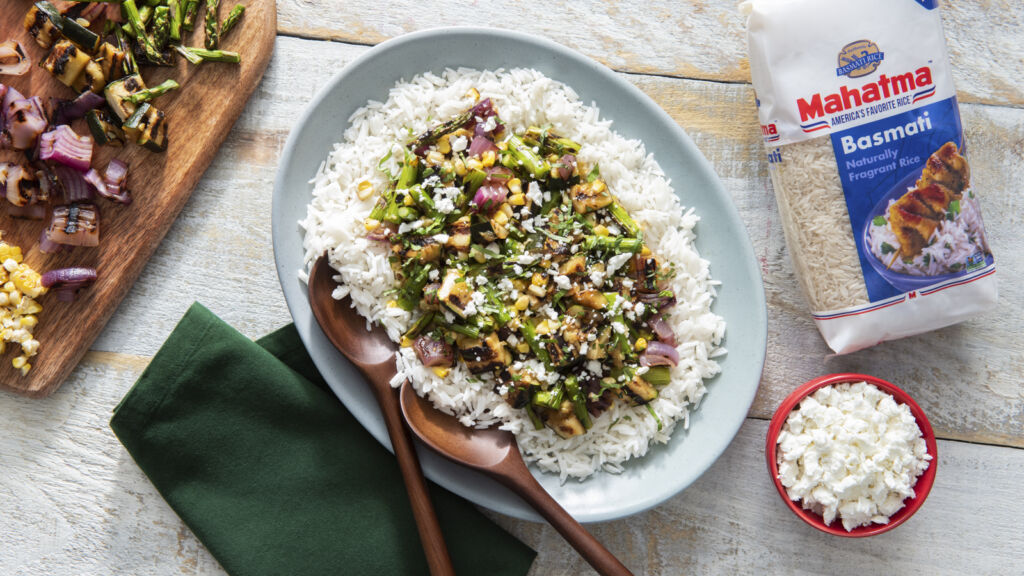 You can also give your roasted veggies a Latin American twist with this Grilled Veggie Burrito Rice bowl made with hatch green chile seasoned rice, grilled vegetables topped with guacamole, pico de gallo and other favorites like cheese or jalapeños!
Extra Tip: Not summer grilling season? No problem, use your oven and swap in your favorite vegetables any time of year like portobello mushrooms, broccoli or swiss chard.
Rice and Beans
This world-famous dynamic duo, when brought together, creates a complete protein that fills you up and the best part is they can be recreated in a wide variety of rice and beans dishes. We've taken inspiration from Southwest cuisine for their expertise using these tasty and veggie-friendly ingredients!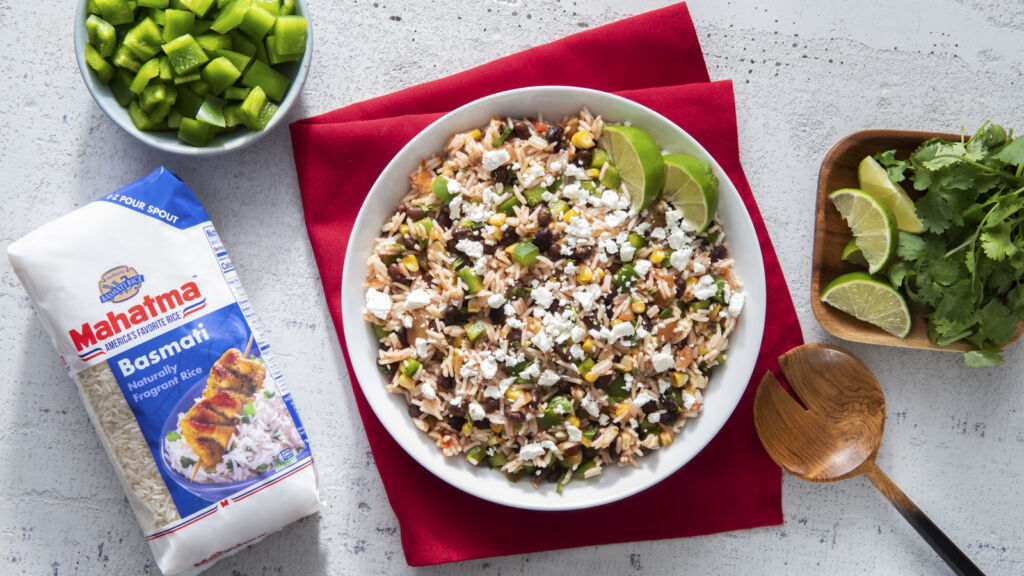 This Spicy Southwest Rice Salad is more than a simple bowl of vegetables. It's loaded with a tasty combination of fragrant basmati rice and hearty black beans along with corn, bell pepper, and cilantro dressed in a spicy salsa and crumbled feta.
The next recipe is a Tex-Mex favorite in southwest cuisine, known for their flavorful use of rice and beans.These Burritos are filled with whole grain brown rice and black beans sautéed in onion, garlic, chili powder and cumin topped with cheese, sour cream and salsa or guacamole if you choose! You won't want to wait for Meatless Monday to make these again and again.
Stuffed Vegetables
Who said vegetables had to be eaten on a plate or in a bowl?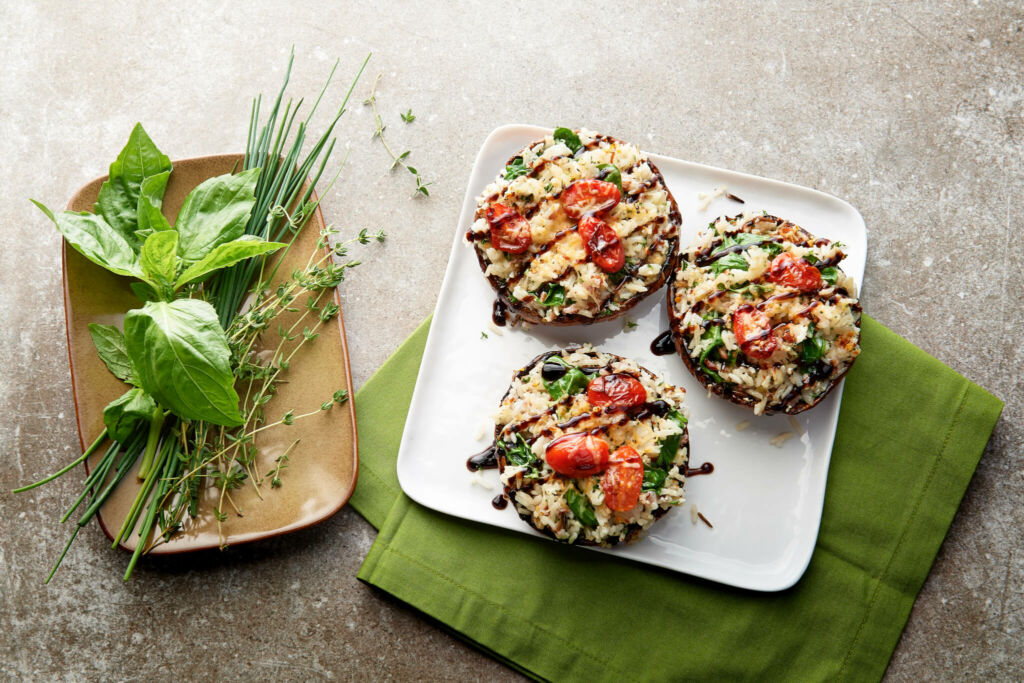 Make your vegetables the star of the show and fill them with all kinds of delicious ingredients. Everyone loves classic stuffed peppers but what about switching things up with these Stuffed Portobello Mushrooms filled with a Premium Blend of Jasmine Rice, Red and Wild Rice from Mahatma® Rice, goat cheese, shallots, spinach, tomatoes and fresh herbs all drizzled with a balsamic glaze that make them more than a simple appetizer or side dish!
Love your meals with a spicy kick? Then these Cheesy Rice Stuffed Jalapeños are just for you – try them with white rice or instant pot jasmine rice.
International Cuisine
If you're looking for something more adventurous to step outside of your comfort zone, take your taste buds on a trip to Italy with a comfort risotto, Spain to enjoy an authentic paella or Japan to try your hand at homemade sushi.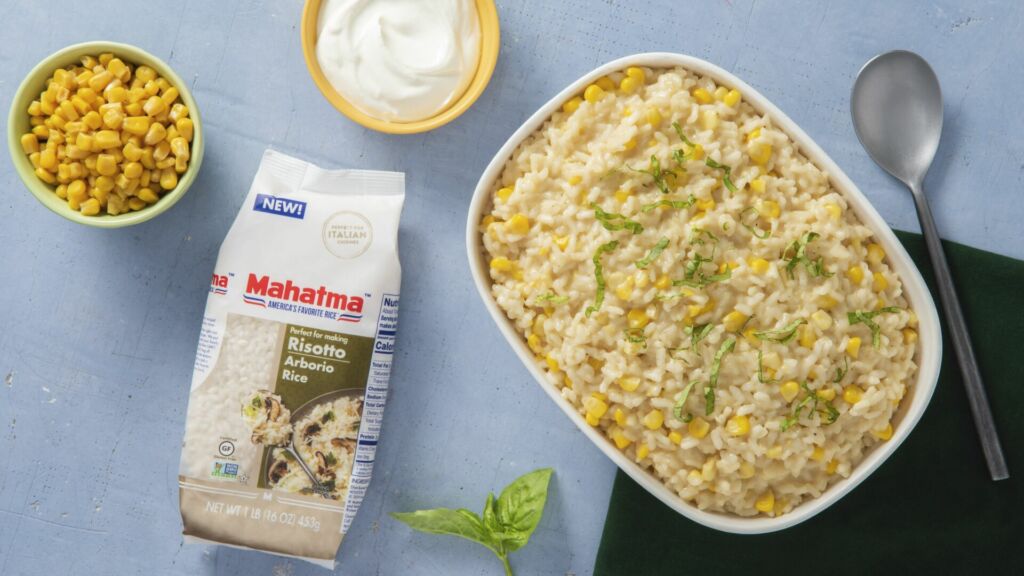 Risotto
Risotto is a classic Italian comfort food that is typically not made with meat but enjoyed by all. This Creamy Sweet Corn Risotto recipe calls for specially crafted Arborio Rice cooked in dry white wine with fresh sweet corn all simmered in broth topped with freshly grated Parmesan. Make your own restaurant-style favorite at home!
Sushi
Commonly associated with raw fish, there are plenty of sushi dishes that don't contain meat like this Vegetarian Sushi Rice rolled in nori sheets with fresh cucumber, carrots and peppers with soy sauce and wasabi for dipping. Curious, but never made sushi? Check out our Beginner's Guide to Making Homemade Sushi for tips and tricks!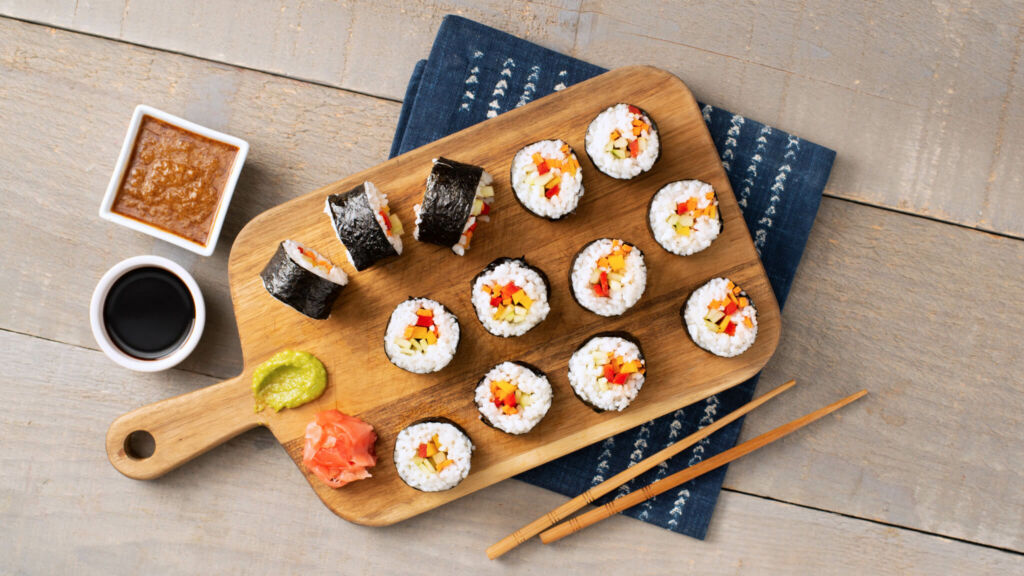 Paella
Swap out the seafood for vegetables in your Spanish-inspired Vegetarian Paella too. Start with Parboiled Medium Grain Rice from Mahatma® Rice, perfectly crafted for absorbing the delicious flavors. Then, make sure to have your hearty vegetables ready like mushrooms, artichoke hearts and sun dried tomatoes along with chickpeas all simmered to perfection in smoky paprika and warm broth.
See, vegetarian dishes don't have to be synonymous with lacking or simply a side dish, in fact, it's just the opposite. This selection of meals proves that with more plant-based foods like rice, quinoa, beans or tofu combined with vegetables and fruits you're not only putting more nutrients into every meal but making something delicious that will keep you feel full and satisfied. The key is finding the right ingredient balance. Try these hearty vegetarian recipes at home and see which fits your needs and preference best!
If you've ever wandered how to make coconut rice or a recipe for arroz con leche, then check out our website!