When you need a side dish or a quick and filling addition to your meal, you most likely reach for that rice in your pantry. Always dependable, the neutral flavor and familiar texture go with any and every dish from breakfast to dessert. Change is hard, but sometimes you just need a little something extra to pack a punch in your everyday meals. Try some of these ways to take your dishes to the next level. Your taste buds — and dinner guests — will thank you! You can always go back to basics when you're craving something classic, but this list shows that giving your rice that extra touch doesn't have to be a chore.
Note: To switch things up even more, try using another variety of Traditional White Rice like basmati or jasmine. For a nuttier taste, Basmati Rice is a great option for heartier dishes, while a more aromatic variety is Mahatma® Thai Jasmine Rice or our Jasmine Brown Rice. This rice goes well with sweeter flavors, like coconut; at the same time, the floral notes complement spicier dishes.
No matter which option you select, these simple tricks will help you make the most of your rice.
Simple Additions
Completing your meal may be more simple than you may think by simply enhancing your cooking water or stirring in some of your favorite ingredients.
Alternative Cooking Liquid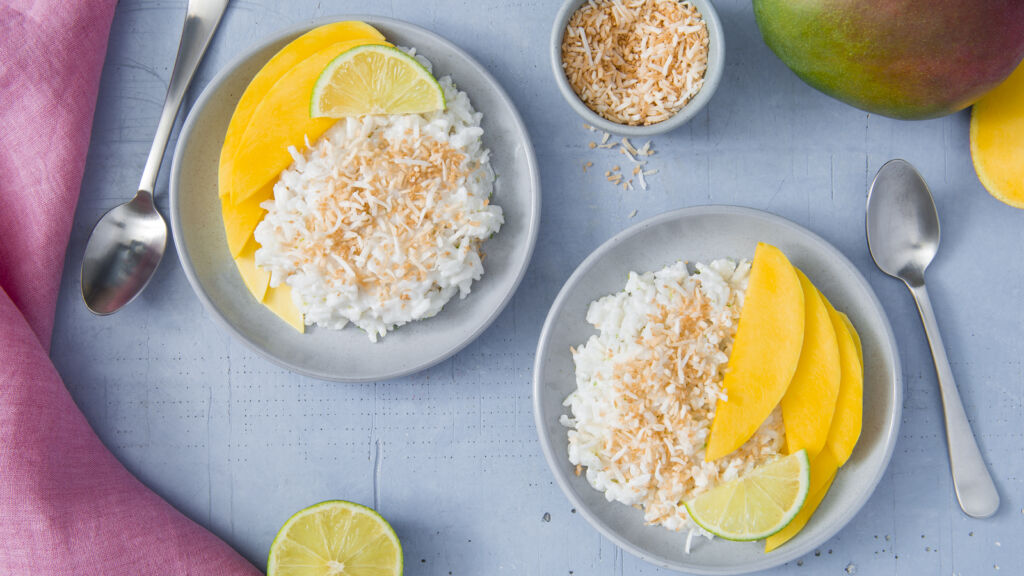 Infuse rice during the cooking process to ensure maximum flavor in every bite. While the directions say water, don't let that stop you from experimenting with these fun, aromatic alternatives.
Broth: This maintains the texture of your dish but delivers an extra burst of flavor. You can't go wrong with chicken broth as it complements so many different flavors. Vegetable broth has the most subtle flavor, giving just a hint of sweetness, whereas beef makes a heartier dish. No broth? No problem. Toss in a bouillon cube into the water for the same effect.
Coconut milk: Make rice extra velvety with coconut milk while also complementing many other flavors. For a sweet treat, check out rice options like this Easy Coconut Rice dish. Want to skip the meal and go straight to dessert? This Sticky Rice with Mango combines both sweet and salty with a splash of citrus to create a refreshing dessert that is perfect for a hot day — or in the dead of winter you miss those zesty summer flavors. While many think of coconut being sweet, don't forget that it pairs well with spicy and nutty flavors!
Season the Water: Get the most out of your ingredients by tossing them into the rice cooking water like celery or carrots. Other ingredients may require a quick sautéing, such as thinly sliced garlic, before adding rice and then liquid of choice. Others, particularly delicate herbs, are best added just before serving. Reminiscent of rice found in many Mexican restaurants, this Cilantro Lime Rice will soon become a homemade favorite!
Delicious Stir ins
Didn't completely plan out your dish before starting the rice? Want to take advantage of that leftover rice you have in the fridge? No problem! Pile these ingredients directly on your rice during plating.
Whether you are looking for ways to add a little green into your diet or just looking to add a little zest to your routine, look no further than adding fresh herbs or shredded veggies. Once you start experimenting, it's hard to stop! If you are short on time, there is no need to sacrifice flavor: reduce prep time by using a spiral slicer or frozen veggies.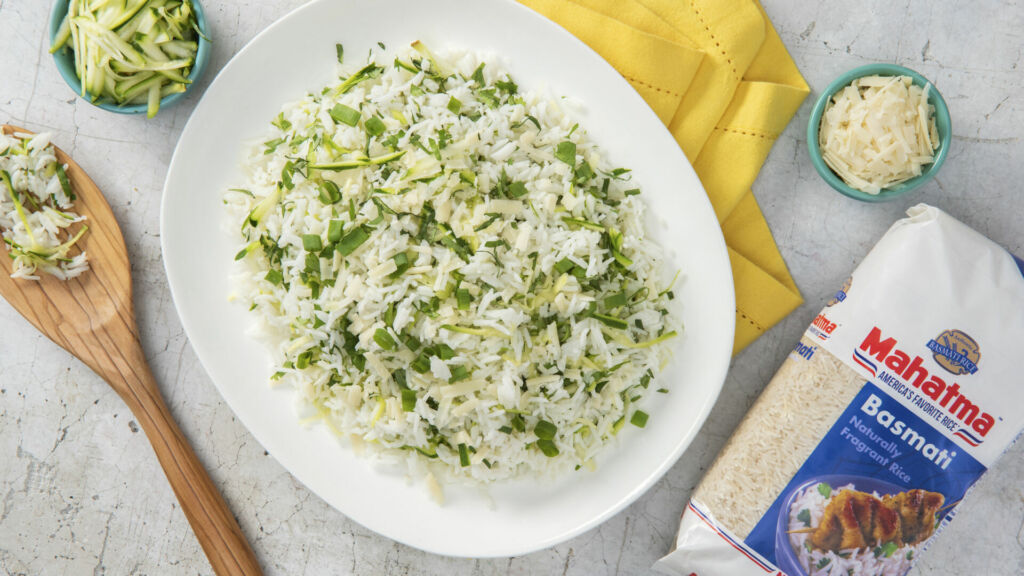 This Zucchini Rice is a mellow yet energizing dish that works well as a light meal or a citrusy side. If you are looking for more than just a hint of produce, this BLT Unwich Dip is a fun twist of the classic trio. It's an appetizer that will be talked about long after the party ends.
Add some texture and a splash of color by adding avocado. Simply fold a creamy guacamole like mixture into your rice to get a silky texture that is oh so satisfying! This refreshing Lime Avocado Rice looks as great on a holiday dinner table as it would on a picnic table.
Saute Rice With Flavor
Perhaps you are looking for a side to enhance the flavors of your dish, or maybe you are looking for a balanced meal that is packed with complex flavors. Cook flavor right into the grains with minimal or no effort with ingredients you probably already have lying around the kitchen. There are countless variations you can incorporate into different steps of your rice routine.
Yellow Rice
Herb flavored olive oil is just as scrumptious as it sounds. You need only heat oil with herb leaves for a couple minutes. Whether you later use it to sauté your veggies or fold the grains right in, this will definitely add some complexity to your rice dish. Note the rich sage flavor in this Yellow Rice with Corn and Pumpkin, a balanced dish that boasts delectable autumn aromas.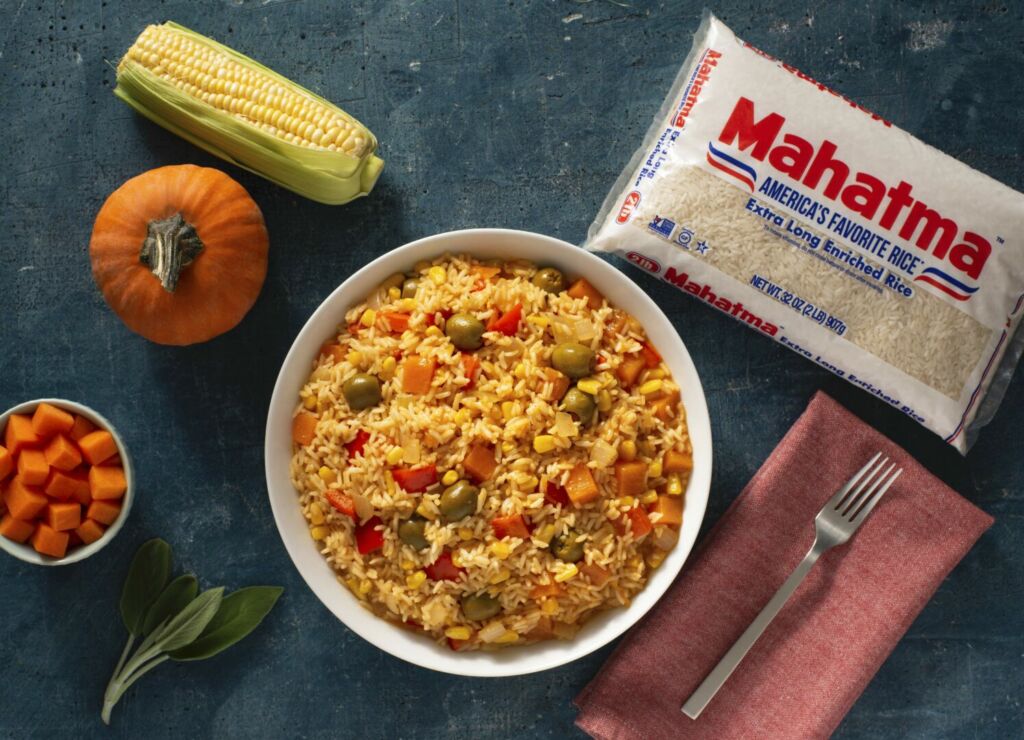 Cheesy Rice with a Kick
If you want to add some substance and flavor, look no further than cheese. Immediately after your rice has finished cooking, stir in half of your desired cheese and sprinkle the remaining half on top before putting the lid on for a few more minutes. Play around with different proportions of mixed in vs. sprinkled on top depending on preferred texture. For a more filling dish, cheese sauces will be a little thicker but will be more uniform.
With a variety of cheese and different methods of mixing it in, the possibilities are endless. Tried and true cheese options include sharp cheddar for bold flavor or parmesan for a lighter — and easier — version of risotto. Can't choose just one? This Tres Quesos Rice mixes a perfect trio of creamy cheeses.
If Monterey Jack isn't always on-hand in your fridge, it will be after trying this fresh take on macaroni and cheese. Whether prepared for a meal, side, or filling, this Chipotle Queso Rice has a bold, spicy bite that will not disappoint!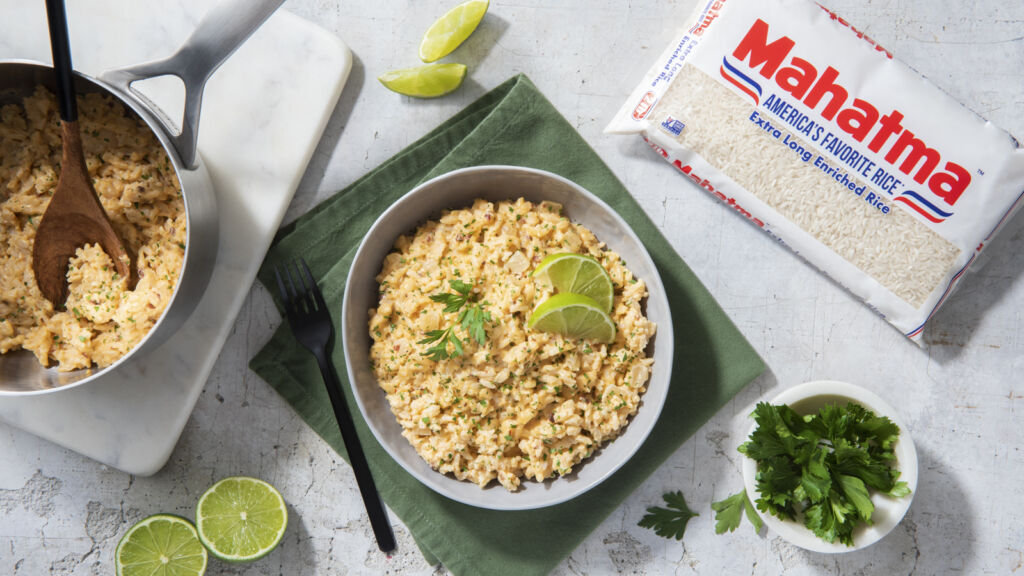 Toasted Rice
Cooked rice can be used as a casserole base, absorbing the flavors of the ingredients piled on top. For crispy rice, heat oil in a skillet before adding in rice, stirring frequently for several minutes. What's more, day-old cooked rice works even better — a perfect way to use leftovers.
Combine the advantages of baked and fried techniques by trying this Baked Feta Rice with Poached Eggs and Harissa recipe – the flavors are so complex, you won't believe it's so simple to prepare!
Vibrant and Colorful International Rice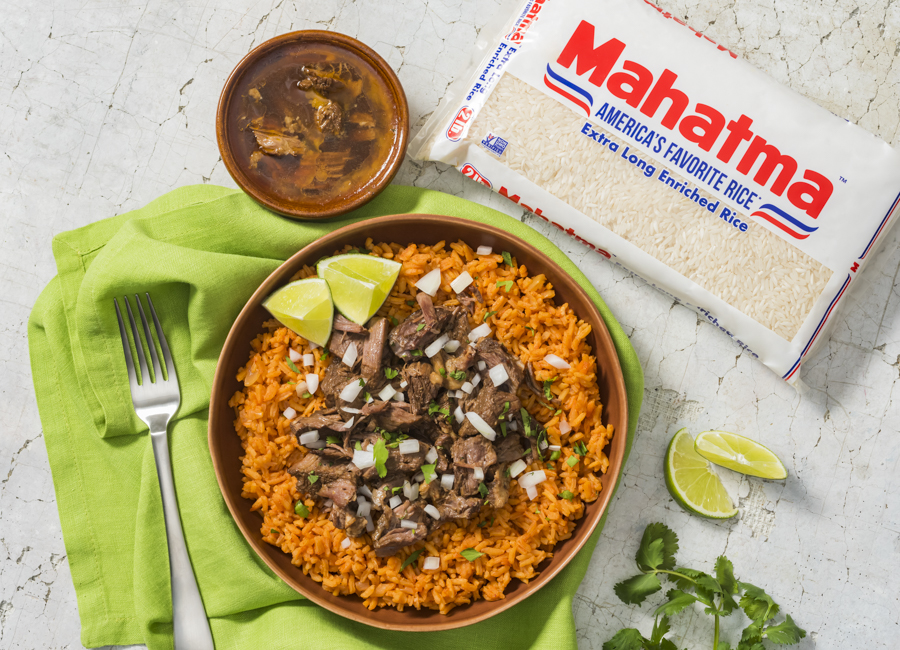 White rice doesn't have to be, well, white. Whether you want to be festive or just want to add a little excitement to your weekly routine, adding a touch of color to your table.
Tomatoes give rice a nice red hue as can be seen in this Birria with Tomato Rice.
Vibrant green always looks so refreshing! Spinach and peppers give this Green Poblano Rice its color. The sauce coats the rice after, but with such strong flavor, you'd never know it wasn't infused!
Yellow rice pairs perfectly with the summer flavors. Requiring a medley of veggies and spices, this Calypso Rice Caribbean-Style delivers a complex color that matches the complexity of its flavor. Don't be intimidated by the longer list, these ingredients are probably already in your fridge and pantry.
Remember rice is anything but boring: it's adaptable. Whether you want to add a little extra zip to your favorite dish, or a creative way to use leftovers, adding more flavor to your Mahatma® Rice requires such minimal effort — you won't regret trying out these suggestions! Try this delicious tacos dorados recipe and see for yourself!