Summer season is a favorite for many, and for good reason. What's not to love about the warm summer sun, longer days, fun outdoor BBQs, summer vacation, and one of our favorites — street fairs! It's hard to beat the sights, sounds, smells, and most importantly, the tastes of a summertime street fair. Live music, fun games, people enjoying themselves, and delicious food all around you. But, who says you have to wait until summer every year to enjoy your favorite street fair foods? Not us!
You can make your own street fair at home this year by recreating those crave-worthy flavors you love like a plate of Elote Corn and Rice or maybe some fresh Crepes filled with fruit and maybe some gooey chocolate! What are you waiting for?
Homemade Fairgrounds
Even if the rides and games of a large street fair or small county fair aren't your cup tea, there's a good chance you wouldn't pass up on the delicious fair food! So, if you can't make it to your own fair this year, why not bring all of the fair food to you?
Take the opportunity to create new traditions with friends and family right at home. Set up your own fair in the backyard, driveway, garage, or living room, and get the younger ones at home involved in the fun of creating food stands for your different street fair foods. Throw in a bit of competitive fun by holding a food competition and let a silent vote decide who's dish is best!
Whether it's a summer holiday or you and your family and friends are just taking advantage of the awesome summer weather, let's get started on our street fair food route with some of our favorites we think you'll want to dig into.
Savory Food Stands
Tacos
The fun of fair food is that a lot of it requires no utensils, so it's easy to take with you to walk and eat at the same time. The first stop for us on this tasty journey is a Southwest-inspired stand complete with some simple, but savory taco ideas.
These Grilled Chicken Tacos are made with seasoned chicken and a tasty pico de gallo mixed with Mahatma® Brown Rice. Just one bite and you'll be ready to order a few more.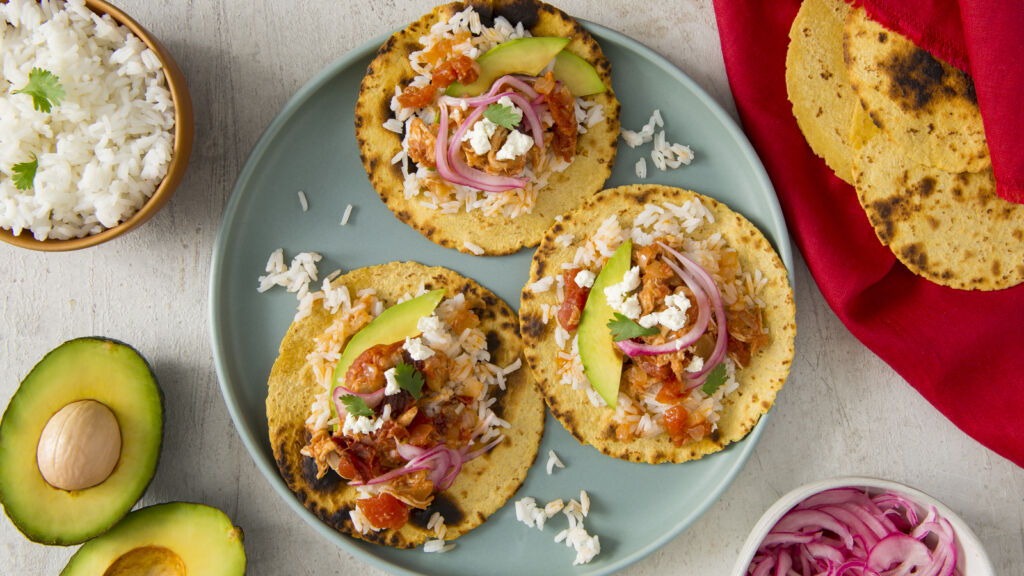 If you need a bit more heat, make sure to leave room for one of these Chicken Tinga tacos. Filled with a blend of hearty white rice and shredded chicken in a savory tomato, adobo, and onion sauce, all topped with pickled onions, fresh avocado, and crumbled garlic. You might just have a hard time moving onto the next stand after all of this zesty and spicy flavor. Another perfect option are these Taquitos Dorados.
Street Corn
Now, what is a visit to the Southwest-inspired stands without a stop for some street corn? There's nothing better to follow those tasty tacos up with than some flavor-packed Mexican Style Street Corn!
A plated version of classic Elotes, this tasty twist features char grilled corn kernels seasoned with authentic spices like paprika, cumin, and garlic atop fluffy white rice and crumbled cheese and jalapenos for a spicy kick.
Mediterranean Shish Kebabs
Are you ready to get to the fun of fair food on a stick? If so, take a bite of these delicious Chicken Kebabs marinated in Mediterranean garlic and lemon flavors and served over seasoned green rice. You won't believe the incredible flavors from this simple recipe.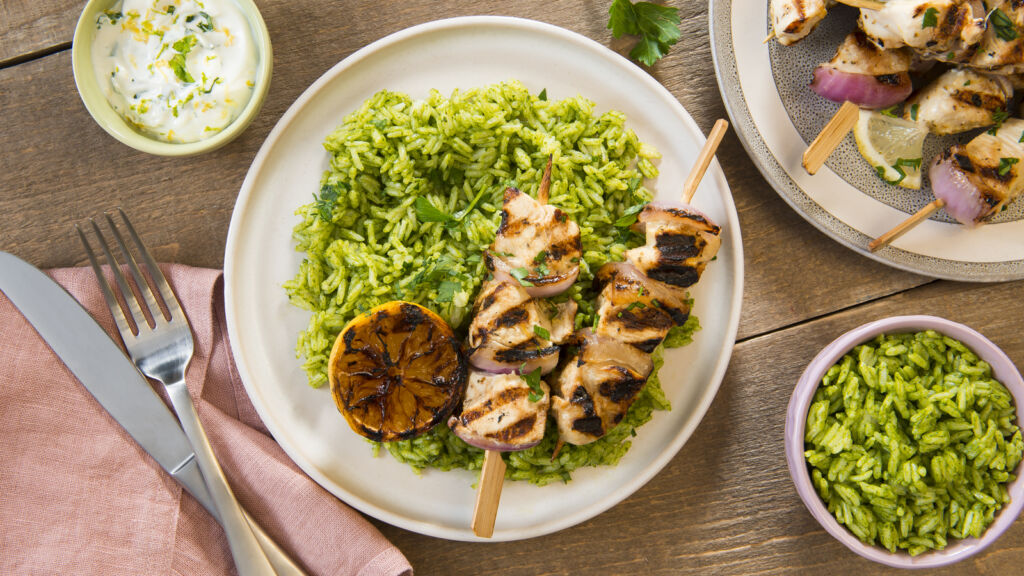 For a vegetarian kebab option, simply swap the chicken for your favorite vegetables like peppers, onions, mushrooms, or eggplant.
Fried Fusions
If you're familiar with fair food, you're no stranger to seeing all kinds of fried items. While it might seem a bit extreme sometimes, we've got a few fried foods that we think you'll like to try at home!
Arancini
First on our list are Reuben-flavored Risotto balls. Italian and Israeli-inspired, these tasty rice balls are filled with corned beef, swiss cheese, and sauerkraut. The best part? While they have that yummy fried flavor we all know and love, they're actually made in the oven so no need to worry about having a deep fryer or enough oil at home!
Crab Cakes
What's a list of favorite fried fair foods without some Deep Fried Crab Cakes? This delicacy is straight from the East Coast and is inspired by the original Maryland Crab Cakes. Made with Mahatma® Basmati Rice, lump crabmeat, and creole seasoning, these tasty morsels will be a serious contender to win the food competition.
Of course, you'll need to try the signature curry mango dipping sauce for the full flavor experience. Don't miss out the delicious flavor in every bite.
Sweet Section
Of course, what would a fair food selection be without a few dessert options? Make sure to check out our favorites to see which you'll be making.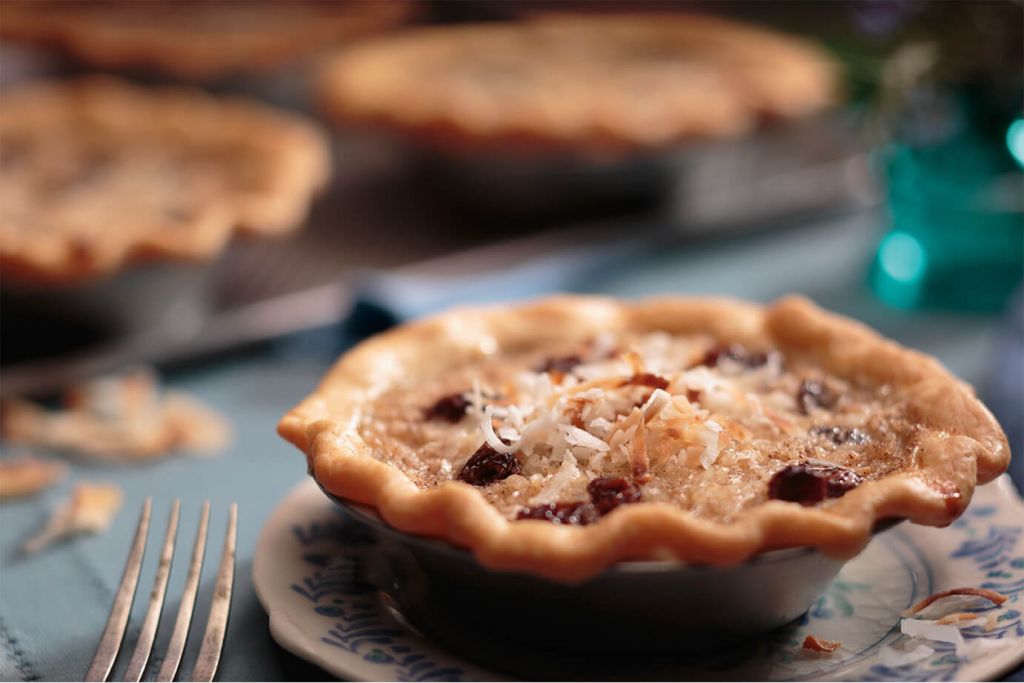 Blue Ribbon (Mini) Apple Pie
What's a true fair without a homemade pie contest? Step right up and try your hand at these fun and delicious Mini Apple Pies. Filled with a rice pudding-like center and baked to flaky perfection, these tasty little pies are perfect for the whole family to personalize their own. Save some pie crust for some decorative lattice work or use some fun toppings and let the competition begin!
Tip: Get patriotic at your homemade fair for the Fourth of July or Labor Day and add some red, white, and blue to your mini pies by serving with a scoop of vanilla ice cream topped some blue and red sprinkles, or top your pies with a dollop of whipped cream and a few blueberries and strawberries.
Crepes
Now, just because we're enjoying street fair sweets doesn't mean we can't include some tropical flavors. These Tropical Crepes are a perfect street fair dessert because they can be eaten any which way; with a fork and knife, or wrapped up like a burrito so you can walk and eat. These soft and golden brown crepes are filled with tropical fruits like kiwi, mango, and pineapple, but they can be filled with whatever ingredients you like!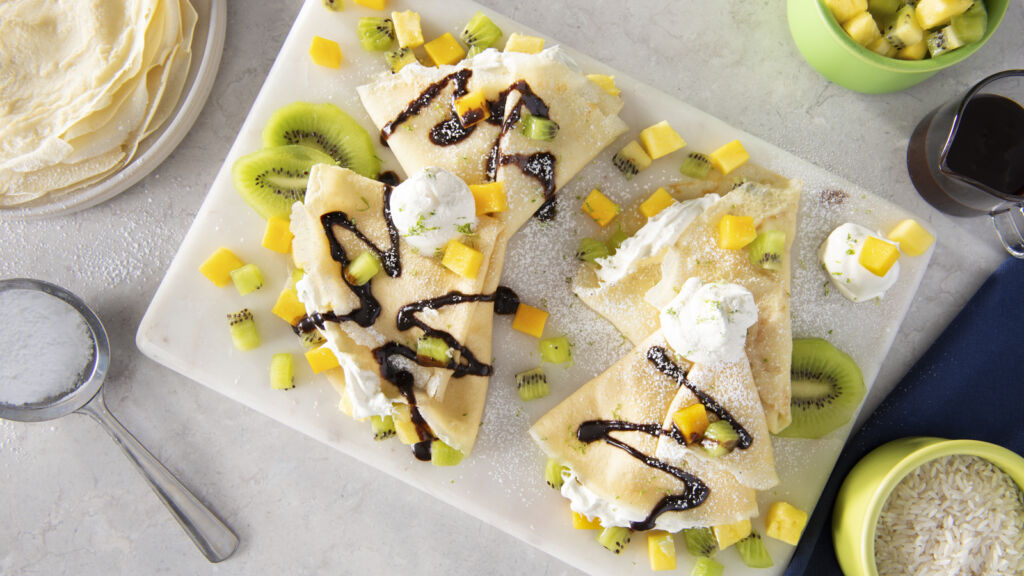 Get creative and fill them with anything from chocolate and peanut butter to Nutella or cookie bits, the options are truly endless.
Love crepes but need a Gluten Free version? Try this recipe using simple, homemade rice flour. Check out our guide for all you need to know!
Sticky Rice
If you found yourself enjoying the tropical flavors of those tasty crepes, you will want to include this Thai-inspired Mango Sticky Rice topped with mango at your fair. Made with Mahatma® Jasmine Rice that's simmered to tasty perfection in coconut milk and topped with fresh slices of mango, honey drizzle, and crunchy toasted coconut, it's no surprise this sweet treat is a common street food in Southeast Asia. Achieve the best results by using long grain jasmine or white rice.
Find everything you need for all of your favorite dishes in the Mahatma® Rice cooking section including how many cups of water per cup of rice is necessary for jasmine rice, white rice and every other product.