When August rolls around, that means it's time to begin preparing for school to start again! While you're stocking up on all of the necessary school supplies, it's easy to forget about what you'll bring for lunches. Don't get caught off guard at the last minute, so start jotting down some ideas now in order to make sure you and your kids don't get bored with the same repetitive foods or you find you don't have anything the night before!
Something for Everyone
If you like the idea of packing lunches, but you work from home or you're homeschooling your children, these lunch ideas will work for you too! Wherever you spend lunchtime, we've put together a few helpful tips to stay organized and enjoy your meal:
Tips For Lunches
Make a plan
Create a calendar of lunches throughout the week so you can keep yourself and your kids organized.
Pack your lunches ahead of time
Packing lunches ahead of time will also make grocery shopping easier and save time as you don't have to make lunches during the day. They will already be packed and ready in the fridge.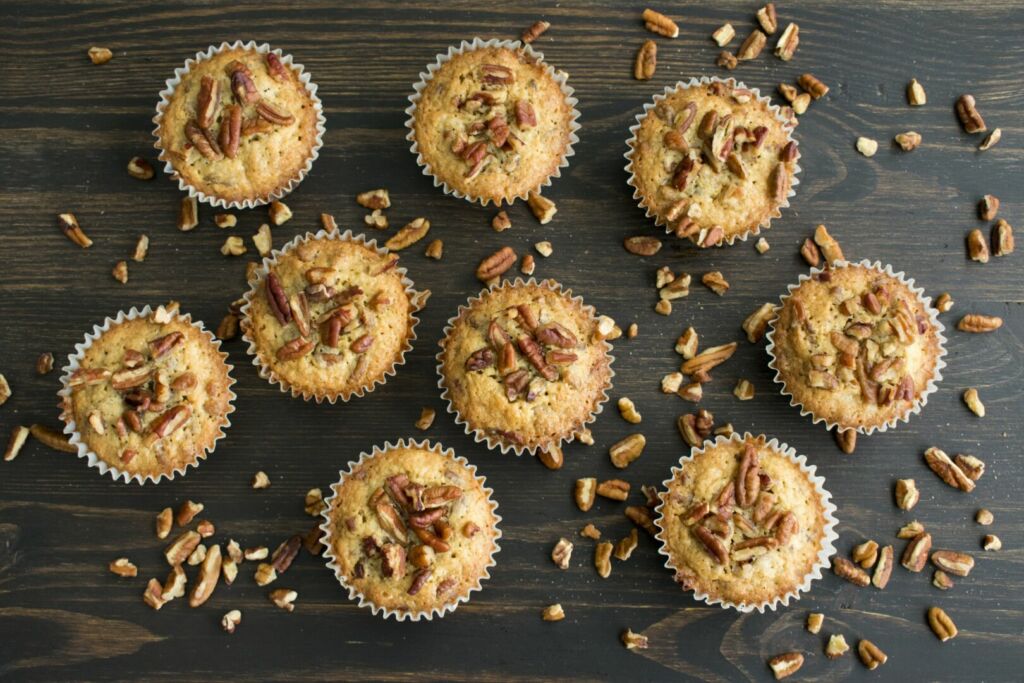 Have your kids help or make their own lunch
Having kids help or learn how to make their own lunch is a great way to teach organization skills and they just might try something new as they are in charge of what gets put into their packed lunch box ahead of time.
If you need help guiding your children to make better food choices, try starting out with separated containers that they need to fill with different food groups such as vegetables, grains like rice, fruits, healthy fats and proteins.
Start simple
Start with uncomplicated ideas like reusing leftovers from last night's dinner to make a wrap or top your leftover rice with something new.
So, whether you're looking for a few ideas to pack your children's lunchbox, your own for work or you need to prepare a few meals in advance if you're homeschooling or working from home, we've got you covered.
Kid Friendly Favorites
On-the-go Breakfast or Snack
Savory Rice Muffins
Mornings can be a bit hectic, so it is a great idea to have breakfast ready to go and take with you or be prepared for a snack later on in the day like these Savory Rice Muffins made with pantry staples and fluffy Mahatma® White Rice and toasted pecans baked to perfection in under 30 minutes.
Dark Chocolate Energy Bites
If you need a bit of a chocolate energy pick me up or think this would be a great treat to send with your kids for a snack or after lunch dessert. These Hazelnut Dark Chocolate Energy Bites are made with Mahatma® Premium Rice Blend of Jasmine Rice and protein packed Quinoa, sweet dates, coconut oil and hazelnut butter. Adjust the ingredients for any allergies or preference.
Lunchbox Ideas
Coconut Rice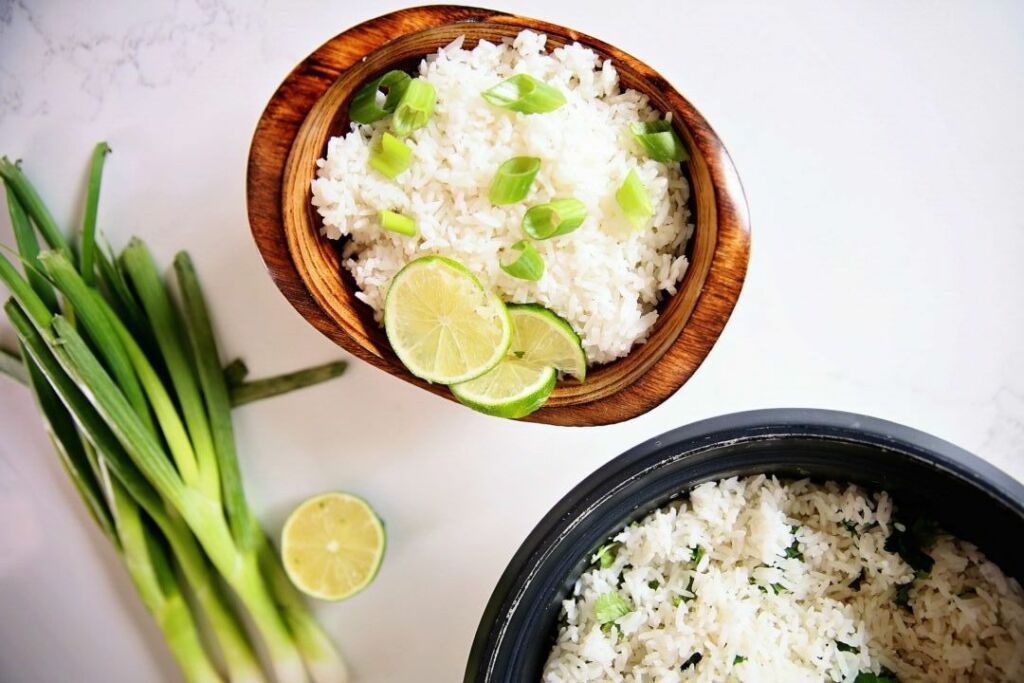 If you're wondering what to pack, or have your children help pack for lunches, start out with something simple like this 4-ingredient Easy Coconut Rice made in a rice cooker and top with sliced vegetables and cooked chicken, tuna or beans. Pair with fruits such as grapes, apples, berries, melon or whatever they enjoy eating.
Breakfast Burritos
You can also pack a fun breakfast-for-lunch idea with these Breakfast Burritos made with lunch meat, cheese, salsa and hearty white rice all wrapped up in a flour tortilla. If you think it might be messy with the salsa, pack it separately in a small container and toss a few tortilla chips on the side to use as a dip.
Fruit and Rice Puree
For a sweet treat, your kids will love this homemade applesauce-like Fruit and Rice Puree using hearty White or Whole Grain Brown Rice blended with cooked fruits like apples, berries or bananas to add great flavor. The best part is that this puree can be portioned out into small airtight containers and frozen until ready to eat (for up to 1 month).
Rice Mac and Cheese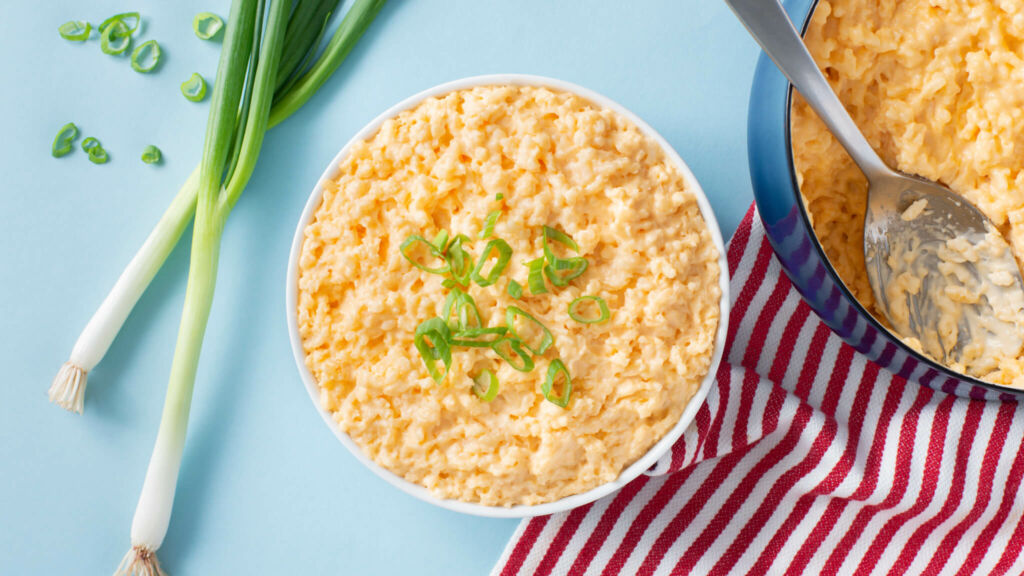 If you're enjoying lunch at home, make an all time classic – Rice Mac and Cheese. With melty Cheddar and cream cheese mixed with Mahatma® Naturally Flavored Garlic & Olive Oil Jasmine Rice. Add a side of steamed or crunchy vegetables or mix in cooked chicken, hot dogs or another favorite protein.
Adult Lunches
If you know your children might be a little pickier eating, but you enjoy adding in spices and different flavors, these lunches are for you!
Flavorful Packed Lunches
These flavorful lunches are best served warmed straight from the microwave at home or the office!
Beef and Curry Rice Burger Bowls
These Beef and Curry Rice Burger Bowls are made with aromatic Thai Jasmine Rice simmered in coconut milk and savory curry combined with vegetables and chickpeas all topped with homemade beef burger patties and fresh kale. This recipe makes about 6 servings for you to portion out best for your lunches.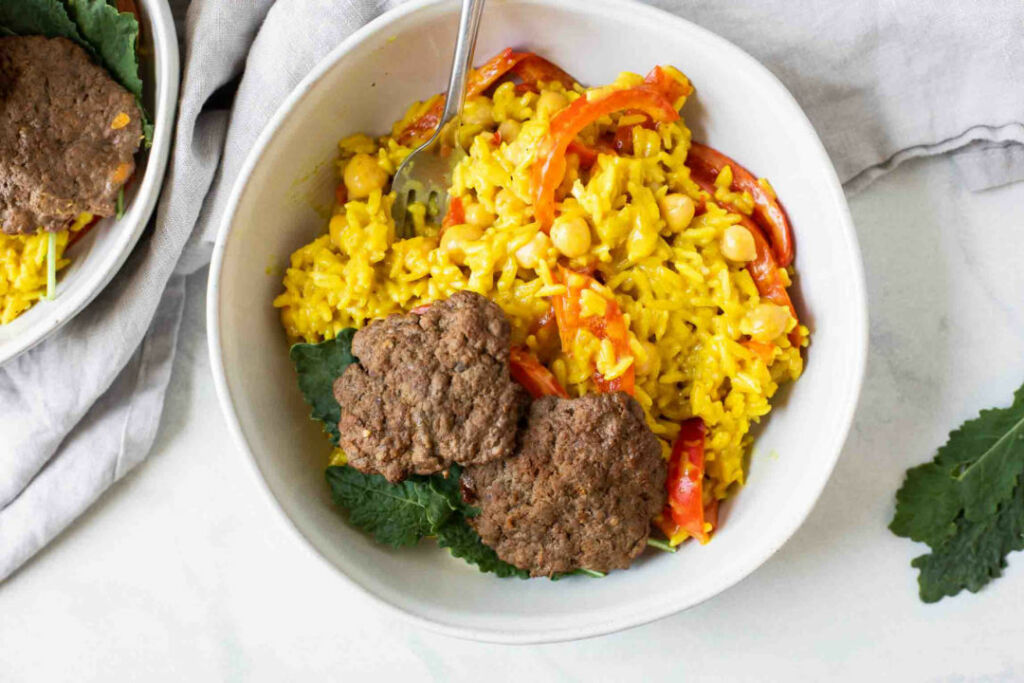 Steak Fajita Rice Bowl with Chimichurri
For another flavor-packed rice bowl, you're going to want to try this Fajita Bowl topped with Mahatma® Cilantro Limón Jasmine Rice, grilled steak and a homemade chimichurri sauce! Using the Ready to Heat Pouches, you can take them with you and reheat in the microwave wherever you enjoy your meal.
Minted Rice with 5-Spice Chicken
This Chicken and Rice Dish is made with chicken breasts marinated and seasoned to perfection with 5 spice powder and teriyaki sauce paired with White Rice simmered in broth with vegetables, mint leaves, and creamy mascarpone cheese.
No-Reheat Adult Lunches
These packed lunches can be eaten cold to beat the heat or if you just don't have a microwave to heat up your meal.
Burrito Rice Bowl
Avoid the line at your local Mexican lunch takeout restaurant and enjoy a Burrito Rice Bowl. Layered with cilantro lime rice, shredded lettuce and cheese, cherry tomatoes, creamy ranch, tender chicken and a dollop of guacamole! Adjust your bowl how you like it best.
Canned Tuna Rice Salad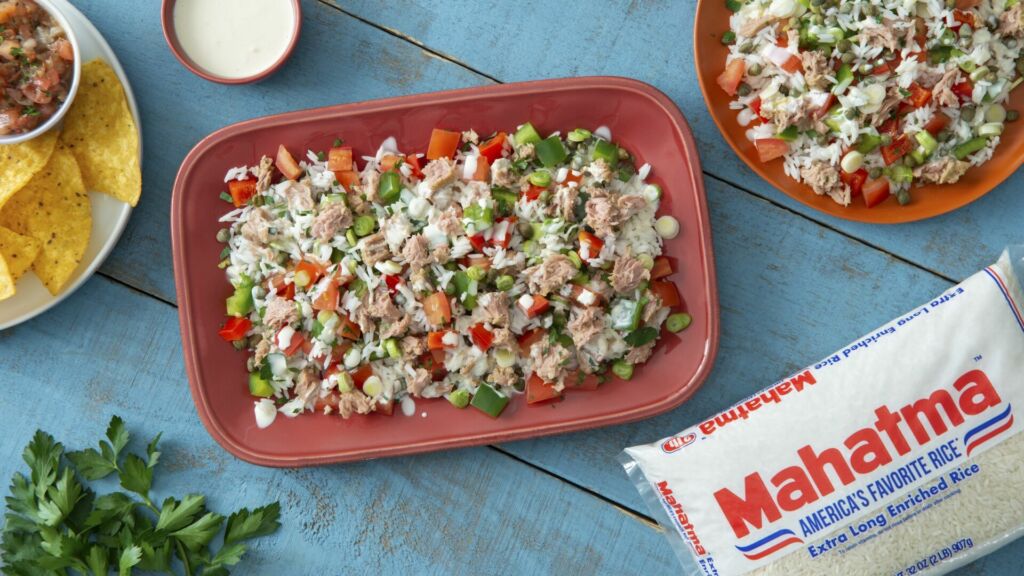 Put your pantry ingredients to good use and toss them into a Tuna and Rice Salad filled with chopped vegetables, hearty White Rice and canned tuna all tossed in a tasty homemade vinaigrette.
Mango Chicken Rice Salad
This Rice Salad is made using Whole Grain Brown Rice, red quinoa, cooked chicken and sweet mango all tossed in a ginger lime dressing over lettuce. Perfect for a refreshing salad that will keep you feeling full and satisfied.
Jasmine Rice and Spiralized Vegetable Salad
Looking for a Meatless Monday vegetarian lunch? This Power Bowl Rice Salad tossed in a rice wine vinegar and ginger vinaigrette is made with great flavors. And, if you don't have a spiralizer, it tastes great with store-bought spiralized veggies.
For more cooking tips, like the jasmine rice water ratio or how to cook rice in the microwave, and hearty lunch ideas, make sure to visit our recipe selection for both meat and vegetarian dishes.