It's that time of year, cold weather season strikes again and we've got the best remedy! Cozy on up to a warm bowl of soup, whether you're at the office or on the couch!
Don't let the weather get the best of you!
We've got 5 simple chicken soup recipes that will add a bit more sunshine and warmth into your life that are a world apart from the canned soup variety.
If you're looking for ways to get more veggies and vitamin C into your life, stockpile the ingredients and throw out the canned soup because we've got you covered with these 5 hearty comforting soups to keep you warm and cozy when the weather gets cold.
Homemade Chicken and Rice Soup
The first on our list is a classic. Just what the doctor ordered, this homemade chicken and rice soup is perfect when it's a bit cold outside, when you're feeling under the weather or when you just feel the need for a warm cup of soup.
Packed with hearty vegetables, chicken, broth and lemon for you to kick the cold to the curb. The recipe calls for white rice, but feel free to add in brown rice or a blend of wild rice. Just make sure to adjust the cooking time as the whole grains may require a bit longer over the heat.
If you want to make this soup a meal prep option, reserve the rice and lemon/lime juice to the side and soup in another container. When you're ready to serve or take with you, toss together.
Chicken Tomato Basil Rice Soup
In the mood for a bit of good old nostalgic comfort food? The ultimate combination has just gotten better. Your favorite classic silky tomato soup made with stewed tomatoes and freshly chopped basil is now heartier than ever with Mahatma® White Rice.
Bring a bowl of this soup to the couch and stay there for as long as you need when the weather is gloomy or you just need a relaxing meal to yourself. Skip the grilled cheese and throw some croutons and Cheddar on top to make less clean up later!
Southwest Chicken and Rice Soup
This easy to make soup goes out to all of you Tex-Mex fans out there. Similar to Chicken Tortilla Soup, this rice soup is made with a base of broth and Mexican-style stewed tomatoes with chicken, corn, and avocado. Although this soup calls for white rice, feel free to toss in naturally flavored Cilantro Limón Ready to Heat Rice, prepared in 90 seconds or less.
Helpful hint! If you're feeling a bit under the weather this flu season, add a hint of chili powder or fresh chili peppers to the mix to naturally help your body feel better and fight congestion.
Chicken Wild Rice Soup
This luscious chicken soup is on another level. A supreme soup for cold and snowy afternoons to lazy Sundays, recipes like these are perfect for staying indoors and cozying up. All around easy to make and certain to impress your tastebuds, our Creamy Chicken Wild Rice Soup is going to be your go-to soup.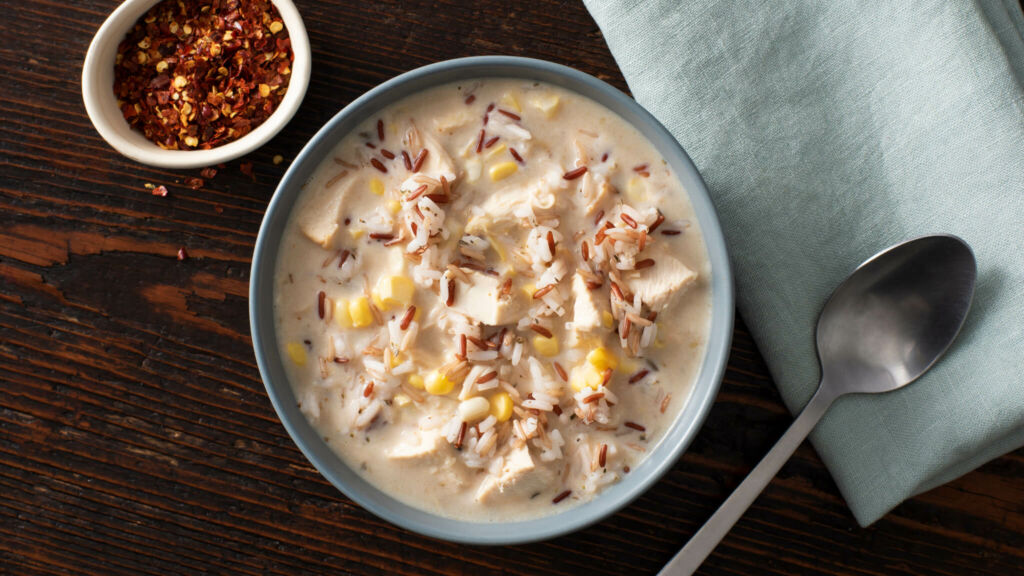 With a medley of long grain and wild rice, hearty chicken, corn and whole milk this soup has an incredible soothing texture and taste, perfect for warming up to.
Whole Grain Creamy Chicken and Rice Soup
Keeping along the creamy and smooth soup lines, of all the comfort food out there, our Creamy Chicken and Rice Soup certainly tops the charts. It's a homemade soup perfect for those in need of a little TLC. Furthermore, with extra veggies like broccoli and mushrooms, protein like chicken, and whole grain brown rice, you can think of it as a complete meal!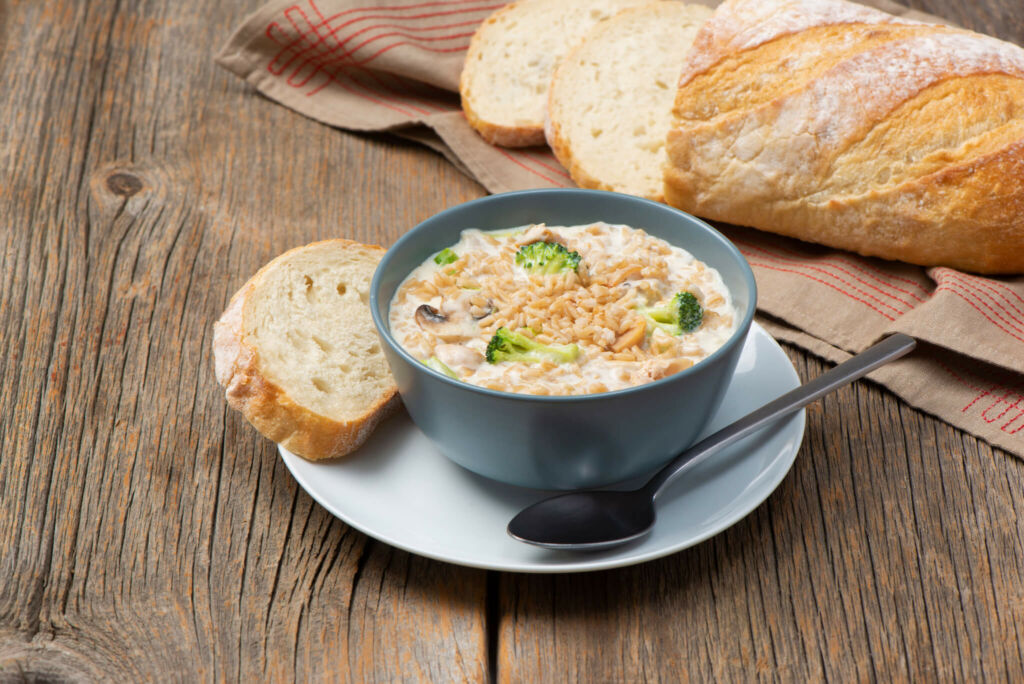 Serve these soups alongside a crusty slice of bread and voilá!
Find more recipe ideas and tips in our cooking section! Find answers to common questions like what is the difference basmati rice vs jasmine rice, how to make tacos with beans and rice and much more!