If you've ever wondered what makes certain recipes so much more delicious than others with deep and rich flavor, it could be the choice of ingredients, cooking skill or it may be the use of a sofrito. In fact, a good sofrito is the secret to making well-rounded dishes packed with harmonious flavor.
What is a Sofrito?
If you're unfamiliar with the term sofrito, it comes from the Spanish term sofreir, which means to lightly fry. It's made with aromatic vegetables that have been sautéed or lightly fried in oil or butter and may often contain seasonings or spices.
A sofrito is primarily used as a flavor base for many wonderful dishes in Spain and other Mediterranean countries, as well as throughout Latin America. And, in the same way that everyone has their own version of classic dishes, a sofrito can vary on a larger scale from country to country or even household to household. Using one sofrito recipe or another all depends on the flavor that you'd like to add to your meal.
How To Make a Sofrito
While there are many varieties when choosing ingredients, one thing rings true for the majority of sofrito recipes: the vegetables are chopped finely and gently cooked, or sweat, to draw out their natural juices and incorporate more flavors without dominating the entire dish.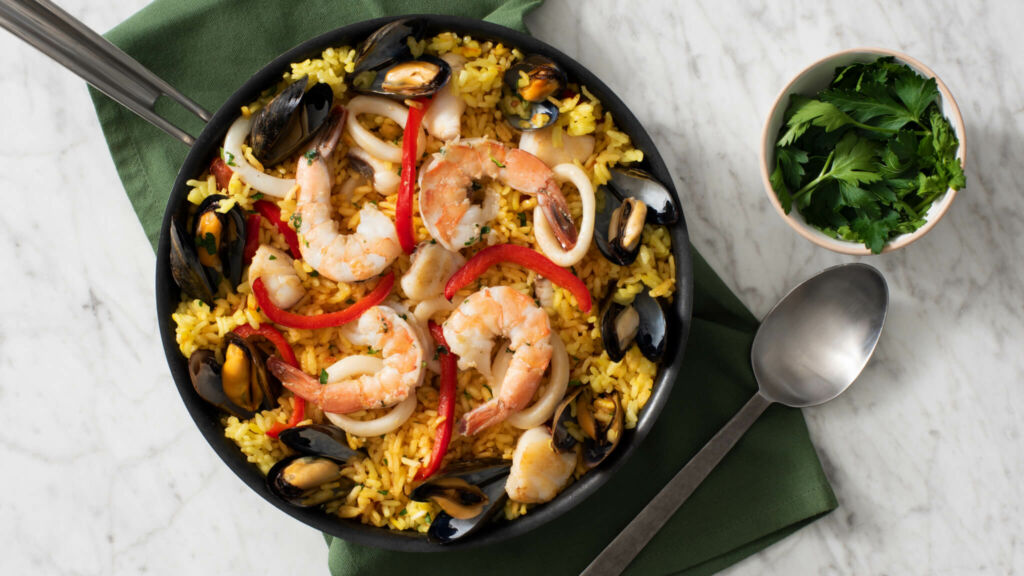 Once you've prepared the sofrito, feel free to add more ingredients to make a delicious dish, save and freeze for future use, or serve as a dip or sauce on its own. We'd like to delve into 5 international favorite sofritos, with recipes to try it yourself using Mahatma® Rice to absorb every bit of flavor perfectly. Impress your loved ones by mastering family dishes with your newfound skills.
5 Sofrito Recipes
1. Classic Spanish Recipes
Often considered the origin of sofrito in the Catalan region of Spain, most traditional Spanish dishes begin by building up the flavor slowly. It's essential to start a paella, or any dish of rice with an aromatic base. Many recipes start with simply garlic and onion, or tomatoes, if desired. Using those options as a base, the possibilities are endless using local ingredients like pepper and leeks, spices such as saffron and paprika, and all kinds of homemade broth varieties.
This recipe for an Authentic Spanish Paella is made first by lightly frying the monk fish, prawns and calamari. Once those are set aside, red pepper is lightly fried in those flavors along with diced tomato, garlic, parsley and sweet paprika. Of course, it's also made with traditional Medium Grain Paella Rice for perfect texture and flavor. For more tips, take a look at our guide on how to make authentic Spanish paella.
You can also add this classic version to make the base for a Rice Cooker Mexican Rice recipe to infuse the rice with wonderful flavor.
2. Picadillo Filling
Moving over to Latin America, picadillo is a blend of minced meat and vegetables with seasonings often including sweet raisins or savory olives. A sofrito is exceptional for starting the flavors of picadillo, to use as a filling for rice and beans tacos, croquettes or pastries like empanadas.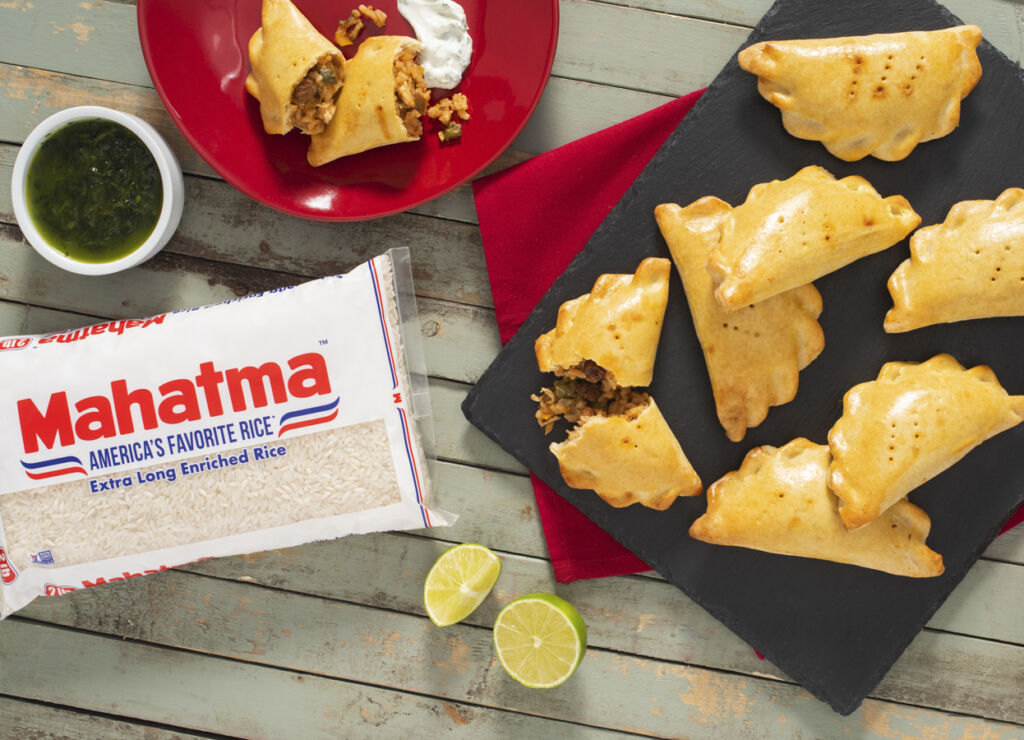 These Empanadas with Turkey and Rice Picadillo begin with sautéed onion, red pepper, garlic, thyme, cumin, chili powder, coriander, salt and pepper. Later olives, capers and raisins are added with tomato paste and water to infuse Mahatma® White Rice for a wonderful stuffing.
3. Holy Trinity of Southern Cooking
You might not have heard of a sofrito, but you've almost surely heard about the holy trinity of Cajun and Creole Cuisine in Louisiana cooking. Showcasing celery, onion and bell pepper, this trifecta is essential for any southern comfort food like red beans and rice or a jambalaya.
This recipe for Mexican Jambalaya is a fusion of classic cooking techniques and flavors like Cajun style Andouille sausage, white onions, bell pepper and celery with new spicy additions. Try it for yourself and enjoy loads of savory flavor in every bite using an aromatic rice variety like basmati rice.
4. Italian Soffritto
Similar to a Spanish sofrito and a French mirepoix, the Italian version often uses a base of onion, celery and carrots. Considered the building blocks of flavor, this combination is the base for numerous Italian dishes like minestrone soup, stew or pasta sauces.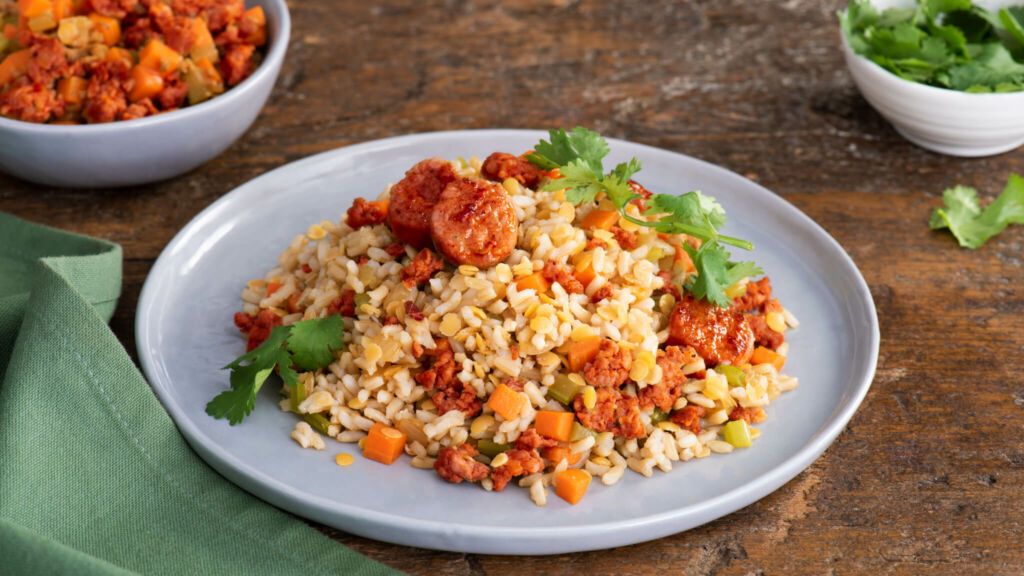 It can also be used for other dishes outside of Italian cuisine for enhanced flavor like this dish of Lentils with Brown Rice and Chorizo. First, the chorizo is cooked in the pan, removed and then the blend of vegetables is sautéed afterward to be combined with brown rice and lentils.
5. Puerto Rican Variety
There are many variations throughout Latin America, however in Puerto Rican recipes the sofrito, or recaito, includes herbs, vegetables and many spices such as cilantro, coriander, culantro, onion, garlic, cubanelle pepper, green pepper and ají. Speaking of spice, cinnamon is the unofficial scent of autumn; why not repurpose your rice for a creamy dessert using our arroz con leche recipe for inspiration?
This national dish of Arroz con Gandules uses a variation including ham, onions, garlic, tomato paste and sazon, achiote, adobo seasoning, oregano, coriander and cayenne for a wonderful base of flavor to cook Thai jasmine rice or Instant Pot Jasmine Rice. 
Explore new recipes and cooking techniques from around the world with confidence using Mahatma® Rice. Enhance your next dish with one of these recipe ideas using a sofrito or a variation.