Perfect for adding an earthy touch to your meals, mushrooms are a wonderful plant-based ingredient. Whether you love mushrooms or are looking for a way to start incorporating more of them into your meals, Mahatma® Rice has plenty of recipe inspiration for you to enjoy.
Different Types of Mushrooms
With so many different types of mushrooms to choose from, deciding which variety you want to buy at the grocery store can seem a little daunting. Here are some of the most popular types of mushrooms to get you started:
Portobello Mushrooms: Portobello mushrooms are quite large in size and have a meaty texture, meaning that they are perfect for grilling or roasting.
White Button Mushrooms: The most common type of mushroom. White button mushrooms have a soft texture and can be eaten either raw or cooked. They go very well in soups, salads and pasta.
Truffle: Truffles are amongst the most gourmet types of mushrooms. Due to their high value, truffles are often used very sparingly. Try grating some over a nice pasta or rice dish!
Shimeji: These mushrooms are grown in clusters and taste best when they have been cooked. Shimeji mushrooms taste particularly good in stir frys, soups and sauces.
Shiitake Mushrooms: Fresh shiitakes have an earthy flavor which goes particularly well for soups and sauces.
How to Select Your Mushrooms at the Grocery Store
When shopping for mushrooms you are going to want to pick ones that are firm and dry, though not perfectly dry. On the other hand, you should try to avoid mushrooms that are bruised or show signs of spoilage.
Now that we've got our mushrooms, let's take a look at how to prepare them.
Tips on Preparing Mushrooms
Tip 1
When it comes to preparing mushrooms, storage is very important. Sliced mushrooms are great if you are looking for a quick and convenient add-in for your meals, however they will spoil quickly. Whole mushrooms on the other hand can last up to a whole week so much better suited for if you aren't planning on cooking your mushrooms immediately.
Tip 2
Mushrooms normally only take a couple of minutes to cook in a skillet. When you are actually cooking your mushrooms, you are going to want to thinly slice them as this will give you crispy edges. Another thing to remember is not to add salt as this will dry out your mushrooms.
Tip 3
If you are cooking portobello mushrooms, you may notice that they leak out a brown liquid which can look unappealing. To get rid of this liquid, simply scrape it out with a spoon and discard.
Now we know a bit more on how to actually prepare our mushrooms, let's take a look at some recipes.
Mushroom Appetizers
If you are entertaining guests or even just looking for a snack, mushrooms are a great option. Here are some of our favorite mushroom appetizers.
Stuffed Mushrooms
If you are looking for a snack appetizer or side dish, a stuffed mushroom recipe like these vegetarian Jasmine With Red and Wild Rice Stuffed Portobello Mushrooms is perfect. Stuffed mushroom recipes are also a great way of experimenting with cooking mushrooms with different rice varieties.
This Easy Wild Rice Stuffed Mushrooms recipe also uses portobello mushrooms and is a perfect place to start if it's your first time preparing a stuffed mushroom recipe.
For another tasty portobello mushroom side dish option, check out these Wild Rice and Sausage Stuffed Mushrooms. Made with breadcrumbs and cheese, this recipe is ideal if you want something a bit more decadent.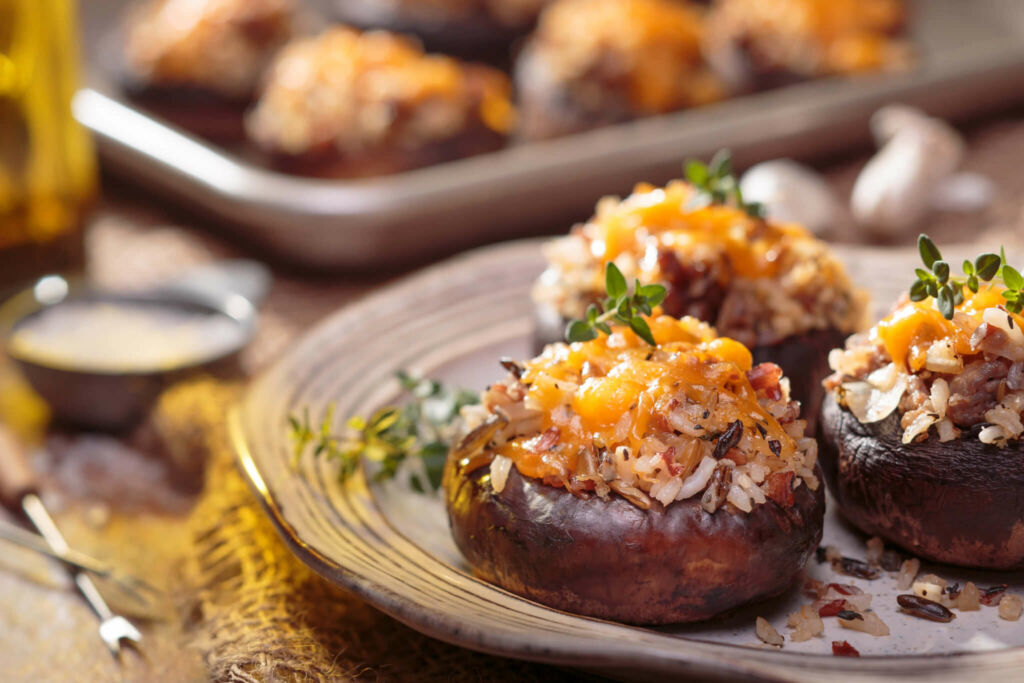 Mushroom Filled Pastries
Mushroom filled pastries like these meat-free Mushroom and Cheese Pastelitos made with wonton wrappers also work if you want something tasty to serve on your next party platter. Serve them with a dipping sauce like salsa verde or guacamole to really give your guests something to remember. For an even simpler way of making this recipe, you can try using an air fryer instead of frying these pastelitos in a skillet.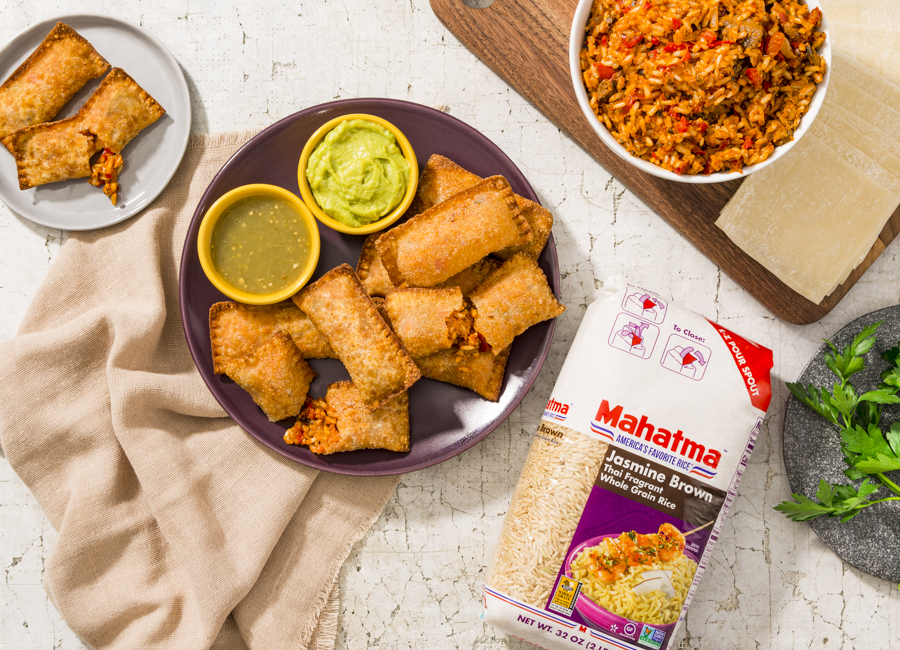 Mushroom Mains
Now that the starters are out of the way, let's take a look at what mushroom and rice dishes we can serve as a main course.
Flavored Rice With Mushroom Recipes
Combining mushrooms with flavored rice is a simple way of creating a great tasting dish. The liquid that you use to cook your rice will have a great impact on its flavor, so instead of cooking your rice in water try experimenting.
How to Flavor Your Rice
There are plenty of different liquids we can cook our rice in. For example, a broth like chicken, beef or vegetable will give your rice a more savory flavor. To give your rice a sweeter, fruity flavor, try cooking it in a fruit juice like orange or pineapple. For an easy way to make coconut rice, try Infusing your rice with coconut milk which will give your rice a creamy, richer texture.
Now that we know how to flavor our rice, try making this Creamy Mushroom and Rice Soup Recipe with Mahatma® Jasmine Rice. This hearty meal is a great way to repurpose leftover rice. If you are following a vegetarian diet you can swap out the chicken broth for a vegetable broth.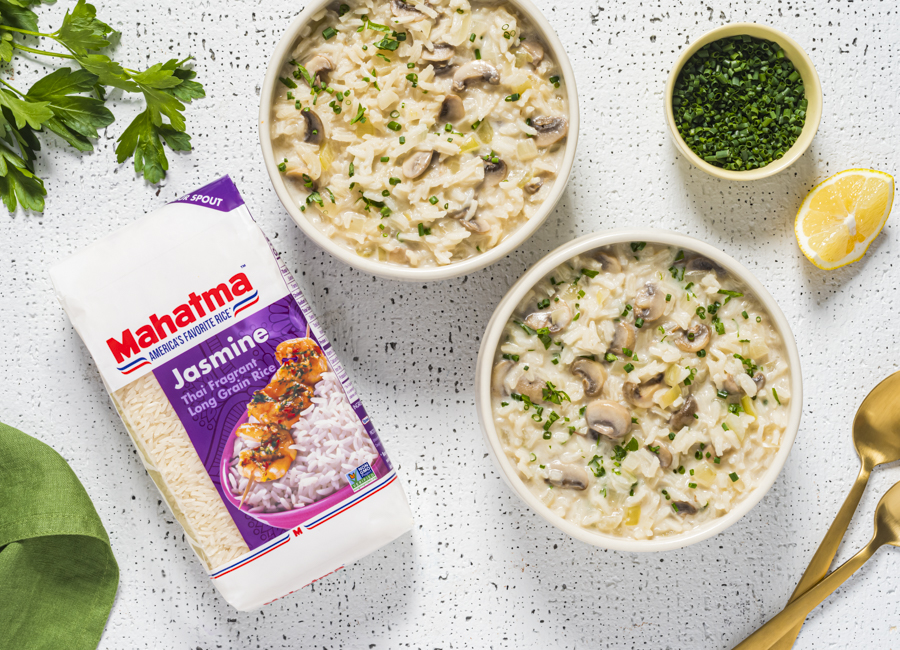 Made by infusing your rice with mushrooms, shallots, dry white wine, chicken broth and butter, this Truffle Risotto is another great flavored rice recipe. This recipe calls for shimeji mushrooms, however feel free to use cremini mushrooms or shiitake mushrooms instead.
Mushroom Rice Bowls
Mushrooms are a popular ingredient in rice bowls, for example this colorful Chipotle Mushroom Burrito Bowl made with Mahatma® White Rice. The great thing about this rice bowl is that you can also enjoy it as a burrito instead. To add a bit more protein to this bowl, try adding in some chicken or steak.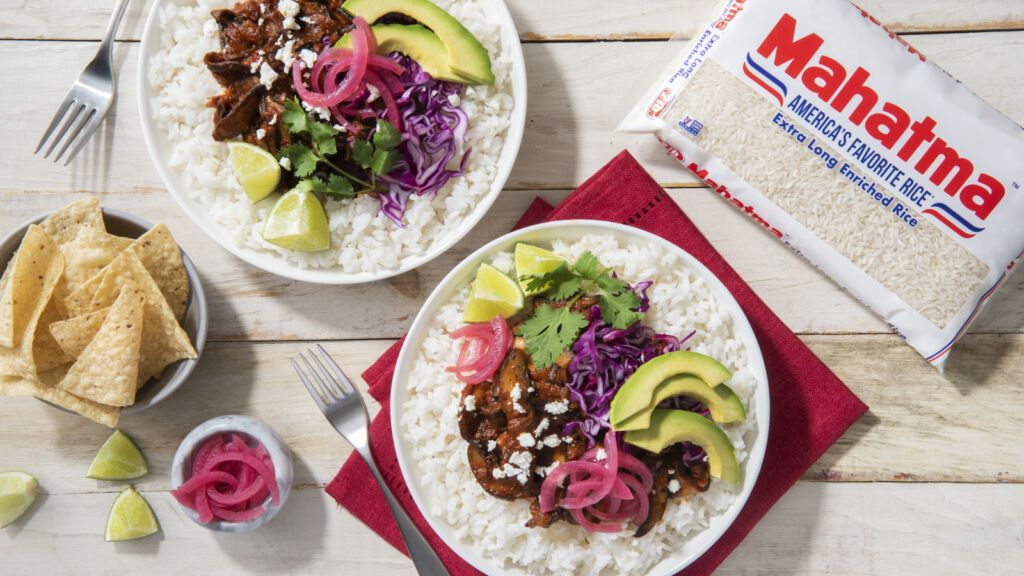 Fried Rice with Mushrooms
This flavorful Ginger Pork Fried Rice made with soy sauce is a great recipe that features shiitake mushrooms. You can replace the pork in this recipe for tofu if you want to turn this into a vegetarian meal.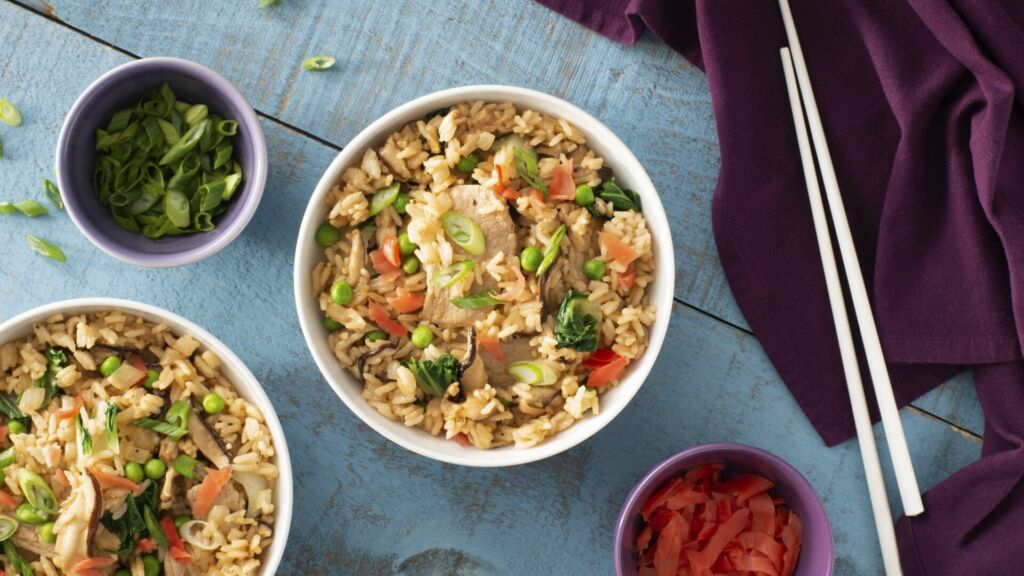 For even more cooking tips and recipes like how to make arroz con leche or these bean and rice tacos, stay tuned to Mahatma® Rice.