Beloved worldwide, avocados are versatile, delicious and perfect for getting a daily dose of green in your meals. At Mahatma® Rice, we love using it with rice in all kinds of ways from a simple rice bowl to blending them into a spicy sauce and much more.
We'd like to take you through our favorite recipes using avocados with all kinds of rice varieties that go beyond simply slicing up avocado to place on top. So, get your knives ready as we'll guide you throughout the entire process from picking avocados all the way to enjoying them!
How to Tell if Your Avocado is Ripe
Starting at the grocery store or local farmer's market, if you're looking for the best method to choose an avocado, we've got you covered. You can tell if your avocado is ripe by gently squeezing it. A ripe avocado should be soft but not squishy, a squishy avocado signifies that it is over ripe.
You should be able to pop the stem cap off a ripe avocado without too much issue. If the stem cap is difficult to remove then you most likely have an unripe avocado so you should wait a few days before trying again.
How to Stop Avocado Going Brown
When you cut an avocado, you may have noticed that it turns brown very quickly. This process is called oxidation and also occurs in other foods like apples and potatoes. Although oxidation is harmless, it's still not a very appealing sight. Luckily there are a few things we can do to preserve the nice green color of our cut avocado.
Perhaps the best way to preserve an avocado is to use an avocado saver, this is a plastic container shaped like an avocado. The idea is that the container stops the avocado from being exposed to oxygen and prevents the oxidation process.
If you don't have an avocado saver at home, you can simply wrap your avocado in plastic, this will help it keep for longer.
You can also store your avocado in an airtight container with an onion. The fumes from the onion will help slow down the process of oxidation.
How to Store Your Avocados
To get the most out of our avocados we are going to want to make sure we are storing them properly.
Avocados that are not yet ripe should be stored on the kitchen counter, this will allow them to ripen quicker.
Once your avocados are ripe or almost ripe, it's better to store them in the fridge as this will slow down the ripening process, meaning that they will last for longer.
One of the main reasons that avocado has become so popular is that there are so many different ways you can use it in your cooking. Let's explore some of our favorite methods and recipes to try it out!
Mashed Avocado
There are multiple ways of mashing your avocado. Mashing it with a fork will leave your mashed avocado chunkier whereas using a potato masher will give it a smoother creamier consistency.
For a tasty appetizer recipe which uses mashed avocado, check out these Spicy Crab and Avocado Crispy Rice canapes made with Mahatma® Sushi Rice.
Those of you following a vegetarian diet may prefer to make this Avocado Lime Rice recipe made with Mahatma® Organic White Rice and cilantro.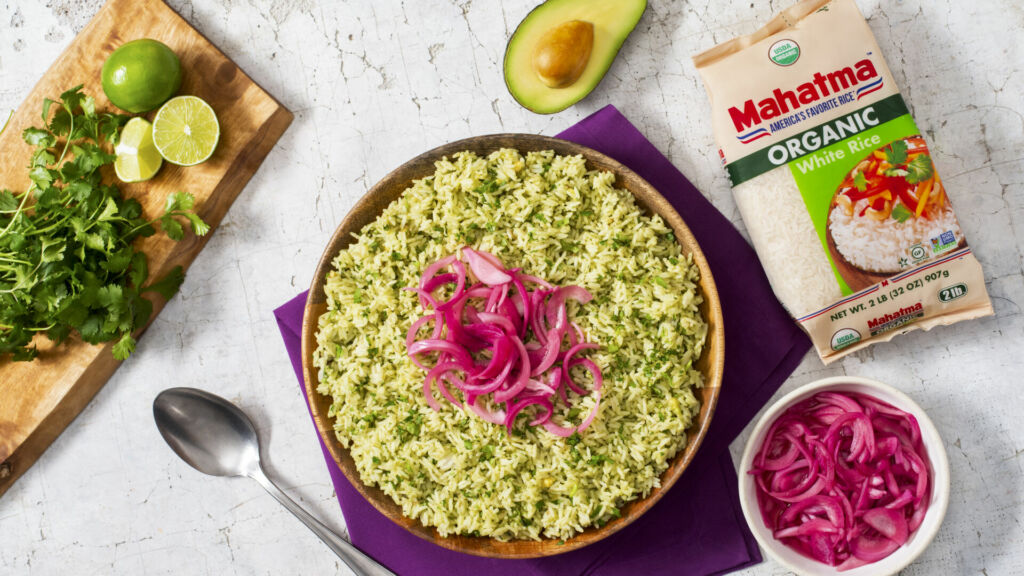 Sauces Made From Avocado
There are plenty of great tasting sauces which use avocado for a base. For example:
Avocado Mayo
These fun-to-make Brown Rice Tuna Patties With Avocado Mayo served with arugula are a great way to learn how to use pureed avocado in your cooking. The great thing about these patties is that you can easily make them with ingredients you most likely already have lying around the kitchen.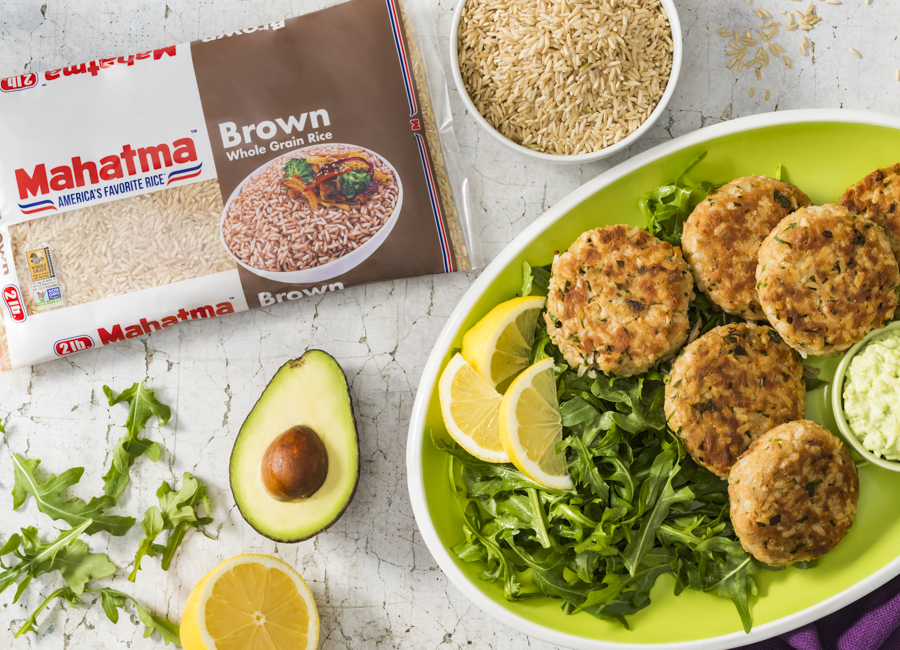 Avocado Lime Dressing
Learn how to make a delicious avocado lime dressing with this BLT Rice Bowl recipe made with Mahatma® Fluffy Rice. To make this dish vegetarian, swap out the bacon for tempeh.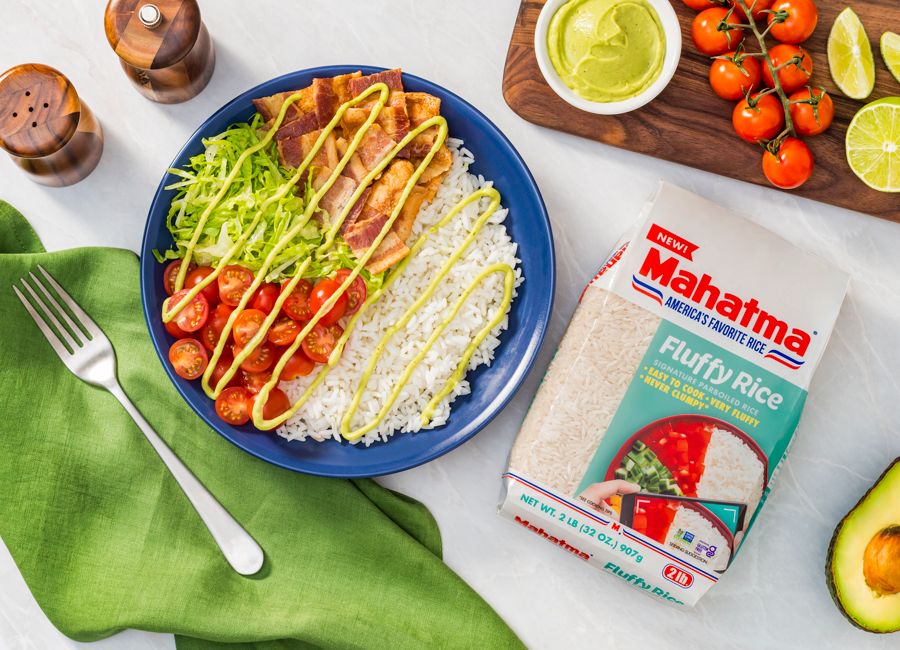 Homemade Avocado Cream
These Rice and Beans Tacos Dorados made with Mahatma® White Rice are drizzled with a zesty homemade avocado cream sauce, perfect for your next Taco Tuesday night.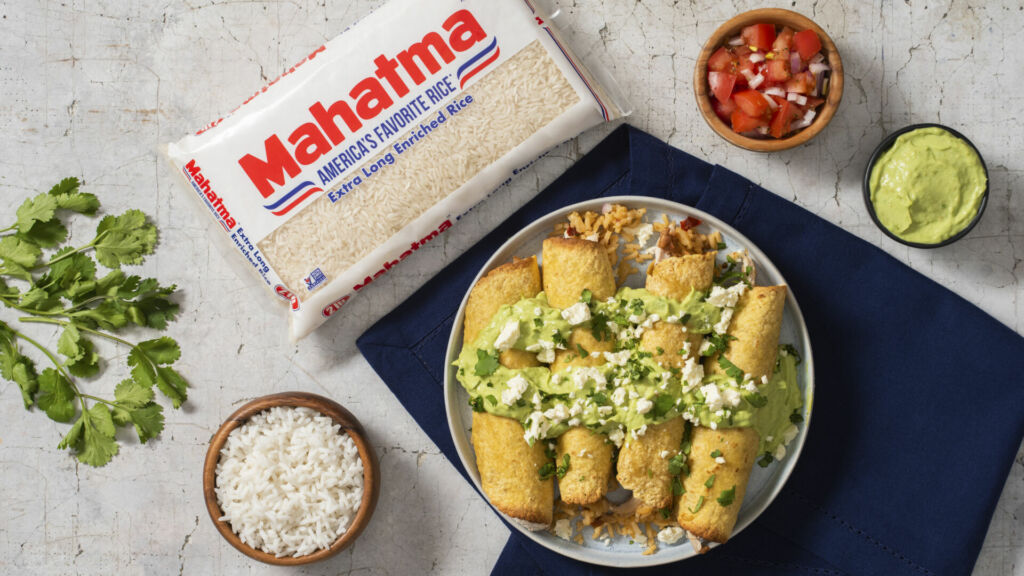 Diced Avocado
From sophisticated entrees to refreshing salads, there are plenty of ways that we can use diced avocado in recipes.
When dicing an avocado, to get the most flesh out of it, slice lengthwise and remove the seed. From there you can start dicing your avocado while it's still in the skin. When you are done slicing, simply remove your avocado chunks from the skin using a spoon.
Now that we know how to properly cut our avocados, let's take a look at some more recipes.
Make it into a Salsa
To turn your diced avocados into a creamy salsa, mix them with corn, cilantro, lime juice and jalapeno pepper as seen in the recipe for these deceptively simple vegetarian Brown Rice Cakes.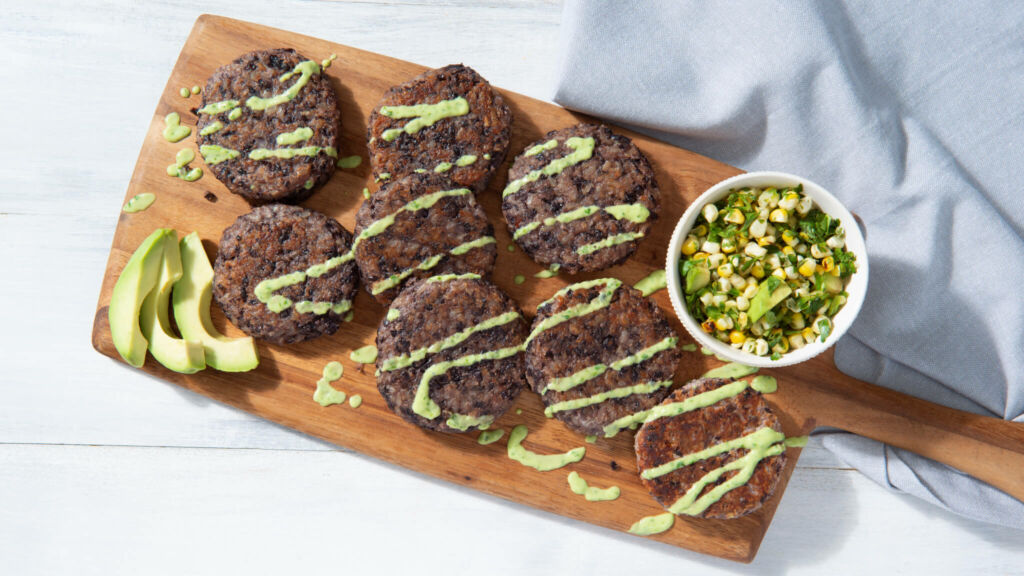 You can also use diced avocado as a base for another type of salsa, similar to the way you might use chopped tomatoes in a chips and salsa recipe as seen in this Peruvian-inspried Tuna Ceviche With Avocado and Mango made with Mahatma® Jasmine Rice and cilantro.
Note: If you're having a hard time cutting the tuna, try freezing it for 30 mins first. If you don't have any mangos in the kitchen, you can easily swap them out for tomatoes instead.
Layer Avocado For Presentation
If you want to show off your presentation skills, this Spicy Salmon, Jasmine Rice and Avocado Tower recipe is for you. Although this dish looks difficult to properly pull off, it is actually quite simple, though you'll need to take care when crafting your towers. You can use a mold to make this task simpler for you.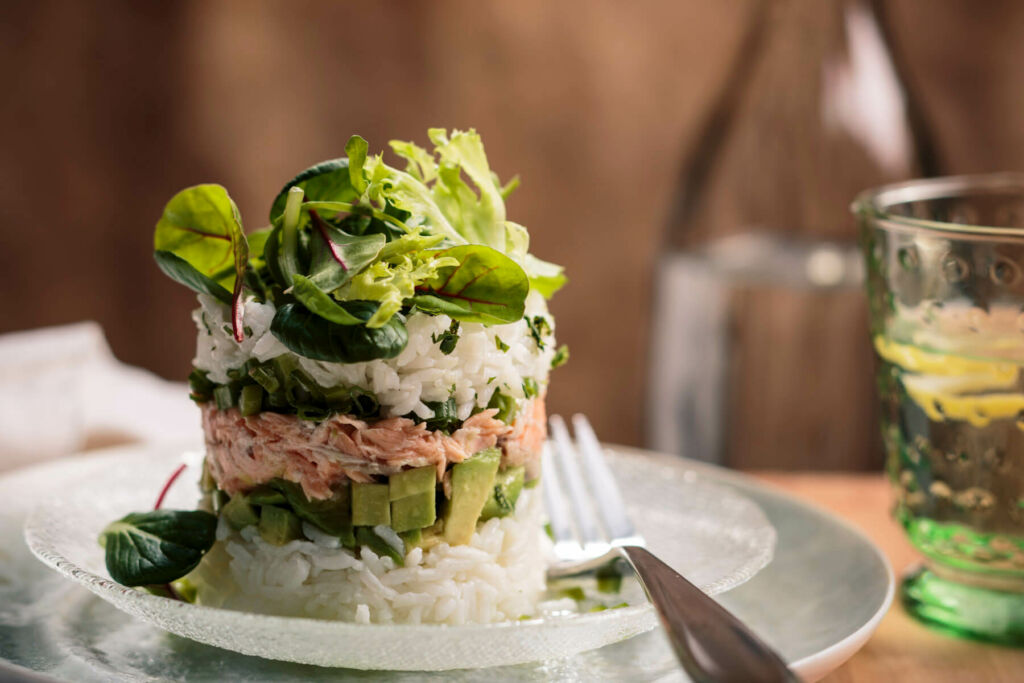 Classic Taco Topping
Diced avocado also make a classic taco topping, as seen in this recipe for Chicken Tinga and Rice Tacos. These authentic Mexican tacos made with Mahatma® Whtie Rice taste great when served with sour cream and cilantro.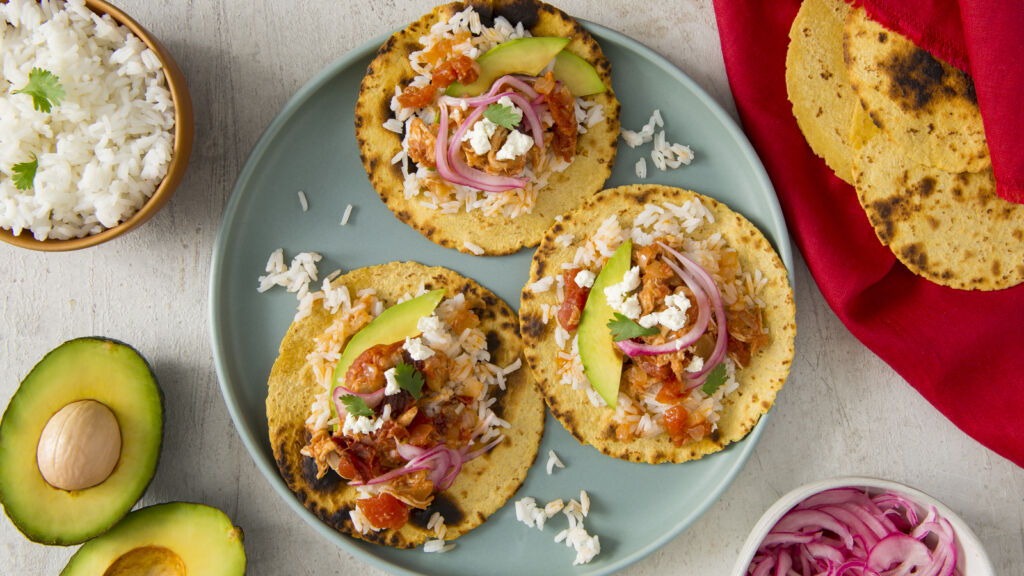 Rice Salad Ingredient
For another great way to use diced avocados, check out this Mason Jar Rice Salad recipe made with Mahatma® White Rice. The great thing about this simple salad is that it's so portable so you can enjoy it either at home or on the go. This salad is also very versatile, feel free to adjust the ingredients to your tastes.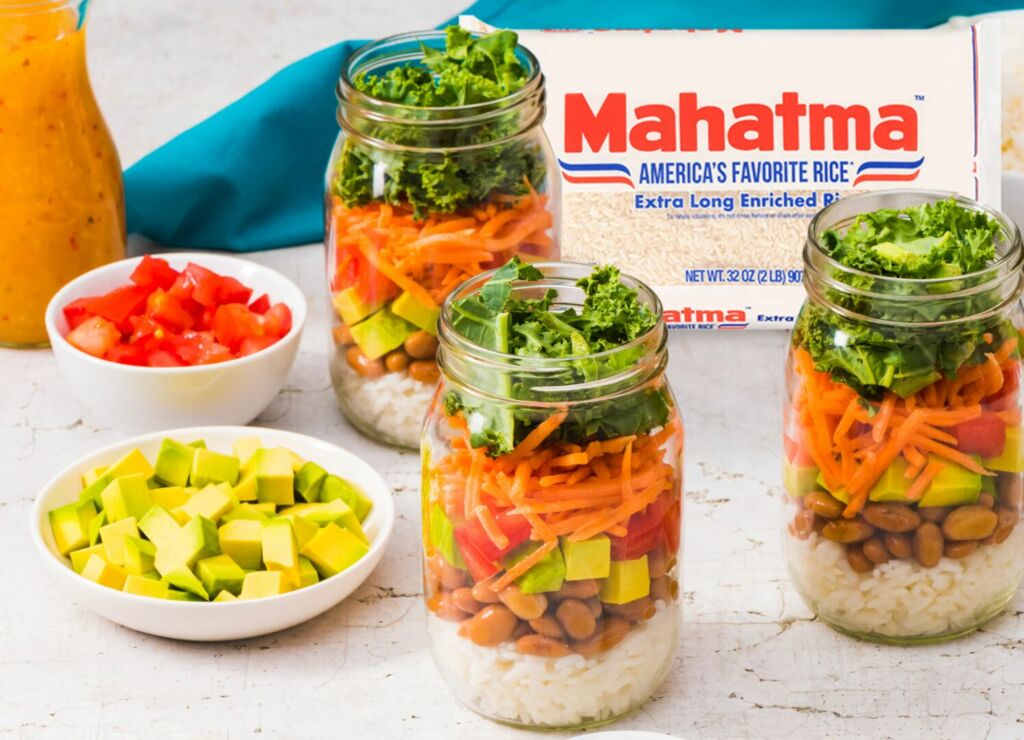 Follow Mahatma® Rice for plenty more interesting ideas, like this coconut rice recipe or how to make arroz con leche.