Sometimes not having all of the ingredients listed for a recipe can be a dealbreaker. It's also common to feel like there might be nothing to eat or you cannot make your favorite recipes, but somehow your fridge and pantry are full. This can happen when you're used to cooking with the same ingredients or are very strict when following a recipe.
Same Recipe, Different Ingredients
'Flexible recipes' are those meals that can be put together using different ingredients every time but will still be delicious. Having a few of these under your belt will always be handy whether you're:
Trying to repurpose leftovers
Learning how to meal-prep or batch-cook
Looking to use up what's in your pantry or fridge
Cooking on a budget
Seeking meals the whole family will love
To give you a helping hand, we've chosen three different delicious recipes: Chicken Fried Rice, Homemade Chicken and Rice Soup and a Southwest Chicken and Rice Casserole to show you how it's done using three different cooking methods. We'll even give you example substitutions for various ingredients you might not have on hand!
Before we dig into teaching you how to substitute ingredients while still nailing our three recipes, we'll show you just how handy it is to know how to adapt a recipe.

Cook With a Plan
Planning your meals is great for cooking on a budget, making sure every ingredient you buy has a purpose and using up the food in your kitchen. Before you shop again, plan a few meals ahead of time or choose a few simple ingredients to mix-and-match during the week like veggies, rice or proteins.
Whether you prefer to prep your meals in advance or batch cook a lot at once, rice is one of the ingredients that should be part of your plan. Filled with nutrients, rice is a wholesome and affordable ingredient that can be used for any meal during the day! Prepare a large amount of rice and store in either single servings for a filling side in your lunchbox, or to mix with other ingredients and serve with your dinner entrees.
With enough rice in the fridge, a few vegetables, chicken, and seasonings, you're good to make anything from a fried rice dish, a soothing rice soup, or a comforting rice casserole. Convenient, right?
Get Creative With Your Leftovers
It's no secret that a week after your grocery run, your fridge might be filled with a few odds and ends you don't know what to do with and some leftovers made throughout the week. And, did you know? Zero waste food habits, along with throwing less food out, not only have a positive impact on the environment but also on your wallet! So, getting creative with those leftovers and unused ingredients is definitely something worth trying.
Casserole and Fried Rice recipes are perfect to use up leftovers and turn them into something new. Mix leftover rice with all those last bits of vegetables, season with salt and pepper, and either toss with some sour cream for a creamy casserole or sauté with soy sauce for a stir-fry.
Still have some vegetables to use? Chop them up altogether, cover with water and simmer, to make homemade vegetable stock. Add stock to your casserole to keep vegetables moist, or use it for the base of your next Chicken Soup.
Dinners that Make Everybody Happy
Another great perk to cooking meals that are easily customizable is that you can make a dish that will satisfy every family member. Feeding a family can be tricky, especially if it's a large one. With so many possibilities for swap-ins, a Rice Casserole allows for small ingredient tweaks to make the same meal perfect for either vegetarian, spicy-lovers, peaky eaters, or simpler palates.
Casserole meals are great to sneak vegetables in when kids get picky about food. Our Southwest Casserole calls for chicken but you can also bake a smaller casserole without the chicken and serve a meat-free alternative for those following a vegetarian diet. For fans of milder foods, leave the green chilies out or serve as a topping so everybody can adjust the heat in their meal.


3 Flexible Recipes with Rice
To get started with a flexible recipe and test your cooking skills, let's take a look at those three different recipes we mentioned beforehand: Chicken Fried Rice, Homemade Chicken and Rice Soup and a Southwest Chicken Rice Casserole. Even though each of these recipes is prepared in a different way, they all have a few things in common:
Their main component is rice
They're all-time classics and family favorites
The ingredients can be easily substituted with what you have home
Heads-up: all suggested rice can be substituted by equal amounts of another Mahatma® Rice variety, just make sure to adjust the cooking times and cook rice following the package directions. For instance, if you want to prepare these recipes with jasmine rice, you can prepare it following the traditional stovetop method or Instant Pot Jasmine Rice.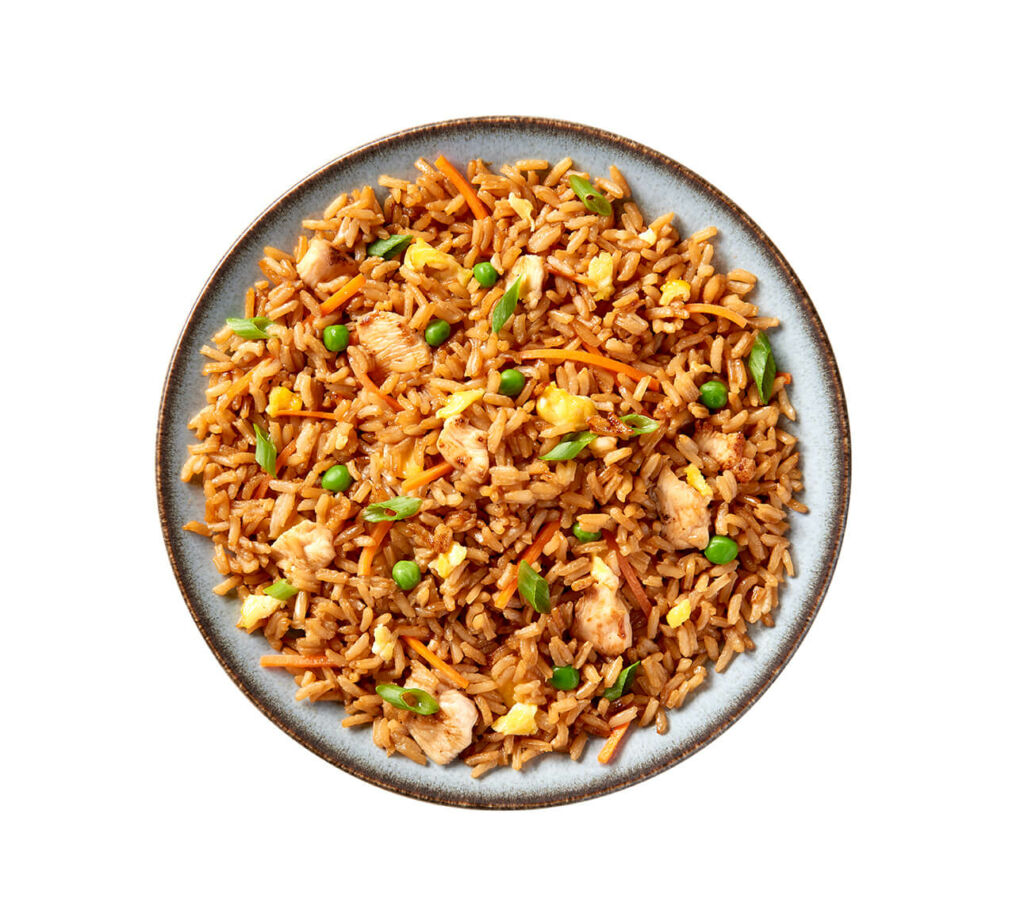 There's no skillet dish better for using up leftovers and ingredients than a classic fried rice dish. If you've never made one before, you first might want to familiarize yourself with a few of our tips to cooking the perfect fried rice. If you've tried your hand at this recipe before and are really craving that savory taste, but are missing a few ingredients, look no further than a few of our helpful substitutions:
Vegetables
No fresh garlic? Swap with ½ teaspoon garlic powder.
No fresh ginger? Swap with ½ teaspoon ground ginger powder.
No fresh carrots? Swap canned or frozen carrots or peas and carrot blend.
No frozen green peas? Swap with canned peas or frozen or canned vegetable blend.
Meat/Poultry
No boneless, skinless chicken breast? Substitute shrimp, pork or beef, or leftover cooked shredded rotisserie chicken or turkey.
No whole eggs? Swap with egg whites or diced tofu.
Condiments/Sauces
No sesame oil? Swap with hot chili oil, any nut or flavored olive oil, or browned butter.
Substitute vegetable oil with peanut oil, olive oil, or butter.
Out of soy sauce? Swap with Worcestershire, liquid Aminos or a dash of fish sauce.
Comfort food at its best, all of your favorites covered in cheese and baked to perfection! Take a look at our suggested swaps to make your new favorite without extra grocery store runs:
Vegetables
No zucchini? Swap with your favorite vegetable: eggplant, yellow squash, chayote, pumpkin…
No chopped green chilies? Swap with red or green salsa, hatch chilies, or chopped poblanos.
No jalapeño peppers? Swap with canned jalapeños, Serrano peppers, Padron peppers or hatch chilies.
No tomatoes? Swap 2 cups canned tomatoes, roasted red peppers, or cooked sliced beets.
No onion? Use 1 teaspoon onion powder or shallots.
Meat/Poultry
No cooked chicken breast? Swap with rotisserie chicken or turkey, cooked ground chicken, turkey, beef, or pork. Leftover fajita meat, chopped, will also be a good substitute. Make it vegetarian with tofu, extra veggies, or your favorite meat substitute.
Condiments/Sauces
No cumin? Try ground coriander, caraway, chili powder, or paprika.
Dairy
No sour cream? Swap with plain greek yogurt, pureed cottage cheese or ricotta. You can also make your own sour cream by combining 1 cup of heavy cream and 2 tablespoons vinegar.
No Monterey Jack cheese? Swap with Pepper Jack, Mexican cheese blend, Gouda, Havarti, Colby, cheddar, Panella, or Oaxaca cheese.

Soups are wonderful one-pot meals and great for stretching your budget! Whether you don't have the time or it's just too cold to make it out to the store, there are plenty of warm bowl-of comforting-goodness soup ideas. Don't have all the ingredients on hand? Just take a look at all of the different flavor combos you can make:
Vegetables
No onion? Swap with frozen onions, seasoning blend, mirepoix blend, or shallots.
No celery? Swap with bok choy, fennel stalk, green apple, jicama or celery seed.
No fresh carrot? Swap with canned or frozen carrots.
No parsley? Swap with dried parsley flakes, tarragon, oregano, chives, cilantro, or basil.
Meat/Poultry
No chicken broth? Swap with vegetable broth or combine water + bouillon cubes or granules.
No chicken? Swap with rotisserie chicken, turkey or tofu.
Condiments/Sauces
No dried thyme? Swap with poultry seasoning or your favorite dried herb.
No lemon or lime juice? Swap with apple cider vinegar, dry white wine, reconstituted lemon or lime juice.
Find more meal ideas that can use ingredient substitutions in such as our Simple Mexican Rice Recipe in our recipe selection where you'll find plenty of cooking advice such as how to make rice in a rice cooker or the arroz con leche origin!