Homemade Takeout
For all of us self-declared fried rice lovers out there, there's nothing like a steaming bowl of rice cooked to perfection in savory sesame oil, colorful veggies and scrambled egg garnished with green onion. If you've ever wondered just how your favorite takeout place makes it so tasty every time, you're not alone. But, one thing you'd be surprised to find out, is that it's actually a lot easier to prepare fried rice at home than you might think.
With a few pantry ingredients like rice, frozen veggies and chicken or pork, you can prepare a delicious homemade fried rice dish from the comfort of your own kitchen. You can even host a potluck night with your family or friends and challenge them to a make-your-own-takeout where they can make a homemade version of their favorite take-out meal. If you're ready to give it a try but not sure where to begin, don't worry, we've put together a few tips to get you in the kitchen and mastering your favorite Asian-style dish like a pro.
Repurpose Your Leftovers
One of the best things about a fried rice dish is that there are so many flavors and ingredients you can add. Make it your own while clearing out the fridge using that leftover chicken, bacon, halved onion or red pepper, or that extra bag of baby carrots from your last veggie tray. It can be as simple or complicated as you like.
This way, you know exactly what's going into your meals, you can use up your leftovers and you'll save a bit each month by not spending it on takeout!
Craving something sweet rather than savory? Leftover rice is also often used for rice pudding! Don't be afraid to unfollow the recipe and repurpose that rice with inspiration from this Arroz con Leche Recipe.
Fried Rice Tips
Take a look at this list of 4 tips and tricks to upgrade your dinners with a fried rice side or main dish that your family will soon be asking for on repeat!
1. Choose the right rice
The key to making a great fried rice dish starts with the right rice! All rice lengths are not created equal, and the best rice for your dish is a long-grain variety or Thai jasmine rice. If you've never made fried rice before, try using Mahatma® Long Grain and Jasmine Rice Blend, perfectly crafted for making all of your favorite fried rice dishes. However, other long grain varieties like brown rice works too! The long rice length ensures each grain cooks up evenly and doesn't clump together for maximum flavor – learn how to cook jasmine rice by visiting our quick guide!
Why not start off with this classic Chicken Chow Fan Fried Rice dish, made with chopped chicken breast, mushrooms, ginger root, garlic, and soy sauce! It's low on prep time and perfect for a midweek meal.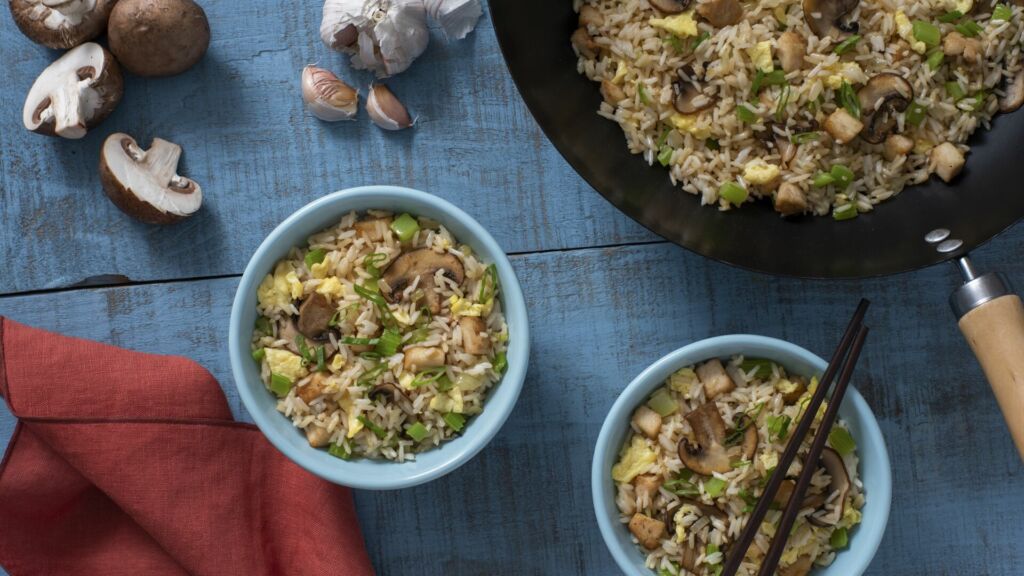 For another classic restaurant quality chicken fried rice dish, learn how to make this Hibachi Chicken and Fried Rice recipe.
2. Cool down your rice
Another perk to making fried rice, is that it works best with cold, day-old rice! This is because when your rice firms up, it's easier to separate in the pan so the grains heat through evenly and that no excess water leaks out making your dish mushy. Use up that leftover rice from yesterday's dinner, or if you need to cool your fresh cooked rice down fast, spread it out on a sheet pan until it reaches room temperature and then chill in the fridge for about 10 minutes.
Try it with this Chicken Fried Rice recipe. This restaurant quality dish is made using sesame oil infused Mahatma® Jasmine RIce, chicken, veggies, soy sauce and scrambled eggs.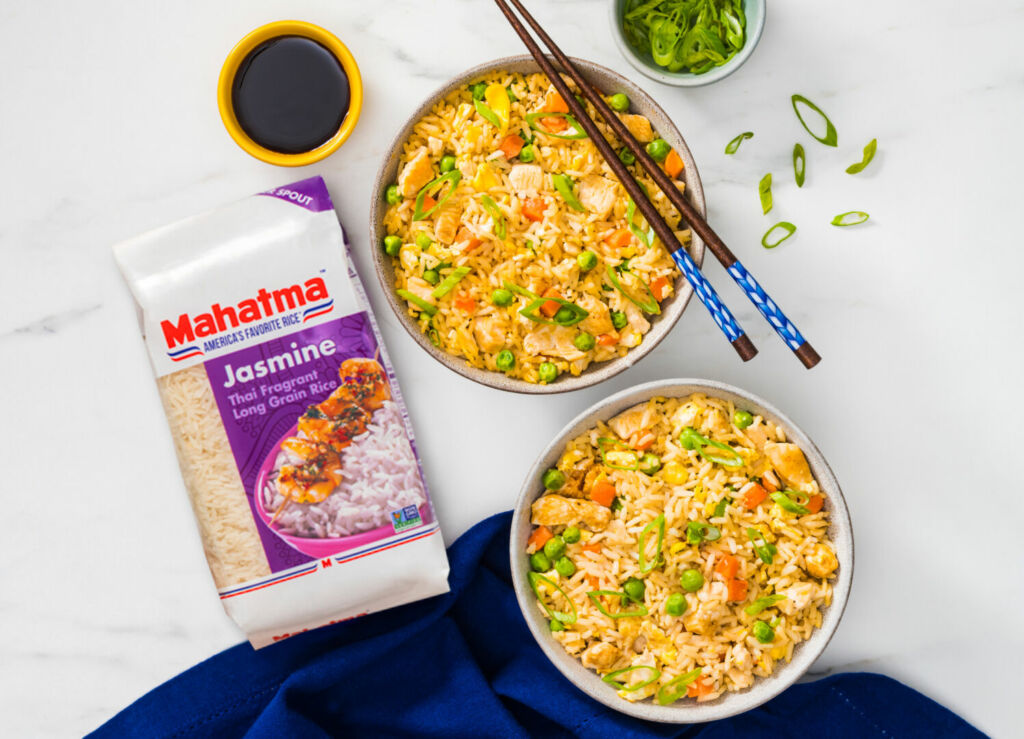 You can also use your day-old rice to make 'golden rice,' a Chinese cooking technique where leftover rice is coated with egg yolks and turmeric to create a nice texture and aroma. You can see this cooking method in this Golden Shrimp Fried Rice recipe.
Pro Tip: You can even use long-grain brown rice! So, whether you choose white or whole grain brown, you can make a large batch to use in a few meals throughout the week like this simple and savory Bacon and Shrimp Fried Rice recipe and some oven-baked enchiladas next! Batch cooking is a great way to stretch your budget and enjoy delicious meals.
3. Assemble your Ingredients
Now comes the fun part! Like we said, feel free to make this as simple or complicated as you wish and as always, use what you've got. The process of making fried rice is actually fairly quick, so whichever ingredients you choose, make sure to have them ready to go before you start, while your pan is heating up. If you're not sure what you can use, we've put together a list of delicious ingredients you can add in:
Fresh or frozen peas and carrots
Fresh or frozen broccoli
Red, green or yellow pepper
Celery
Bean sprouts
Pineapple
Onion
Garlic
Ginger
A protein of choice: tofu, pork, bacon, chicken, etc.
Eggs
Green onion (for garnish)
The list could go on, but we'll let you take it from here! One of our top picks is using up that fresh or canned pineapple to toss into this Pineapple Salami Fried Rice dish made with Genoa salami, pork, hoisin sauce, and sweet pineapple. A great option for all of you fans of sweet and savory together in one tasty dish.
This Coconut Fried Rice dish is another great way of mixing sweet and savory flavors. This dish can easily be made into a lunch/dinner or a dessert depending on what you serve it with.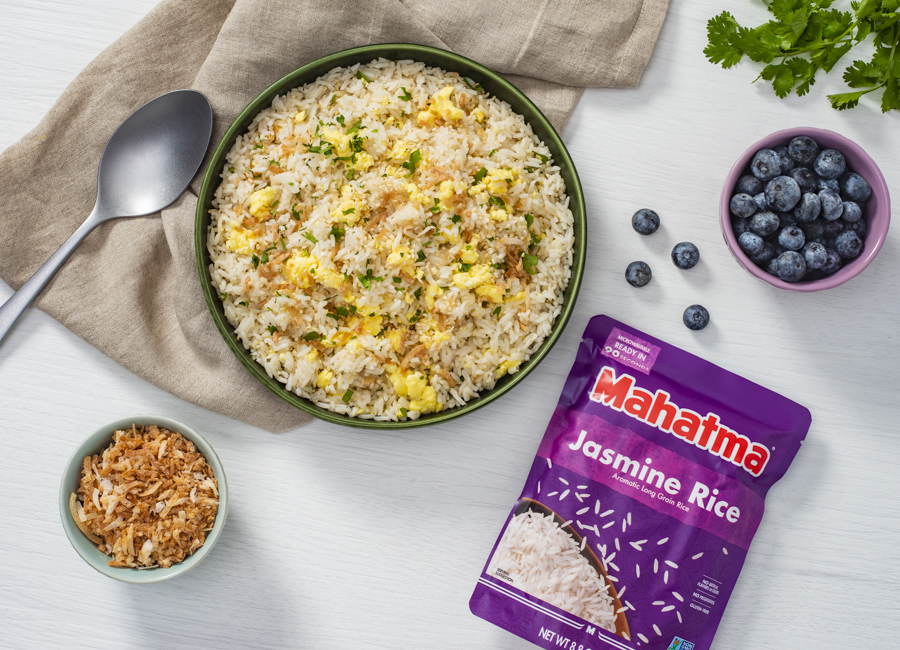 4. Signature flavor
Last but not least, give your dish some flavor. There are many ways to do this, like using olive oil, canola oil or even butter to fry your rice for a great base. To give your dish that signature fried rice taste, you'll need to drizzle in sesame oil and soy sauce, but feel free to use as much or as little as you wish. You can even mix in things like garlic powder, ginger root, or Sriracha sauce and chili pepper for a bit of a kick.
Gluten Free Tip: to make your dish Gluten Free, instead of soy sauce, use tamari or coconut aminos for great flavor without the gluten.
If you're a flavor seeker, you're going to want to try this Ginger Pork Fried Rice seasoned with a savory combination of hoisin sauce, soy sauce, rice wine vinegar, sesame oil, and brown sugar sprinkled with green onions and pickled ginger. We can't get enough of it and it's sure to become a staple at home!
Bonus: Tasty New Fried Rice Flavor Combinations
Keep exploring and experimenting with flavor in the kitchen; fried rice is the perfect place to start. Use international ingredients from other countries in Asia all the way to Latin America.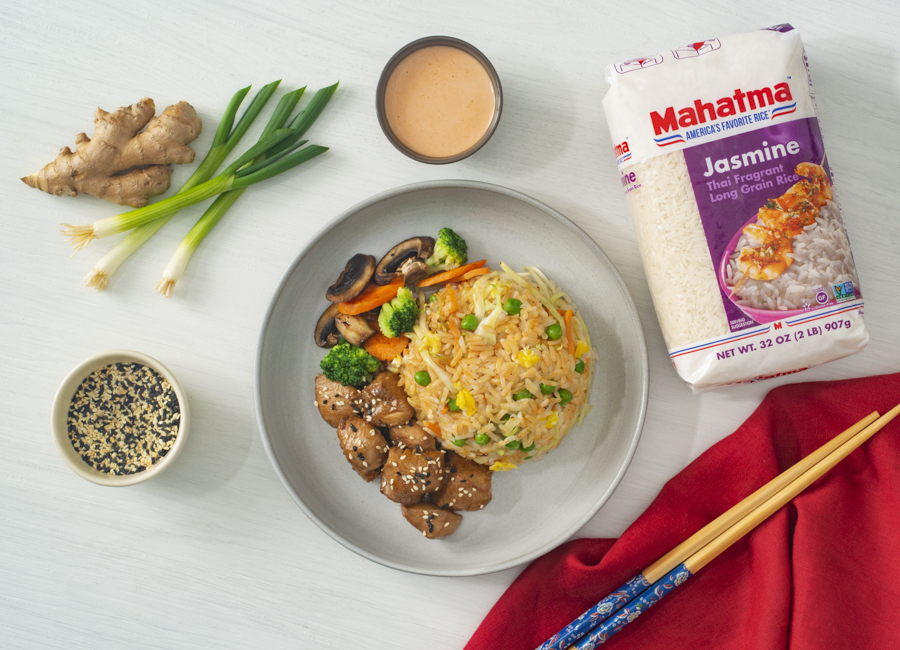 Also, what are tacos dorados? Check out the recipe and try it tonight!
Looking for more cooking inspiration? Check out our Fried Rice Recipe Collection and explore the tastiest Asian flavors by whipping up one of these savory, yet easy to make dishes, hand-picked for your convenience. Why stop there? You can also discover a whole world of flavor with our international-inspired dishes starting with Mexican Black Beans and Rice all the way to homemade sushi!
What are tacos dorados? Try them tonight and your whole family will be delighted!