One thing everyone can agree on is, the fewer dishes piled up in the sink, the better! Regardless of your schedule, whether you have little ones running around keeping you busy, or a full day of meetings and tasks to get done, we can all appreciate a simpler way to make a great meal.
One-Pot Wonders
One-pot meals are the perfect solution! With simple prep, very little cooking and less clean up after, one-pot meals are surprisingly easy to put together.
Just gather the ingredients, toss in an oven-safe dish or skillet, let it bake or cook and voilá. While it's cooking, you can get back to tackling life or taking a much needed moment of 'you time'. The prep also makes it easy to turn cooking into a fun family activity where younger helping hands can participate. Engage your family by asking them to read the recipe outloud, measure and wash ingredients or calculate the cooking time.
If you're able to work from home or you're in need of a quick dinner after a long day, it's nice to be able to put together a hassle-free meal with restaurant-level flavors. One-pot meals are also great if you are new to cooking or you have a limited kitchen toolkit.
Did you know that paella and fried rice are also considered one-pot meals? The golden rule is being able to cook all the recipe ingredients in the same pot or pan. Check out this compilation of dishes from breakfast to dinner that will make life just a tad easier.
One-Pan Breakfast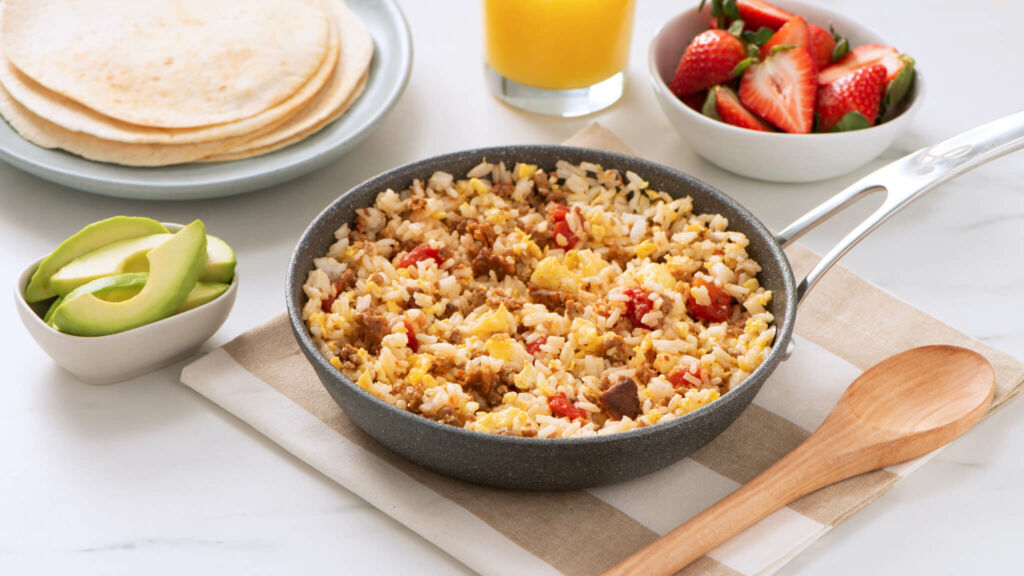 For the most important meal of the day, prepare a nutritious and balanced dish to get energy for the day ahead. By combining breakfast classics like scrambled eggs and savory sausage with hearty rice grains in a pan over the stove, you'll create a satisfying, protein-packed breakfast.
The great thing about this Chorizo and Egg Scramble is that it is done in 15 minutes, with a rich and savory chorizo flavor partnered with eggs, Mexican-style tomatoes and melty Cheddar cheese. You can even use this scramble to make an on-the-go breakfast burrito with diced avocado and more cheese. Try this recipe for a savory weekend brunch or whip it up the night before to have prepared so you can reheat for a quicker hearty breakfast during the week.
As we always say, use what you have on hand in your pantry! A few simple substitutions can include regular breakfast sausage, canned tomatoes or you can even sub in Brown Rice if you are looking to incorporate more whole grains into your diet (just remember to adjust the cook time).
Lunch Soups
Who doesn't love a flavorful bowl of soup and a side salad for lunch? If you're looking for a hearty soup recipe, here's one for the books: Enchilada Soup.
Made with Mahatma® Whole Grain Brown Rice, shredded chicken, garden vegetable sauce, and Cheddar cheese, we can't think of a better one-pot comfort food. When ready, serve in bowls and sprinkle with a bit more cheese. Top with crunchy tortilla chips or corn chips for an added layer of texture. A toasted slice of bread will also work.
The beauty of this soup is that it works well in a crock-pot, slow cooker or over the stove. Toss all of the ingredients together and let it cook while you get back to your to-do list or playing a game with the kids.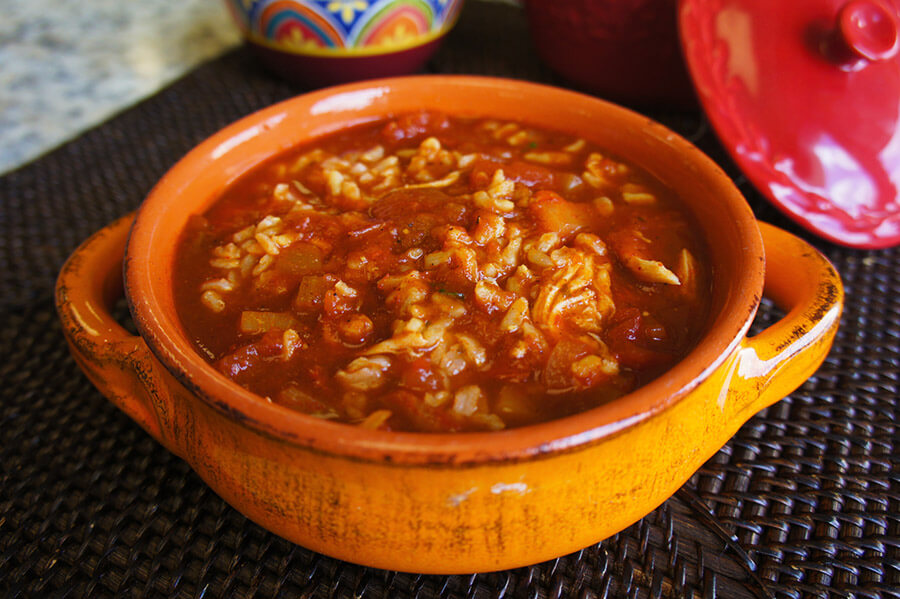 Craving something a bit more creamy? Try out this Chicken and Rice Soup with vegetables. Although it may require a few minutes of prep for flavor, we guarantee it will be worth it. This soup takes pantry and fridge ingredients like flour, butter, broth, herbs, frozen chicken and some assorted veggies to new heights with a hassle-free recipe that cooks to perfection in just one pot.
JackPot Dinner
These two delicious dinners will show you what your Dutch Oven and rice cooker are made of! Take a rest while dinner is cooking and prepare your taste buds for a flavorful adventure. Don't believe us? Wait until you experience the authentic Mexican and Italian flavors of these recipes.
Mouth-watering Mexican Rice
Use your Dutch Oven or a standard kitchen pot to prepare an all-time family favorite— Mexican Rice. Make a large batch of this savory rice dish with vegetables, tomato sauce, broth and spices to make meal planning easier. If you like Mexican cuisine try this rice and beans tacos recipe. 
With enough rice in the fridge, you already have half of the work done. Mexican Rice is known to be a versatile dish that's great to enjoy as is or to pair with almost any ingredient you have on hand. Whether it is canned beans, a bag of pre-chopped vegetables or the frozen chicken or pork in the back of your freezer, a delicious and complete meal is guaranteed with Mexican Rice on the side.
For better results, we recommend choosing a good quality grain base like Mahatma® Rice such as Thai Jasmine Rice. Prepare the sofrito, add some canned tomatoes and enjoy the aroma rice releases while the grains absorb all the juices and flavors from the other recipe ingredients.
Rice Cooker Risotto

Yes, even your favorite Italian comfort food risotto can be a one-pot wonder, thanks to your rice cooker! If you've never tried it before, it's a quick option for anyone who may not have the time or patience to gradually add broth and stir to achieve that risotto-like texture.
Turn the rice cooker on and start gathering the ingredient list for a creamy Green Pea and Prosciutto Risotto. Although this might sound a bit fancy, this dish is surprisingly easy and great for making the most out of the ingredients you have at home. Use that long-forgotten bag of frozen peas and you already have half of the dish.
The recipe calls for Arborio Rice, specifically crafted for risotto, but it can be easily substituted with white rice. Also, if you find it hard to come by Prosciutto, simply swap in bacon. Who would have thought Risotto could be so easy? Buon appetito!