Homemade Purees (For All Ages)
You can make purees at home with basic ingredients that are part of every family's pantry. These simple ingredients can be used to make the little ones something delicious and easy to eat but can be reinvented into delicious adult food too.
All you need to prepare these easy-to-make meals is a package of your favorite Mahatma® Rice, vegetables, and/or fruits, water, and a processor, which helps make a mixture that's easy to eat for the youngest in the family.
Why should you be making these recipes?
Keeping a short list of easy recipe ideas handy is always useful for putting together last-minute dishes. Adult meals are always easier to whip-up… canned goods, rice, frozen veggies and voilà: a delicious Rice dish with Tomato and Tuna. But, what happens when it all comes down to feeding the little ones at home with something they'll enjoy?
Luckily, we've got you covered! Rice is one of the most common foods for all ages because of its neutral flavor and easy-to-swallow, digestible texture. In its natural form, these grains are free from many allergens including dairy, soy, gluten, and corn. Along with being allergen-free, rice is filled with minerals and vitamins, all essential for your growing kids. As you can see, the rice you stocked in the pantry can be a great ingredient to feed the whole family!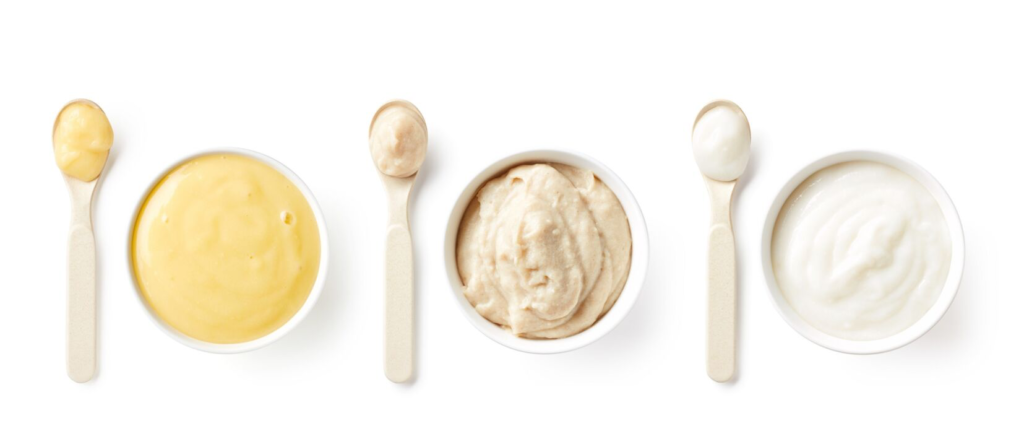 The advantages don't stop there. Rice grains have a subtle flavor that make them easy to combine with pretty much everything. Whether you only have a few fruits or vegetables, or just water and apple juice, you can always make a pureed rice recipe. Don't believe us? Take a look at some of these mouth-watering pureed foods.
Rice Porridges & Pureed Foods
Whether it is a recipe for a basic Brown Rice Porridge or a Rice and Carrot Puree, these recipes have something in common: they make delicious meals that are perfect for all ages. Pureed foods often get a bad rap of being bland in flavor but, by using the right ingredients you can whip up a homemade masterpiece!
To make them easier to blend, we recommend stirring and soaking the rice for a few hours before cooking. However, if you're short on time or not able to complete, you can skip this step. Another important part is to make sure the rice, and other ingredients, simmer for the appropriate amount of time depending on the recipe. That way, all of the food used will soften and the porridge or puree will be smoother.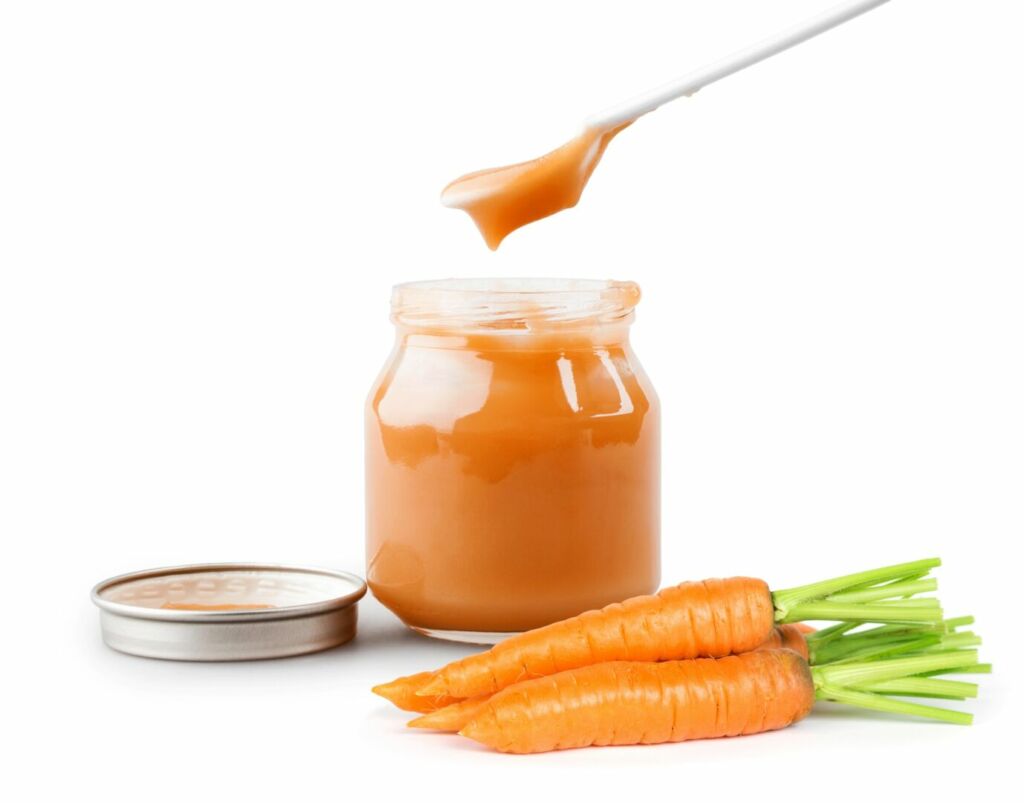 All-time Classics
Porridge is versatile because it can be one of our first 'solid' foods that we continue eating through adulthood. It's an all-time classic that we've all enjoyed at some point in our lives. This twist on the average cereal version is made with Mahatma® Rice. You could go with the Traditional Rice Porridge, made only with rice and water or, try the wholegrain version mixed with organic apple juice. These are probably the most family-friendly recipes as their color and flavor won't be too strange for any young family members or picky eaters.
Veggie-Filled Puree
If you have some frozen peas or carrots in the freezer, you should try these colorful and vegetable-filled rice purees. As its name suggests, you'll only need peas, water, and Mahatma® White Rice, Mahatma® Organic White Rice or jasmine rice instant pot to make the Rice and Peas Puree dish. Don't have peas but have carrots instead? Use the same amount of rice and water but swap in the carrots for peas and whip-up our Rice and Carrots puree recipe.
Fruity Treat
For a sweeter breakfast, snack, or dinner, you can surprise your little ones with a Rice and Fruit pureed desert-like blend. Use the fruits you have on hand, fresh or frozen is fine. For extra flavor, you can sprinkle a pinch of ground cinnamon or sugar on top. Delicious, right?
Chef Tip
If the porridge or puree is too thick after blending, it can be thinned with water, breast milk or formula.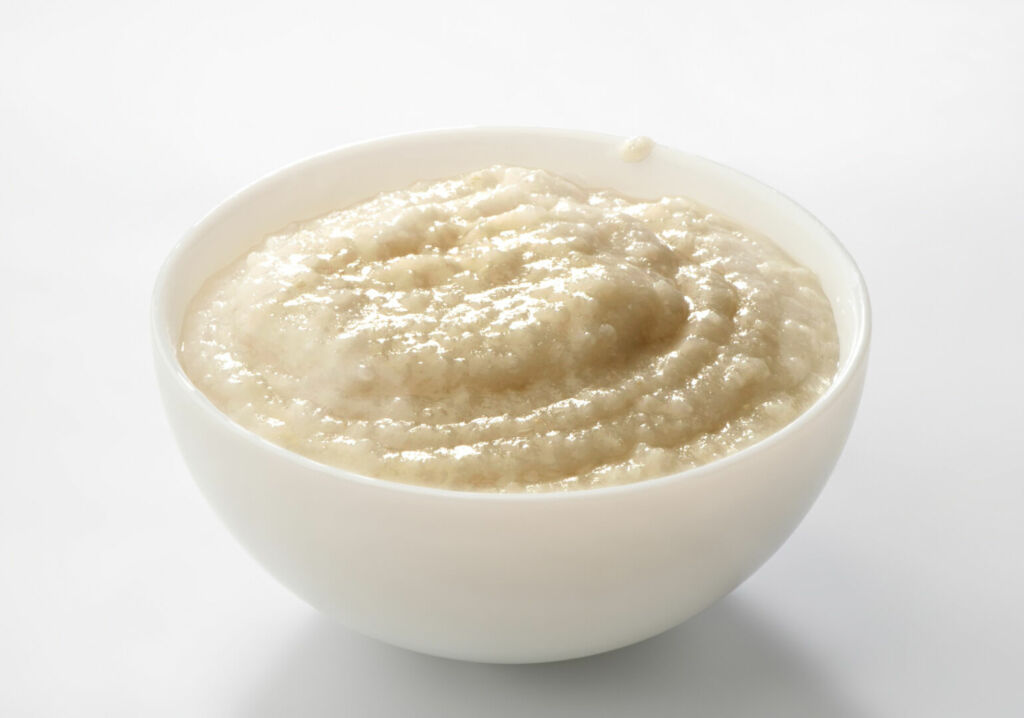 How to Store Your Pureed Food?
Now that you've tried your hand at all these homemade pureed foods, here comes the tough question… How to store a puree? You'll be happy to know that these meals are freezer-friendly and can be stored for up to 1 month. So yes, if you were planning on including this in your next batch-cooking session: rice purees can be refrigerated and then frozen!
If you prefer to make smaller doses so the little ones are eating fresh food, the recipe's fridge-life is about 3 days long. Make sure to always keep your meals in air-tight containers.
Ran out of containers? Don't worry! You can also use ice cube trays or muffin tins to portion and store the rice porridges or rice purees.
Find more incredible ways to use Mahatma® Rice in our Cooking section and tasty classic recipe ideas like Authentic Mexican Rice or this coconut rice pudding and a Puerto Rican Arroz con Leche recipe.