Whether you're looking to make big changes, or maybe just want to see what some dietary tweaks can do for you, we've got some great ideas for recipes to help you adjust your diet and find a balance that works in the short or long term. Switching up your diet doesn't have to be tricky!
Because this is a time of year in which many people make dietary adjustments for Lent, it tends to be a time that lends itself to making changes due to the upsurge of information and availability of non-meat products and options in stores and restaurants.
Whether you're looking to make no meat Fridays a little easier during Lent, or you just want to cut back on the meat intake altogether on a more permanent basis, we've got a few ideas for you. More than a diet free of poultry and beef, the idea is to incorporate more foods like fish, eggs, milk, fruit, veggies, and grains as substitutes for foods like beef, pork, chicken, ham, deer, or lamb.
Start Once a Week
Meatless Monday, and other similar initiatives, have shaped the way a lot of people cut back on meat just once a week and turned their cause into a whole foodie trend. People around the world are jumping on board to include more environmentally-friendly eating habits into their lifestyles while enjoying the delicious taste of fruits and vegetables. Turn your Meatless Monday into Meatless Friday.
Explore Other Cultures
Something else to keep in mind that not only helps make the dietary transition a little easier but also more exciting is to explore dishes from different parts of the world! See how other cultures exclude meat from their dishes by trying these tasty recipes inspired by cuisine from other cultures:
European Flavor
This European-style Vegetarian Paella is a great option to serve as a delicious main dish the whole family will love. Made with Mahatma® Parboiled Medium Grain Rice, chickpeas, and loaded with tasty veggies like mushrooms, artichoke hearts, tomatoes, and black olives, you'll be plenty full and satisfied.

For more European influenced dishes, these Beet Risotto with Greens and Goat Cheese and Jasmine with Red & Wild Rice Gazpacho recipes are not only full of wonderful flavors and easy to make, but they're beautifully vibrant dishes that are perfect for impressing dinner guests. After trying these dinner options, going meatless a few times a week will be more than something you do for Lent, but rather something you want to keep coming back to again and again.
Excite Your Senses
Asian cuisine can also be a great choice when looking for meat-free dish ideas. Because many typical recipes from that region use fish or veggies as the main ingredient, it's not hard to find tasty and satisfying dishes for meatless Fridays. Two great dishes to try are this Bibimbap Rice Bowl loaded with tons of nutritious veggies and topped with perfectly cooked soft-boiled eggs, or this incredibly simple and flavor-packed Tuna Poke Bowl with Sticky Rice.
Classic Crowd Pleasers
And if you're a fan of classics and don't feel like venturing too far from what you already know and love, we've got you covered. This Rice & Chickpea Salad is simple, delicious and a perfect veggie-protein packed option for meat-free Fridays. If you're looking for the perfect meal to feed a crowd, then our Brown Rice Enchiladas are just what you were looking for. Bring a bit of heat and light up the dinner table with this Cajun-flavored Rice and Beans Skillet Dinner that the whole family will enjoy.
Sides and Starters
Show-Stopping Veggies
Now, all this talk about main dishes and no mention of sides or starters... Lent fasting lasts for about four Fridays and variety is key to keep up with this dietary adjustment – especially if you're new to it. These impressive Jasmine with Red & Wild Rice Stuffed Portobello Mushrooms are an incredibly tasty vegetarian option that look like something straight from a high-end restaurant's kitchen (and they taste like it, too).
Spice Things Up
If you're more into the spicy flare, we recommend you to try our Cheese & Jalapeno Quinoa Cakes. These bite-sized morsels are perfect for sharing and served with a delicious homemade roasted garlic and lemon aioli, are a true delicacy. Best part is, you can double up the ingredient list and keep a few rice cakes stored in the fridge for future meals. Convenient, right?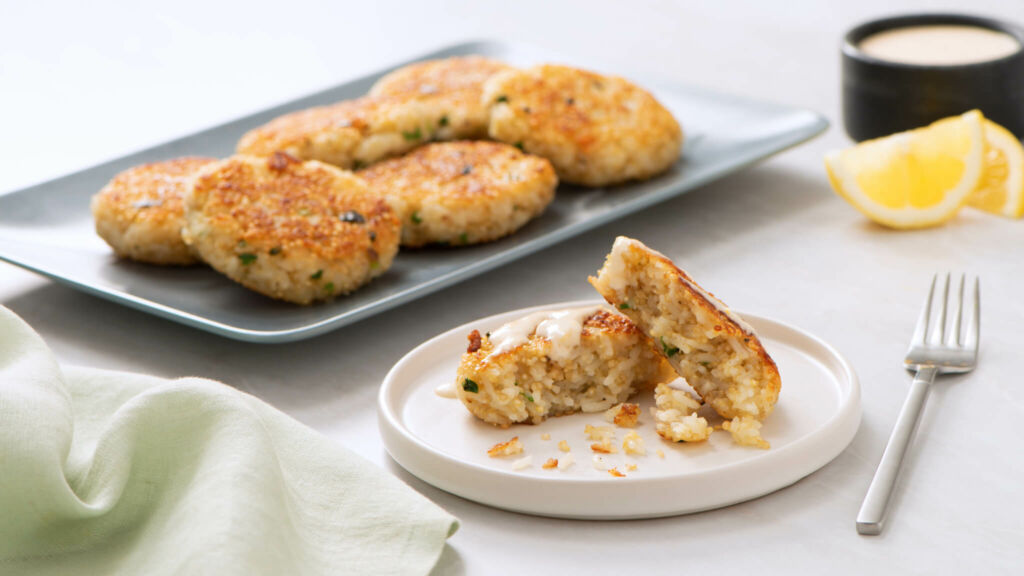 Breakfast
Need a couple of suggestions for breakfast to replace those bacon and egg dishes? For a savory dish sans bacon and sausage, try this hearty Turmeric Breakfast Rice Bowl loaded with Jasmine Red and Wild Rice simmered in coconut milk topped with spinach, sweet potatoes, creamy avocado and soft boiled eggs. You may just find your new favorite bowl of flavor to start your mornings. Believe us when we say, having a meat-free breakfast will come naturally.

For a breakfast on the go, try this Breakfast Smoothie with Rice and Peanut Butter. It's a fantastic way to start your day because it's loaded with peanut butter, cherries, baby spinach, honey, coconut milk, and Jasmine Rice: all ingredients to give you a morning energy boost. Just blend them all up and enjoy a delicious breakfast on-the-go anytime. If you have any leftover ingredients, learn how to make this coconut milk jasmine rice recipe.
Variety is Key!
When making adjustments to your diet, variety is key. It's important to give yourself plenty of options to avoid becoming bored with eating the same dishes time after time and ultimately abandoning your meatless meal goals. For more great, meat-free recipe ideas, explore our recipe collection. Trying different dishes and rice varieties is easy will all our tasty suggestions, tips and tricks – discover how to make jasmine rice next by visiting our quick guide.