It's no wonder why Halloween is a holiday favorite of so many. Trick-Or-Treating, picking out the perfect pumpkin to carve your Jack-O-Lantern and dressing up as your favorite mythical character are some of the many reasons this holiday is a cult classic. Don't forget the fun themed snacks for all those Halloween parties.
Mahatma® Rice will help you have a spooktacular time at your own Halloween party and have your guests screaming for more! Whether you're hosting a small gathering or throwing a full-blown haunted bash, setting the right mood is key. And what better way to do that than with some deliciously spooky appetizers and festive recipes?
We've got you covered with a variety of Halloween-themed food ideas that will leave your guests both impressed and slightly frightened but not too much! So grab your cauldron and let's dive into the world of spine-chilling yet mouthwatering treats that will make your Halloween gathering one to take to the grave.
Ghoulishly Delicious Dips and Spreads
Spreads
Everyone knows that any party needs dips and spreads to make it a success. These Halloween-inspired creations are not only tasty but also visually appealing, perfect for setting the mood at your themed party. Place this Sweet Arancini Dessert Board at the center of the table. These creamy, gooey bundles of rice pudding are a street favorite straight from Italy.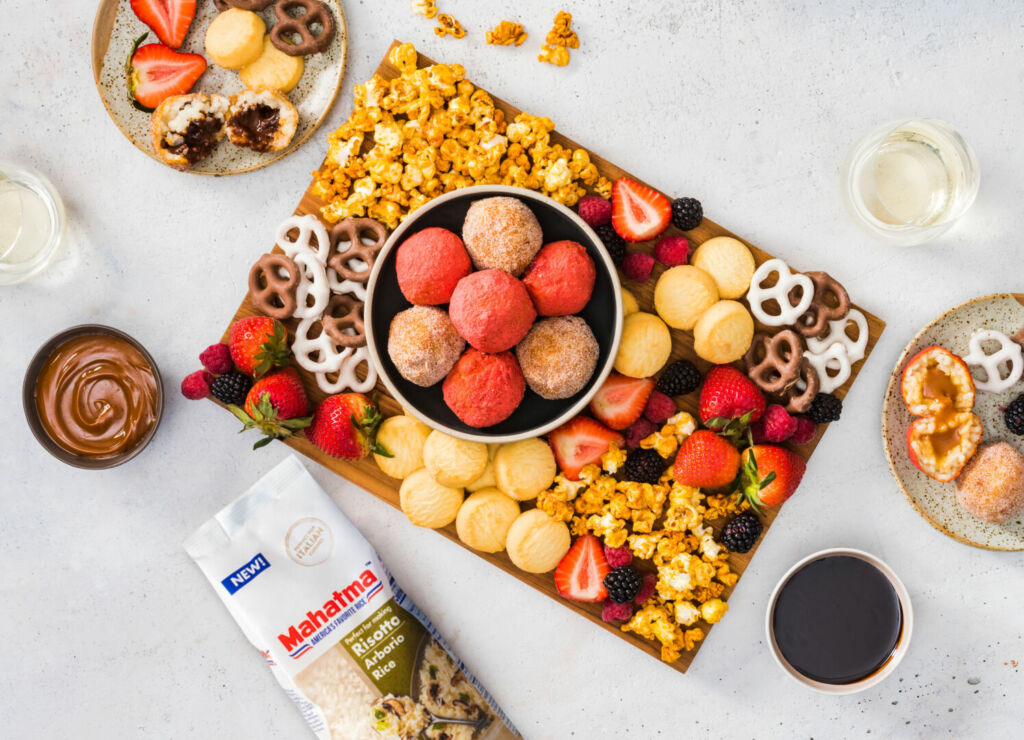 Place some other sweet and savory snacks on the plate around it like pretzels, popcorn, or berries. #PlayWithYourFood and create tiny ghosts out of your banana slices by adding small chocolate eyes and an open chocolate mouth. Make your strawberries into little mini mummies by adding some melted white chocolate and adding a chocolate face with some melted chocolate or frosting. Your kids will love to help create these masterpieces!
Dips
Our sinfully delicious dips and spreads are sure to satisfy every ghoul and ghost at your party. We've got all the flavors that will make your taste buds scream with delight. Why not make a ghost shaped bread bowl and fill it with this Cheesy Spinach and Rice Dip. In our adaptation of the classic dish, we combine warm, melted sharp cheddar cheese, spinach, and cream cheese with nutmeg, garlic, and our Mahatma® White Rice for a heartier flavor. We're sure you'll adore it! Try it for yourself by spreading some on a cracker or bread bowl.
This delectable recipe may be quickly put together with only six basic ingredients. You're finished once you've heated the rice, cream cheese, spinach, and Cheddar with nutmeg and garlic seasoning. Use frozen spinach to simplify things, but feel free to substitute fresh spinach if you have it on hand. Just keep in mind to check the correct quantities and bag sizes when using fresh spinach. Why not top your dip with a homemade pepper spider?
Tips for Making Your Spider
1) Pick the Right Shape Pepper – Simply take a little more time at the shop or farmers market to pick a pepper that will organically transform into a spider's body.
2) Choose Your Pepper Color – Orange is the obvious choice for Halloween, but green might also be hauntingly effective. If you can locate a dark purple-black pepper, you get extra points!
3) Make the Spiders Eyes – Cut the slivers out of black olives. Tiny triangle slits from canned black olives should do the trick.
However your spider turns out, without a doubt, you need to dress up your pepper in a fun tiny spider costume for Halloween.
Spooktacular Appetizer Ideas
Sliders
Get ready to spook up your Halloween party with some delicious sliders! These bite-sized appetizers are the perfect addition to your spooky spread. Their small size makes them ideal for little hands to grab and go since they will surely be on the move. With their mini size and customizable toppings, sliders offer endless possibilities for creativity. Try our Meatball Sliders with Quinoa and Jasmine Rice and make them into oozing eyes! #PlayWithYourFood and use tomato paste or sauce, melted mozzarella and black olives to make the craziest eyes your guests have ever seen!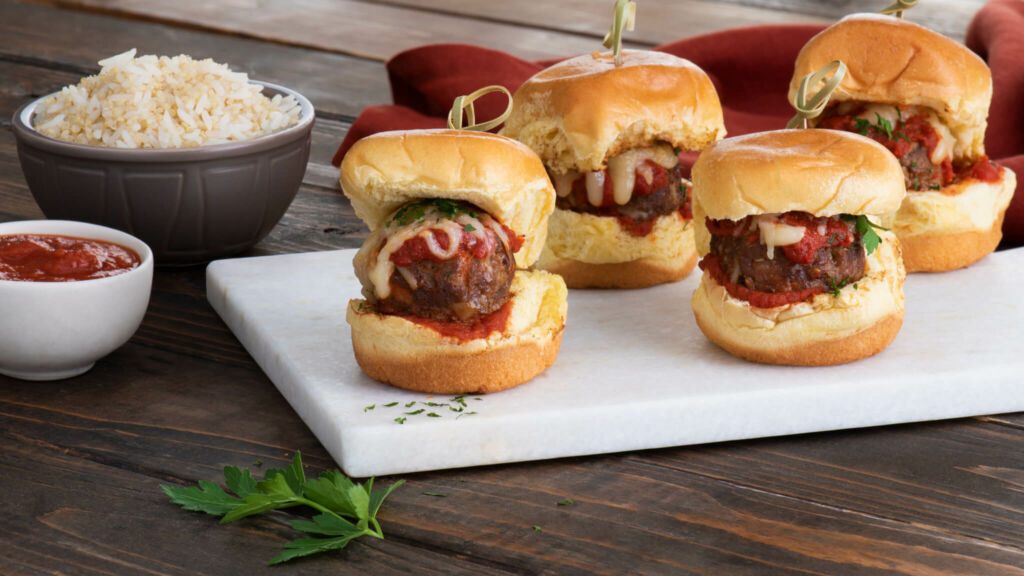 Cheese Balls
Cheese balls can be customized to fit the Halloween theme with just a few simple additions. Think of adding black olives as spider legs or shaping the cheese mixture into creepy eyeballs. The possibilities are endless! Make our Mexican Rice and Cheese Balls into creepy spiders by adding pretzel sticks as spider legs and maybe cover your cheese ball in chia seeds to change the color to that of a spider.
Either way, your guests will love these fried and breaded cheese balls decorated or not! Our Delicious Crispy Veggie Rice Balls are another option for you to #PlayWithYourFood and get creative in your kitchen!
Stuffed Veggies
Use our Stuffed Rice and Turkey Stuffed Peppers to carve a fun mini Jack-O-Lantern face into the pepper. The fun face will distract the kiddos from even realizing they are eating something other than candy! This delicious pepper is filled with ground turkey that has been cooked with garlic and onions, along with corn, tomato sauce, herbs, and Mahatma® 100% whole grain brown rice.
By replacing the ground turkey with black beans, quinoa, chickpeas, or your preferred vegetarian burger meat, you can make them vegetarian. Simply take your vegetarian recipe and omit the cheese or melt a vegan cheese on top to make them vegan.
Wraps
#PlayWithYourFood and make your Cilantro Lime and Turkey Burritos into mini Frankensteins! Lay them flat and use some tortilla chips as bangs, black olives as eyes and a carrot sliver as the mouth. Don't forget to add the funny ears with some toothpicks and marshmallows!
Devilish Desserts
You can create unforgettable Halloween sweets that will have everyone under their spell. #PlayWithMahatmaRice and make this delicious Easy Coconut Rice Pudding into a classic dirt pudding.
Add some oreo cookie crumbles and some colorful gummy worms and all the kids will go wild with delight! Feel free to use any delicious Mahatma® Rice Pudding Recipes.
So, there you have it! With these spooktacular appetizer ideas, you're all set to host an unforgettable Halloween party. Whether you're going for creepy or cute, these appetizers will surely impress your guests and keep them coming back for more.
Your guests will be raving about your Halloween party for years to come. Happy haunting! For more recipe ideas, don't forget to visit our website at Mahatma® Rice Recipe Page.